Inbox: What's the latest on Garcia's status for '15?
Beat reporter Jenifer Langosch fields questions from Cardinals fans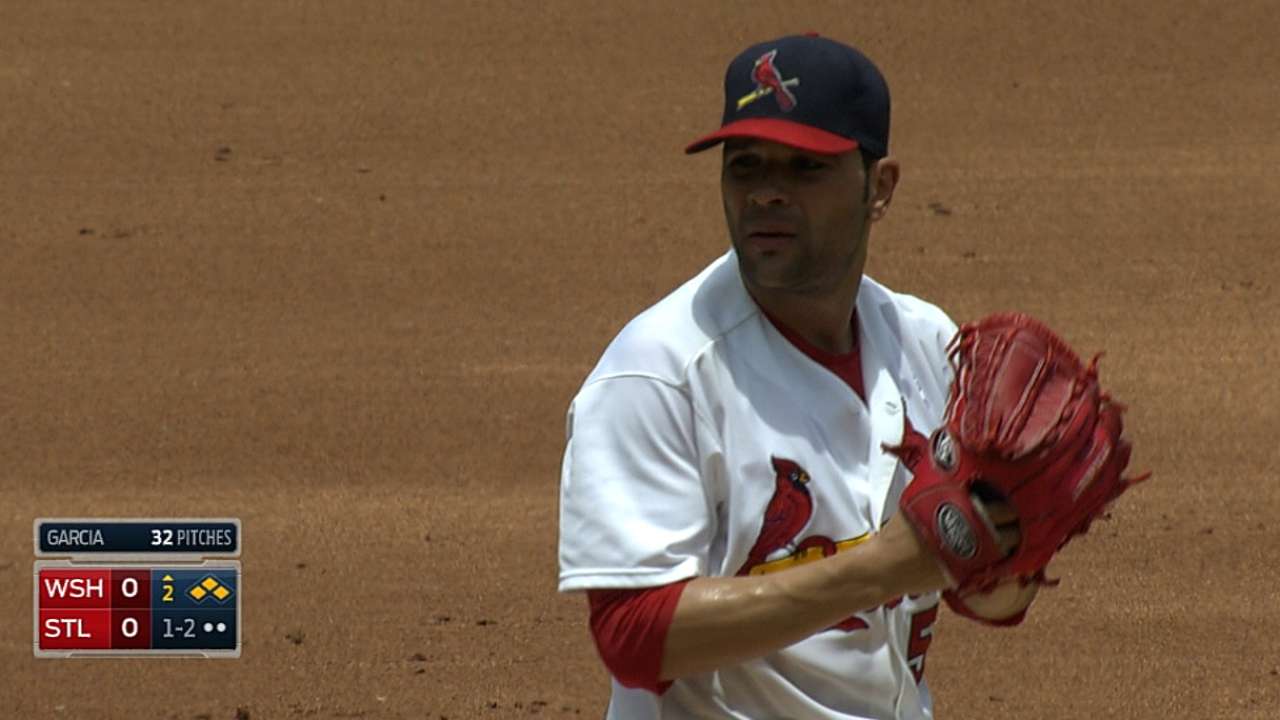 ST. LOUIS -- Before answering a fresh batch of reader questions, remember that to have your submission considered for future inclusion, you must provide your first name, last initial and hometown along with it.
What is the news on Jaime Garcia? Is it wait and see come spring as to what his future holds?
-- Lonnie L., Ozark, Mo.
Garcia has been noticeably (and intentionally) absent from the Cardinals' public conversations about their pitching depth. The Cardinals would be thrilled to augment their pitching depth with Garcia's inclusion but just don't yet know what to expect of him in 2015. He's coming back from a procedure (thoracic outlet surgery) that can be fickle, leaving the Cards hopeful Garcia can contribute but not dependent on it. The club should have a better feel for Garcia's status once Spring Training starts.
How long is Adam Wainwright signed for, and why not go for Max Scherzer so that the club has two top starters for several years?
-- Keith S., Pekin, Ill.
Wainwright is under contract through 2018 and due $78 million over those four years. The Cardinals have the financial capability to make a run for Scherzer -- who is reportedly seeking near $200 million -- but the organization doesn't necessarily have the desire to put that sort of long-term investment in a starting pitcher. Wainwright's $97.5 million deal remains the largest for a pitcher in franchise history.
As enticing as Scherzer might be atop the rotation with Wainwright, the reality is that nine-figure investments often don't provide an equal payoff. Consider the cases of CC Sabathia (seven years, $161 million), Johan Santana (six years, $137.5 million), Mike Hampton (eight years, $121 million) and Barry Zito (seven years, $126 million), each of whom had injury issues after becoming some of the game's highest-paid players. The Cardinals must also prepare for the soon-to-escalate salaries for several of their younger players.
What do the Cardinals plan to do with the logjam in the outfield over the next couple of seasons if Jason Heyward signs an extension?
-- Alex W., Provo, Utah
The Cardinals would welcome a logjam if one arises, though more than likely, they'll need the depth. Matt Holliday has only one more guaranteed season in St. Louis after 2015, and Jon Jay, though not eligible for free agency until after 2016, may see his salary push himself out of the Cards' plans after this year. If that's the case, St. Louis may need Randal Grichuk as a center fielder. And, of course, if the club can't retain Heyward beyond 2015, having both Grichuk and Stephen Piscotty in the system could be critical.
Does manager Mike Matheny expect more out of Kolten Wong this season, and what is the backup plan if Wong struggles?
-- Joey S., Anna, Ill.
What the Cardinals hope to get out of Wong this season is improved consistency. While Wong showed flashes of power, a steady glove and top-of-the-order potential, he now needs to put it together for a full year. Limiting the fluctuation of production will further solidify Wong as the organization's second baseman of the future. Behind him, the Cards have several backup options, including Dean Anna, Ty Kelly, Pete Kozma and Greg Garcia. None of those four, however, has had sustained success in the Majors.
Jenifer Langosch is a reporter for MLB.com. Read her blog, By Gosh, It's Langosch, and follow her on Twitter @LangoschMLB. This story was not subject to the approval of Major League Baseball or its clubs.