Inbox: Should prospect Swihart move to first base?
Beat reporter Ian Browne answers Red Sox fans' questions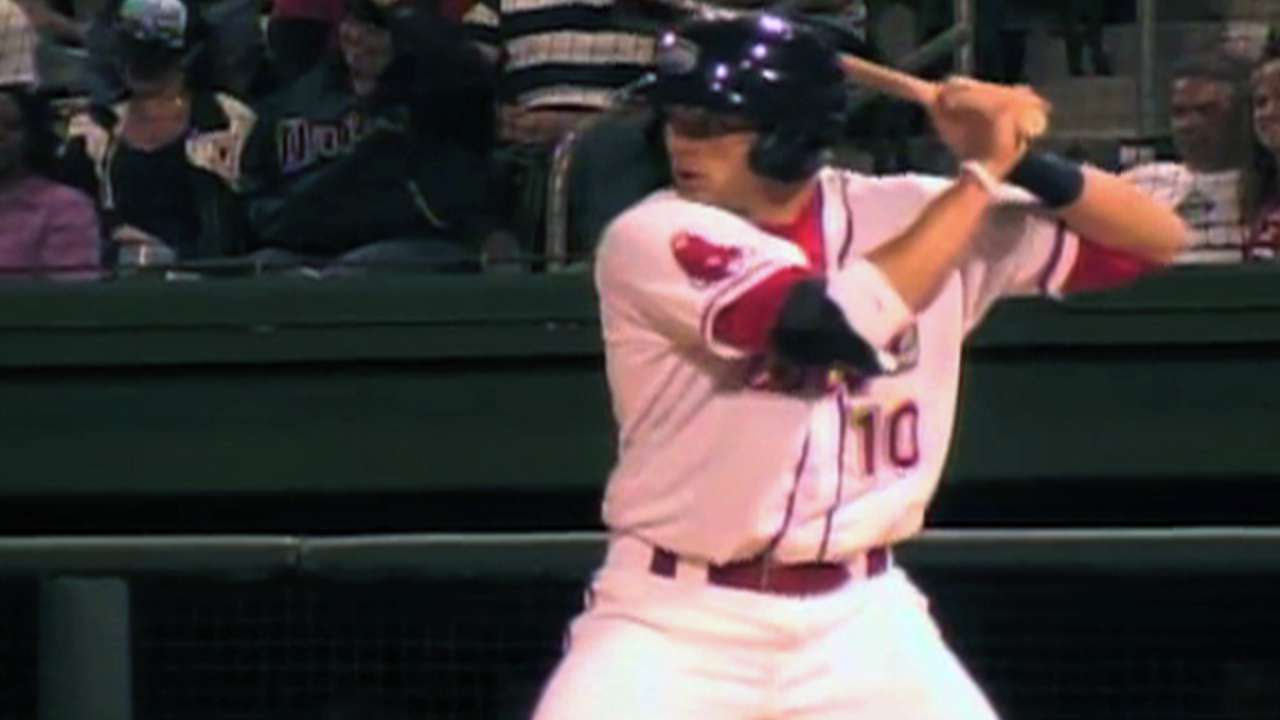 Does Christian Vazquez's emergence mean that Blake Swihart may possibly get some time at first base in Triple-A to replace Mike Napoli next year? If not, what should the Sox do with these two talented prospects?
-- Matt L., Palm City, Fla.
There's no reason to take Swihart, ranked by MLB.com as the club's No. 2 prospect, away from catching at this point. Let him continue his development at Triple-A Pawtucket, and then that gives you more time to get a read on how Vazquez is performing in the Majors. Swihart could potentially move to another spot defensively, such as first base, but his best value is probably at catcher, where it's so hard to find good offensive players. That's why Napoli was a catcher for so long in his career before a hip condition finally forced his move to first.
How do Vazquez's early career offensive numbers compare to those of Cardinals catcher Yadier Molina at the same juncture?
-- Trevor L., Saskatchewan
Great question. Molina got his first taste of the Major Leagues in 2004, hitting .267 with two homers, 15 RBIs and a .684 OPS over 51 games and 135 at-bats. Vazquez had a similar amount of playing time in his rookie year of '14, playing in 55 games and getting 175 at-bats while hitting .240 with a homer, 20 RBIs and a .617 OPS. So the numbers at that point were obviously pretty similar. And both guys quickly developed a reputation for their defense and their ability to call a game and lead a pitching staff.
It took a while for Molina to develop into the offensive threat he is now. But there's nothing that says Vazquez can't follow a similar path. Molina is one of Vazquez's idols, and they work out together often during the offseason in Puerto Rico.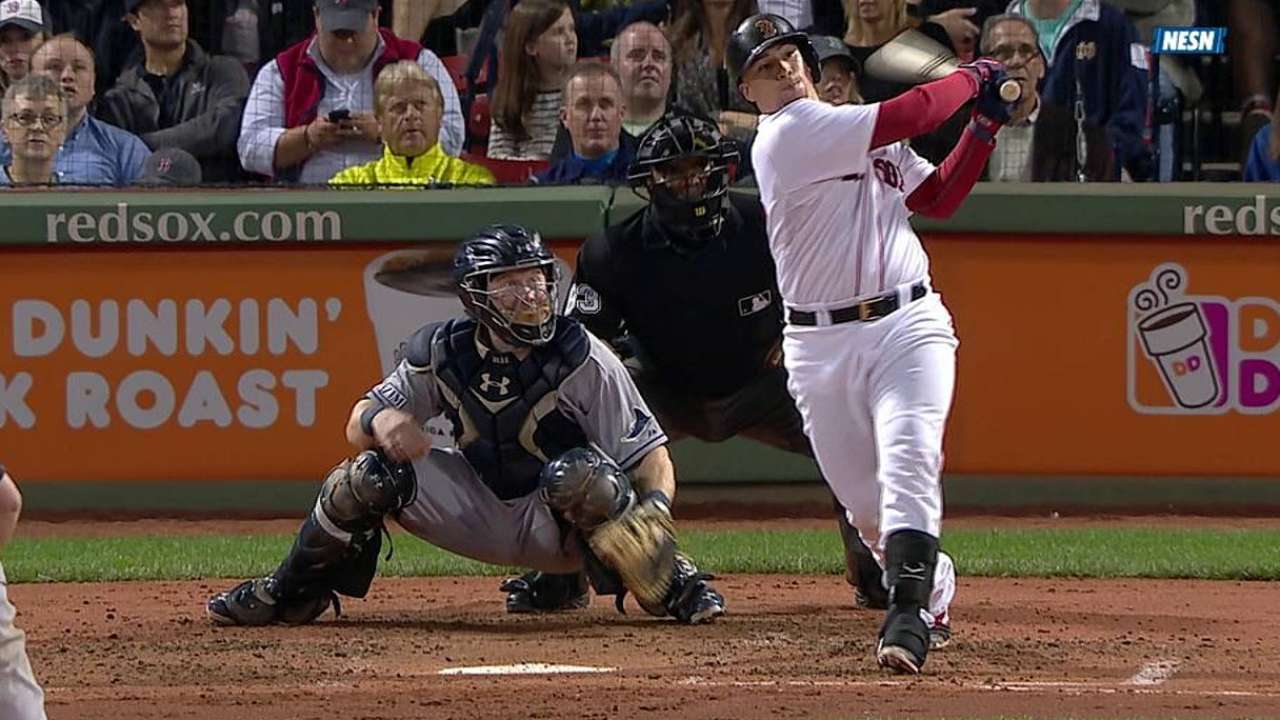 Do you think the Red Sox need an ace for 2015? If so, will they wait until the non-waiver Trade Deadline or next offseason for someone like David Price or Cole Hamels?
-- Kevin G., Durham, Conn.
If the Red Sox are going to win the World Series in 2015, they are going to need one of the pitchers on their staff to pitch like an ace, particularly for the stretch run. It doesn't necessarily mean they need a big name, or someone who carries the moniker of ace. Clay Buchholz is one pitcher who has pitched like an ace in spurts, and perhaps he can put it all together. Rick Porcello also has the stuff to develop into an upper-echelon pitcher. If aces -- such as Hamels and Price -- come available between now and July 31, I'm sure general manager Ben Cherington will continue to gauge the cost and see if he can find a deal that makes sense.
Submit a question for the Inbox.
With Price in line to become a free agent after the 2015 season, is there any chance the Red Sox would be interested in acquiring him? And would he be a good fit in Boston?
-- Adam B., Bridgewater, Va.
The Red Sox would join a long list of teams interested in signing Price if he reaches free agency. He is a top competitor who consistently tops 200 innings. Jon Lester had those same traits, but there was ultimately a team out there -- the Cubs -- willing to pay substantially more than the Sox. It depends on what Price's final price ends up being. He did have a contentious rivalry with the Red Sox -- particularly David Ortiz -- in recent years, so perhaps some fences would have to be mended if Price was to come to Boston.
How big of an impact will Pablo Sandoval and Hanley Ramirez have this season?
-- Bryan S., Middle Island, N.Y.
Considering the large investment the Red Sox made in these two players, they are hoping for quite a bit of production. However, the expectation isn't for either of these guys to be a franchise player and put the team on his back. What the Sox need is production throughout the lineup, something they lacked last season. Boston thinks Sandoval can be one of the best hitters in the American League, and he's better on defense at third base than people think. Early on, all eyes will be on Ramirez's adjustment to left field, but the Red Sox got him for his bat, and he's a great addition to any lineup when healthy.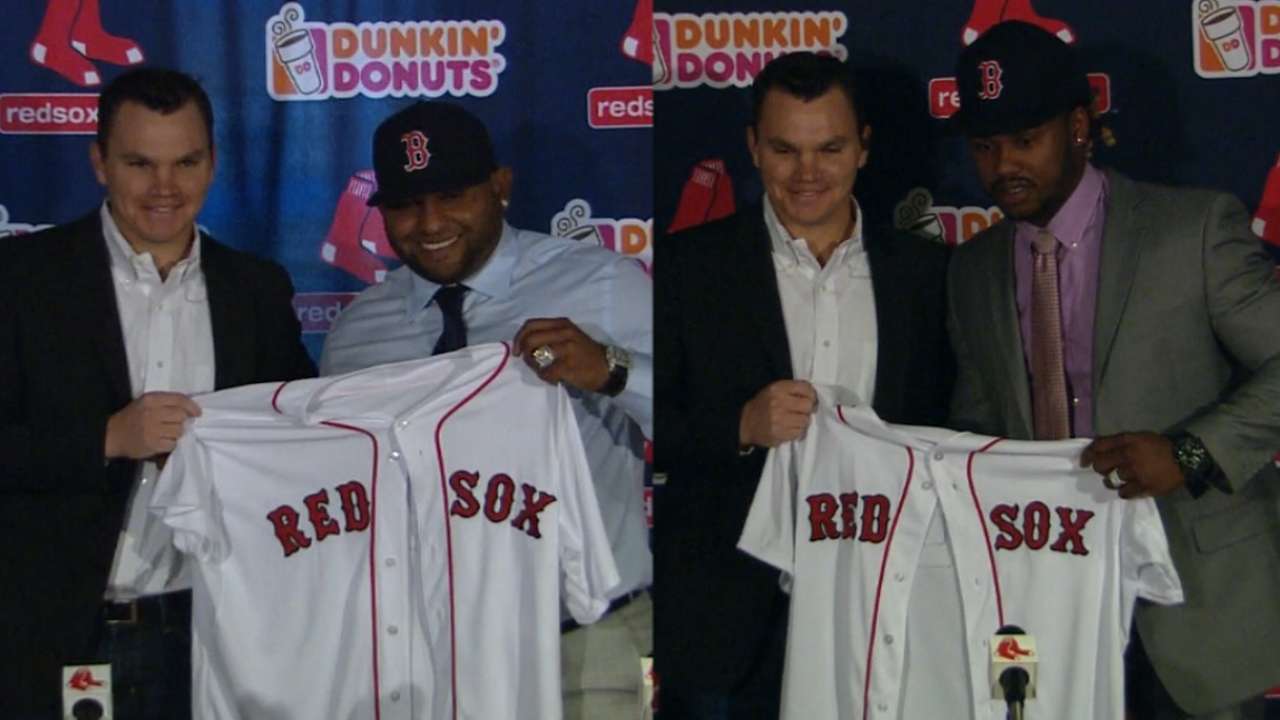 Shane Victorino was a huge part of the success the Red Sox had two years ago. Do you think if he shows that he's fully healthy in Spring Training that he will get the right-field job, relegating Mookie Betts to the Minors until he's needed on the big league roster?
-- Bandon T., Sarasota, Fla.
I think the Red Sox can find playing time for both Victorino and Betts. Victorino obviously thrives against lefties, so if he's healthy, I'm guessing he'll be in there against just about every lefty. How much he plays against righties will depend on how healthy he is and what type of success Betts and Rusney Castillo are having at the plate. There's also an argument for Boston picking its spots with Victorino throughout the season so the club can have him at 100 percent -- or close to it -- for the stretch run. When healthy, there aren't many better right fielders out there than Victorino.
How much playing time do you see Brock Holt getting? He seems to be a little dynamo. I'd hate to see him riding the pine.
-- Gary S., Flint, Mich.
At minimum, Holt should get 200 at-bats. I'm guessing it will be more, as manager John Farrell will rotate the versatile super utility man all over the diamond. Holt carved out a niche last year as someone who could be effective all over the infield and outfield defensively, so there's no reason the Red Sox wouldn't want to take full advantage of that.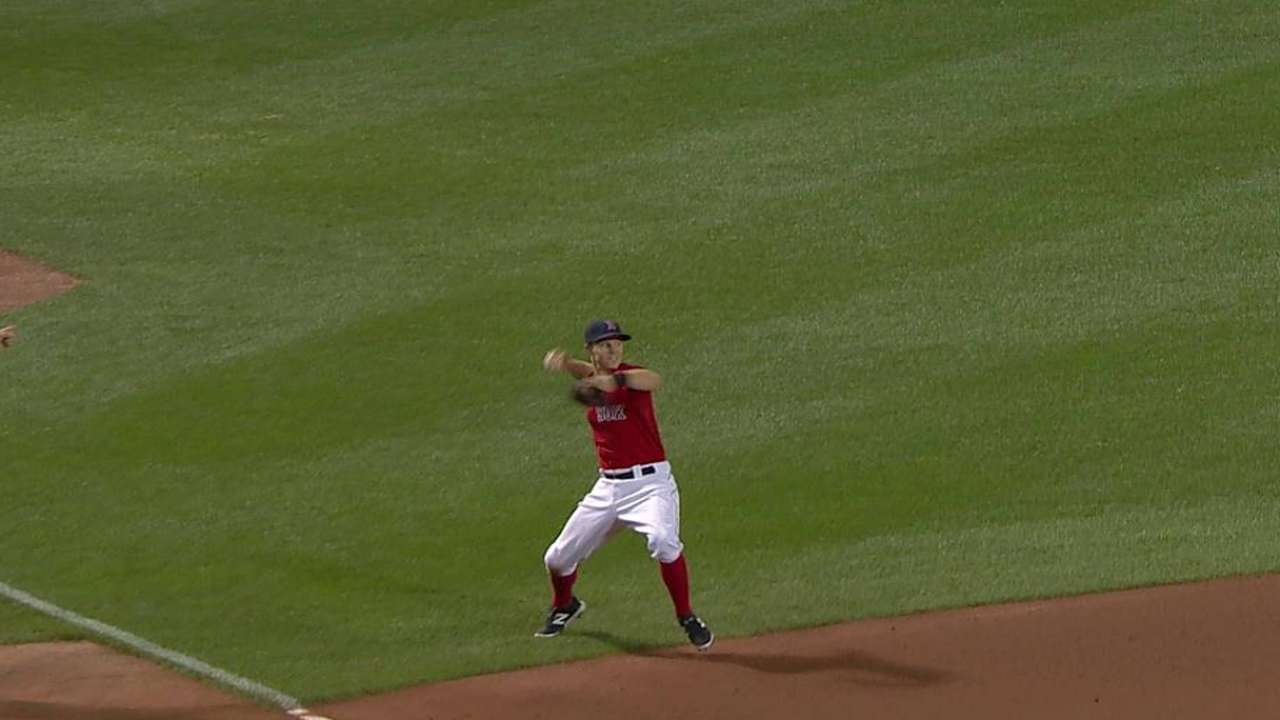 Daniel Nava has had a lot of big hits for the team during his time here. However, I do not see a role for him on the 2015 roster. Do you agree?
-- Jimmy C., Lincoln, Neb.
I agree that his role is going to be reduced due to the addition of Ramirez and the recent emergence of both Betts and Castillo. However, Nava could still be a very nice left-handed hitter to have off the bench. He knows how to get on base. Nava is also good insurance if one of the other outfielders suffers an injury.
Ian Browne is a reporter for MLB.com. Read his blog, Brownie Points, and follow him on Twitter @IanMBrowne. This story was not subject to the approval of Major League Baseball or its clubs.