Inbox: Should Tribe save Allen for pressure situations?
Beat reporter Jordan Bastian answers Cleveland fans' questions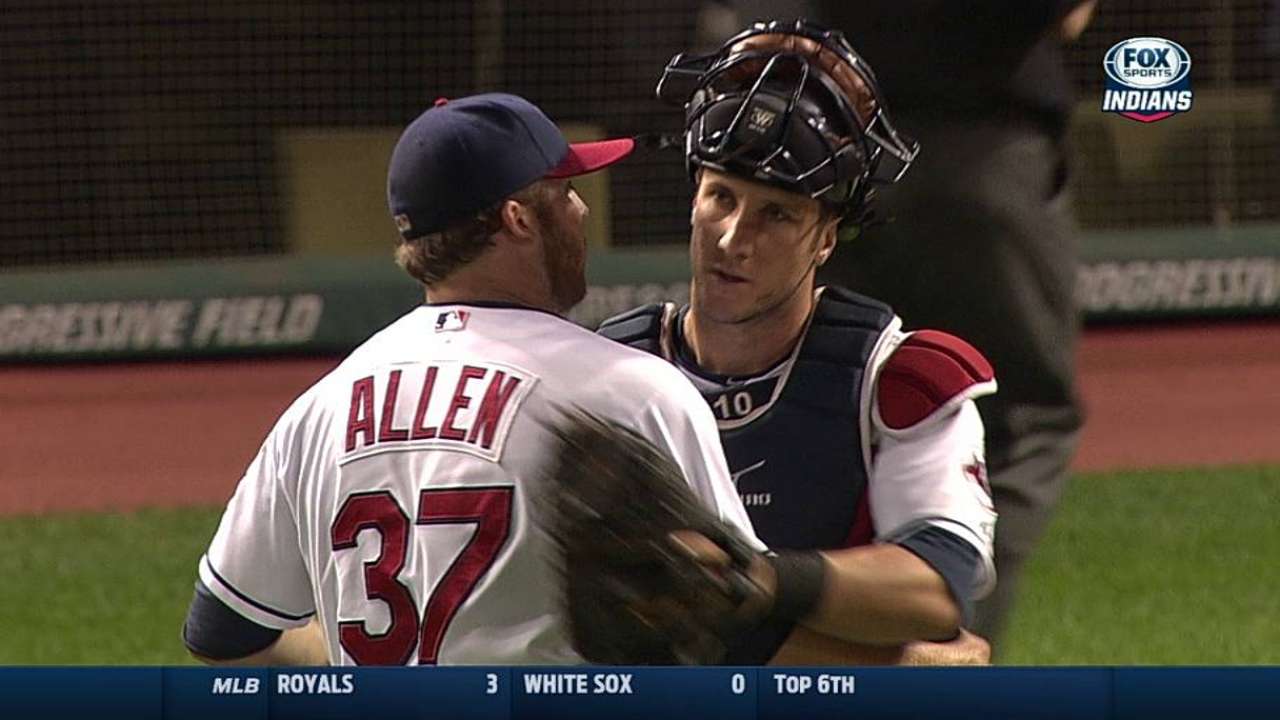 While the Indians are set in the closer role with Cody Allen, it seems that bringing him into a game with nobody on to pitch the ninth is a waste of his talents. There are a lot of available guys that can do that. He is at his best in high-leverage situations. Wouldn't it make more sense to use him that way?
-- Gary R., Columbus, Ohio
Allen swiftly worked his way up the organizational ladder and it didn't take him long to earn a prominent role in Cleveland's bullpen. Last season, the hard-throwing righty earned the closer job and the Indians have no plans on removing him from a role he worked so hard to obtain over the past few seasons.
You do raise a good point, though, Gary. I'm reminded of a conversation I had in Minnesota late last season with Jason Giambi, who said it's as valuable to have a reliable "stopper" as it is to have a closer. He was referring to that pitcher who can take the mound in any inning or situation and put out a fire. As you mentioned, Allen has held that job for the Tribe in the past.
After Allen became the full-time closer last season, veteran Scott Atchison took over the stopper role. Atchison performed admirably, posting an inherited-runner scoring rate of 15 percent (6-of-41). Allen was also strong in that regard, turning in a 15-percent (5-of-33) inherited-runner scoring rate. In 2013, however, Allen allowed inherited runners to score 37 percent (19-of-52) of the time.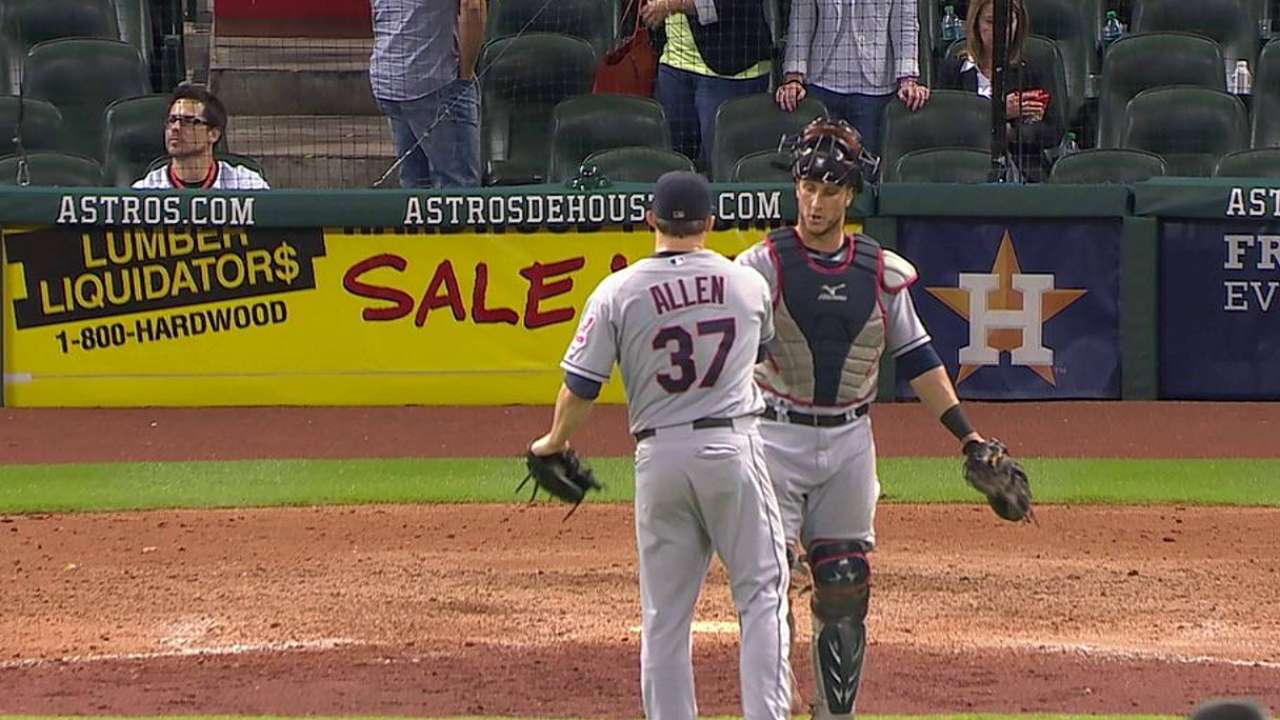 For their careers, Atchison (30 percent) and Allen (28 percent) are fairly even in performance with inherited runners. That said, Allen allowed 35 percent of inherited runners to score from 2012-13. While Allen is obviously getting better over time, it's also plausible that using him less in runners-on situations to start innings helped give his 2014 production a boost in that area.
It also helps knowing that pitchers such as Marc Rzepczynski (19 percent), Nick Hagadone (15 percent) and C.C. Lee (nine percent) performed well with inherited runners last season. Manager Terry Francona has an assortment of right-handers and left-handers he can mix and match to potentially maximize production in the innings leading up to Allen in the ninth.
Is the Tribe looking for more bullpen help? I'm concerned about the over-usage of Atchison and Bryan Shaw and the late bullpen collapses last September.
-- Eric B., Virginia
The Indians already have a crowded 'pen with Allen, Atchison, Shaw, Rzepczynski, Hagadone, Lee and Kyle Crockett, along with relief candidates Zach McAllister and Josh Tomlin, and the handful of arms in the mix for a job. Cleveland added veterans Scott Downs and Jeff Manship as non-roster invitees, too. If the Tribe adds more to the bullpen mix, I'd imagine it would be more in the way of non-roster signings.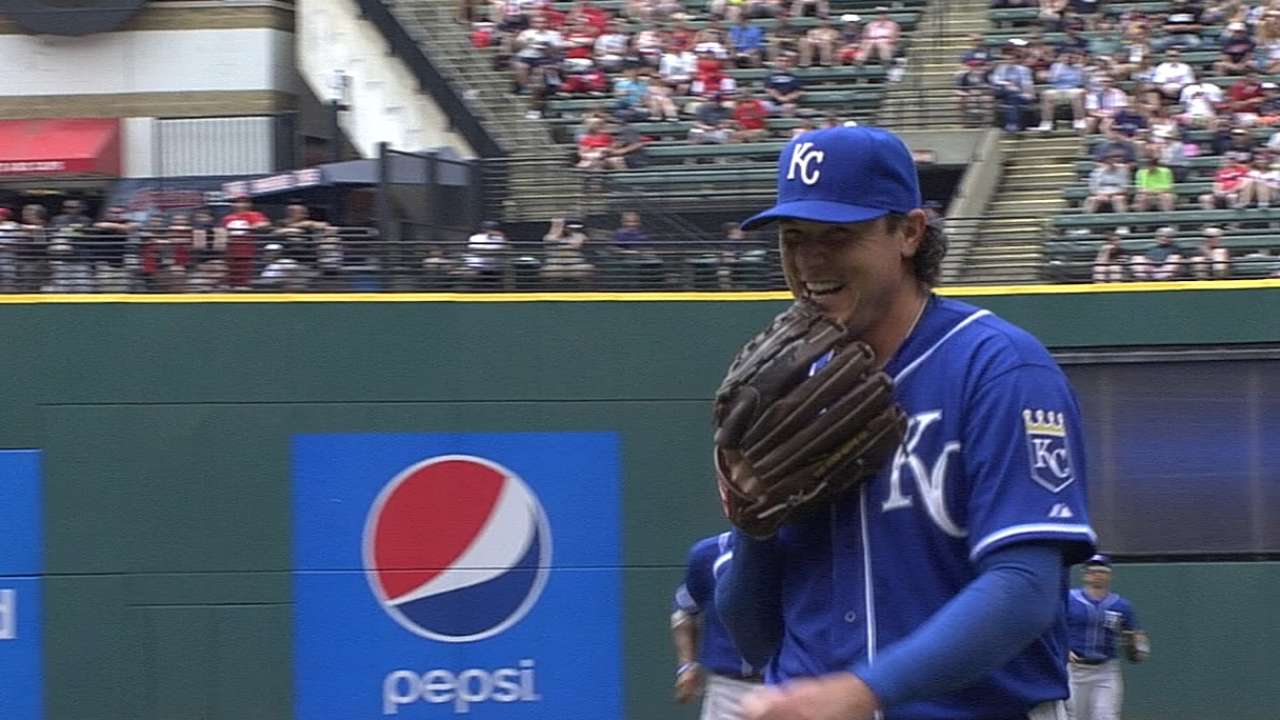 Would you agree with the statement that the Indians can be the 2014 Kansas City Royals? I think it can happen, especially with their pitching staff and hopefully a production boost from players returning from injuries.
-- Jeff D., Canton, Ohio
To a degree, I'd agree with that take. The Indians do have a strong young core -- one of the main reasons for the relatively quiet offseason -- and a talented pitching staff. What stood out about the Royals, though, was the defense. Last year, Kansas City had 40 Defensive Runs Saved compared to minus-75 for Cleveland, according to Fangraphs.com. That's a large gap and can explain why the Indians finished four games back of the Royals in the standings. With better defense, the Indians could've been a playoff team.
I've heard very little about Zach Walters this offseason. My gut feeling is that he's going to be special. Where does he fit?
-- Bill W., Albany, Ky.
I think Walters will be one of the more intriguing players to monitor during Spring Training. Depending on how the injury comebacks go for some of the Tribe's regulars, and whether Francona decides to go with a seven- or eight-man bullpen, Cleveland could have a spot for Walters.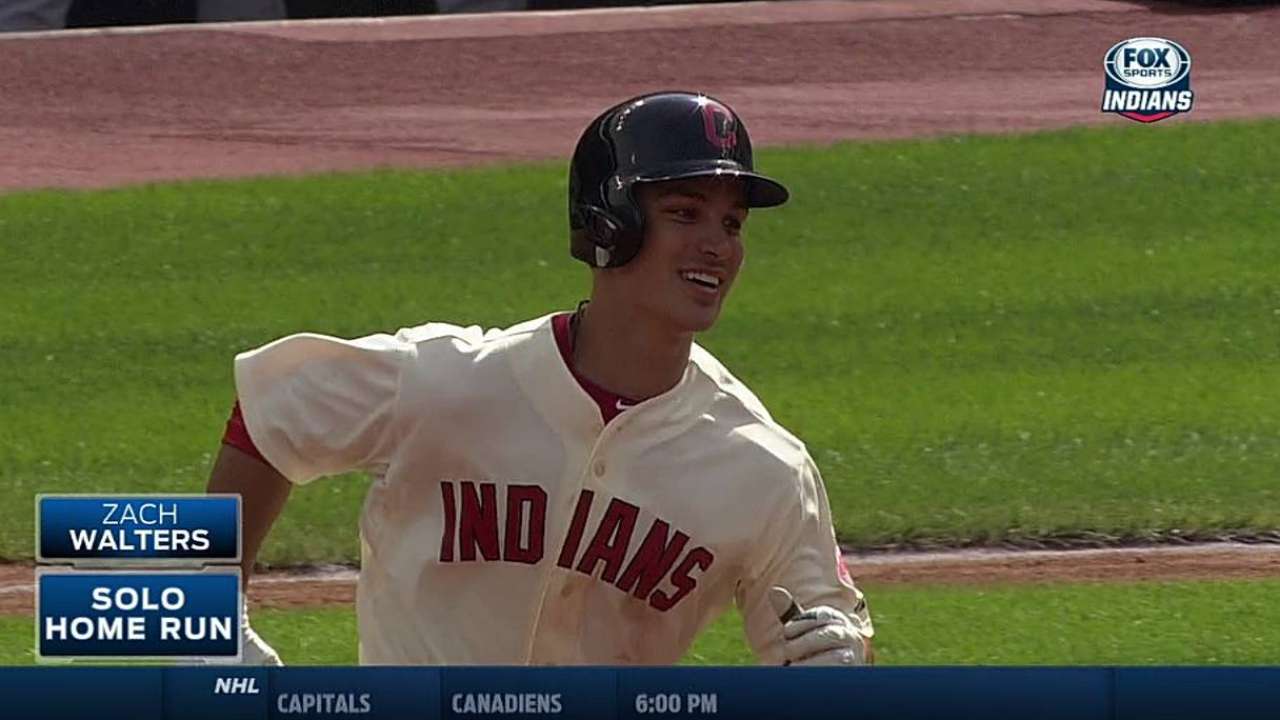 He's a switch-hitter who can handle multiple positions, so he fits the mold for a Francona bench. I don't see Walters cracking the starting lineup yet -- barring an injury to one of the regulars -- so he'd project as a big league utility man right now. Of course, the Indians might feel he's better off playing regularly and developing more in Triple-A.
Can you see the Indians using Ryan Raburn at third base this year to supplement Lonnie Chisenhall against lefties?
-- Cory T., Medina, Ohio
If Raburn is healthy and producing, I could see him fitting into the lineup against left-handers, but right field or designated hitter are the most likely spots for him. He's only started 18 of his 470 career games in the Majors at third and he hasn't appeared at the position since 2011. Also, it's worth noting that Chisenhall hit .294 (.729 OPS) against left-handers last season, so that wasn't as much of a weakness as it had been in previous seasons.
Would a reunion with Jack Hannahan make sense? Maybe the Indians could at least giving him a shot to make the club out of Spring Training? His defense would help at third base.
--Frank M., Lorain, Ohio
When he was with the Tribe, I was a big a fan of Supermannahan -- he was a great clubhouse presence and stellar defender -- but that ship has long sailed off. Earlier this winter, the 34-year-old Hannahan signed a one-year, $1 million contract to play in Korea with the LG Twins.
In closing ...
Will the Tribe trade Nick Swisher before Spring Training?
-- Austin B., Cleveland
It's been a hot topic all offseason, but I just don't see Swisher being moved before camp. Given the uncertainties surrounding his health (surgery on both knees in August), his subpar season in 2014 (career-worst 74 OPS+) and contract ($30 million guaranteed through 2016), the Indians will surely be hard-pressed to find a trade partner. Cleveland's best bet is to hope Swisher returns healthy and produces at a level more in line with the first 10 years of his career.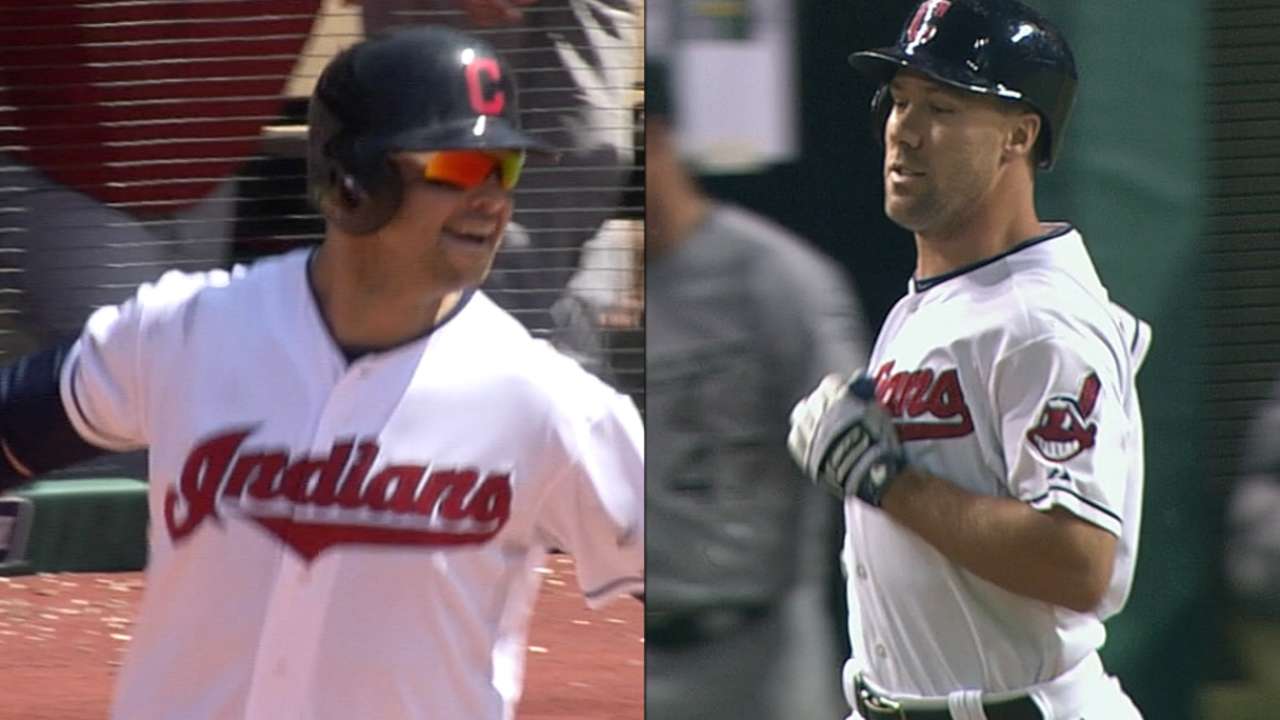 Jordan Bastian is a reporter for MLB.com. Read his blog, Major League Bastian, and follow him on Twitter @MLBastian. This story was not subject to the approval of Major League Baseball or its clubs.