Inbox: Will Drew be Yanks' starting second baseman?
Beat reporter Bryan Hoch answers New York fans' questions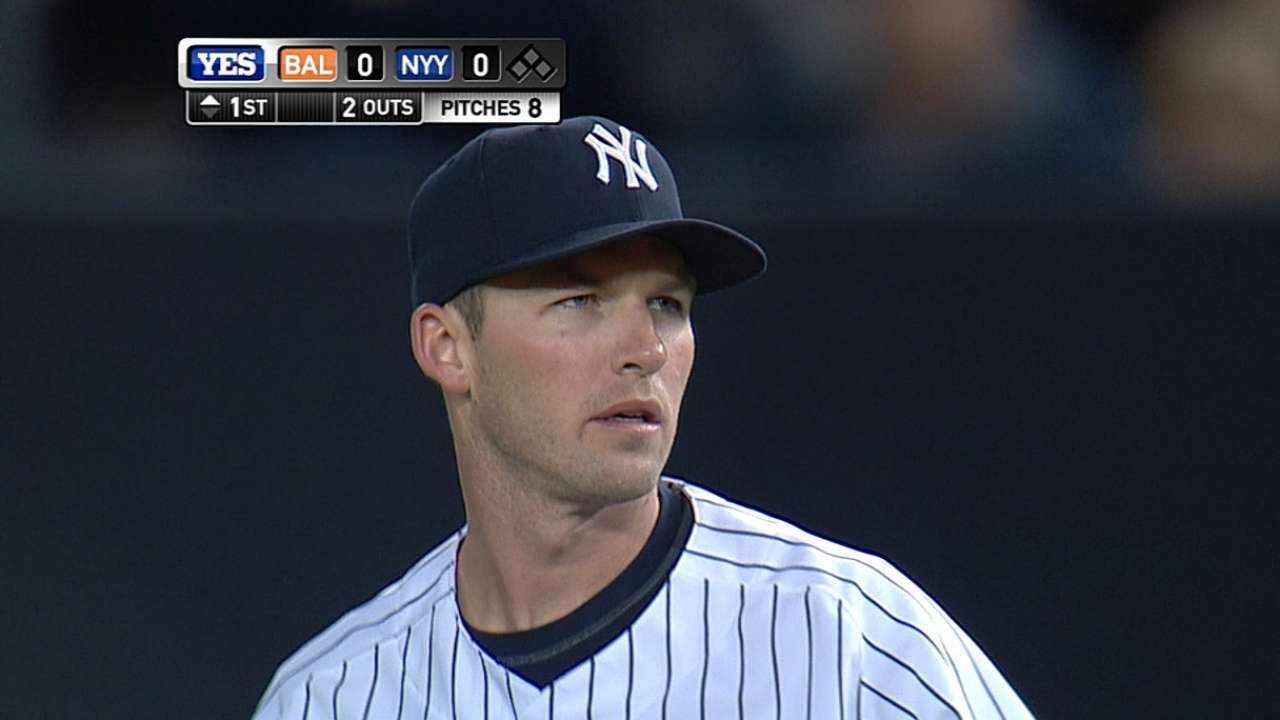 The Yankees are less than six weeks from the official report date for pitchers and catchers, and the outlook for this year's roster is gaining clarity. Here is a selection of what fans are talking about this week.
With Stephen Drew signed for one more year, what do you think his role will be? Is he the starting second baseman with it being his job to lose, or insurance in case Rob Refsnyder and Jose Pirela are not ready?
-- Michael D., Madawaska, Maine
The expectation is that Drew will have every opportunity to be the Yankees' Opening Day second baseman, but at $5 million for one season, they do not have to be absolutely locked into that plan. Refsnyder and Pirela should have opportunities to show what they can do, and even if they begin the year at Triple-A, it would seem to be a good bet that they could each see big league time this season.
Click here to submit an Inbox question
Part of the move is believing that Drew can't possibly play as poorly as he did last season, and that a normal offseason and full spring should allow him to look more like he did in 2013, when he was the starting shortstop on a Red Sox team that won it all. The Yankees didn't have anyone with substantial big league experience to hold down second base; Drew was cheaper than Asdrubal Cabrera, who got $2.5 million more from the Rays, and didn't cost a prospect, as Ben Zobrist might have.
Defensively, having Didi Gregorius and Drew up the middle should be a huge upgrade over last year's Opening Day double-play tandem of Derek Jeter and Brian Roberts. Drew provides a measure of insurance in the event that something happens to Gregorius, whether it be an injury or underperformance, and Drew should swing a better bat than Brendan Ryan in that scenario. He could also handle some duty at third base, if needed.
In the absolute worst case, if Drew plays like he did last season, the Yanks could release him, as they did after seeing four months of Roberts, and then go with another option.
Any chance the Yankees get a big bat before Spring Training? It feels like they have a bunch of complementary hitters but no true slugger.
-- Erick S., Staten Island, N.Y.
Coming off a season in which Brian McCann (23) and Mark Teixeira (22) were the only Yankees to hit 20 or more homers, it makes you appreciate that 2009 squad even more, when they had seven such players. Now that second base seems set, unless the Yanks are planning on doing something wild like trading Gregorius, I'm not sure where they could add another hitter at this stage.
The Yankees would argue that Carlos Beltran should return to his 2013 form after having his right elbow cleaned up, and that's almost like adding a big free agent. Garrett Jones should add power at designated hitter, and they anticipate that McCann will look more like he did in the second half, having now adjusted to New York and American League pitching.
Getting repeat performances from Jacoby Ellsbury and Brett Gardner would be just fine for the Yanks, and Teixeira's wrist should be stronger with a regular offseason. Time will tell on all of those things.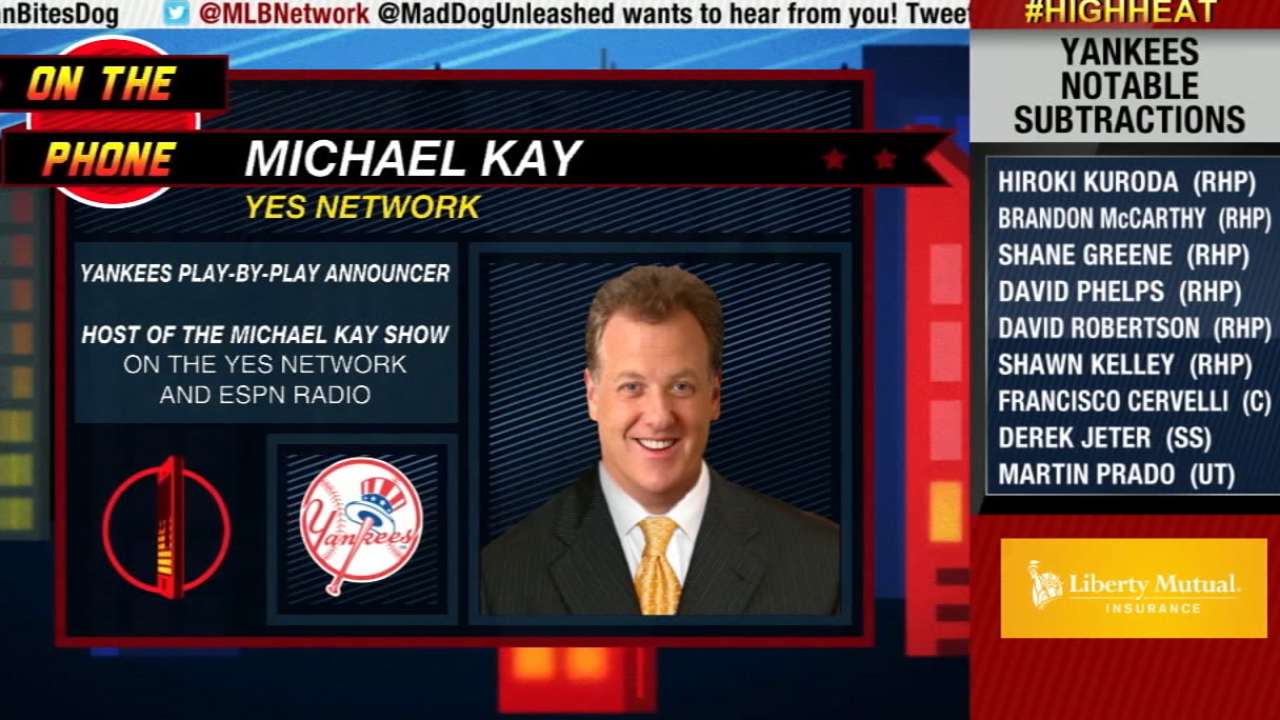 What are the chances that the Yankees sign Cuban infielder Yoan Moncada?
-- Les S., Portland, Ore.
The Yankees have been consistently listed among the favorites for Moncada, 19, a switch-hitting middle infielder who could receive a contract exceeding $30 million. The club has not been shy about international spending of late, going well into penalty range with the understanding that it will have to sit out the next two signing periods.
Assuming Moncada is cleared by the Office of Foreign Assets Control of the United States Department of the Treasury before June 15, we could see the Yankees and Red Sox go head to head in an old-school bidding war for Moncada. It could be a situation like the Masahiro Tanaka signing, where the Yanks wield their assets and make sure they get a player they clearly covet.
What's next for catching prospect Gary Sanchez? McCann has four years left on his deal. Should the Yankees package Sanchez in a deal for another young starter?
-- Elfi M., Hamilton, N.J.
Sanchez isn't untouchable, but as one of the Yankees' best chips, there is no rush to move him in a deal that they don't love. It's possible that McCann could finish that contract as a first baseman, but by then, that may not affect Sanchez much. The expectation is that Sanchez will begin the year as the starting catcher at Triple-A Scranton/Wilkes-Barre, where they hope he will continue to develop behind the plate. He's still just 22, and if all goes well, Sanchez could get his first taste of the big leagues this season.
With the Yankees' extra catching, will they move Austin Romine in Spring Training? What kind of prospect we could they get for him? It seems like the White Sox and D-backs both need catching help.
-- Paul G., Chester, Va.
It's possible, but given the day-to-day nature of catching, we could see a situation where the Yankees keep both Romine and John Ryan Murphy in camp until the very end. Murphy would seem to have the upper hand going in, but providing some solid competition can't hurt. If the Yanks do wind up in a situation where they need to move Romine, it could be similar to what they did to set the Opening Day roster last year, when they dealt Eduardo Nunez to the Twins for a pitching prospect.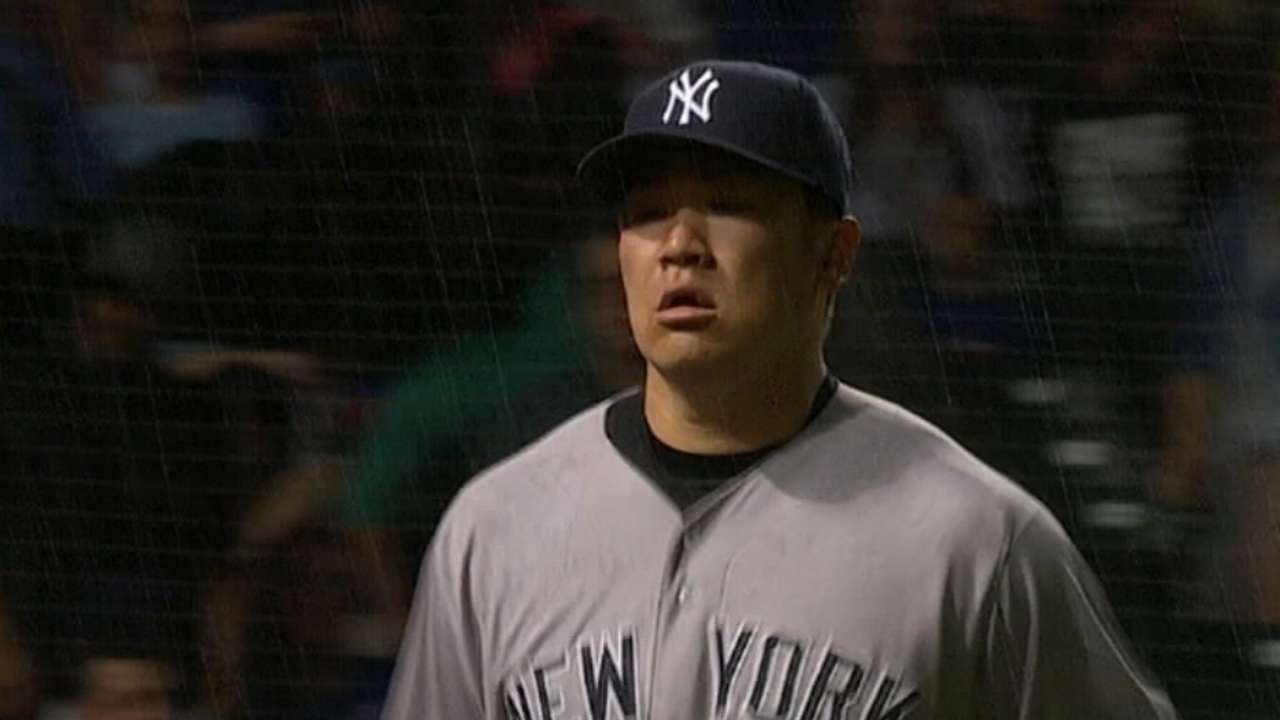 With all of the new faces on the team and question marks coming into camp, who will garner the most attention from the Yankees during Spring Training and the season?
-- Scott L., New Rochelle, N.Y.
The easy answer is Alex Rodriguez, as he returns from his suspension and tries to prove that he can still contribute at the big league level. Certainly, he'll be at the center of a media crush in the spring, and the Yankees have made it pretty clear by their comments and actions that they don't know what to expect from Rodriguez. To be blunt, by re-signing Chase Headley and trading for Jones, the Yanks have prepared for the chance that he offers very little. That way, anything they do get can be considered a bonus.
Besides, in terms of producing wins and losses this summer, the state of the pitching staff would figure to be a bigger area of concern. There will be a lot of focus on Tanaka, CC Sabathia and Michael Pineda, as well as seeing what tweaks pitching coach Larry Rothschild makes with Nathan Eovaldi.
Installing a new closer isn't as dramatic a change as it would have been a few years ago, and both Dellin Betances and Andrew Miller should be capable. Over at shortstop, the Yankees will gently remind Gregorius that he just needs to be himself and not worry about the legend who stood there before him.
Bryan Hoch is a reporter for MLB.com. Follow him on Twitter @bryanhoch and read his MLBlog, Bombers Beat. This story was not subject to the approval of Major League Baseball or its clubs.