MLB.com Columnist
Richard Justice
Brewers aim to finish what they started in 2014
When the 2014 season was finally over, Brewers general manager Doug Melvin took the deepest of breaths and made about the most difficult decision anyone in his position could make.
Despite a 9-22 closing lap, Melvin decided that he still liked his team. Three months later, he still does. In that time, he has gone over his roster dozens of times looking for holes or ways to improve.
OK, there are ways. His stars need to perform like stars, beginning with right fielder Ryan Braun and third baseman Aramis Ramirez. Both had tough final months with their team in free fall. The Brewers still believe in both of them.
Sometimes, stuff happens. Sometimes, too, the best decision is to stay the course and push the reset button.
After an offseason procedure on a right thumb that has bothered him for three years, Braun is as confident as he can be that he's still capable of doing great things. Now all he needs is to withstand the grind of a season.
Shortstop Jean Segura didn't have his best season, either. He's only 24 years old, and it would be easy to see 2014 in the light of a young guy still figuring things out.
And there are questions about the bullpen -- especially about closer Francisco Rodriguez's free agency and the unit's depth.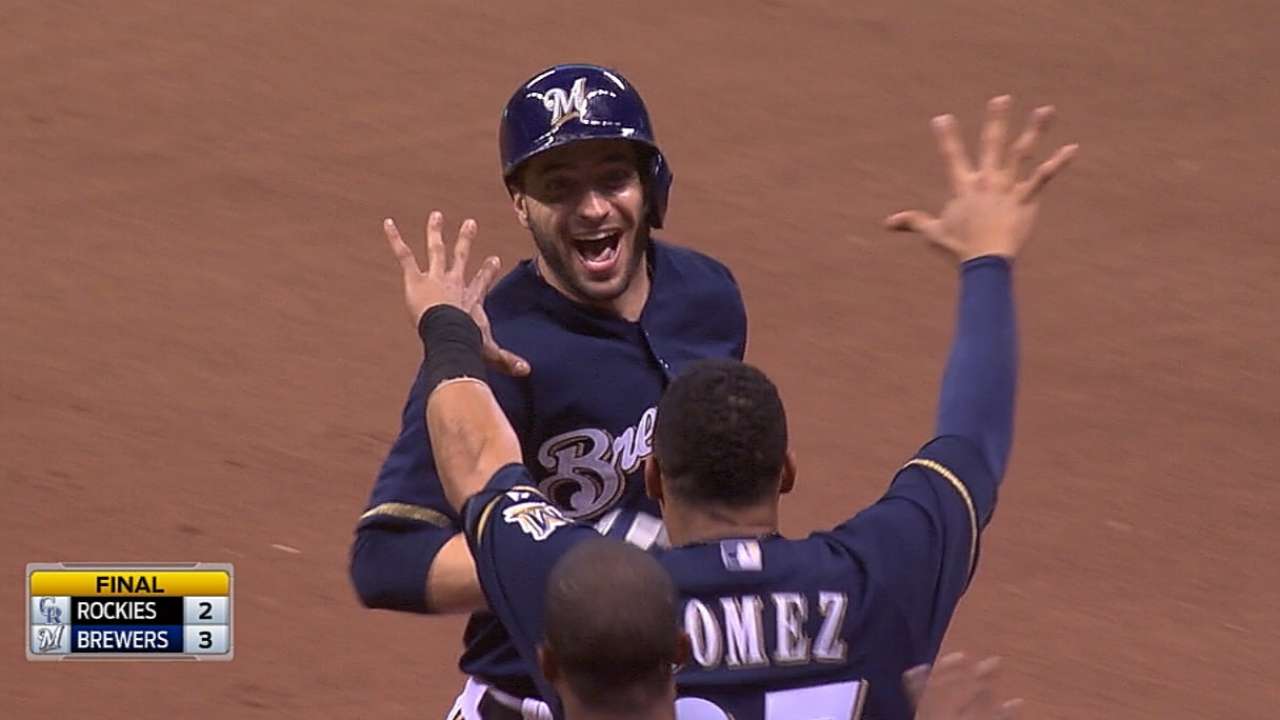 Big deal, right? Every team has a laundry list of worries, and most of them are longer than the Brewers. Once Melvin got past the bitter disappointment of letting a 6 1/2-game division lead slip away, he still believed in his guys.
"I feel comfortable with the players we have at every position," he said. "I like our starting pitching."
And the money quote ...
"We've just got to play better," he said.
The Brewers spent 153 days atop the National League Central in 2014. Think about that for a moment. On July 1, their lead was 6 1/2 games. At another point, they were a whopping 19 games over .500. At times, they did a nice imitation of the NL's best team.
They fed off center fielder Carlos Gomez's energy and catcher Jonathan Lucroy's production. They fed off the youth and energy of left fielder Khris Davis and second baseman Scooter Gennett.
Their strength was a solid starting rotation, and that's where their confidence about 2015 begins, with a pair of 25-year-olds -- Wily Peralta and Jimmy Nelson -- giving the entire thing a different look.
So who are these Brewers? Are they the team that was 51-32 on June 28? Or are they the team that scored 2.6 runs per game after Aug. 25?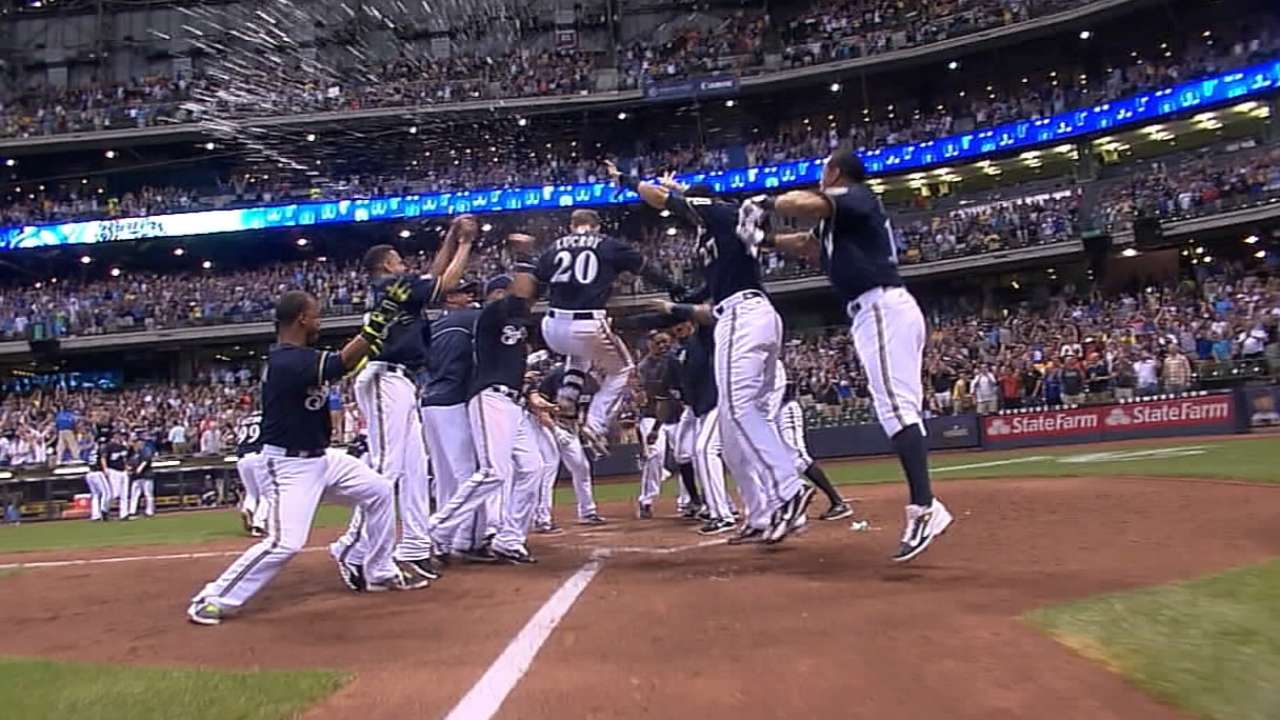 In that stretch, Braun hit .198, while Ramirez was right behind at .209. There was a long list of other problems, but if they had been great in the closing weeks, the Brewers probably would have made the playoffs.
Still, when Melvin went down his roster, he liked his team, or most of it. He had added outfielder Gerardo Parra and reliever Jonathan Broxton during the season, and first baseman Adam Lind after.
All in all, if the Brewers stay healthy, if Melvin can add to the bullpen and if Braun reverts to his old self, this is a team seemingly capable of playing with every other in the competitive NL Central.
"Obviously, there was disappointment after spending that much time in first place," Melvin said. "We've got to hope the players that didn't perform the way they wanted can bounce back. Offensively, we struggled at times. We were sixth in runs and 10th in pitching, but our pitching did what it had to do in September. We were very similar to Atlanta and Oakland. Their offenses had trouble scoring in September."
Unlike the Braves and A's, the Brewers aren't getting a makeover.
"We're a young team," Melvin said. "We don't have anyone making a ton of money. My biggest concern is bullpen depth, and that's something we'll continue to look at."
Then there's the division in which the Brewers play. Once upon a time, the Pirates were rebuilding. And then it was the Cubs or Brewers.
Now, all five teams will begin Opening Day believing they're good enough to go to the postseason.
"You've got to win games in your division," Melvin said. "You play each other 19 times. A few years ago, we used to beat up on Houston and Pittsburgh when they were down. Right now, there are no easy teams in our division. There are no teams you think you ought to sweep. A few years ago, you didn't feel that way about certain teams."
All that said, the Brewers still feel they're good enough to compete with any of the four other clubs. And for about four months last summer, they showed it. That's the team they're hoping to see more of in 2015.
Richard Justice is a columnist for MLB.com. Read his blog, Justice4U. This story was not subject to the approval of Major League Baseball or its clubs.