B.A.T. focusing on more awareness in 2015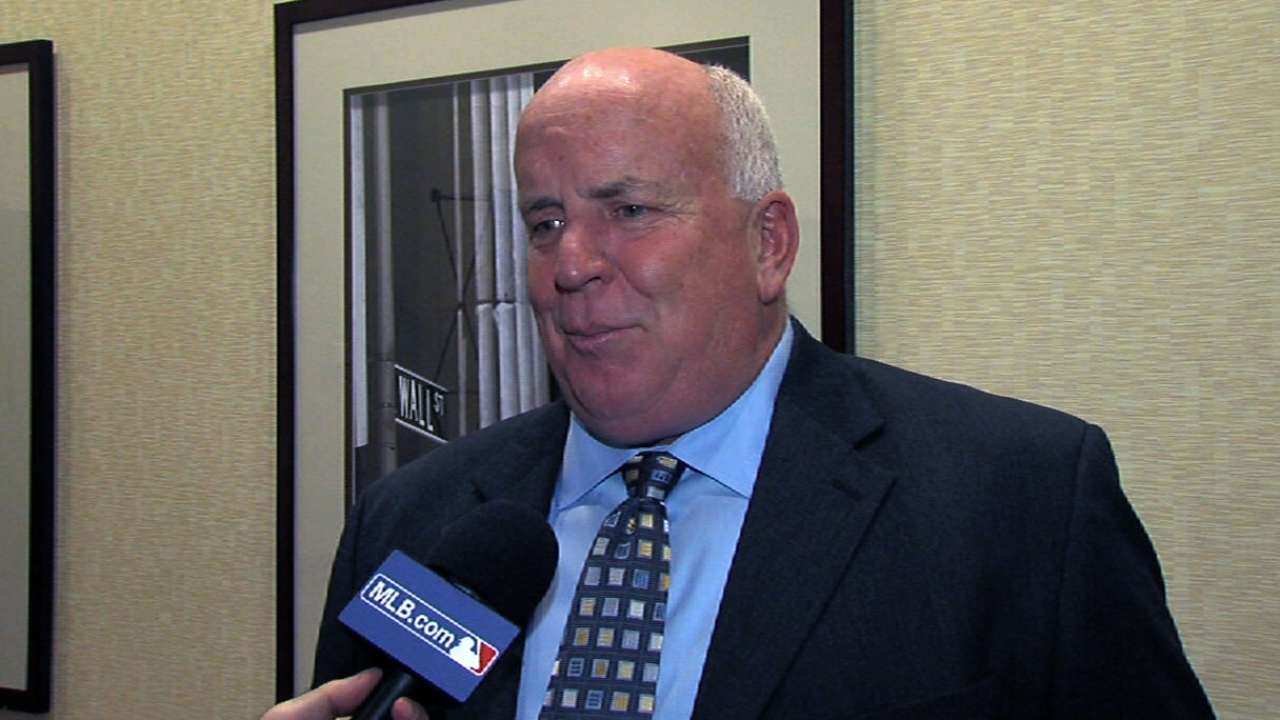 The first time Randy Winn became aware of the Baseball Assistance Team, he was a blossoming outfielder for Tampa Bay. He would listen intently and get involved as B.A.T. representatives visited Spring Training camps, now an annual rite.
"I have an interesting perspective, because years ago, I was sitting in those chairs, and I remember when B.A.T. started coming in," Winn said. "I thought, 'It sounds good, but I don't know a lot about it.'"
Today, Winn is singularly driven to make sure that others know about it -- especially those within the extended baseball family. Winn, who retired in 2011 after 13 Major League Baseball seasons, is the president for B.A.T. The organization is in its 30th year of providing a means of support to qualified applicants and their families who have nowhere else to turn, helping those within the extended baseball family who have financial, psychological or physical burdens.
The annual B.A.T. fundraiser dinner normally comes around this time of year, but it is on strategic hiatus until at least next year as the organization chooses instead to focus for now on educating its own ranks. That is a heady challenge, given the baseball family's size.
"The Baseball Assistance Team is one of the most important and vital programs supported by Major League Baseball," said John McHale Jr., executive vice president of administration and chief information officer. "The help it provides to members of the baseball family impacts lives, and Major League Baseball will continue to cover all administrative costs for B.A.T. as it carries on its mission of offering confidential assistance to members of the Baseball Family who are in need."
B.A.T. has awarded over $30 million in grants benefiting more than 3,200 members of the baseball family, including former Major League players, managers, coaches, scouts, umpires, athletic trainers, Major and Minor League front-office personnel as well as Minor League players, Negro League players, players from the Women's Professional Baseball League and widows, spouses and children ages 23 and under. All aid provided by B.A.T. is strictly confidential, allowing those in need to receive help discreetly.
"The dinner is put on hold for an initiative that we thought was very appropriate for the 2014-15 year," Winn said. "We don't have definite plans at this moment to bring it back, but there is a board meeting in February where that will be one of the topics. We've heard a lot of feedback from people who will miss the dinner, from the corporate and player side, but the board thought it would be better if we spent our time this year working on awareness.
"All last year, we spent our time trying to get the name of B.A.T. out, and not just to the casual fans, but to the industry people -- the people that we do help. We spent a lot of time going to visit each organization, and I think we've done a great job letting the current-day players know about B.A.T. I think they understand what we're about. But now we are trying to work on the other side of the organizations, meeting with human resource directors of each organization, and trying to get in to talk to each organization from the operations side to ticket sales, marketing, sponsorship, I.T. departments."
Christine O'Reilly, senior director of community relations for the White Sox, serves on the B.A.T. board and was surprised to find how few people within the baseball family actually know about it. The lack of awareness was so pronounced that a fundamental shift needed to happen this year.
"So many people who work within the industry have no idea what the purpose of B.A.T. is, or they think it is some sort of philanthropic entity within MLB, but not sure exactly what it is," O'Reilly said. "I am convinced that colleagues of mine would never fathom that this is something they might benefit from if there were a situation of need.
"What we have found is that it's a pretty pervasive situation. So before you ever do anything really mass public, I think we felt it was appropriate to take a step back and say, 'Let's be sure everyone in the family knows what the purpose is, how B.A.T. works, how funds are generated.'
"It's not just for others, it's for all of us," O'Reilly added. "That really in and of itself could so potentially strengthen B.A.T., for people to understand the amazing impact that can be made. It's not just for other people. That's an amazing employee benefit that everybody should know about. We need to educate our family members about this amazing, generous family perk."
The annual Spring Training Fundraising Tour is still very much a cornerstone in the B.A.T. awareness efforts. Last spring, more than 1,400 players, coaches and managers from all 30 MLB clubs collectively pledged a record donation of $2,523,650 to B.A.T. The donations are made through the MLB Payroll Deduction Program, allowing players to provide funding for B.A.T. throughout the course of the season. Collective donations from players in the Cactus League ($1,297,900) and Grapefruit League ($1,225,750) set records for each respective Spring Training site, and the 2014 tour brought the Spring Training fundraising total to more than $17 million pledged over 12 years.
"Now the players know a lot about it, whether it's a former teammate, a Minors teammate, a buddy in the clubhouse," Winn said. "They have intimate knowledge of what we are doing. The support of current players is tremendous."
Extending that familiarity to the rest of the baseball family is the challenge for 2015. Winn said he hopes all other qualified applicants and their families can hear about real-life B.A.T. stories and understand that this resource is there for them in times of crisis.
"We've been meeting with organizations as a whole, and during the Winter Meetings, we met with some Minor League groups -- the Midwest League, a short-season league -- just trying to get the word out," Winn said. "We have definitely seen an uptick in our applications that have come out of those meetings. We're getting applications from people who work in the front office, people who work in the Commissioner's Office.
"It's definitely helped. I was in the airport and two separate people came up to me and said, 'I was in a meeting that you did, I know that it helped my particular group.' That's the response we get anytime we do these meetings."
For more information about B.A.T., including grant applications or donations, please phone 212-931-7822, visit BaseballAssistanceTeam.com and follow @BATcharity.
Mark Newman is enterprise editor of MLB.com. Read and join other baseball fans on his MLB.com community blog. This story was not subject to the approval of Major League Baseball or its clubs.