Reliever Neris impressing Phillies in winter ball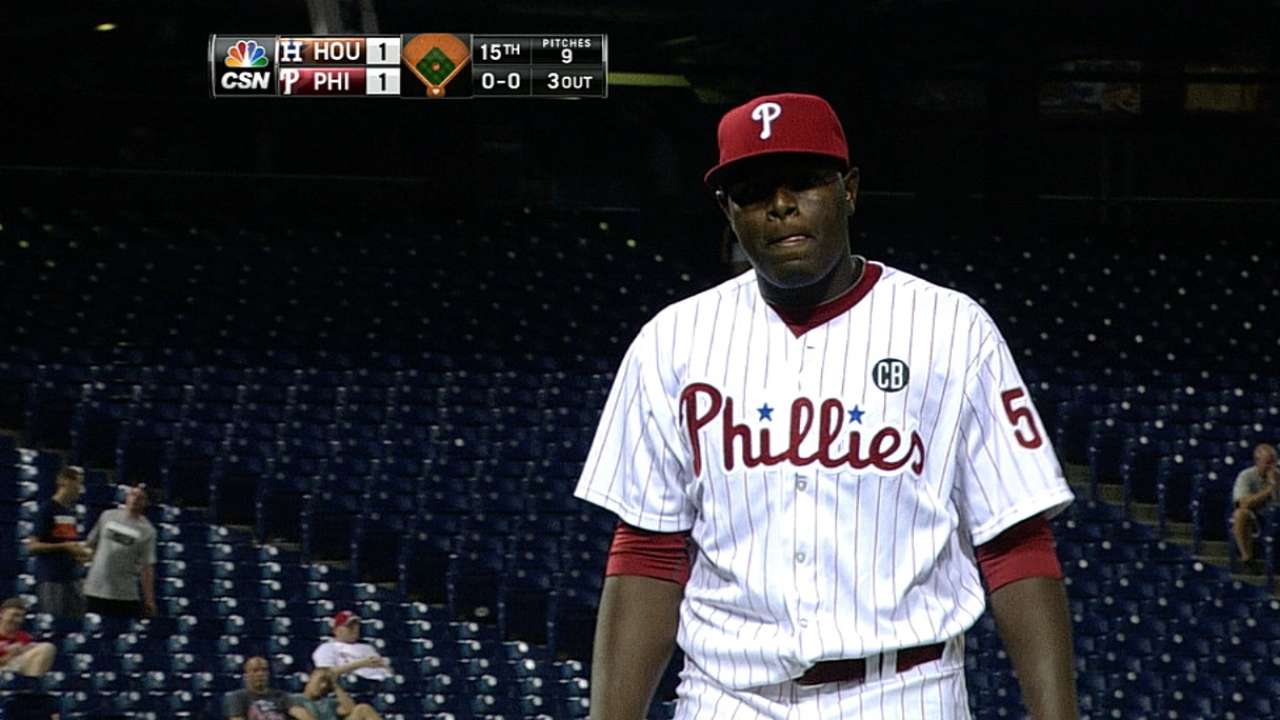 PHILADELPHIA -- The Phillies had little to play for by Aug. 3 last season, when they called up right-hander Hector Neris from Triple-A Lehigh Valley.
Neris' arrival barely made a peep. But at least a few folks in the organization wanted to see him pitch.
"We think he's a piece in the bullpen," Phillies player development director Joe Jordan said. "The guy is a Major League pitcher. He's going to be a Major League pitcher."
Neris pitched a scoreless inning on Aug. 5 in a 15-inning victory against the Astros, picking up the win in the process. The 25-year-old was demoted after that before rejoining the team on Sept. 24, although he did not make another appearance. Neris went a combined 6-3 with a 3.61 ERA in 48 appearances (one start) with Double-A Reading and Lehigh Valley.
Neris is worth watching in Spring Training. There are a few pitchers who are locks or near locks to make the bullpen: Jonathan Papelbon, Ken Giles, Jake Diekman, Justin De Fratus and Mario Hollands, if healthy. Neris should be in the mix for one of the final bullpen jobs.
Neris was 1-0 with a 0.00 ERA in 20 appearances with Toros del Este in the Dominican Winter League regular season. In 18 innings, he allowed 14 hits, no runs and five walks while striking out 13.
Neris has pitched in five of the team's eight postseason games, allowing two runs on one hit and four walks while striking out seven in his 4 2/3 innings. He picked up a save with two strikeouts in his one inning of work Saturday, but he allowed two runs on one hit and two walks in two-thirds of an inning Monday.
"He's got a good arm," Jordan said. "He's got an above-average fastball. But his changeup is a finish pitch. He's got a changeup that can get a good Major League hitter out. Listen, he had a good year last year. It was more of a good second half for me. That's when things really started coming together."
Todd Zolecki is a reporter for MLB.com. This story was not subject to the approval of Major League Baseball or its clubs.