MLB.com Columnist
Richard Justice
All-out style defined Biggio's Hall-bound career
Astros icon exhibited exceptional drive even from days as catcher at Seton Hall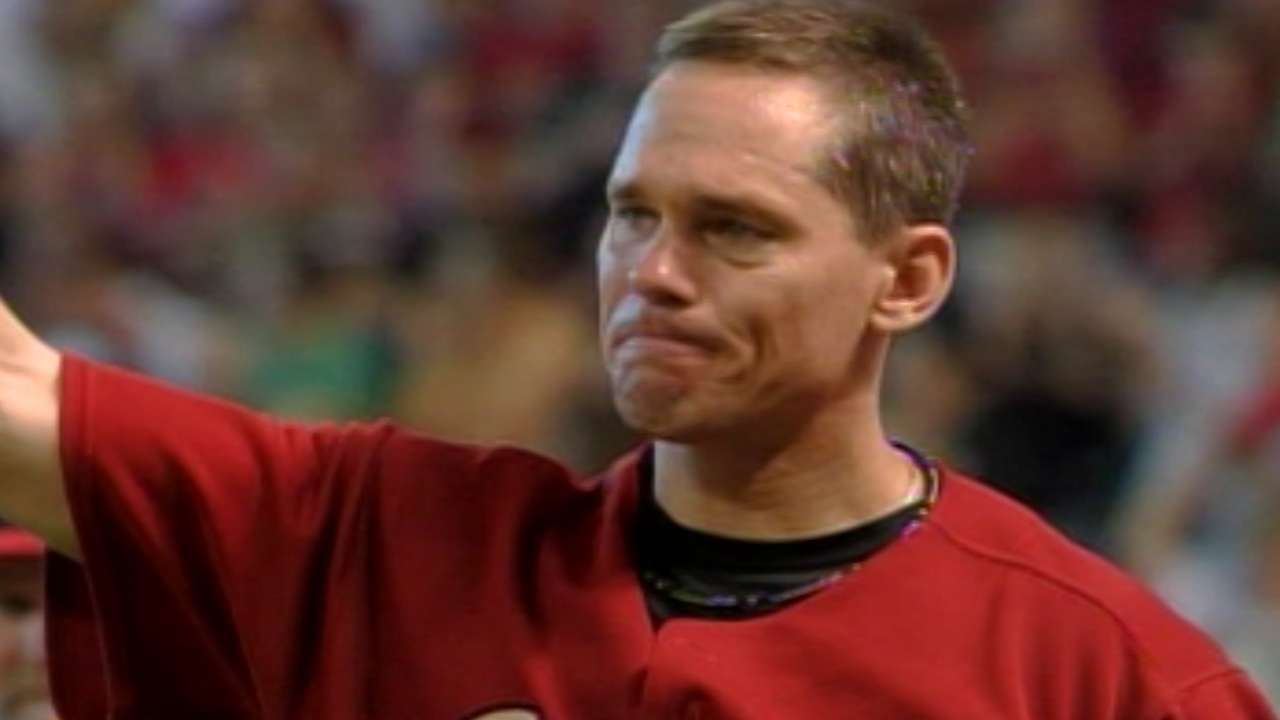 HOUSTON -- When Craig Biggio was a catcher at Seton Hall University, one particular play may have defined him. All these years later, it's the play that probably reflects his drive and passion more than any words ever could.
When an opposing player hit an infield grounder, Biggio would leap from behind the plate and race the guy to first base. Catchers do this kind of thing all the time. Backing up first base for a potential bad throw is part of the job description.
It's just the way Biggio did it that left such an impression. He was fast. He was angry. He sprinted down the first-base line as if the entire game hung in the balance. Hey, maybe it did. Little things add up. He simply wasn't going to be beaten. Anyway, that play was one of the things his teammates mentioned years later when he returned to the school to have his jersey retired.
Long after Craig had left Seton Hall and after he had established himself as one of the best players in the game and put himself on track to be inducted into the National Baseball Hall of Fame this summer, that play has a place in the hearts and minds of some of the people who know him best.
So when Patty Biggio is asked about her husband's relentless will to win and to be great and all of that, she'll begin by talking about those days at Seton Hall, when they were dating, and how he would burst from behind the plate and sprint to first base.
"He was so driven," she said.
• Shop for Craig Biggio memorabilia
Thoughts of those days prompt another memory from Patty, this one of the catcher's mitt Craig used at Seton Hall. It's faded and worn, looks like it has been to hell and back. And yet, there are things on that mitt that speak volumes about its owner. Craig has also written words on the mitt, words like "family" and "pride" and "Omaha."
"It's what you'd expect," she said. "That's just the way Craig motivated himself."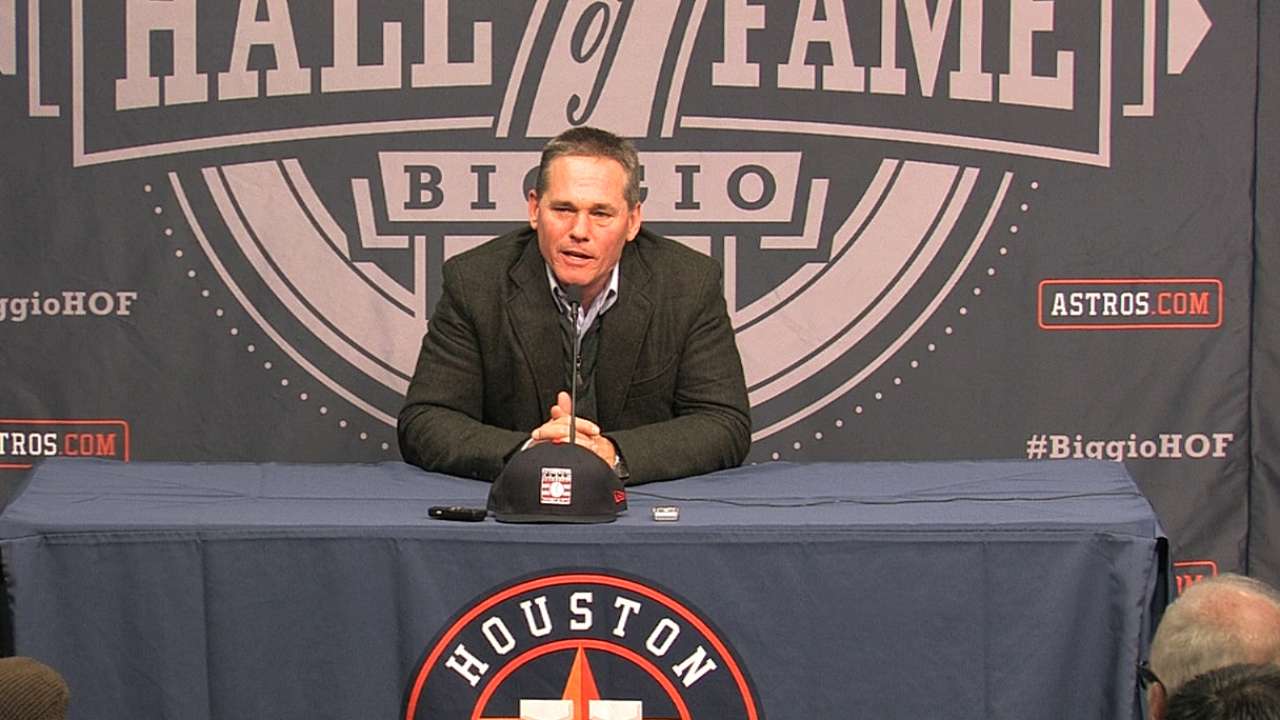 Every single thing you need to know about Craig Biggio and his quest for greatness begins here. He drove himself hard. He hit in the cage until his hands bled. He lifted weights until his arms burned. He took thousands of balls behind the plate with the goal of being the best catcher on earth.
When the Astros moved him to second base, he spent that offseason fielding hundreds and hundreds of ground balls in the rodeo dirt inside the Astrodome. He'd just made the National League All-Star team as a catcher, and dozens of people were telling him it would be career suicide to change positions.
He had some doubts himself. But he used the doubts of others to feed his work and his energy, to channel everything toward being every bit the player he'd been at catcher. And when he won that first Gold Glove at second, he gave it to Matt Galante, the instructor who'd guided him through the transition.
Those were among the stories they were telling on Tuesday in the hours after Biggio learned that he'd been voted into the Hall of Fame. He wept upon receiving the call, and then he spent plenty of the rest of the day attempting to put the thing in perspective.
"This is overwhelming and humbling," he said.
"Is this really real? You're not playing a joke on me." - Craig Biggio said on his call today. #BiggioHOF pic.twitter.com/kwCGH7kslE

- Houston Astros (@astros) January 6, 2015
He spent all 20 of his Major League seasons with the Astros, and until Tuesday, they'd never had one of their own voted into the Hall of Fame. He was the scrappy 1987 first-round Draft pick out of Seton Hall, the guy Yogi Berra mentored and befriended. He was the guy who former team owner Drayton McLane kept signing and re-signing, vowing that Biggio would be the first Astro in the Hall.
Let's be clear about Biggio's career. He had talent, tons of it. He had a tremendously quick bat, and for a few years, he had speed that was off the charts. For five or six years, there was no conversation about the National League's best player without including Biggio.
During the seven-season stretch of 1993-99, Biggio was first in the NL in doubles and runs, second in hits, third in stolen bases and fourth in walks.
In 1997, he had 744 plate appearances and grounded into zero double plays. He and Cal Ripken are the only two middle infielders in history with at least 3,000 hits and 1,000 extra-base hits. He made the NL All-Star team seven times. He won four Gold Gloves and five Silver Slugger Awards.
Still, when the Astros speak of Biggio, it's his attitude and his work ethic and his raging competitive fires they bring up first.
"That passion he has, that intensity," said former Astros president Tal Smith, "it sets a tone. It permeates a clubhouse. Craig and Jeff [Bagwell] had a great influence on everybody, whether it was young kids coming up or veteran players coming over. Nobody was going to put themselves in position to be challenged by Jeff or Craig. They cared so deeply, and that set the tone. I think that was largely responsible for the great run of success we had during their time here."
Biggio was in the middle of everything when the Astros went to the playoffs six times in a nine-season stretch. When Larry Dierker left the broadcast booth to take over as manager in 1997, he remembers being struck by Biggio's energy.
"It's a half-hour or so before the game, and he's running here to get a cup of coffee, running over there to watch video," Dierker said. "He was bouncing around like a pinball. He couldn't wait to get started. When you're playing every day for 162 games like he is, to have that kind of energy and drive day after day after day, I never imagined it would be like that."
On Tuesday, Biggio said he awoke at 4 a.m. and attempted to calm his nerves as he hoped for a call from the Hall. He went for a run. He lifted weights. He went for a walk.
"I just was a wreck," he said.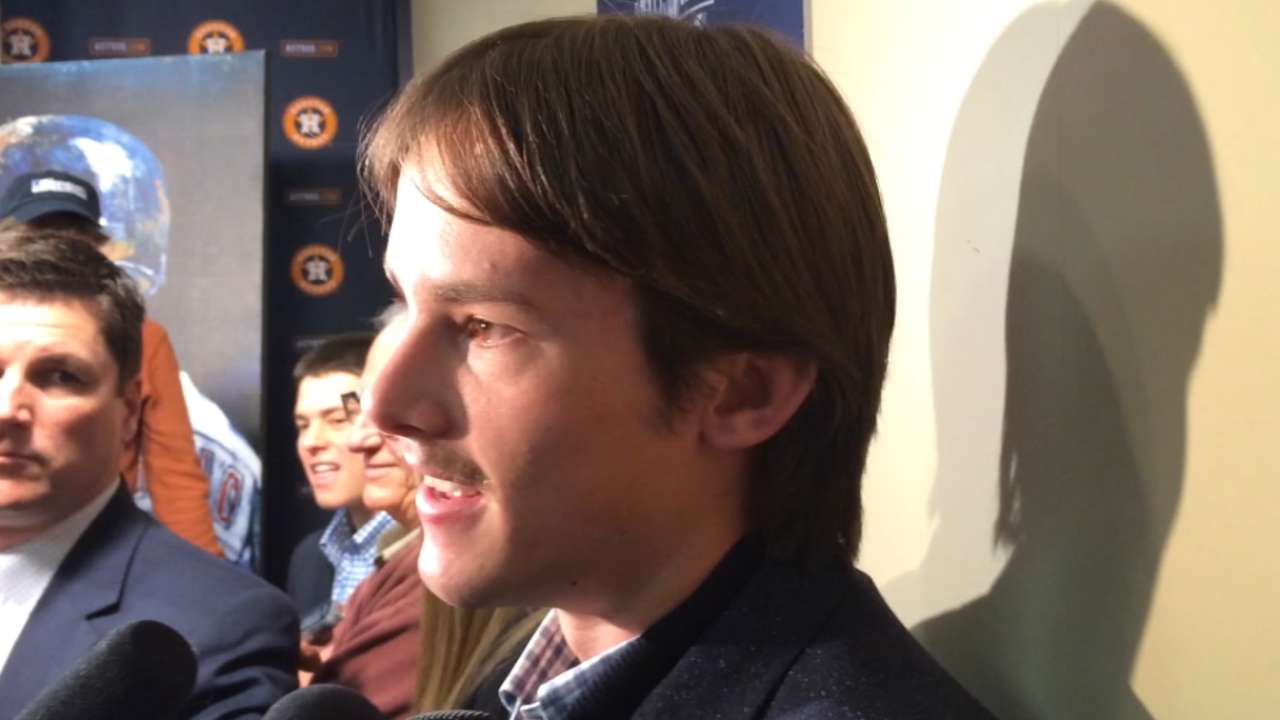 And when the call from Hall of Fame President Jeff Idelson came, Biggio broke down and cried as his family captured it all on video. When he began doing interviews, he spoke of his love for the city and the franchise, for his charity, the Sunshine Kids, and for all the friends he's made.
"I love this city. I love this organization. It's always been about that," he said. "I was just an East Coast kid that came to Texas. This has been my town for close to 30 years. I have no regrets. I played the game hard. I played the game right. It was always about the team. It was always about winning. I got paid to do what I loved to do. I loved every minute of it. I tried to play every game as if it was going to be my last game."
Richard Justice is a columnist for MLB.com. Read his blog, Justice4U. This story was not subject to the approval of Major League Baseball or its clubs.