After missing out on Hall, Grich finds supporters
As Erstad, Percival fall off ballot, former Angels infielder gets new look with statistical advances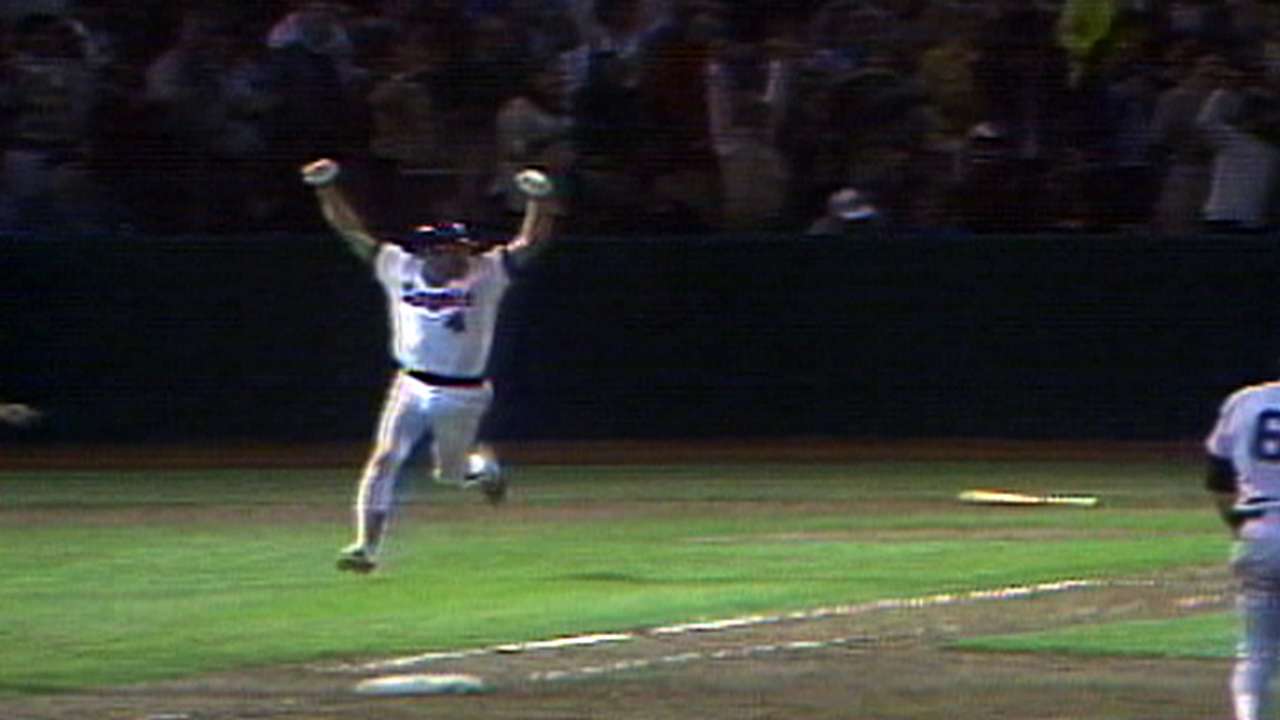 ANAHEIM -- The Hall of Fame passed Bobby Grich by years ago. The standout second baseman for the Orioles and Angels became eligible in 1992, received votes from only 2.6 percent of the Baseball Writers' Association of America and was never considered again, tossed aside like all the others who fell below that five-percent threshold to remain on the ballot.
"I'm not bitter, I'm not complaining," Grich said of the nominal support from Hall of Fame voters, though he did admit one thing.
"To be very honest, I was surprised at the low vote."
Grich was attending a business lunch when Randy Johnson, Pedro Martinez, John Smoltz and Craig Biggio were announced as Hall of Famers for the 2015 class on Tuesday, oblivious to the news and indifferent about the outcome.
No player has yet to enter the Hall of Fame with an Angels cap, and Troy Percival and Darin Erstad, two key members of the 2002 championship team, suffered Grich's same fate by receiving less than five-percent support in their first appearance on the ballot.
But Percival (he received four votes) and Erstad (one token vote) never really had a chance.
Grich -- the Long Beach, Calif., product who grew up rooting for the Angels and took less money to spend 10 of his 17 seasons with them -- is different.
His aggregate offensive numbers -- .266 batting average, 224 homers, 1,833 hits, 864 RBIs, 104 stolen bases -- don't jump off the page. But in recent years, thanks in large part to the emergence of advanced stats, Grich has received a groundswell of support from pundits who believe his defense, plate discipline and power should have received more consideration.
In a career that spanned from 1970-86, Grich compiled a 70.9 Wins Above Replacement score -- per Baseball-Reference -- that ranks eighth all time at his position. His .371 on-base percentage is higher than 12 other Hall of Fame second basemen. And his OPS-plus of 125, a stat that adjusts for league and park effects, is better than 15 second basemen in Cooperstown.
The JAWS system, developed by sabermetrician Jay Jaffe, averages career WAR with a player's seven-year-peak WAR to determine Hall of Fame worthiness. Among the top 11 second basemen under that system, Grich is the only one not in the Hall of Fame. He ranks seventh, above the likes of Roberto Alomar, Jackie Robinson, Ryne Sandberg and Frankie Frisch.
"I'm very flattered by comments from people that support me," Grich said in a phone conversation earlier on Tuesday morning. "It makes me feel really good, and it's awesome that people would mention me as a possible candidate for the Hall of Fame. I truly appreciate it. But the bottom line is the voting community, and that vote, it speaks volumes. And I just didn't get much support at all. That's just the way it is."
Grich won four consecutive Gold Glove Awards, made six trips to the All-Star Game and basically had two five-year peaks.
With the Orioles from 1972-76, he batted .263/.374/.410 while averaging 14 homers, 59 RBIs and a 7.0 rWAR per season. Then he joined the Angels, underwent serious back surgery in the middle of 1977 and re-established himself from 1979-83, batting .283/.380/.477 while averaging 20 homers, 70 RBIs and a 4.7 WAR.
Now 65, Grich believes he had a similar career to Hall of Famer and lifelong Pirates second baseman Bill Mazeroski, even though Grich compiled nearly twice the WAR and was far more dangerous offensively. He never considered himself among the Hall of Fame players of his time, but he believes "very little weight is given to the defensive side of the Hall of Fame candidates," where Grich excelled despite his size.
The Expansion Era Committee re-considers players whose main contributions came after 1970. Grich wasn't on the ballot in 2010 or 2013, but will have another chance in 2016.
Still, he admits, "I have a mountain to climb" to be enshrined in Cooperstown.
"I just appreciate being part of the conversation from time to time," Grich said. "That's probably about it."
Alden Gonzalez is a reporter for MLB.com. Read his blog, Gonzo and "The Show", and follow him on Twitter @Alden_Gonzalez. This story was not subject to the approval of Major League Baseball or its clubs.