MLB.com Columnist
Bill Ladson
Raines' vote total rises, but former Expo misses HOF
Seven-time All-Star, 23-year veteran notches 55 percent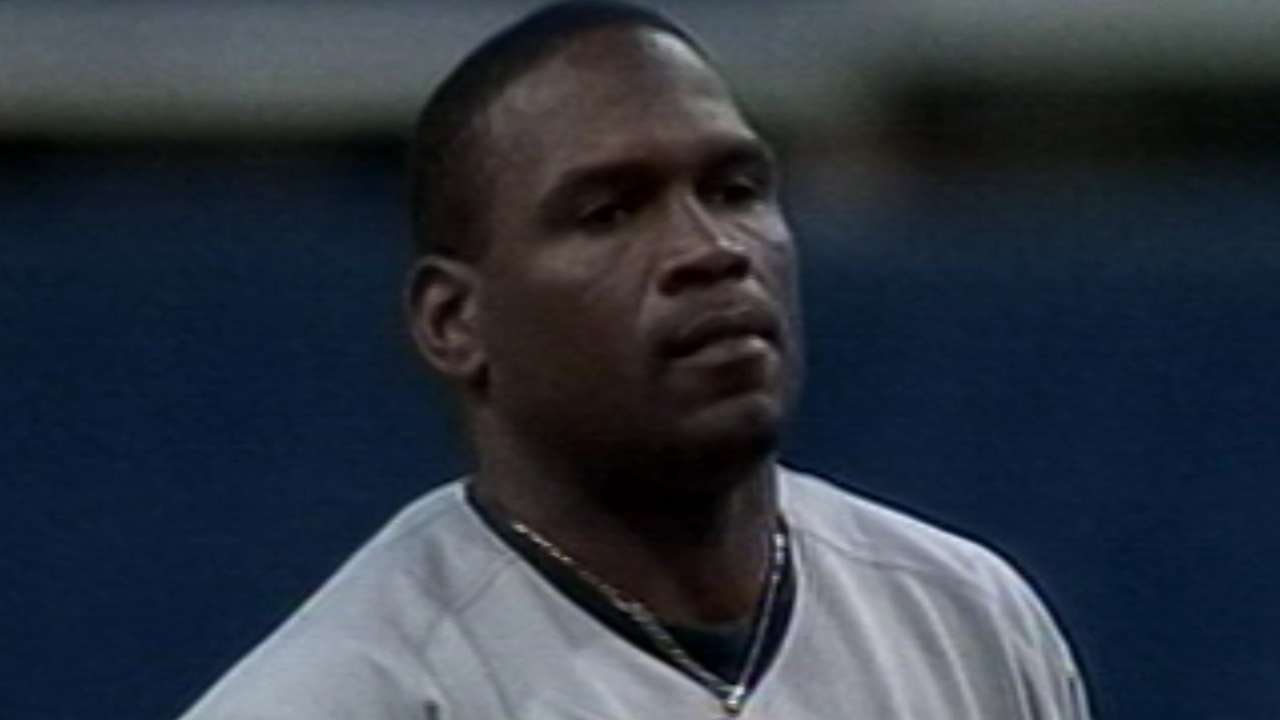 WASHINGTON -- Tim Raines had a chance to join former Expos teammates Gary Carter and Andre Dawson in the National Baseball Hall of Fame on Tuesday, but the longtime switch-hitting outfielder fell short of election. Raines received 55 percent of the vote, up from the 46.1 percent he received last year. Raines was on the ballot for the eighth year.
A candidate must receive 75 percent of the vote from eligible Baseball Writers' Association of America members to gain election to the Hall of Fame. Pedro Martinez, Randy Johnson, Craig Biggio and John Smoltz will be inducted this summer.
Raines played during an era in which Rickey Henderson was the dominant leadoff hitter, but the man known as "Rock" was a difference-maker himself.
To all of the fans and media who continue to support my @BaseballHall candidacy, it's immensely appreciated. Thanks for all the kind words.

- Tim Raines (@TimRaines30) January 6, 2015
Most of the damage Raines inflicted from the top of the batting order came as a member of the Expos and White Sox. From 1981-92, he scored 90 or more runs eight times, led the league in stolen bases four times, was a seven-time All-Star and hit .290 or better seven times. As an everyday player, Raines had an on-base percentage of .390 or better in eight seasons.
Raines, who played for 23 years, ranks fifth all-time in stolen bases (808), recorded 2,605 hits and scored 1,571 runs. Even when his time as an everyday player ended, he proved to be a valuable reserve, helping the Yankees win World Series titles in 1996 and '98.
When he was asked a few years ago on MLB Network if he was overlooked because he played in the same era as Henderson, Raines said, "Somewhat, but I think the difference was he played in the American League and I was in the National League, which kind of helped a little bit. We were kind of like rivals, but we never really played each other. If you look at the National League side, people would probably be saying the same thing about me like they said about him in the American League."
Among Raines' many dominant seasons, his 1987 campaign stands out -- and he had a lot to prove that year. Raines became a free agent after winning the NL batting crown in '86, but he didn't have a true chance to test the market because of what was deemed by an arbitrator to be collusion by the owners.
Raines wasn't able to sign with the Expos until May 1, but he made up for the lost time. He played his first game of the season the next day, against the Mets, and went 4-for-5, including a 10th-inning grand slam.
"He had no Spring Training, and we were playing in New York," said Jim Fanning, who was a general manager, manager and broadcaster during Raines' time with the Expos. "It's his first game back. He hits a home run right-handed. He was an absolute star of that game. I remember [broadcaster] Dave Van Horne and I were saying, 'What is this Spring Training business all about, anyway? Everybody can get in condition on their own. Who needs it?'"
Raines ended up leading the NL in runs scored (123) and finished third in the Senior Circuit with a .330 batting average.
Bill Ladson is a reporter for MLB.com and writes an MLBlog, All Nats All the Time. He also can be found on Twitter @WashingNats. This story was not subject to the approval of Major League Baseball or its clubs.