Middlebrooks relishes chance to thrive with Padres
After leaving Boston, third baseman gets opportunity to play every day
SAN DIEGO -- For nearly a month, Will Middlebrooks was stuck in a holding pattern.
Once the Red Sox acquired Pablo Sandoval to play third base, Middlebrooks had a hunch he was going to be dealt. He just didn't know where, he didn't know when, and he didn't know what opportunity would be awaiting him when he arrived.
Those questions have all been answered. Middlebrooks is in San Diego after being dealt to the Padres for catcher Ryan Hanigan last month. And he'll have a chance to compete for the starting third base job -- which is really all he could have asked for.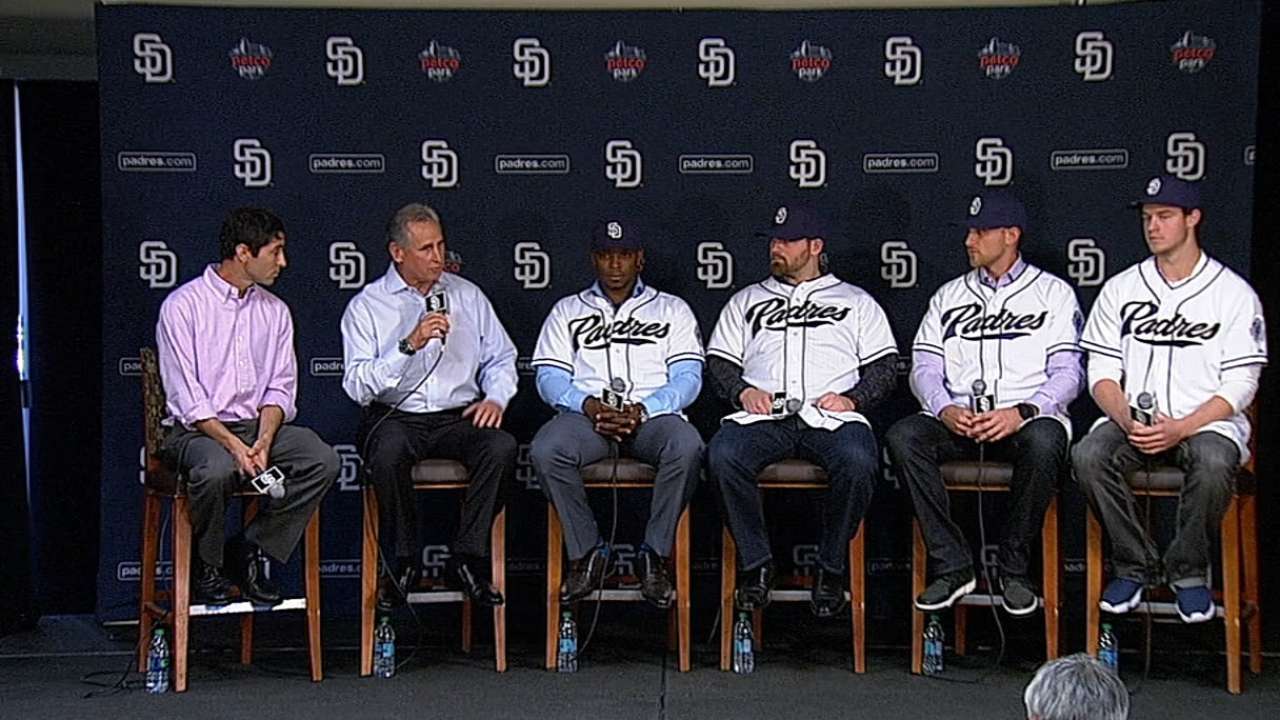 "Those two weeks, I was just hoping something would happen and I'd get moved," said Middlebrooks, who was introduced to the media along with Justin Upton, Derek Norris and Wil Myers on Tuesday. "Luckily I did. I really feel like this is a good fit for me -- this city and this staff and the other guys that they've brought in."
After a breakout 2012 campaign, which saw Middlebrooks post a .288/.325/.509 slash line, his offensive performance plummeted over the past two seasons. Middlebrooks batted just .191 with two home runs in 63 games last year.
Part of his struggles can be attributed to injuries, which have prevented Middlebrooks from establishing any type of rhythm. Last season, he missed three weeks in April because of a strained calf before missing two and a half months with a fractured index finger.
Assuming Middlebrooks is healthy, he'll compete with Yangervis Solarte for the starting third base job. Cory Spangenberg, a 23-year-old prospect, is also in the mix.
Padres manager Bud Black added that Middlebrooks, a right-handed hitter, could see time at first base, allowing Yonder Alonso a chance to rest against tough left-handers.
"Everything's an option," Middlebrooks said. "I just want to play every day. I feel like if I'm on the field and I'm healthy, I can really help us do some things."
Because of Middlebrooks' injury history, general manager A.J. Preller said he saw an opportunity to get a quality player at a discount.
"Obviously, this past year, he had some injury issues and performance was down," Preller said. "There's always a time and a place to go out and acquire players. I think he was a guy that we had on our radar screen as a possible buy-low type candidate."
With so few at-bats during the regular season, Middlebrooks was asked by the Red Sox to play winter ball this offseason. He opted not to, instead choosing to use the time to heal a hand injury he suffered in batting practice late in the season.
Shortly thereafter, the Red Sox signed Sandoval, leaving Middlebrooks' future in Boston in doubt.
"With the changes made in Boston and the players that were acquired in the offseason, I was kind of the odd-man out," said Middlebrooks. "You bring in a third baseman and pay him that kind of money -- he's going to play every day. There weren't going to be that many reps for me. This is a perfect situation, and I'm happy to be here."
AJ Cassavell is a reporter for MLB.com. Follow him on Twitter @ajcassavell. This story was not subject to the approval of Major League Baseball or its clubs.