Upton ready to contribute in heart of Padres order
Slugging outfielder looks to continue strong play at Petco Park
SAN DIEGO -- If there's ever a time in the coming weeks or months when Padres outfielder Justin Upton senses trepidation on the part of his new teammates about playing at Petco Park, he will be sure to set them straight right away.
"I think the new guys are going to love it," Upton said.
Upton himself, of course, is one of those "new guys" -- one of four players introduced on Tuesday at Petco Park as the Padres continued to roll out their shiny-new additions to a revamped offense that will look nothing like the one that limped across the finish line in 2014.
Upton, outfielder Wil Myers, catcher Derek Norris and third baseman Will Middlebrooks met the media on an unusually warm morning in San Diego less than three weeks after all were obtained in a series of stunning trades by new general manager A.J. Preller, who previously added outfielder Matt Kemp from the Dodgers.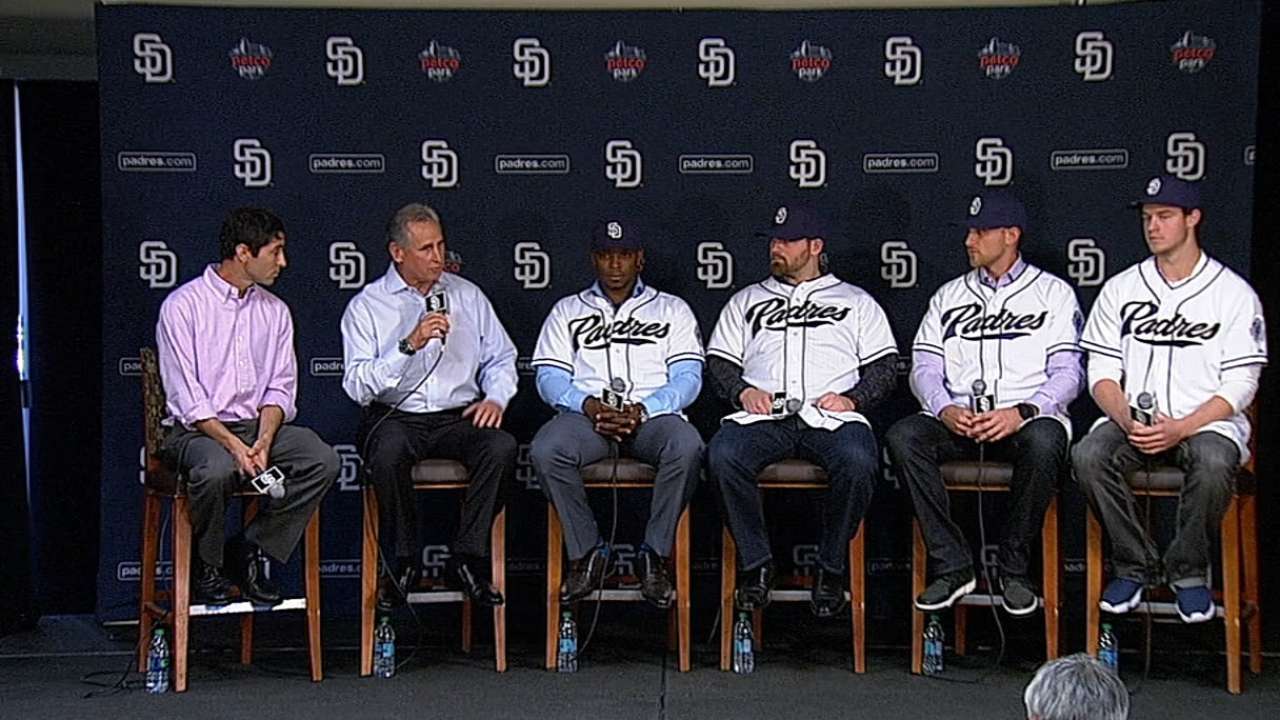 The Padres, who ranked last in nearly every pertinent offensive category last season, enter 2015 with blossoming optimism and a completely overhauled lineup for manager Bud Black, one that will include Upton, who was obtained from the Braves as part of a six-player deal on Dec. 19.
That deal came one day after the Padres added Kemp, giving them the kind of 1-2 middle-of-the-order thump not often -- or ever -- seen in these parts.
"From our standpoint, it was a chance to add another big bat to the middle of our order," Preller said. "Justin, over the last five or six years, has been one of the most accomplished hitters in the National League. It's a power bat and his power has played in both Arizona and Atlanta."
And, of utmost importance to the Padres, it's played well at Petco Park. Aside from the two ballparks he's called home -- Chase Field in Arizona and Turner Field -- Upton's 10 home runs at Petco Park, his new home ballpark, are the most he's hit anywhere. He's a career .291/.359/.541 hitter in San Diego with 22 extra-base hits in 192 plate appearances.
So don't try selling him on the fact that Petco Park is a graveyard for hitters, especially those who offer right-handed power.
"Everyone says it's big, but I don't think so," Upton said. "I think it plays pretty fair. I've enjoyed quite a bit of success here. I enjoy playing here. I think the park is great. I think it's a great park."
If Black, heading into his ninth season, closes his eyes, he can probably envision Upton and Kemp doing some damage at Petco Park. But unlike Kemp, who is under contract through 2019, Upton's time in San Diego could be much, much shorter.
The Padres made the decision to trade for Upton with the understanding that he could very well be with the team for just one season.
Upton will be a free agent following the 2015 season and will certainly command -- and likely receive -- a mammoth, multi-year contract, especially with the scarcity of power and the decline of offense in the game.
The Padres have two options to consider. They can make a run at Upton, offering him what would clearly be the largest contract in club history, building around him. They could also make him a qualifying offer after the season, one he would certainly decline and they would then collect Draft pick compensation at the end of the first round in 2016.
"We're open," Upton's agent, Larry Reynolds, said Tuesday about negotiating a deal with the Padres to remain in San Diego long-term. "We're going to play it by ear. We haven't talked about much. He's getting married and has a lot of stuff going on. He'll come in, enjoy himself and we'll talk about it later."
Upton, asked about his future beyond 2015, essentially said the same.
"I'm more focused on preparing myself for this season," he said. "This is a unique opportunity we have and I don't want to look past that. If it comes to it, and when the 2015 season is over, then we'll look to that."
Corey Brock is a reporter for MLB.com. Keep track of @FollowThePadres on Twitter. This story was not subject to the approval of Major League Baseball or its clubs.