MLB.com Columnist
Richard Justice
Call from the Hall: Special day for quartet of legends
Today, we celebrate greatness in all its forms. Randy Johnson's quiet confidence and overpowering stuff define it. So do Pedro Martinez's pinpoint control and indomitable spirit.
Meanwhile, John Smoltz's power and precision were part of the fuel that carried the Braves to 14 consecutive first-place finishes, one of the great rides any team has ever had. There's Craig Biggio, whose relentless drive helped transform an entire franchise, the Houston Astros, the one he spent all 20 of his big league seasons with.
This day is about them, the National Baseball Hall of Fame's 2015 induction class. It's an historically large class, the first time since 1955 the Baseball Writers' Association of America has voted four players into Cooperstown.
Johnson was swept in with 97.3 percent of the vote (the eighth-highest percentage in history), but there was no doubt about the other three as well, with Martinez (91.1 percent), Smoltz (82.9) and Biggio (82.7) all surpassing the 75-percent threshold. It's the first time three pitchers have been voted in.
At a time when the debate about who belongs in the Hall and who doesn't has never been louder, there simply is no debate about this quartet of legends. We marvel at their talent and rejoice at their accomplishments. We thank them for gracing our game.
For baseball, it's a day to pause and to reflect. These players represent an entire generation, represent them in ways that serve as a bright and shining light for every other.
For the Hall of Fame, it's a grand moment, the beginning of a six-month march leading up to induction Sunday when these four will take the stage in Cooperstown alongside men they've idolized and imitated.
Yes, Craig Biggio, you belong right up there with Yogi Berra, your mentor and friend. Yes, Randy Johnson, you're there with Bob Gibson and Jim Palmer and Sandy Koufax. They're your brothers now.
Now a couple of words about each one.
Almost everyone in baseball has a memory of the first time he or she saw Randy Johnson deliver a pitch in a Major League game.
For me, it was June 20, 1989. It was the 21st of Johnson's 603 starts, and he wasn't very good that night, allowing four runs in 3 1/3 innings against the Orioles. Only 38 of his 72 pitches found the strike zone. Yet when the evening ended, just about every single person at the Kingdome had been struck by the same thing.
They had gotten a glimpse of greatness. They knew it. The Orioles knew it. Certainly, the Mariners knew it. Johnson was 25 years old and unpolished, a bit awkward, a bit unsure of himself. He was also absolutely terrifying.
Johnson stood out there, 6-foot-10 and gangly, throwing close to 100 mph. He had a three-quarter delivery in which the ball was delivered from the first-base side of the mound.
So for a left-handed hitter, there were decisions to be made. It was about guts and courage. As Orioles manager Frank Robinson would say later, "You tell yourself to hang in there against him, but your brain is telling you to get the hell out of there."
And that was pretty much the story of Johnson's 22-year career. Every single time he stepped on the mound, you had to watch, because you knew you were seeing something special.
Johnson led his league in strikeouts nine times. He made 10 All-Star teams over a 15-year period. He won four straight Cy Young Awards from 1999-2002. He won five in all, finished second three times and third once.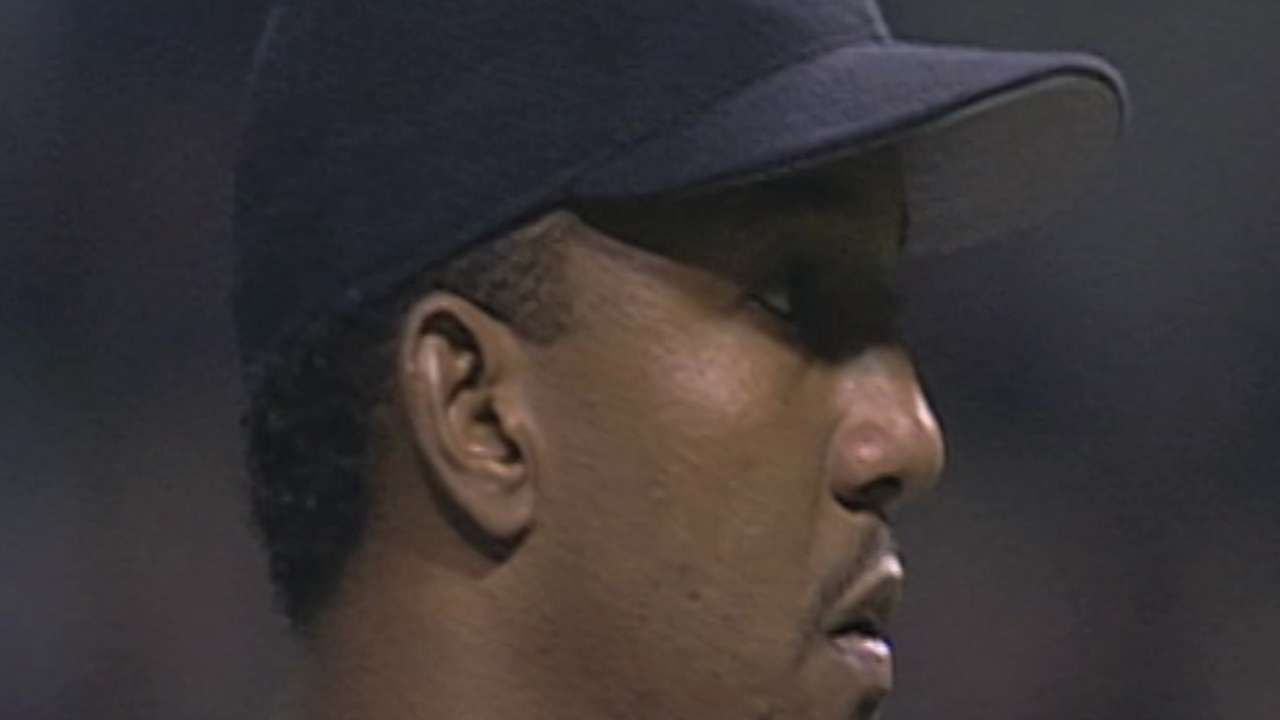 Pedro Martinez was different. He didn't overwhelm in either size (5-foot-11) or velocity. He simply knew how to pitch. Martinez worked every corner of the strike zone. He had amazing control and wasn't afraid to establish the inside portion of the plate as his own.
Last summer, when Hall of Famer Monte Irvin was asked which pitchers he'd been most impressed by in recent years, he didn't hesitate.
"Pedro!" he said.
Pedro?
"That changeup," Irvin said. "The way he delivered it. The way he kept hitters off balance. If you're facing a guy who throws hard, you at least know what to expect. With Pedro, you never feel your timing is right."
Martinez led his league in ERA five times and strikeouts three times. He won three Cy Young Awards and finished second, third or fourth four times.
Smoltz, the only player on all 14 of those division winners in Atlanta, now joins his buddies Greg Maddux and Tom Glavine in the Hall of Fame. He and Dennis Eckersley are the only pitchers to win 20 games as a starter and save 50 as a reliever.
Biggio had to wait for his third chance, and maybe that'll make it all sweeter. He checked off every box. For about six or seven years, Biggio was one of the two or three best players in the National League. Yet he also was a productive player for 20 seasons. He helped led the Astros to their finest run ever -- six playoff appearances in a nine-season stretch.
So we honor them today, and we'll do so next summer in Cooperstown when they have plaques placed in that room with Babe Ruth and Ted Williams and all the others.
All of these players take us back to another place and time, reminding us of all of those evenings they sent us to the exits happy and all of those times when they did things they took our breaths away.
This day is for them. But it's for all of us lucky enough to have seen them play.
Richard Justice is a columnist for MLB.com. Read his blog, Justice4U. This story was not subject to the approval of Major League Baseball or its clubs.