Strikeouts key for revamping Twins' 'pen in '15
Fien, Stauffer looking to help support All-Star closer Perkins
MINNEAPOLIS -- For all of the trouble the Twins have had preventing runs the last few seasons, the bullpen has been far from being the main culprit.
While Twins starters have combined to post ERAs of 5.40, 5.26 and 5.06 over the last three seasons, respectively, the bullpen has fared better with ERAs of 3.77, 3.50 and 3.73 over that span.
But the relievers still lag far behind the rest of the pack in getting strikeouts, as they combined to fan just 6.6 batters per nine innings in 2014, which ranked as the worst strikeout rate in the Majors by more than half a strikeout per inning. The Twins also lacked velocity, as the staff threw just one pitch at least 97 mph, while the American League Central-rival Royals had 2,287 pitches of at least 97 mph.
So Minnesota is still looking to revamp the bullpen behind All-Star closer Glen Perkins. The 'pen figures to have a new look in 2015, as the club declined former setup reliever Jared Burton's $3.6 million option and designated former long reliever Anthony Swarzak for assignment.
The Twins signed right-hander Tim Stauffer for $2.2 million to bolster the bullpen and he's expected to be used in a variety of roles, including the potential of making spot starts.
Here's a look at what relievers could serve in a setup role behind Perkins in '15:
RHP Casey Fien: Fien is the most obvious candidate to be the main setup reliever, as he's been one of the club's better bullpen options over the last three seasons. Fien has a 3.54 ERA with 156 strikeouts in 160 1/3 innings over the last three years, and he figures to be one of the stalwarts in the bullpen yet again.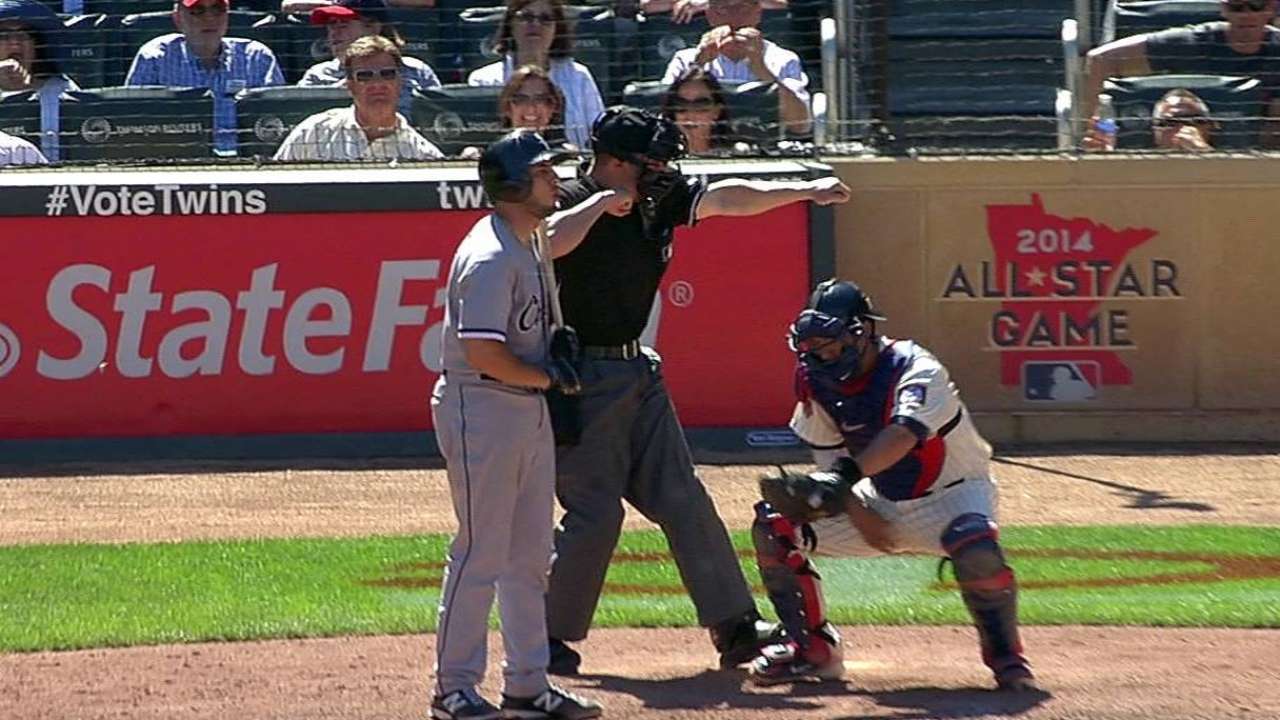 RHP Tim Stauffer: Stauffer isn't a hard-thrower, but he keeps hitters off-balance enough that he's able to rack up strikeouts at a respectable rate. Stauffer had a 3.63 ERA with 131 strikeouts in 134 innings over the last two seasons with the Padres. He was used mostly in long relief, but he could see more high-leverage situations with the Twins.
LHP Brian Duensing: Duensing is one of the club's longest-tenured players and has a 3.67 ERA over his last two seasons, but he saw his strikeout rate drop in '14. The lefty struck out 56 in 61 innings in '13, but just 33 in 54 1/3 innings last year. So he's more likely to see action in middle relief or against lefties.
LHP Caleb Thielbar: Thielbar has seen success in his first two years in the Majors with a 2.59 ERA and 74 strikeouts in 93 2/3 innings. But he struggled in the second half last year, which could lead to an opportunity for fellow lefty Aaron Thompson to see an increased role in the bullpen in '15.
Rhett Bollinger is a reporter for MLB.com. Read his blog, Bollinger Beat, and follow him on Twitter @RhettBollinger. This story was not subject to the approval of Major League Baseball or its clubs.