No. 4 outfielder on Miami's checklist
Ichiro, Schierholtz among options to fill bench role for Marlins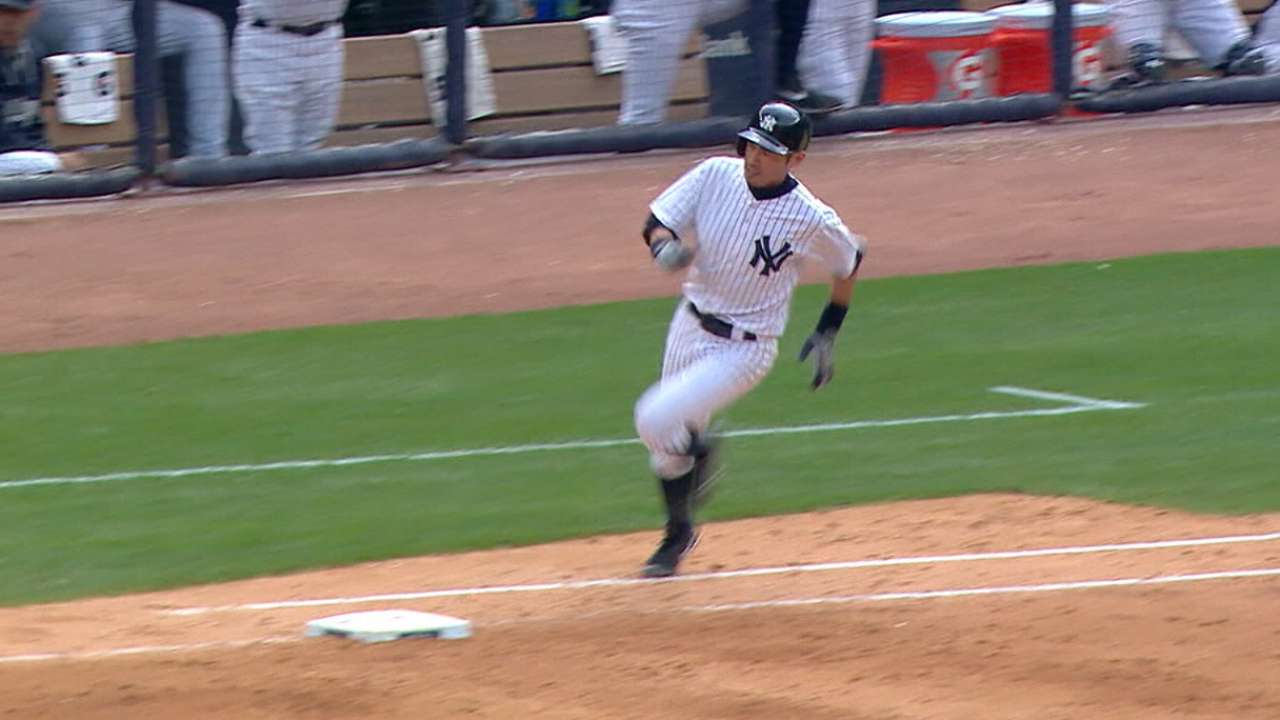 MIAMI -- Batting from the left side is not necessarily a requirement, but it is the preference for the Marlins in their search for a fourth outfielder.
The club is surveying the market, and free agents Ichiro Suzuki and Nate Schierholtz are a couple of possibilities. But the search isn't limited to those two, and the eventual choice will have to fit into the team's budget.
Because it's a backup position, the team has allocated about $1 million for the role. Miami's overall payroll will be in the $65 million range.
The question with Suzuki is if he would play for substantially less than he is used to making. With the Yankees the past two seasons, he made $6.5 million each year. The 10-time All-Star and former American League MVP Award winner also may be seeking a situation where he gets more playing time.
Suzuki is approaching some historical milestones, like 3,000 hits. He currently is at 2,844.
The Marlins have their starters in the outfield set, with Christian Yelich in left, Marcell Ozuna in center and Giancarlo Stanton in right. But those three are the only outfielders on Miami's 40-man roster. If healthy, they will not be missing too many games.
Suzuki also has been linked to the Orioles. In Miami, he would mostly be used as a pinch-hitter and spot starter.
Schierholtz, who turns 31 in February, is an experienced backup, with a strong arm. He is best suited for a corner spot, but can play all three positions. Schierholtz has also been a proven pinch-hitter, batting .272 in 180 career at-bats off the bench.
While more affordable than Suzuki, Schierholtz carries some questions. He's coming off a rough 2014 with the Cubs and Nationals. Schierholtz combined to bat .195, and he struck out 84 times in 353 at-bats. As a pinch-hitter, he was 3-for-33 (.091).
Before making a commitment, the Marlins would have to be confident Schierholtz is primed to bounce back. For role players, it's not uncommon to have up-and-down careers.
In the past, the Marlins have had similar reclamation projects with bench players. Greg Dobbs made the 2011 club as a non-roster invitee, and he hit .275 after a .196 season with the Phillies the year before.
Reed Johnson was in Spring Training on a Minor League deal last year, made Miami's roster as the fourth outfielder and paced the team with 16 pinch-hits.
The Marlins also could explore some mid-range trade possibilities. But low-cost free agents and non-roster invitees are the most realistic options.
Joe Frisaro is a reporter for MLB.com. He writes a blog, called The Fish Pond. Follow him on Twitter @JoeFrisaro. This story was not subject to the approval of Major League Baseball or its clubs.