MLB.com Columnist
Tracy Ringolsby
Peters built career on being 'the calm in the storm'
Former GM, who died at the age of 90, found success with A's, O's and Indians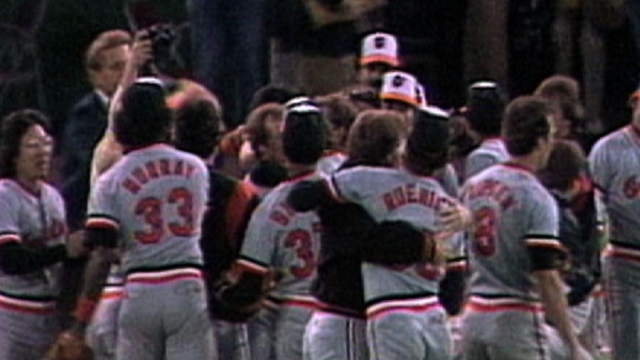 Agent Ron Shapiro vividly remembers that early-morning phone call from then Orioles general manager Hank Peters in the midst of the 1983 season. The names of a number of Orioles players had surfaced in an FBI investigation of a Baltimore drug ring, and Shapiro, who lived in Baltimore, was the agent for the bulk of the Orioles' roster.
"Rather than getting sucked into the agent-owner disengagement, Hank had the ability to neutralize emotions," said Shapiro. "He wanted to solve problems and he understood the importance of being able to work with all parties to discover the truth."
As it turned out, "90 percent" of the Orioles players whose names initially surfaced in connection with a party were not in attendance, "and the few who had been there were not involved" in the drug issues, Shapiro said last week.
"What underscored Hank is that instead of reacting to the speculation, he was very calm in sorting through the facts," said Shapiro. "Edward Bennett Williams was the owner of the team and he was an emotional guy. He talked about it being the darkest day in the history of the franchise. Hank was the calm in the storm."
Peters, who died Sunday morning at the age of 90 at a hospice in Boca Raton, Fla., from complications of a stroke he recently suffered, built his career on being "the calm in the storm."
And his baseball career was one of success.
Peters is best known for his 12-year tenure as general manager of the Orioles, from 1976-87, a time in which free agency was introduced to baseball, and a player strike knocked out nearly two months of the 1981 season. Despite a small-market existence, the Orioles averaged 90 wins in Peters' first 10 years, lost to the Pirates in seven games in the 1979 World Series and knocked off the Phillies in five games in the '83 World Series.
• Statement from O's on passing of Peters.
• Statement from Indians on passing of Peters.
Peters, however, began his baseball career in the scouting department with the St. Louis Browns/Baltimore Orioles in the 1950s, and he ran the scouting and Minor League department of the A's in the early '60s, putting together the foundation for a franchise that won five consecutive American League West titles in Oakland (1971-75), with three consecutive World Series championships in the middle (1972-74) of that run.
And after his decade in Baltimore, Peters served as the president of the Indians (1987-91), taking over a downtrodden franchise and putting in place the foundation that allowed the Indians to win six AL Central titles in the seven years from 1995-2001, including claiming AL pennants in 1995 and '97.
Peters was twice honored as The Sporting News Major League Executive of the Year.
For all he did, however, Peters was never a visible force.
"He was so low-key," said former Rockies general manager Dan O'Dowd, whose first job in pro baseball was when Peters hired him to sell tickets for the Orioles. "He wasn't worried about who got credit for what. He was focused on doing what was right for the franchise and winning.
"He didn't care whose decision it was. If it was the right decision, it was what he wanted to do."
Ken Singleton was a member of the Orioles when Peters became their general manager, and he spent the remainder of his career with Baltimore developing a deep respect for Peters as a person, as well as a boss.
"Hey," Singleton said with a slight laugh, "he learned to co-exist with Earl [Weaver, the fiery Orioles manager]."
Nothing might underscore Peters' ability to listen and learn as much as Eddie Murray's arrival to the big leagues. After the first free-agent offseason in Major League history had left the Orioles without Bobby Grich, Reggie Jackson and 20-game winner Wayne Garland, Weaver wanted an impact addition for his lineup.
Weaver was enamored with Murray, who didn't turn 21 until after Spring Training opened. Peters, with a strong background in player development, was concerned about rushing Murray, who had played only 54 games at the Triple-A level.
"Earl was adamant that he wanted Eddie on the team, and Earl won because Hank realized Earl was right," said Singleton. "Hank was able to admit that. That's something so many people won't do. But it worked out pretty well."
Murray not only was the AL Rookie of the Year Award in 1977, but he put together a career that earned him enshrinement in the National Baseball Hall of Fame.
"Hank wasn't out there getting his name in the paper," said Singleton. "He was out there looking for ways to make the team successful. He listened to his staff and he'd listen to the players. We felt we were the best team in 1982, but lost [the last game of the season to Milwaukee] and wound up sitting at home in October.
"That offseason he had a chance to re-sign Reggie [as a free agent]. He went to me, [Jim] Palmer, Eddie and other players, and we told him we felt we were a good enough team already and felt we could win as it was. He listened to us."
And the Orioles responded. They won 98 games and the AL East title in 1983. They knocked off the White Sox in four games in the AL Championship Series. They beat the Phillies in five games in the World Series. They did it with a roster that included 15 players from that 1979 AL championship team.
"Hank knew the value of stability," said Singleton.
Marcel Lachemann was a player in the A's farm system when Peters was hired, and he then broke into the coaching/managing side of the game under the guidance of Peters.
"He epitomized class," said Lachemann. "He was very dignified. He was well-dressed and well-groomed. He was very much in control of his emotions when he talked, but he let you know he was in charge.
"You look at those A's teams in the '70s. They were built off the players Hank developed."
Peters was a builder of championship teams. And he did it without a lot of fanfare or attention.
It wasn't his way.
Hank Peters was a team player, even if he never wore a uniform.
Tracy Ringolsby is a columnist for MLB.com. This story was not subject to the approval of Major League Baseball or its clubs.