Smith feeling peachy about joining Mariners
Former college quarterback ready to accept any role with new team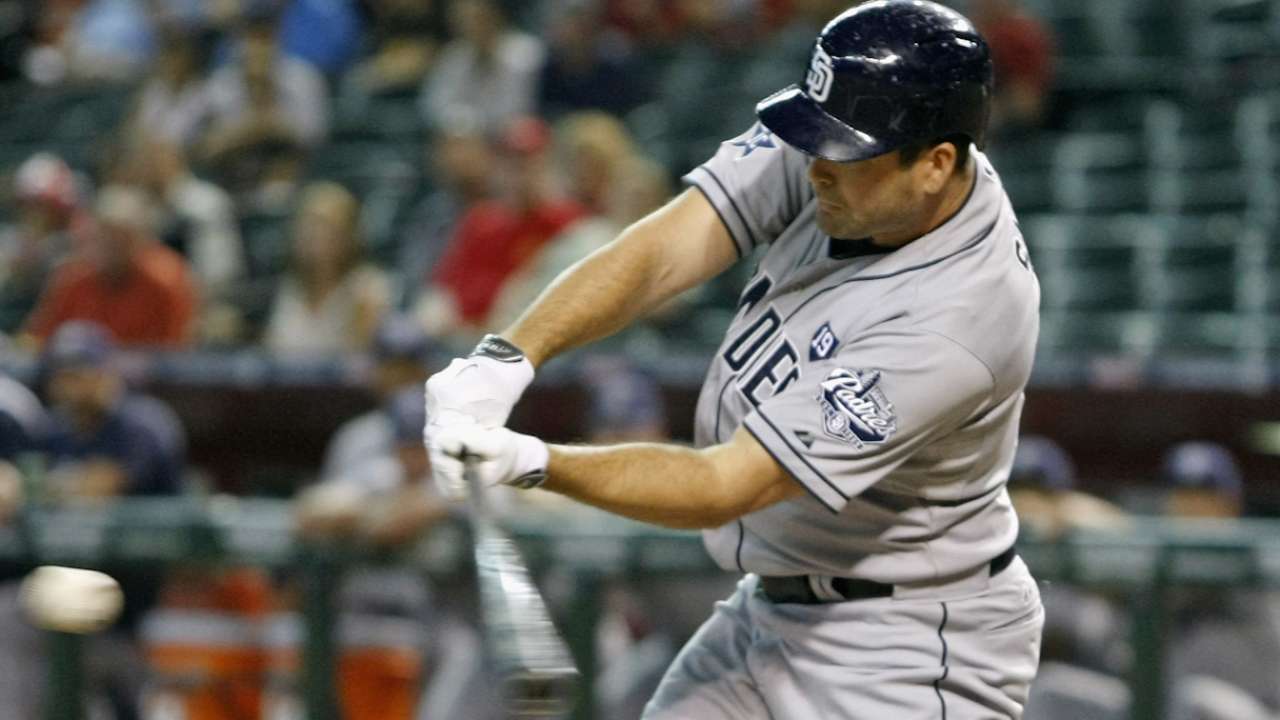 SEATTLE -- For Seth Smith, 2014 didn't end on a very happy note, but not because of his trade from the Padres to the Mariners.
Smith, who spent three years at Ole Miss as the backup quarterback to Eli Manning from 2002-04, had to endure a 42-3 loss to Texas Christian by his alma mater on New Year's Eve in the Peach Bowl before joining a conference call with Mariners media members to discuss his new baseball situation.
Yes, he watched the Peach Bowl on TV. And no, he wasn't happy about it.
"That was awful," Smith said wryly. "Next question."
Smith was far more pleased to talk about joining the Mariners, where he'll likely fit into a platoon situation in right field with fellow newcomer Justin Ruggiano on a club looking to make a serious push in the American League West after missing a Wild Card berth by one game last season.
"I'm very excited," Smith said from his home in Madison, Miss. "Obviously last year, making it to the end, fighting for playoff spot was fun to watch. I got to see them first-hand in 2012 and '13 [when playing for the A's] and they were always right there. We never liked playing against them in Oakland. If you have a pitching staff like that and add in new guys like they've added recently, we're going to be a good team. It's definitely exciting to be headed to a team going in the right direction."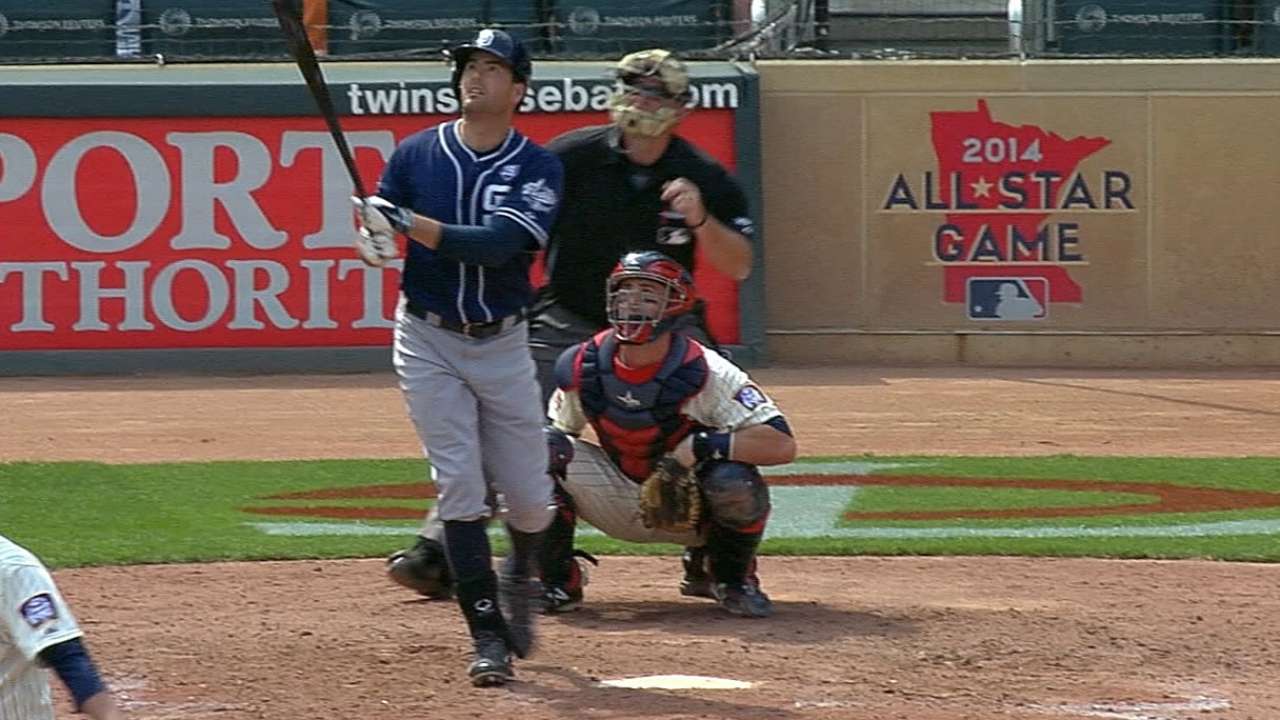 Mariners general manager Jack Zduriencik says Smith won't necessarily be pigeon-holed into a platoon role after being acquired for reliever Brandon Maurer. Dustin Ackley seems set in left field and Austin Jackson returns as the starting center fielder, but the Mariners will bring Smith to Spring Training along with Ruggiano and youngsters like James Jones and Stefen Romero and see how things play out.
But Smith, 32, has been around long enough to understand the game and his strengths. He's a left-handed hitter who has consistently mashed right-handed pitchers with a career. 277/.358/.481 slash line. He's had more than 383 at-bats only twice in his eight-year Major League career, but has played on four playoff squads in that time and is regarded as a quality hitter and solid teammate.
Sure, he'd love to play every day and was one of the Padres' most consistent producers last year while starting 119 games and totaling 443 at-bats, the second-highest total of his career. But he won't be pouting if platooning is the plan.
"I'd like to think anything I'm asked to do, I'd be able to figure out," he said. "If it's an everyday player, I'd come to the park and that would be my role. I'd do my work and try to do the best I could. Or if they ask me to be a guy that doesn't play every day, but plays a lot, that's what I'd do. Ultimately it's up to them and what they want and I'll embrace whatever role I'm given."
Smith understands what it means to be part of a team. He was an All-Conference player in four sports -- baseball, basketball, football and soccer -- during his prep days at Hillcrest Christian High School in Jackson, Miss. He was a three-year starter at quarterback and won the Mississippi Private School Association 4A MVP Award in 2000 before heading to Ole Miss on a football scholarship.
But Smith went to Mississippi with the understanding he'd split time with baseball and it quickly became apparent that was his best career choice. He never took a snap under center while backing up Manning, but did get in for two plays at wide receiver as a reward for his work in his final season.
"I learned a great deal there," Smith said. "I wanted to play football and baseball and they allowed me to do that with some unusual flexibility. I missed some two-a-day practices to play baseball with Team USA, which is pretty unusual for a coach to let you do … though it's a little easier when you have Eli Manning.
"But it was fun," he said. "I went to play football and baseball and it became evident baseball would be my career path. I put a little thought into coming back for another year of football and I had two years of eligibility after Eli left. But that's when I got drafted [in the second round by the Rockies in '04]. It was the best decision for me to move on and start playing baseball."
Football remains a passion, however, and Smith has said he'd be interested in perhaps coaching that sport in high school when his playing days end. But baseball has treated him extremely well also and he has two years and $13 million remaining on a contract he signed with San Diego last July, plus a team option for a third year at another $7 million.
Smith is coming off one of his best seasons and says there is good reason for that as he continues developing his batting approach.
"For the first time in my career, I kind of stepped back and listened to Phil Plantier and Alonzo Powell, my hitting coaches, and we talked about some adjustments I could make that would help me take that next step forward," he said. "I bought in and went that direction and it really paid off. It wasn't something where I came out and hit 30 home runs or something crazy, but I made some physical adjustments that allowed me to be a little more consistent and have my best swing."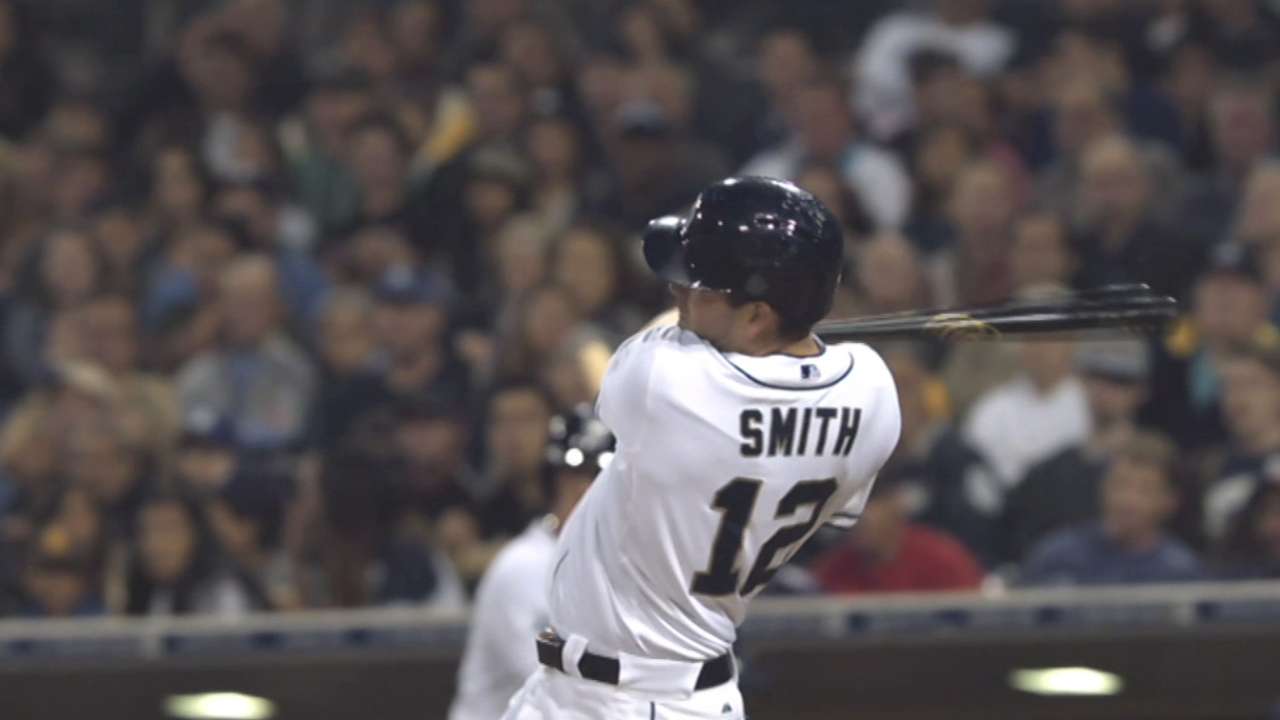 Smith put up strong numbers at pitcher-friendly Petco Park and also hit well at Safeco Field in his two seasons in the AL West with the A's in 2012-13 with a .291/.361/.436 line in 16 games, which speaks to his professional approach.
"At the end of the day, it is what it is," he said of playing in traditionally tough hitting environments. "You can either embrace it and go after it or let it beat you before you even step in the box. I've always taken the approach I'm just going to go up and try to hit the ball hard on a line somewhere and see what happens. Ultimately, that's all you can do. Give yourself a chance."
And now he'll have that chance with a new team, starting in February when the Mariners report for the start of Spring Training and begin sorting things out.
Greg Johns is a reporter for MLB.com. Follow him on Twitter @GregJohnsMLB as well as his Mariners Musings blog. This story was not subject to the approval of Major League Baseball or its clubs.