MLB.com Columnist
Bernie Pleskoff
Scouting profile: Darnell Sweeney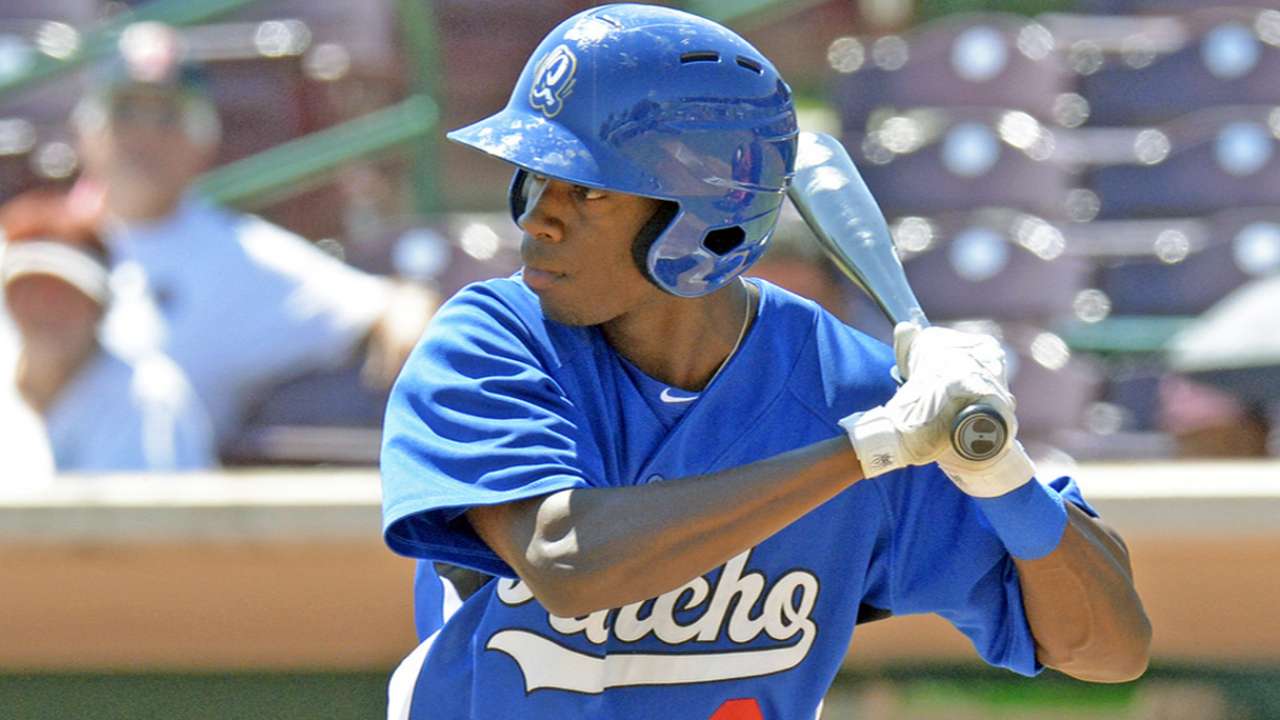 Dodgers middle-infielder Darnell Sweeney is a fine athlete with a consistent, solid gap-hitting bat and good speed. In fact, his speed may be his best tool. Sweeney is an adequate defender, but his hitting and ability to run could very well be the calling cards for his future.
The Dodgers selected Sweeney in the 13th round of the 2012 First-Year Player Draft. He was chosen after his successful career at the University of Central Florida. Sweeney is currently No. 12 on the Dodgers' Top 20 Prospect list.
Sweeney hit .421 with 24 RBIs during his senior year at American Senior High School. His ability earned him a selection by the Marlins in the 2009 Draft. Instead of signing, he chose to attend Central Florida.
In his freshman year, Sweeney hit .358 with 17 stolen bases. He didn't quite live up to that batting average in his next two seasons, but he showed enough promise for the Dodgers to select him after his junior year.
Sweeney's value as a middle infielder is enhanced because he is a switch-hitter. In his three year Minor League career he has always hit well against both right-handed and left-handed pitching. Sweeney does, however, hit left-handed pitching slightly better for batting average than righties. He also faces more right-handers. In all, he will carry a .284 career batting average to the 2015 season.
Sweeney is extremely quick and agile. At 6-foot-1, 180 pounds, he is very well proportioned. An adequate fielder, Sweeney can play either shortstop or second base with a quick, but at times awkward and tangled first step, good range and an average arm.
When I saw Sweeney in the recently-concluded Arizona Fall League he showed a bit of defensive inconsistency. He finished with seven errors in 74 chances playing second base in 13 games and 114 innings and one error in six chances at shortstop in two games and 18 innings. Interestingly, Sweeney also played three errorless games in center field, handling eight chances flawlessly. That position may be another avenue to get his bat and speed in the lineup on some occasions. Overall, I think Sweeney makes difficult plays look easy in the infield and scuffles a bit on those plays that are more routine.
Sweeney's offense in the AFL was really sharp. I saw a short, compact swing with good bat speed and above average pitch recognition. In the AFL he hit .316 with 25 hits including six doubles and two home runs in his 79 at-bats. He was fifth in the league's batting title race. Sweeney stole three bases in his four attempts. He can get hits by slapping at the ball and by hitting balls to the infield and using his speed to beat the throw. But as primarily a single's hitter, Sweeney is well aware that he would be giving away outs if he lengthened his swing for the sake of an additional home run or two. That simply isn't his game. Yet, I do think there will be single digit seasonal home runs in his future.
Because of his size and tools, Sweeney is often compared to former Dodgers and now Marlins shortstop/second baseman Dee Gordon. Both have to use small ball techniques to help them reach base. Both have line drive capability to the gaps. Both have speed to steal bases. Gordon is faster. Gordon gets a better jump. Gordon has consistently stolen bases. I think Sweeney still has to learn better base stealing technique to be in the conversation with Gordon. But yes, the comparisons in some areas are valid.
Sweeney's on base percentage has been good at every level he has played. He has a composite .361 OBP in his 333 games played covering 1507 plate appearances. Sweeney has outstanding upside and has to keep working hard in development.
Sweeney's future depends upon the depth the Dodgers organization compiles in the middle infield. If he continues to hit increasingly difficult pitching and if his base running technique improves, he has a chance to help the top of the lineup. Sweeney has also shown he can play center field, adding to his position versatility.
Bernie Pleskoff has served as a professional scout for the Houston Astros and Seattle Mariners. Follow @BerniePleskoff on Twitter. This story was not subject to the approval of Major League Baseball or its clubs.