MLB.com Columnist
Richard Justice
Zobrist decision not an easy one for Rays
Versatile Tampa Bay veteran in high demand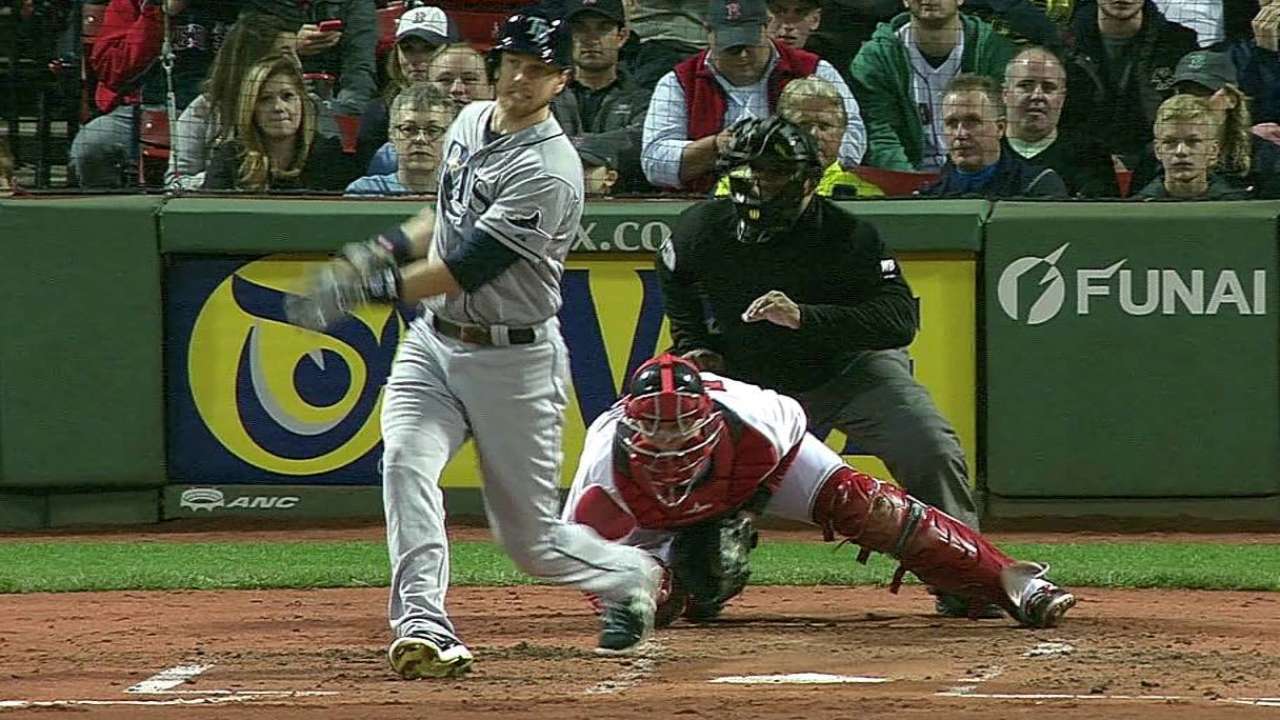 Ben Zobrist represents the first really tough call for Tampa Bay's new administration. And it's about as tough as it gets. No player represents what the Rays want to be more than this one. His has been an amazing nine seasons.
Let's review. Defensively, he's capable at shortstop, second base and in the outfield. He has the right attitude about it, too. Where do you want me today, Skip? No problem, let's go get 'em.
In nine seasons, former Rays manager Joe Maddon started Zobrist 485 times at second, 303 times in the outfield and 196 times at shortstop. Zobrist also got starts at third (two), first (11) and designated hitter (17).
And there's the offense.
Last season, Zobrist had 34 doubles, three triples, 10 home runs, 10 stolen bases and 75 walks. He had a .354 on-base percentage in 2013 and again in '14. His career OBP is -- you guessed it -- .354.
He has had an OPS of more than .800 in four of his nine seasons. He was at .749 last season, which is 34 points below his career average. Maddon gave him more than 500 plate appearances at spots one through five in the batting order.
Zobrist is a two-time All-Star, and at 33, appears to still have plenty left in the tank. His salary is a bargain-basement $7.5 million. He's like having three or four players folded into one on the roster.
Some games, Maddon would start him one place, move him to another and occasionally ask him to finish someplace else. For a franchise that prided itself on doing more with less and on being smart and flexible, Zobrist represented the best of the Rays.
His Wins Above Replacement as calculated by BaseballReference.com was 5.0 last season, which was 18th overall in the American League and higher than that of either Miguel Cabrera or Nelson Cruz.
He's also a clubhouse guy. His teammates invariably use the same words to describe him: quiet, steady, solid.
He's the leader in the best way we define leader. He leads with his actions and his production and his work ethic more than his words. He also believes in the notion that players are role models and that they have an obligation to be a good citizen of their community.
So …
How many managers would love to have this guy?
Yes, all of 'em. At a time when teams are scrambling to position themselves for a postseason berth in 2015, Zobrist would be a nice finishing touch.
He's a year from free agency, but so what? For more and more teams, it's about winning in 2015.
And this is why Zobrist seems likely to be playing somewhere else on Opening Day. From the moment Matt Silverman took over for Andrew Friedman as Rays president of baseball operations, he has had two objectives.
First, he wanted to keep the big league team competitive. That he appears to have done. It's hard to argue that he has improved the lineup, but with that rotation and that bullpen, the Rays have a chance to hang in an American League East race that appears to have no consensus favorite.
If the Rays get big years from third baseman Evan Longoria and new right fielder Steven Souza Jr., they might -- that's a big word in this division -- have enough offense to support the pitching staff.
Silverman's other goal was to replenish his farm system, and that he has done as well with the trades involving Wil Myers, Matt Joyce and others. Zobrist would bring more young talent, and as the Rays look to the future, it seems to be the logical move.
It's not just the idea of Zobrist playing for the Giants or Nationals that makes so much sense. He would give any team additional depth and flexibility. He has long since proven he contributes to winning.
When the Rays agreed to terms with infielder Asdrubal Cabrera on Tuesday, it gave them the flexibility to trade either Zobrist or shortstop Yunel Escobar. While either is possible, Zobrist's value is higher.
The Rays do not believe this is the beginning of a rebuilding era. Again, as long as they have that pitching staff, they've got a chance to compete.
They're also competitive people and would love to show the world that the franchise was more than Friedman and Maddon. If Zobrist is the next to go, he can take pride in having helped transform an entire franchise.
Not many players have this kind of thing on their resume. He did it with his production and with his attitude. His next contribution might be to help the Rays with the next chapter of their history. As legacies go, that's not a bad one.
Richard Justice is a columnist for MLB.com. Read his blog, Justice4U. This story was not subject to the approval of Major League Baseball or its clubs.