Mariners acquire outfielder Smith from Padres
Seattle sends righty Maurer to San Diego for left-handed hitter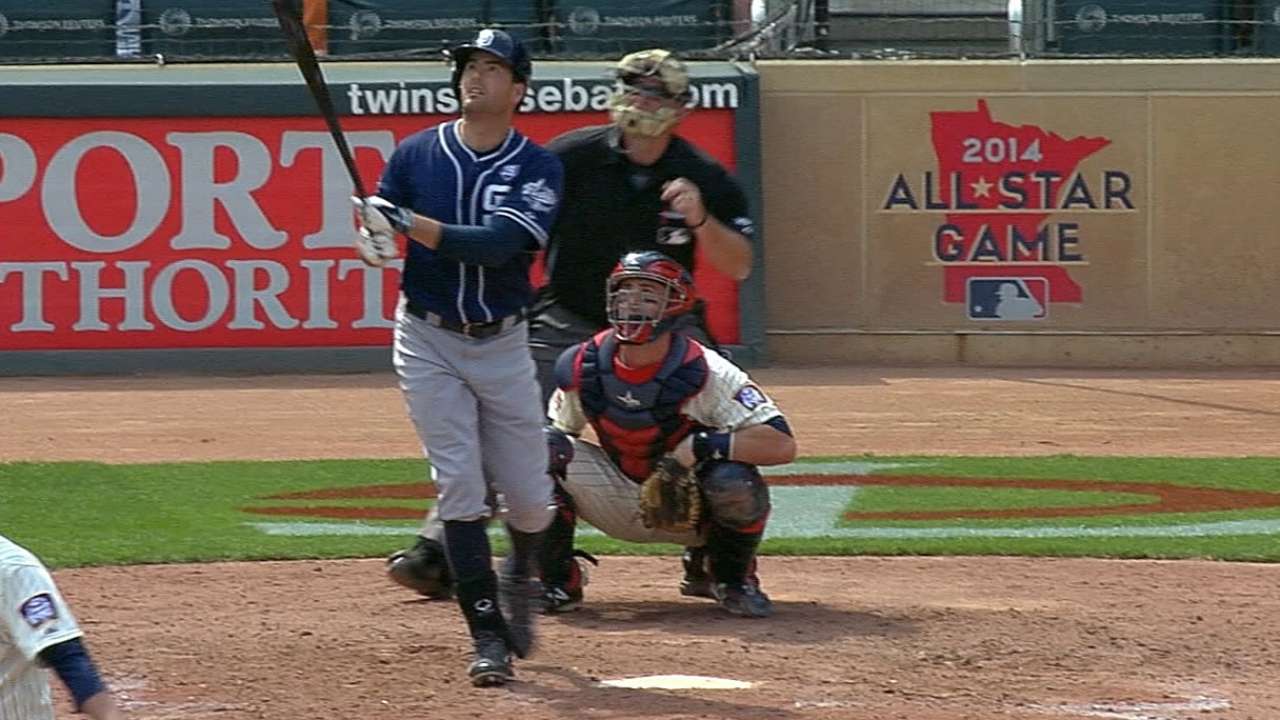 SEATTLE -- Mariners general manager Jack Zduriencik made a late addition to his holiday shopping cart on Tuesday, as he completed a trade for Padres outfielder Seth Smith that gives Seattle a strong platoon option in right field for 2015.
The Mariners sent right-handed pitcher Brandon Maurer to the Padres in the deal, using their bullpen depth to add another offensive piece to a club looking to challenge in the American League West next season.
Smith, 32, is a left-handed hitter who has performed very well against right-handed pitching in his eight-year Major League career, and he figures to team with recently acquired Justin Ruggiano in a platoon situation in right field.
Zduriencik didn't commit to dividing time in the outfield, saying the players would come to Spring Training and compete for jobs. But Smith has excelled in platoon situations with the A's and Padres in recent years, and he likely will see more of that in Seattle.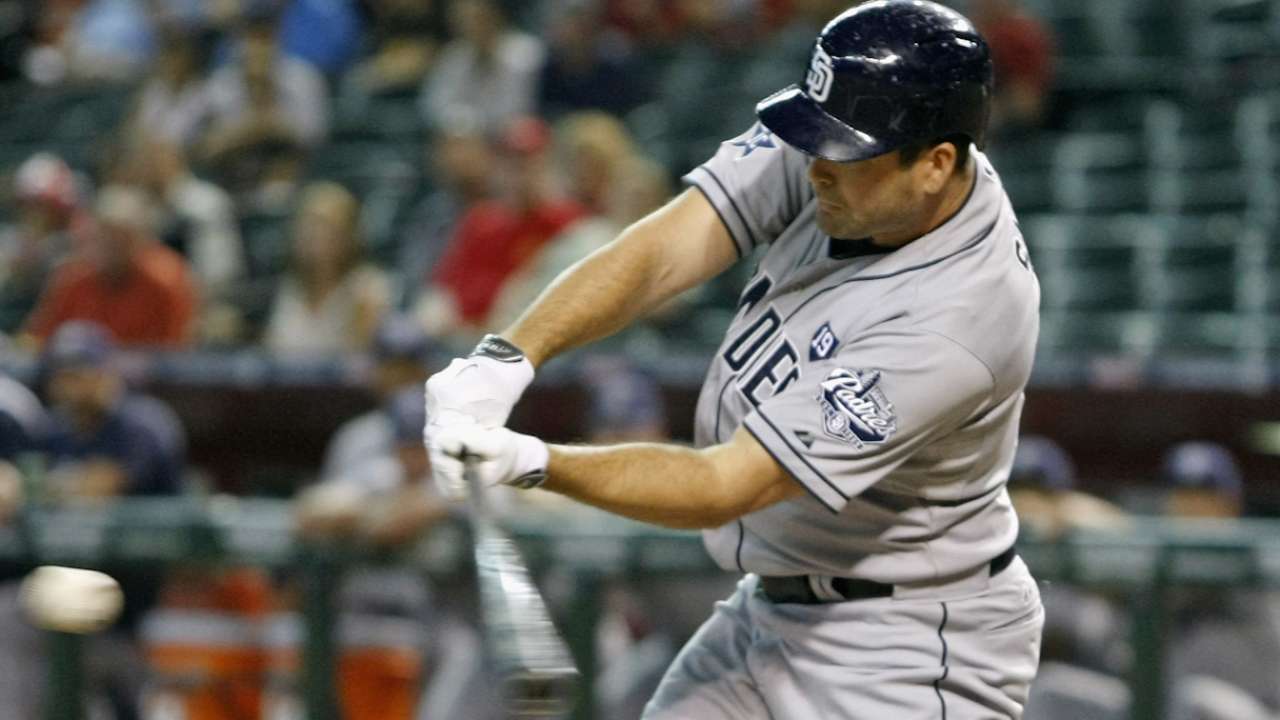 "We were in search of adding another outfielder," Zduriencik said. "In this case, Seth Smith is a professional hitter, a guy we think can give us really good ABs, particularly against right-handed pitching."
Smith hit .266/.367/.440 with 31 doubles, five triples, 12 home runs and 48 RBIs in 443 at-bats for the Padres last season. He had a park-adjusted OPS+ of 135, ranking ninth in the National League.
Smith has two years and $12.75 million remaining on a contract extension he signed last July with the Padres, with a club option for 2017 for $7 million with a $250,000 buyout.
"He's 32 and we're getting a player that can be with us at least the next three years," Zduriencik said. "He's a grinder with a very professional approach as a hitter. We clearly think he can be with us for a few years and we're happy with that. That was a big component in the deal."
Smith has a career line of .277/.358/.481 for an .839 OPS against right-handed pitchers, compared to .205/.291/.314 for a .605 OPS against southpaws. That would seem to make him a nice match with the right-handed-hitting Ruggiano, who was acquired from the Cubs on Dec. 17 and has a career OPS of .836 vs. lefties compared to .704 against righties.
The 6-foot-3, 210-pound Smith also has performed well at pitcher-friendly Petco Park and Safeco Field in his career. He has a .276/.361/.473 slash line in 102 games at Petco and a .291/.361/.436 line in 16 games at Safeco.
The Mariners' pitching staff posted the AL's lowest ERA last season (3.17), but Zduriencik is looking to upgrade an offense that finished 11th among the league's 15 teams in scoring and last in OPS. The club traded right fielder Michael Saunders to the Blue Jays in early December to open up the right-field spot. The left-handed-hitting Saunders has a career OPS of .709 against right-handers and .636 vs. left-handers.
Smith was one of the Padres' most consistent hitters last season, but he became expendable after San Diego acquired outfielders Matt Kemp, Justin Upton and Wil Myers in a roster makeover by new general manager A.J. Preller.
"The biggest thing with Seth is he's a good hitter, a professional bat, especially against right-handed pitching," Preller said. "He gives you hard contact and he's a fit for a lot of clubs, ours included. But other teams saw the moves we made and saw the [outfield] depth we had."
Smith brings another veteran presence to a Seattle club that improved by 16 wins in 2014, but came one victory shy of the final AL Wild Card berth at 87-75. The Mississippi native has played in four postseasons -- two with the Rockies early in his career and twice with the A's in 2012 and '13 -- and was on Colorado's World Series club in 2007.
Maurer, 24, struggled in his first year as a starter for Seattle in 2013, when he was 5-8 with a 6.30 ERA, but found success at midseason last season when he moved to the bullpen. He was 1-4 with a 7.52 ERA in seven starts in 2014, but posted a 2.17 ERA in 31 relief appearances after being recalled from Triple-A Tacoma in late June.
"It was a tough decision to trade Brandon," Zduriencik said. "We think a lot of him. We know his value and upside. He's a guy I'd have loved to hold on to. A lot of the deals we were talking about were going to require multiple players. To get a guy we think is a really good fit -- and it's no secret where our offense has been the past few years -- we knew we had to give up someone of quality to get something in return."
The Mariners still have numerous options for their expected seven-man bullpen from a group that led the Majors with a 2.59 ERA. Seattle is returning right-handers Fernando Rodney, Tom Wilhelmsen, Yoervis Medina, Danny Farquhar, Dominic Leone and Carson Smith, as well as southpaws Charlie Furbush, Lucas Luetge and new Rule 5 pickup David Rollins.
Seattle's outfield now has Dustin Ackley returning in left field and Austin Jackson in center, with Smith and Ruggiano likely to share time in right. That leaves James Jones and Stefen Romero, who both played last season as rookies, fighting for backup roles or looking to break through with big springs to challenge for more playing time.
Nelson Cruz, Seattle's biggest offseason acquisition, figures to primarily fill the designated-hitter role. But Cruz played 70 games in the outfield for the Orioles last season and can also be used in one of the corner spots if needed.
The addition of veteran hitters Cruz, Smith and Ruggiano should help the Mariners' offense, which was Zduriencik's biggest offseason priority, along with trading for veteran starter J.A. Happ.
"I think we're in a good spot," Zduriencik said. "We've added starting pitching and some offensive pieces we think can really help us. To say we're done wouldn't be accurate. I don't think there'll be anything big like a multiplayer deal or earth-shattering free-agent signing, but there are ways we can still help our club. There are fits for our club, and we'll continue to investigate them and see where it ends up."
Greg Johns is a reporter for MLB.com. Follow him on Twitter @GregJohnsMLB as well as his Mariners Musings blog. This story was not subject to the approval of Major League Baseball or its clubs.