MLB.com Columnist
Bernie Pleskoff
Scouting profile: Steven Okert
Giants' No. 10 prospect has maturity, poise to be bullpen piece in big leagues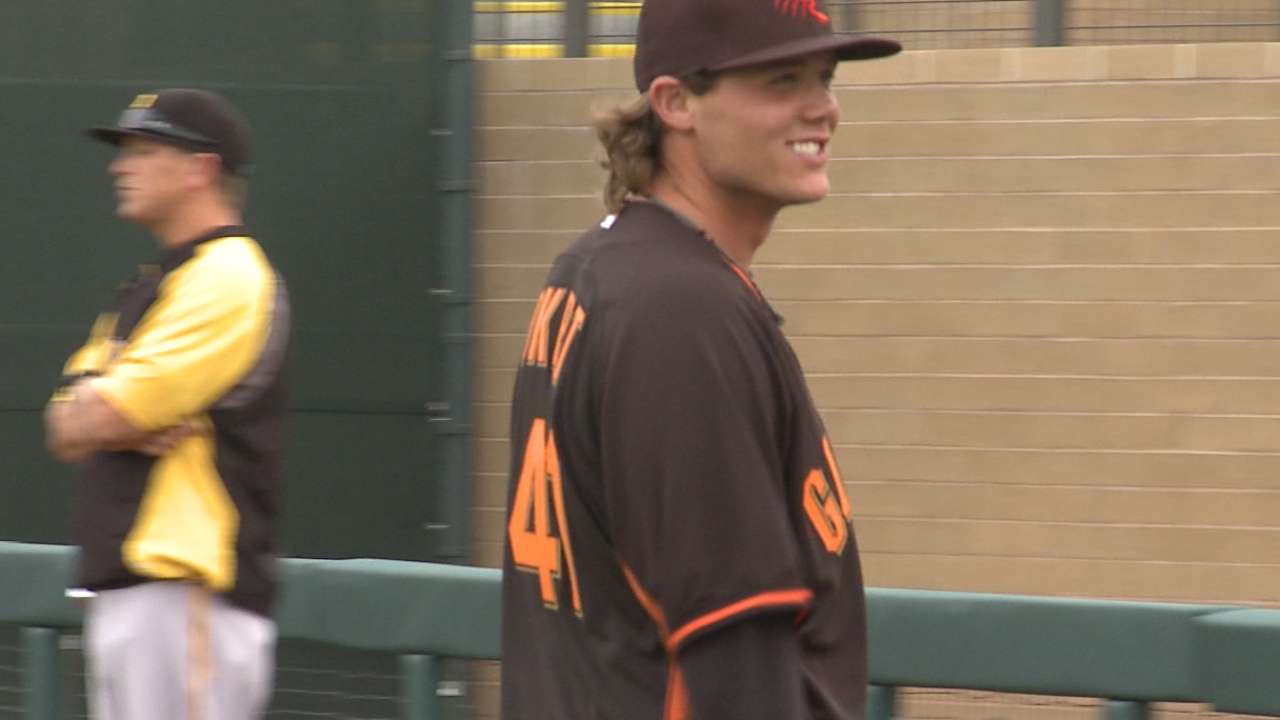 San Francisco Giants prospect Steven Okert is a name to remember. I got my first looks at the lefty during the recently completed Arizona Fall League. I really liked what I saw. Okert was among the best relief pitchers in the league. More about that later.
Okert went to Rowlett (Texas) High School and then on to Grayson County College in Texas. Following his first season in 2010, the Milwaukee Brewers selected him in the First-Year Player Draft. He declined to sign a contract and returned to Grayson. Once again, the Brewers drafted Okert following his 2011 season when he posted a 9-1 record and an ERA of 1.91.
Instead of signing with Milwaukee, Okert transferred to the University of Oklahoma, where he was named to the 2012 Big 12 All-Tournament team. He made several starts at Oklahoma, but he raised eyebrows and attracted the attention of scouts by pitching extremely well out of the Sooners bullpen as their closer.
Following his 2012 season, his only one at Oklahoma, Okert was again selected in the Draft. This time the San Francisco Giants came calling with a fourth-round selection. Okert signed a contract and spent his rookie year in the summer Arizona League and with the Class A Short Season Salem-Keizer club in the Northwest League. As a rookie, he threw 28 2/3 innings in 17 games, all in relief. He had an ERA of 2.20 and a WHIP of 1.40.
It was this past year with two teams in the Giants system that helped put Okert on the map. He split his season between Class A Advanced San Jose and Double-A Richmond. He worked a total of 68 1/3 innings, yielding 57 hits and 22 walks for a combined WHIP of 1.15. He finished with 24 saves, 19 of them coming at San Jose, where he threw 35 1/3 innings.
This past autumn, Okert threw 12 relief innings in 10 games for the Scottsdale Scorpions of the Arizona Fall League. He made the Fall Stars East Division team and finished the season with a 0.75 ERA and a 0.50 WHIP. He yielded only five hits. Most impressive were his 17 strikeouts as opposed to only one walk.
Each time I saw him pitch, Okert looked like he was gaining confidence. Consistently throwing strikes and getting ahead in counts, he threw his fastball in the mid 90's. It looked as though the potential existed for him to ratchet up the velocity, but he was able to repeat his delivery and avoid wildness staying at a comfortable velocity. He changed the eye level and balance of hitters with an outstanding 81-mph slider and an 85-mph changeup. But the crisp fastball/slider combination provided the foundation of his repertoire.
Okert is 6-foot-3, 210 pounds. He could stand to add additional weight to his frame, but at the age of 23, he might not change physically. He is currently No. 10 on the Giants Top 20 Prospects list.
Okert had inconsistent mechanics and lost his release point at times in college. However, using more consistently sound mechanics, Okert's delivery looked effortless to me. He has a bit of a "slinger" delivery that is extremely challenging to left-handed hitters. This past year, lefties hit only .165 in 103 plate appearances against him. Right-handed hitters had a batting average of .259 in their 180 trips to the plate. Throughout his brief three-year career, those lefty-righty splits have consistently been drastically different.
While his command and control may easily be good enough to grab a role in the starting rotation, he would likely need more refinement on his third pitch and the development of a fourth pitch to be considered as a starter. Consequently, it is most probable Okert could claim a permanent home in the Giants bullpen. Even using a limited, two-pitch fastball/slider combination, he projects as a situational lefty, setup man or even as a closer at some point.
Okert may need more time and additional innings in development. His poise, maturity and overall ability to keep the opposition in check in late innings mirror the quality pitching every club covets and requires.
Bernie Pleskoff has served as a professional scout for the Houston Astros and Seattle Mariners. Follow @BerniePleskoff on Twitter. This story was not subject to the approval of Major League Baseball or its clubs.