Padres add reliever Kelley in trade with Yanks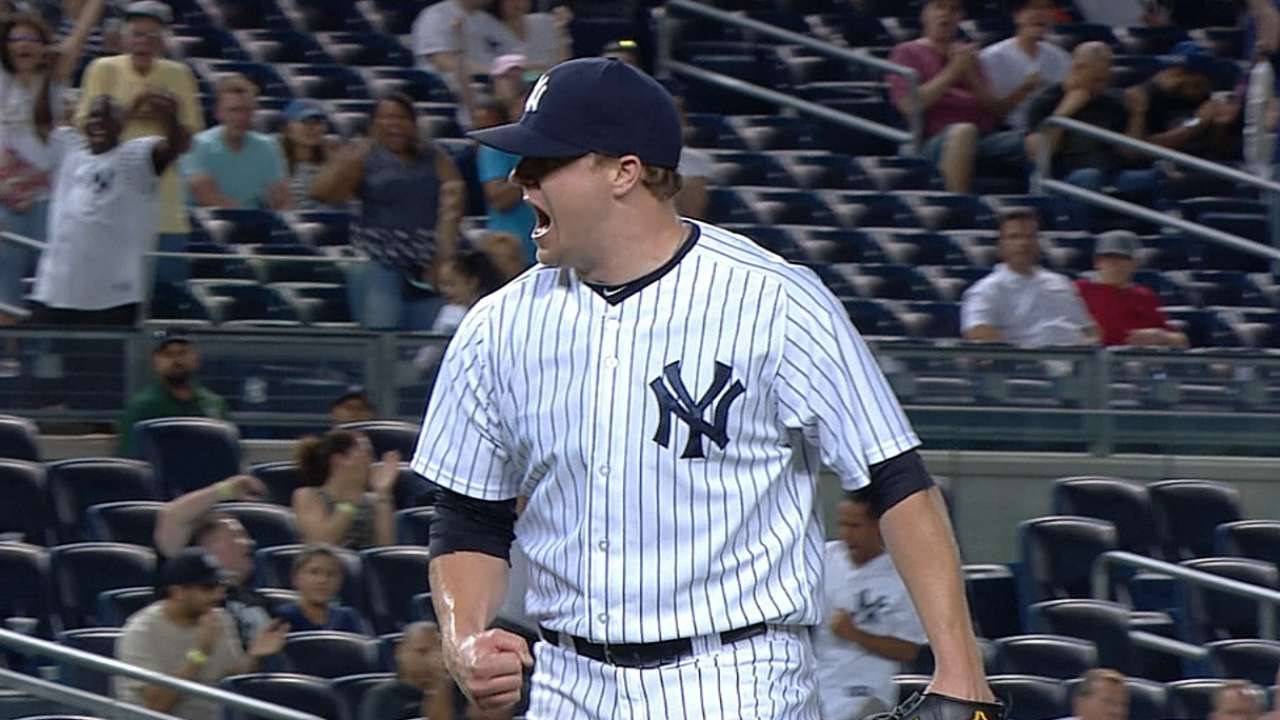 SAN DIEGO -- Not that he makes it a habit to follow the Padres, but Shawn Kelley certainly noticed the notable roster additions first-year general manager A.J. Preller made earlier this month, landing Matt Kemp, Justin Upton and Wil Myers, among others.
"I just made the comment to a friend the other day, 'Wow, the Padres are picking up everybody," said Kelley, who up until Monday was a member of the Yankees.
"They're going to be really good this year.' A few days later, here I am ... one of them."
After not making a trade in nine days, Preller on Monday made a move to bolster the Padres' bullpen, reaching a deal with the Yankees to land Kelley, a right-handed reliever. In exchange, San Diego sent Minor League pitcher Johnny Barbato to the Yankees. The 22-year-old right-hander is 12-13 with a 3.79 ERA over four Minor League seasons.
On Tuesday, Preller gave Kelley another new bullpen 'mate when the Padres sent outfielder Seth Smith to the Mariners for 24-year-old right-hander Brandon Maurer.
The Padres designated right-handed pitcher Keyvius Sampson for assignment to make room for Kelley on the 40-man roster.
Kelley, who turns 31 in April, will likely slide into a late-inning reliever role at the back end of the bullpen, helping set up closer Joaquin Benoit.
In addition to talking with Preller, Kelley also had a conversation with manager Bud Black.
Kelley was 3-6 with a 4.53 ERA in a career-high 59 games last season with the Yankees, but his internal statistics seem to portray a pitcher who could benefit from a move to the National League and to a division that has a handful of big ballparks (Petco Park, AT&T Park and Dodger Stadium).
"I don't think I'll be upset about the park or the weather, that's for sure. I've never been in the National League; I've played a few series here or there in the National League, but pitching is pitching, for me," Kelley said. "I'm excited. I like those fields out there, those stadiums, and I don't mind the travel that much. I'm looking forward to a new challenge and a new opportunity."
Kelley, who has a career 10.0 strikeout-to-innings-pitched ratio, had a FIP (Fielding Independent Pitching) of 3.02, which rates as very good, and an 11.6 K/9 rate in his final season with the Yankees. He made $1.765 million last season and will be eligible for free agency following the 2015 campaign.
The Padres have a handful of candidates for those precious high-leverage innings -- such as Nick Vincent, Dale Thayer and Kevin Quackenbush -- but likely felt they needed more experience and possibly someone who has a power arm and can miss bats the way Kelley has during his career.
"[Preller] was just saying that he'd had his eye on me for the last two weeks and was trying to talk to [Yankees general manager Brian] Cashman, looking for right-handed guy with fastball-slider velocity guy to pitch in that park," Kelley said. "He said that he was excited to get the deal done and get me out there."
Sampson, who turns 24 on Jan. 6, was a fourth-round pick in 2009 as a high schooler out of Florida. He spent most of each of the last two seasons in Triple-A, going a combined 4-8 with a 6.80 ERA in 129 2/3 innings. He has a career strikeout-to-innings pitched mark of 9.6.
The additions of Kelley and Maurer essentially mean the Padres have added nine players since Dec. 18 who could be on the Opening Day roster -- outfielders Kemp, Myers and Upton, catcher Derek Norris, third baseman Will Middlebrooks, catcher Tim Federowicz, pitcher Brandon Morrow and now Kelley and Maurer.
All but Morrow came in trades that were finished in a dizzying two-day period.
Corey Brock is a reporter for MLB.com. Keep track of @FollowThePadres on Twitter. This story was not subject to the approval of Major League Baseball or its clubs.