Yankees send RHP Kelley to Padres for RHP Barbato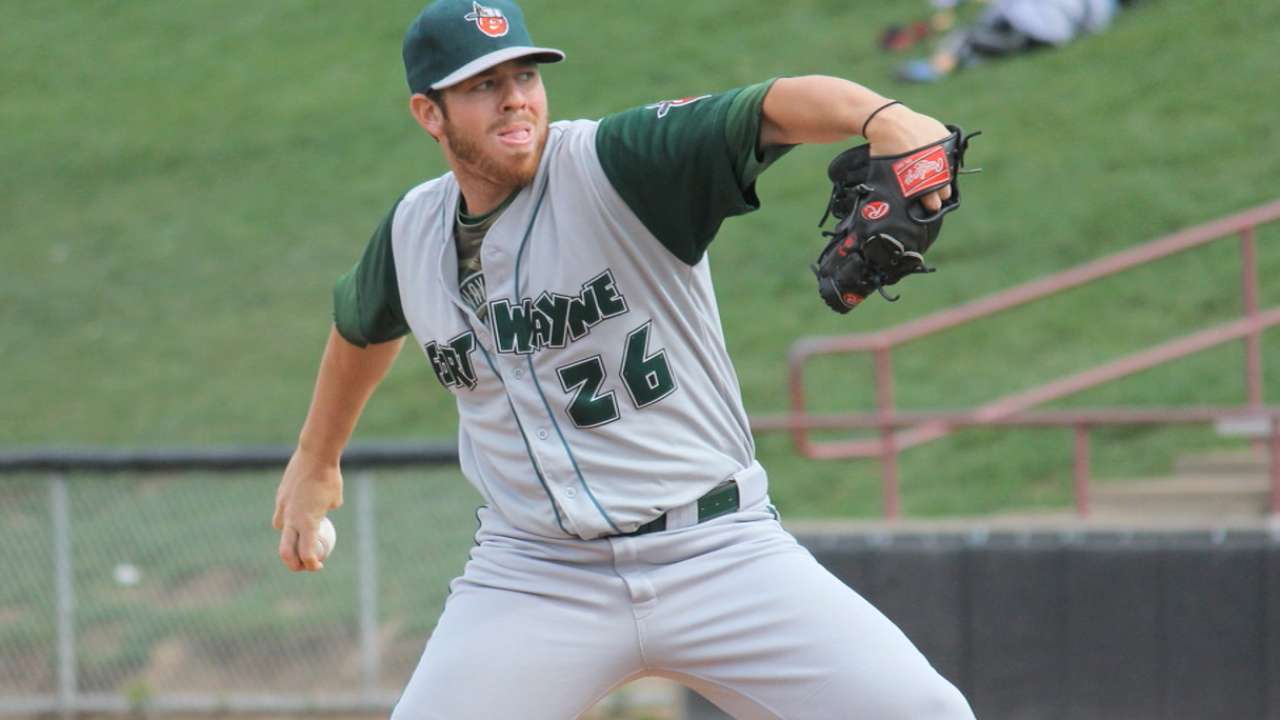 NEW YORK -- The Yankees trimmed an arm from their big league bullpen on Monday, dealing right-hander Shawn Kelley to the Padres in exchange for Minor League right-hander Johnny Barbato.
Barbato, 22, was a sixth-round selection in the 2010 First-Year Player Draft and pitched last season at Double-A San Antonio, where he was 2-2 with 16 saves and a 2.87 ERA in 27 relief appearances before being shut down in June because of an elbow injury.
In 31 1/3 innings, Barbato permitted 26 hits while allowing 10 walks and striking out 33. He has a career ERA of 3.79 over four Minor League campaigns, and scouts have projected the hard-throwing hurler as a future big league setup man.
Kelley, who turns 31 in April, was 3-6 with a 4.53 ERA in a career-high 59 appearances this past season for New York, racking up 11.67 strikeouts per nine innings (67 K's in 51 2/3 innings). He has averaged 11.83 strikeouts per nine innings over the last two seasons.
"I'm excited," Kelley said in a telephone interview. "I loved everything about going to New York, I loved the team and the coaches and the front office and the trainers, just everything about it. But it's baseball, things like this happen. I'm sad to go, but I'm also excited for where I'm going."
Kelley is arbitration-eligible for the third time after earning $1.765 million in 2014. He has compiled a 3.94 ERA in 236 big league games with the Mariners (2009-12) and Yankees (2013-14), and projects to slot as a setup man for San Diego closer Joaquin Benoit.
"I told [Padres general manager] A.J. [Preller] that I just made the comment to a friend the other day, 'Wow, the Padres are picking up everybody. They're going to be really good this year,'" Kelley said. "A few days later, here I am, one of them."
On a personal level, Kelley said that he was thrilled to briefly serve as the Yankees' interim closer this past season while David Robertson was on the disabled list, recording his first four career saves. Reflecting on his two seasons in New York, Kelley said nothing topped the farewells for Mariano Rivera and Derek Jeter.
"Watching Mariano go out the way that he did and watching Derek go out the way he did, more than anything I've done personally, those two experiences are two that I'll never forget," Kelley said. "They're definitely two highlights of my career.
"It stinks we didn't make the playoffs, but if you had to be with the Yankees and not make the playoffs for two seasons, I think those would be the two that you'd want to be a part of. Those were really special moments for me and I'm glad I got to share it with those two guys."
The Yankees will have a remodeled bullpen in 2015, with Dellin Betances and Andrew Miller among those poised to take over the closer's role from Robertson, who signed a four-year contract with the White Sox.
Among their other bullpen moves this offseason, the Yanks have acquired left-hander Justin Wilson from the Pirates, re-signed right-hander Esmil Rogers, signed left-hander Jose De Paula and executed a rare crosstown deal with the Mets to acquire right-hander Gonzalez Germen.
Bryan Hoch is a reporter for MLB.com. Follow him on Twitter @bryanhoch and read his MLBlog, Bombers Beat. This story was not subject to the approval of Major League Baseball or its clubs.