MLB.com Columnist
Jim Callis
Inbox: Will top prospect Buxton make big leagues in '15?
Jim Callis responds to fans' questions about baseball's top future stars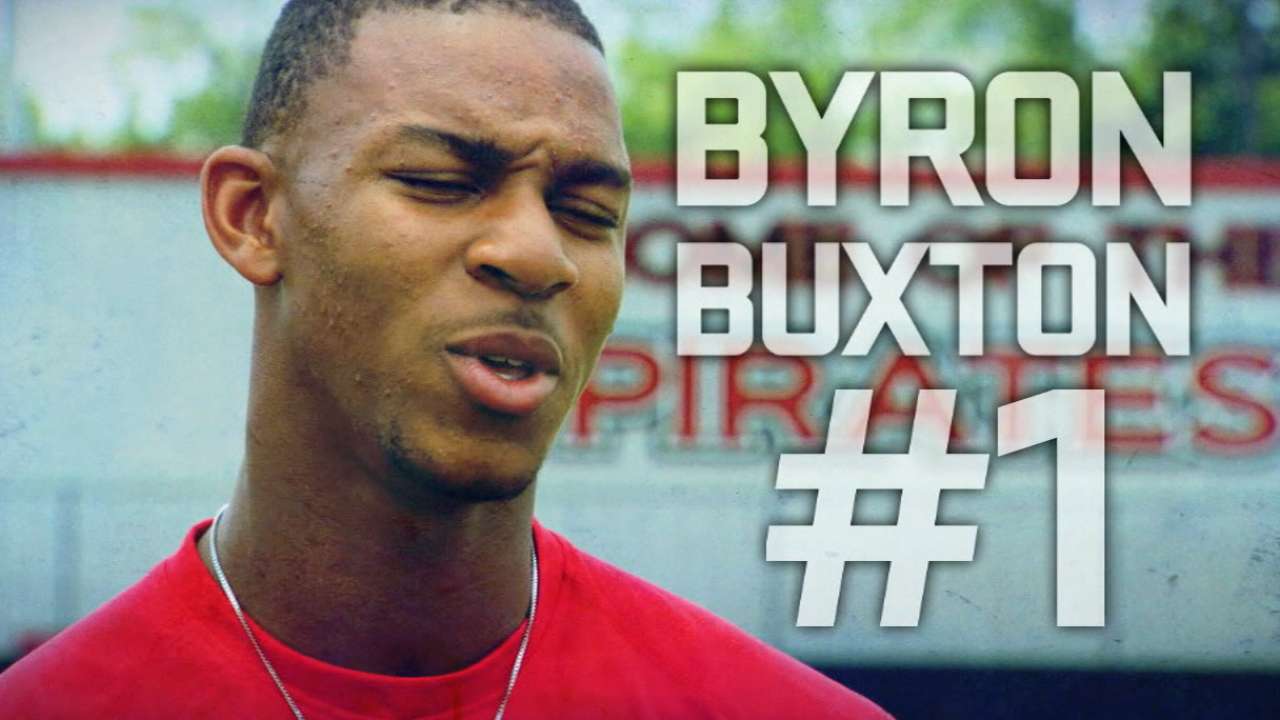 As 2014 ends, the MLBPipeline.com team is busy working on our 2015 Prospect Watch page. The first step was releasing our Top 50 Prospects for the First-Year Player Draft, a list that will expand to 200 by next June. Next on our to-do list is an overhaul of our Top 100 Prospects list for the Minor Leagues, which we'll launch in late January, after which we'll re-rank the best prospects in each of the 30 organizations.
And that's just the start of our planned coverage for 2015. We hope you'll keep coming to our corner of MLB.com to see what we have in store for you. Happy New Year, everyone!
Who has more offensive upside: Byron Buxton or Miguel Sano? Do they both debut with the Twins in 2015?
-- Dustin M., Fargo, N.D.
Buxton and Sano remain two of the very best prospects in all of baseball, even after injury-marred 2014 seasons. Buxton played in just 30 games while dealing with injuries to both wrists and a concussion, while Sano missed the entire year after having Tommy John surgery during spring training.
Buxton, who ends 2014 ranked No. 1 on MLBPipeline.com's current Top 100 Prospects list, is the better all-around player, but Sano has the potential to do more damage at the plate. Buxton projects as a high-average hitter with 20 or so homers per season as well as plenty of stolen bases in his prime, with a slash line around .300/.380/.500. Sano has 40-homer pop and could produce .270/.360/.575 lines once he gets going.
Buxton and Sano could make their big league debuts in 2015, though that might not happen until August or September. The Twins aren't going to contend next year and both players need to make up for plenty of lost at-bats. It also would make no sense from a business standpoint to promote them before midseason and risk making them eligible for arbitration a year earlier than they otherwise would be.
Will Kyle Schwarber stick at catcher for the Cubs?
-- Brian F., Cedar Falls, Iowa
I tackled this question in a Pipeline Inbox back in July, shortly after Schwarber had signed for $3.125 million as the No. 4 overall pick in the First-Year Player Draft. Since then, he has batted .344/.428/.634 and reached high Class A in his pro debut and the Cubs announced that they planned on keeping him behind the plate.
There's no question that Schwarber has the work ethic and desire needed to make catching work, but I still don't see that happening. He moves better than might be expected from a 6-foot, 235-pounder and has some raw arm strength, and he did throw out 34 percent of basestealers in the Minors. But his throwing and receiving still need a lot of improvement and scouts outside the organization have a hard time projecting him as regular backstop.
Chicago acquired its catcher for the short-term future by trading for Miguel Montero during the Winter Meetings, and the subsequent $155 million signing of Jon Lester indicates that the franchise has shifted its focus from rebuilding to contending. Moving Schwarber to the outfield full time would allow the Cubs to get him to the Majors more quickly and to get more out of him (in terms of both playing time and production) because he wouldn't be subjected to the rigors of catching. He's much more likely to be a left fielder than a catcher, and both he and the team would be best served by acknowledging that now.
Which California left-hander do you like better in the 2015 Draft: Brady Aiken or Justin Hooper?
-- Eric Y., Modesto, Calif.
Among high school pitchers in the 2015 Draft, no one throws harder or is more intimidating than Hooper. The De La Salle High (Concord, Calif.) product is a 6-foot-7, 230-pounder who repeatedly hit the mid 90s during the summer showcase circuit and has projection remaining that should mean more velocity to come. He throws from a lower arm angle, making him especially tough on lefties.
That said, I'd rather have Aiken and it's a pretty easy decision. He can't light up a radar gun as much as Hooper can, though Aiken can sit at 92-94 mph with his fastball and has major advantages with his curveball, changeup and command. Some scouts believe Hooper's delivery and relative lack of polish may eventually lead him to the bullpen, while the consensus is that Aiken will be a frontline starter.
The wild card in all this is Aiken's health. The Astros drafted him No. 1 overall in June and were prepared to sign him for $6.5 million before a post-Draft physical revealed an abnormality with his elbow ligament. Houston reduced its offer and he declined to sign for slightly more than $5 million, and he's now expected to pitch at a junior college in the spring so he'll be eligible for the 2015 Draft.
What round do you see Canadian outfielder Demi Orimoloye slotting into in the 2015 Draft? Is he seen as a high-ceiling talent?
-- Wade B., Milton, Ont.
Orimoloye definitely has a high ceiling -- one of the highest in the 2015 Draft class -- and for that reason he'll probably go in the first round in June. He plays at St. Matthew's High School in Orleans, Ont., and could become his province's first first-rounder since the Braves took Scott Thorman 30th overall in 2000.
He's still somewhat raw on the diamond, but Orimoloye is a 6-foot-4, 225-pound corner outfielder with three plus tools in his power, speed and arm strength. If he continues to make progress this spring like he has over the last year and half, teams won't be able to resist his upside.
Jim Callis is a reporter for MLB.com and writes a blog, Callis' Corner. Follow @jimcallisMLB on Twitter. This story was not subject to the approval of Major League Baseball or its clubs.