MLB.com Columnist
Barry M. Bloom
Clutch Garvey merits a place among game's best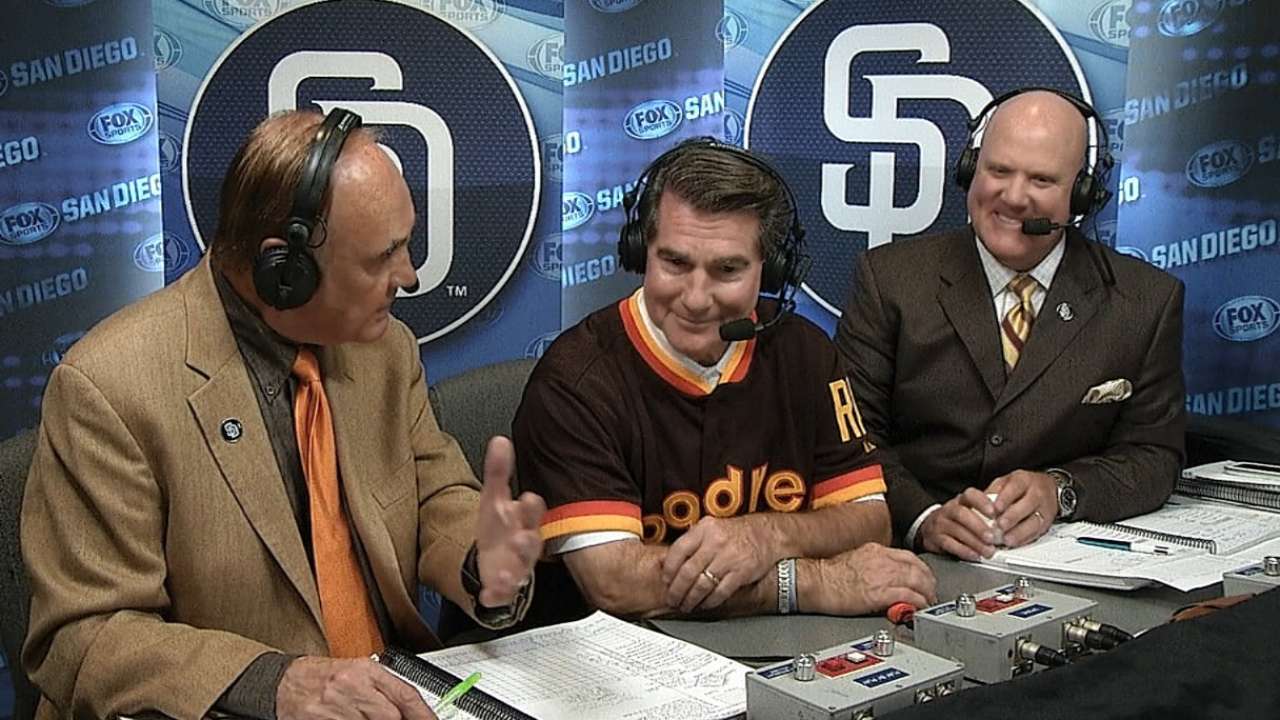 A personal story ...
The 1984 season was my first as the beat writer covering the Padres for the late, great San Diego Tribune. My editor told me to stir it up in the image of his old paper, the Philly Daily News. I obliged. By August, manager Dick Williams, general manager Jack McKeon and most of the players wanted my throat.
That August at old Atlanta-Fulton County Stadium, the Padres and Braves were involved in an intense fracas that included numerous scraps on the field and fan involvement in the stands. It was the worst thing I'd seen in a baseball game. Still is. After I called Williams out about it, the players voted 24-1 to kick me out of the clubhouse.
Steve Garvey was the lone dissenter.
Now, let's fast-forward to that October and the National League Championship Series against the Cubs. Garvey crawled out of a sick bed to erupt in Game 4, a rare postseason Saturday night game at what was then called Jack Murphy Stadium. Let's have Garvey explain it.
"The night before, I came down with a stomach virus and nobody knew," Garvey recalled. "I was up all night. I was weak. I tried to hit and take infield before the game and couldn't do it. I laid down on the training table. Dick Dent, our trainer, came in and said, 'Why don't you sit out? You could use the day.' I said, 'Are you kidding me? I played in 1,207 straight games. I'm going to play tonight.'"
And that's how a game for the ages was fashioned. Garvey came off that table to go 4-for-5 with five RBIs, converting every big at-bat of the night. In the ninth, with hard-throwing Cubs reliever Lee Smith on the mound and the score tied, Alan Wiggins opened the inning by striking out swinging. Tony Gwynn followed with a base hit, setting the stage for Garvey.
"[The pitch] was a little bit down, and I got a good piece of it," said Garvey. "Most of my big hits were right of center. I hit it high and it started to take off. I thought I hit it well enough. It's almost like everything came to a stop. It was like "The Natural," when the ball was going up. I get to first base and I look up and I see [center fielder] Henry Cotto leap, and I thought, 'My God, this is going to be the greatest catch in postseason history.'"
Cotto didn't catch it, obviously. The ball kept rising and banged off the wall behind the cyclone fence. The next day, the Padres won their first NL pennant. Some may disagree, but in my humble opinion, Garvey's walk-off homer is still the top moment in San Diego sports history.
There were many other great moments in his illustrious 19-year-career with the Dodgers and Padres, but none meant more to a franchise or a city. Garvey had good stats, was a remarkable big-game player, played in the most consecutive games of any NL player and played the most consecutive errorless games at first base. I can't fathom why he isn't in the Hall of Fame.
Of course, I admit I have a personal stake in it.
Barry M. Bloom is a national reporter for MLB.com and writes an MLBlog, Boomskie on Baseball. This story was not subject to the approval of Major League Baseball or its clubs.