Nittany Lions roar past BC to take Pinstripe Bowl in overtime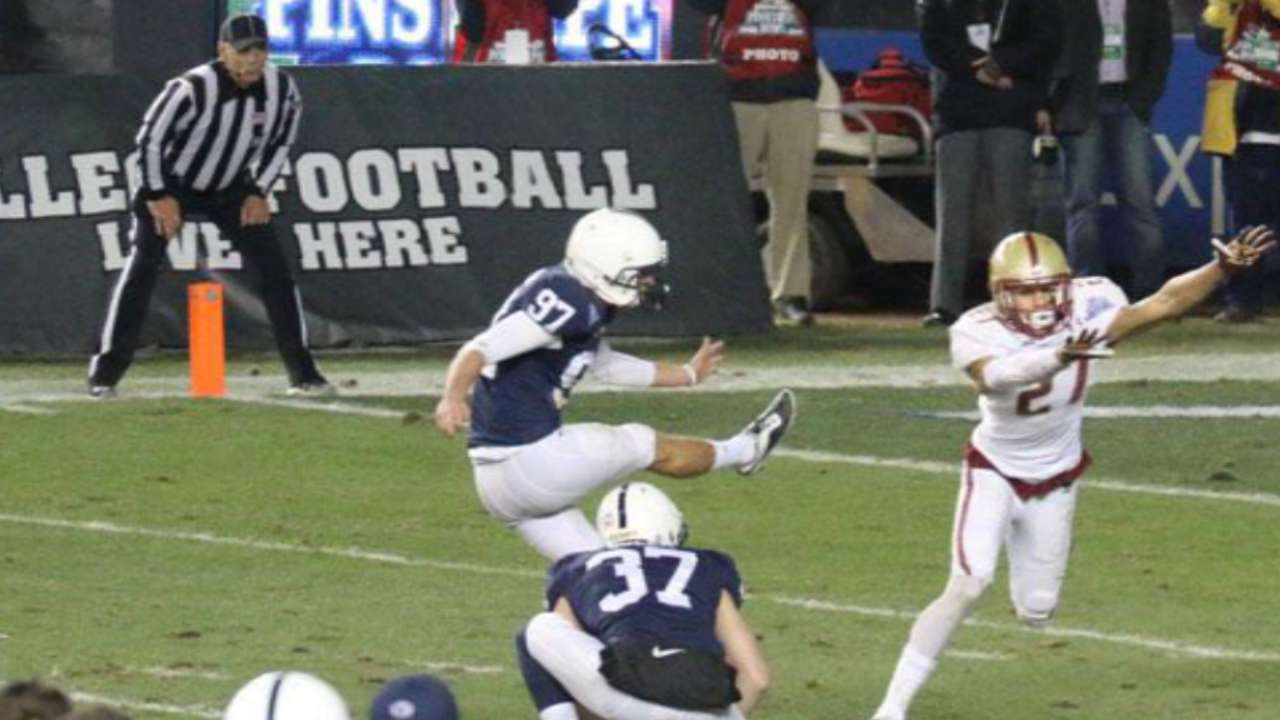 NEW YORK -- Now they can call it the Penn Stripe Bowl. Penn State stamped its name on Yankee Stadium and the bowl season Saturday, when it used multiple instances of last-minute heroics from kicker Sam Ficken to take a 31-30 overtime win over Boston College in the Pinstripe Bowl.
The game was played in front of 49,012 fans, breaking last year's record of 47,122 for the contest between Notre Dame and Rutgers. It was the first sellout in the five-year history of the bowl.
The Nittany Lions trailed for most of Saturday's second half, but Ficken stepped up to help them earn their first bowl win since 2010. Ficken forced overtime with a 45-yard field goal with 20 seconds left in the fourth quarter, and then he kicked the decisive extra point to give Penn State the victory.
Penn State (7-6) hadn't played in a bowl since the 2011 season due to NCAA sanctions, and Ficken's kick touched off a raucous celebration on the sideline. This was the first sellout and the first overtime game in the five-year history of the Pinstripe Bowl, and Penn State's fans turned out in droves.
"It was a football stadium tonight. An awesome one," said Penn State coach James Franklin of Yankee Stadium, which gave him the third bowl victory of his head coaching career. "And we loved it."
Boston College (7-6) led 21-14 after the end of the third quarter, but the taut nature of the game was well reflected in the statistics. The two teams were separated by one yard -- 287 for BC and 286 for Penn State -- at that point of the game, and time of possession was skewed by just 12 seconds.
Penn State quarterback Christian Hackenberg, who was named the game's Most Valuable Player, led his team on a tying touchdown drive midway through the final quarter. And then, after Boston College pushed ahead on a field goal, Hackenberg engineered a tying drive in under two minutes.
But the game still had plenty of life. Boston College went ahead on a 21-yard pass from Tyler Murphy to David Dudeck in overtime, but kicker Mike Knoll left the door open by missing the extra point. Penn State came right back with a Hackenberg throw to Kyle Carter and Ficken iced the game.
"As I told the team in there, there's a lot of plays all over the place. We had a lot of chances for interceptions that we let get away from us," said Boston College coach Steve Addazio of the end result. "I'm sure there's missed blocks here, penalties all over the place. When you lose a game in overtime like that, the obvious thing to look at is the way we lost it. The bitter end. There will be plays along the way that could've changed the game. You can drive yourself absolutely insane."
Boston College made some program history in the loss: Murphy (105) and tailback Jon Hilliman (148) became the first BC teammates to rush for 100 yards in a bowl game. The Eagles rushed for 285 yards against the nation's top rushing defense, but Murphy only threw for 97 yards in the loss.
Franklin, working through his first year at Penn State after a previous tenure at Vanderbilt, deflected any and all praise that came his way Saturday. He made sure to credit his players and the ultra-loyal fanbase at Penn State for persevering through the tough times and making their way back.
"It has very little to do with James Franklin," he said after his team's momentous win. "It has to do with all the former players, the current players, the assistant coaches. The trainers, the doctors, the video [staff]. It has to do with our fans that show up and sell out every single game. We're all a part of this. I think we've been fractured. ... But I think experiences and games like this have restored the hope."
The game's first half didn't produce much in the way of scoring. Penn State pushed ahead for the first time on a 72-yard touchdown throw from Hackenberg to true freshman Chris Godwin. Godwin beat his man, and Hackenberg hit him in stride up the right sideline for a 7-0 lead in the first quarter.
That drive took just 1:01 for Penn State, but Boston College didn't waste much time in responding. Hilliman went for 52 yards on two plays -- a three-yard run and a 49-yard touchdown off tackle -- to give the Eagles a 44-second scoring drive. Neither team would score again before the half.
Murphy would lead the Eagles to a sizable cushion in the third quarter, thanks to a lengthy drive capped by a 19-yard throw to Shakim Phillips. Later in the quarter -- after Hackenberg fumbled a snap -- Murphy put BC up two touchdowns by taking an option play 40 yards to the end zone.
"Tyler has done a great job," Addazio said of his quarterback, who transferred to BC from the University of Florida. "He's been a tremendous addition to our program. He provided stability. He provided experience. He provided leadership. He's an A-1-A terrific character guy.
"He had a great, valiant effort today. I'm proud of what he accomplished, and I'm happy for him that he's able to have the kind of senior year that he'd always dreamed of having."
Hackenberg, a sophomore, just wouldn't let Murphy steal the show. The native of Lehighton, Pa., got the ball with 2:04 left in the third quarter and quickly led Penn State on a scoring drive. The youngster went 3-for-4, hitting Geno Lewis for a 32-yard catch and then a seven-yard touchdown.
Penn State came back for more in the fourth quarter, and Akeel Lynch put them on the 1-yard-line with a 35-yard run. The Nittany Lions nearly wasted that run with a penalty for unsportsmanlike conduct, but Hackenberg found DaeSean Hamilton for a 16-yard touchdown on the very next play.
Hackenberg -- who threw 50 times for 371 yards and four touchdowns -- came back for more in the final two minutes. The 19-year-old completed five straight passes to take Penn State from its 24 to the BC 35-yard-line, and three plays later, Ficken tied the game on a field goal with 20 seconds left.
"Every day, I came in and just worked as hard as I could to become a better play," said Hackenberg of his season. "I wanted to be the best teammate I can be and push these guys to take their game to the next level. I think that's a big role as a quarterback, especially at Penn State. You need to be able to elevate everyone else's play when need be, and I think we were able to do that today."
The Pinstripe Bowl has now had four different champions in five seasons of play. Syracuse is the only team to win twice, and Notre Dame, Rutgers and Penn State are the bowl's other champions. Last year's game is the only other one to draw 40,000-plus fans.
For Franklin -- who won two bowl games in three seasons at Vanderbilt -- the Pinstripe Bowl was a landmark for a few reasons. It gave Penn State its first bowl victory since 2010 and a winning record in his inaugural campaign, and it also showed him that his team can rebound from adversity.
"Early in the game when we had the ball in the strike zone, we had penalties or turnovers," he said. "I think we could've got a few more points on the board. It would've made it a little less crazy at the end. Again, we're trying to help the Big Ten out, ESPN, to get the ratings up. That's why we did it that way."
Spencer Fordin is a reporter for MLB.com. This story was not subject to the approval of Major League Baseball or its clubs.