Penn State kicker takes cue from Captain Clutch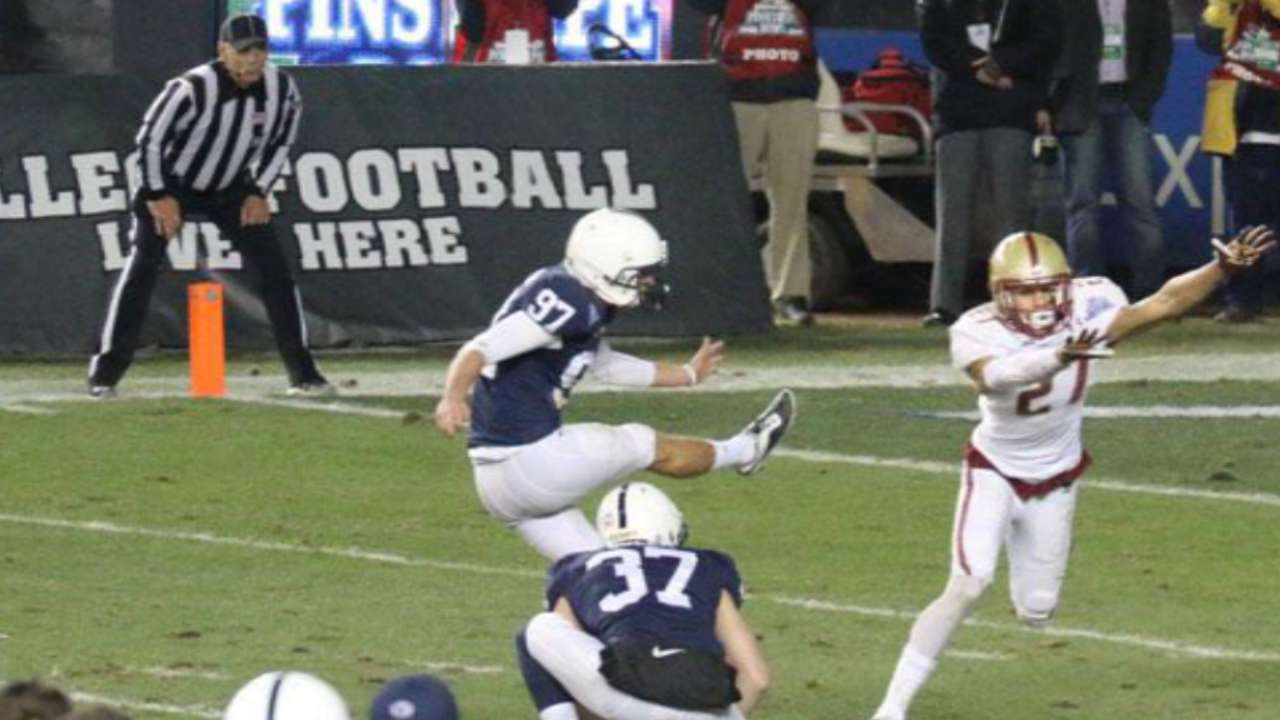 NEW YORK -- The Penn State field goal unit is apparently a pretty prescient bunch. The moment kicker Sam Ficken sat down at Derek Jeter's locker on Friday, the group accurately predicted the finish to a thrilling Pinstripe Bowl on Saturday evening.
"As soon as I was put in Jeter's locker, they were like, 'Dude, you're going to kick a game-winner," Ficken recalled his teammates telling him before Penn State's 31-30 victory over Boston College at Yankee Stadium.
Sure enough, with the game on the line, there was Ficken lined up in deep center field with a chance to win the game in extras -- er, overtime.
Having already tied the contest with a late field goal in regulation, Ficken simply needed an extra point to send Penn State to its first bowl victory in five years. He made sure there wasn't any doubt, sending the ball through the uprights and soaring over Monument Park.
A Jeter-esque walk-off, if you will, for Penn State's Mr. December.
"A lot of the guys remember how Jeter ended his career, and they're like, 'The stars were aligned,'" said Ficken, a Cubs fan from Indiana. "It's something that's coincidental, but it's a very cool storyline."
Ficken's extra point ignited a celebration among the Penn State contingent in the Bronx, and it sent him into a mad dash across the outfield grass toward the Yankees' home dugout. But perhaps more important was his pressure-packed 44-yard field goal in the final minute of regulation to send the game to overtime. It was a field goal attempted from Jeter's turf, no less -- somewhere around the deep-shortstop/shallow-left-field area.
That kick tied the game, and the stage was set for Ficken again as soon as Boston College kicker Mike Knoll missed an extra point to start the overtime. Penn State tight end Kyle Carter caught the game-tying touchdown pass from quarterback Christian Hackenberg on 3rd-and-7, and Ficken iced the game shortly thereafter.
"I love Sam, and he's been that way all year long," first-year Penn State head coach James Franklin said. "He's probably been our best offensive weapon all year long -- he really has. The way that guy's career started, he had some bumps along the way, but, again, to go out here with that field goal, there was no doubt."
How exactly did Ficken -- a Penn State captain -- end up with the Captain's locker? Well, it wasn't his call. The equipment managers put his things in Jeter's locker without Ficken's knowledge. Ficken thinks it was a not-so-subtle reward for his friendly interactions with them over the years.
"I was kind of surprised they even let people still use [Jeter's locker], to be honest," Ficken said. "He's such a big deal to this place. This is called the Stadium that Jeter built. I'm a little surprised they still use it. But obviously, I was pretty excited to be able to put my stuff in it, and say I was -- not a part of that -- but just to say I was there."
For Ficken, it was a fitting end to a remarkable comeback story. Thrust into the limelight as a sophomore when Penn State's top kicker transferred in the wake of NCAA sanctions, Ficken struggled as a newly minted starter in 2012.
And "struggled" might be an understatement. In a game at Virginia that year, Ficken missed four field goals and an extra point, including a potential game-winner, and Penn State lost, 17-16. For the remainder of that season, then-head coach Bill O'Brien shied away from using Ficken at all, often electing to go for it on fourth down from well within field goal range.
Two and a half years later, Ficken has a legitimate shot to pursue an NFL career. During the season, he converted on 23 of 28 attempts and only missed one kick that wasn't blocked. He was named a semifinalist for the Lou Groza Award last month.
And if the NFL doesn't work out, Ficken probably has a nice career ahead of him one borough south of Yankee Stadium. An intern at Merrill Lynch this past summer, Ficken says he'd like to pursue a career on Wall Street once he's done kicking. He even had the privilege of ringing the opening bell at the New York Stock Exchange on Friday.
Safe to say it was quite the week for Ficken -- the second captain to end his career with a walk-off at Yankee Stadium in 2014.
"I'm just so happy for this team," Ficken said. "We've been through so much. To end it that way -- in overtime in Yankee Stadium in New York City -- that's perfect. You couldn't ask for anything better."
AJ Cassavell is a reporter for MLB.com. Follow him on Twitter @ajcassavell. This story was not subject to the approval of Major League Baseball or its clubs.