Mind over matter: Bauer goes high-tech in offseason regimen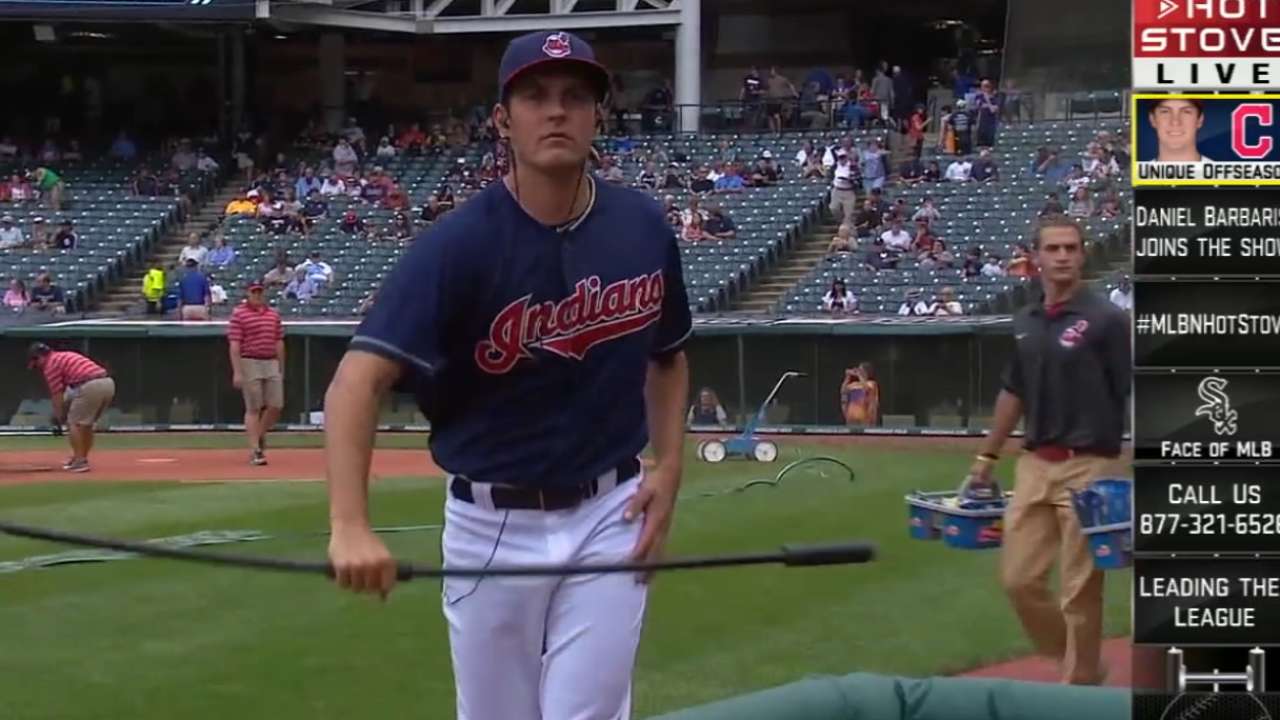 CLEVELAND -- Trevor Bauer craves information. He enjoys diving head first into data, reading scientific articles and searching for technological advancements that might help him further his own research into enhancing his pitching mechanics, velocity and production.
This offseason, Bauer embarked on his annual information-gathering tour armed with nearly a full sample of Major League innings to analyze. The young right-hander spent nearly the entire 2014 season in Cleveland's rotation, experiencing enough ups and downs to provide him with a platform from which to build. Bauer did not want to waste any time in getting started.
"I feel like I had a productive season," Bauer said shortly before the offseason began. "It was not up to my standards, which I think is something that helps me want to get to work. I feel like I do have a lot of stuff that I need to work on and get better at, so I'll be ready to go."
During his season-end meeting with Indians manager Terry Francona and pitching coach Mickey Callaway, Bauer detailed his plans for the winter. He had a list of pitching experts that he planned on visiting around the country, while devising a plan of attack for the winter. Cleveland stressed the importance of leaning on Callaway throughout the process.
In November, while Bauer was spending time at the Driveline Baseball facility in Washington, Callaway made a trip to check in with the 23-year-old. Callaway spent time monitoring Bauer's progress with his velocity training and was impressed with the ideas the pitcher had for improving upon his wide array of pitches.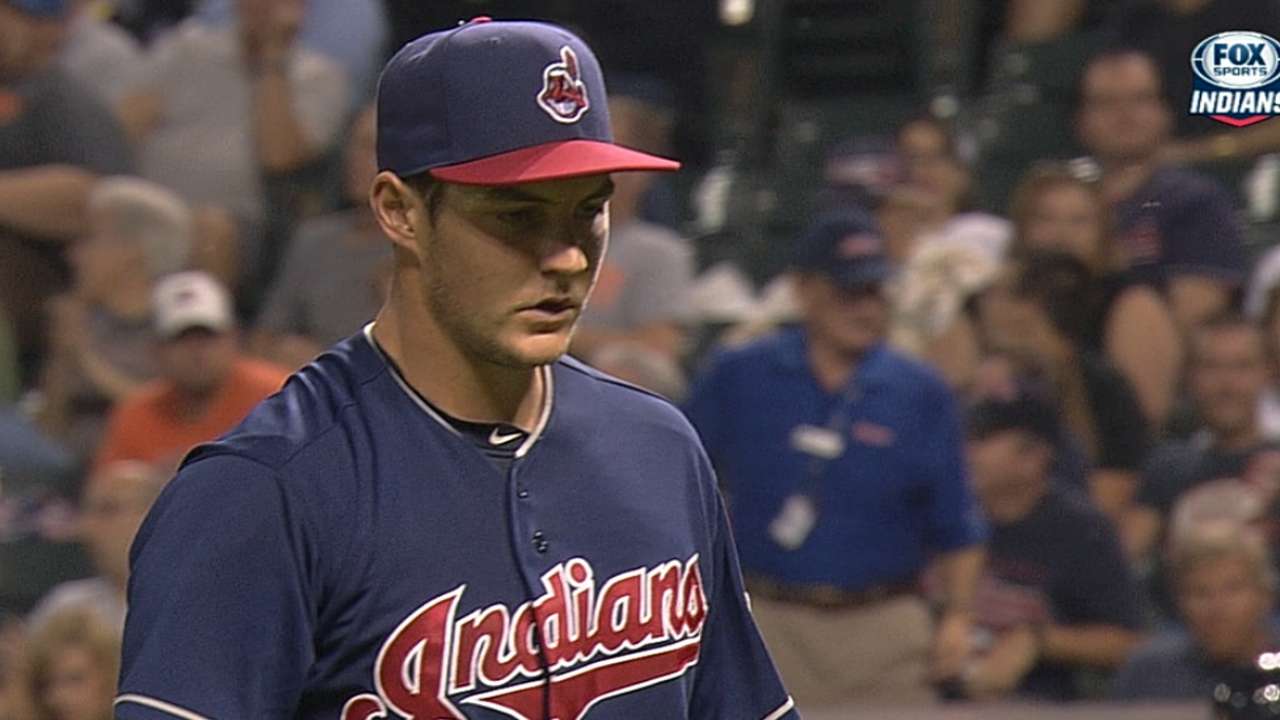 Bauer had already been studying slow-motion video of Indians starter Corey Kluber's technique for throwing his two-seam sinker and slider, as well as Tribe starter Danny Salazar's method for throwing his split-changeup. During their visit, Callaway said Bauer also had a looped video of Blue Jays starter Marcus Stroman throwing a specific type of two-seamer.
Bauer was studying the way Stroman would utilize the pitch against a right-handed batter. The pitch being shown in the video was sent to the left-handed batter's box, but it would tail back over the outside corner of the plate for a strike. That is something Callaway said Bauer wants to work on improving for next year.
"He was working on the axis of spin," Callaway explained. "So they had that one pitch looping on a big-screen TV in there over and over and over again, just for a visual-type aid. I think Trevor values the break, the late movement and the speed."
Callaway laughed when asked if Bauer was working on adding any new pitches.
"I don't think he can add any more pitches," Callaway said. "He's already invented some."
More than most pitchers, Bauer relies on in-depth video analysis.
Bauer detailed one of the setups that he uses in the offseason. He will have a camera in each batter's box mounted at eye level, so he can see the hitter's perspective. Bauer also has a camera mounted from the center-field view in order to track the flight of the ball. He then films his pitches at 240 or 480 frames per second, and he can overlay the pitches on video to see variances in the movement.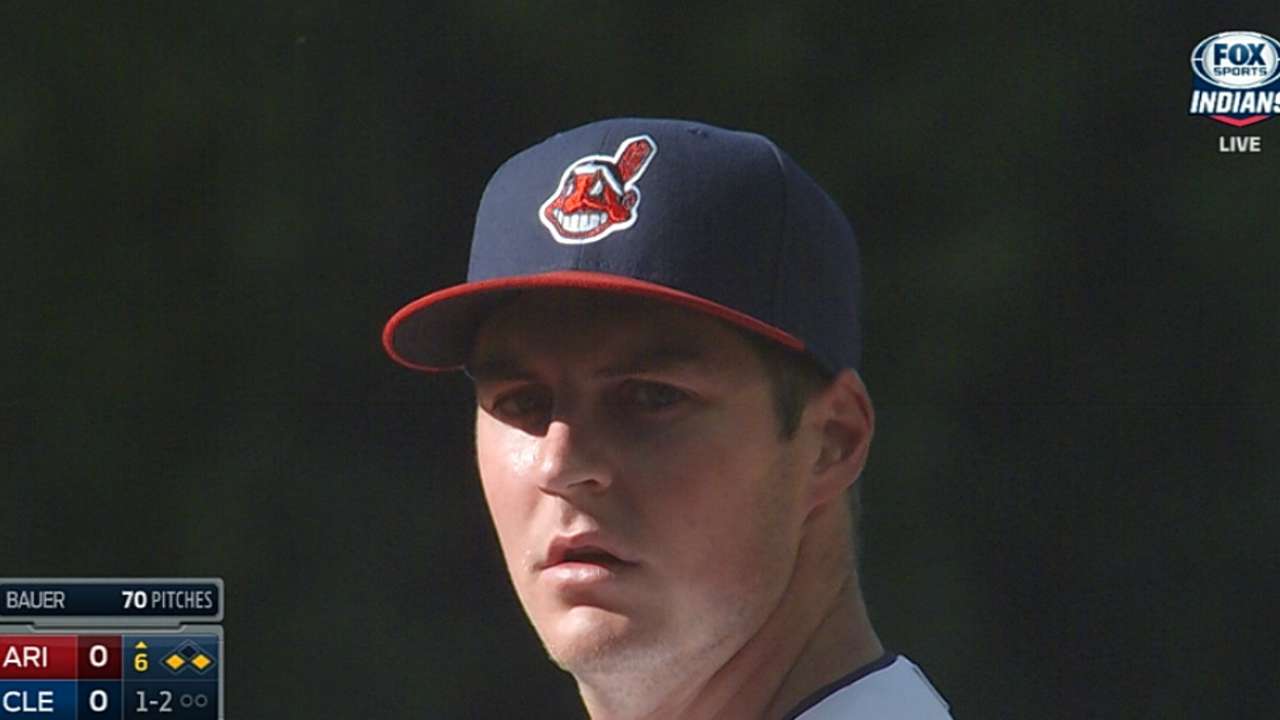 It is all in an effort to improve his command, while increasing deception to confuse the hitter.
"I'll know where each pitch ended up," Bauer explained, "and I'll color code each pitch [on video], if it's a fastball or it's a slider or whatever, and I'll know exactly what it looks like. What pitches look the same for a lefty? What pitches look the same for a righty? Are they the same? ... Like, maybe a slider and a fastball to a lefty look the exact same because of the angle he's looking at, but to a righty you can see a difference.
"So, then I can tailor-fit what pitches I throw and where to make them all appear the same, make my delivery appear the same, things like that."
When he is in the heart of his offseason throwing program, Bauer said he works on a six-day schedule. Two days will be focused primarily on velocity drills. The other four days will be a mix of mechanics and pitch command workouts. If he is training at the Texas Baseball Ranch, he said he has a real time video setup that allows him to analyze his delivery and pitches throughout the workout.
Callaway said Bauer has been great about keeping the Indians' staff up to date on what he is working on during the winter. The pitching coach also noted that Cleveland has given the pitcher access to much of the analytical pitch data that he likes to study. Callaway said Bauer probably leans on those resources more than any other pitcher with the Tribe.
"We've given him some websites and stuff that really gets into that kind of stuff," Callaway said. "I think he likes to have the resources to do it himself, instead of just trusting what we might say. He'd rather go and research it himself. He does a lot of that and did a lot of that during the season, like trying to make his own scouting report off the same stuff that we would use. I think he likes putting that work in to make himself a little more confident in what he's doing."
Bauer has appreciated the Indians being open to his approach with such things. In particular, the pitcher said Derek Falvey, Cleveland's director of baseball operations, and Eric Binder, an assistant to the player development staff, have been great resources for him.
"I think they've not only been open to what I'm doing, there's been a sharing of information," Bauer said. "Me getting information to them. Them giving information to me. It makes the conversation progress more rapidly when there's sharing from both sides."
Last season, Bauer went 5-8 with a 4.18 ERA in 26 starts, in which he piled up 143 strikeouts against 60 walks. It was not an outstanding season, but it was not a poor campaign, either. While Bauer helped strengthen the middle of the Tribe's rotation, he never experienced a strong uptick in performance over an extended period of time.
Bauer noted that he lost 13 pounds in the middle of the year, causing his velocity to drop throughout July. As a result, the right-hander wanted to work on establishing a better conditioning plan for 2015, along with training regimens to improve both his pitch speed and command. Bauer said the general idea is to work on all three areas in order to improve on the base he established last year.
"Everything is interrelated," Bauer said. "It's a whole process and there's a lot of stuff that goes into it."
Bauer does not worry too much about an information overload, either.
"I'm blessed in a way that I can process information," he said. "That's just how my brain works. If I wasn't processing information about baseball, it would be about building a quad copter or audio engineering or whatever else has interest to me."
Jordan Bastian is a reporter for MLB.com. Read his blog, Major League Bastian, and follow him on Twitter @MLBastian. This story was not subject to the approval of Major League Baseball or its clubs.