Stray cat led La Russa on rescue mission
Hall of Famer started Animal Rescue Foundation after on-field incident in Oakland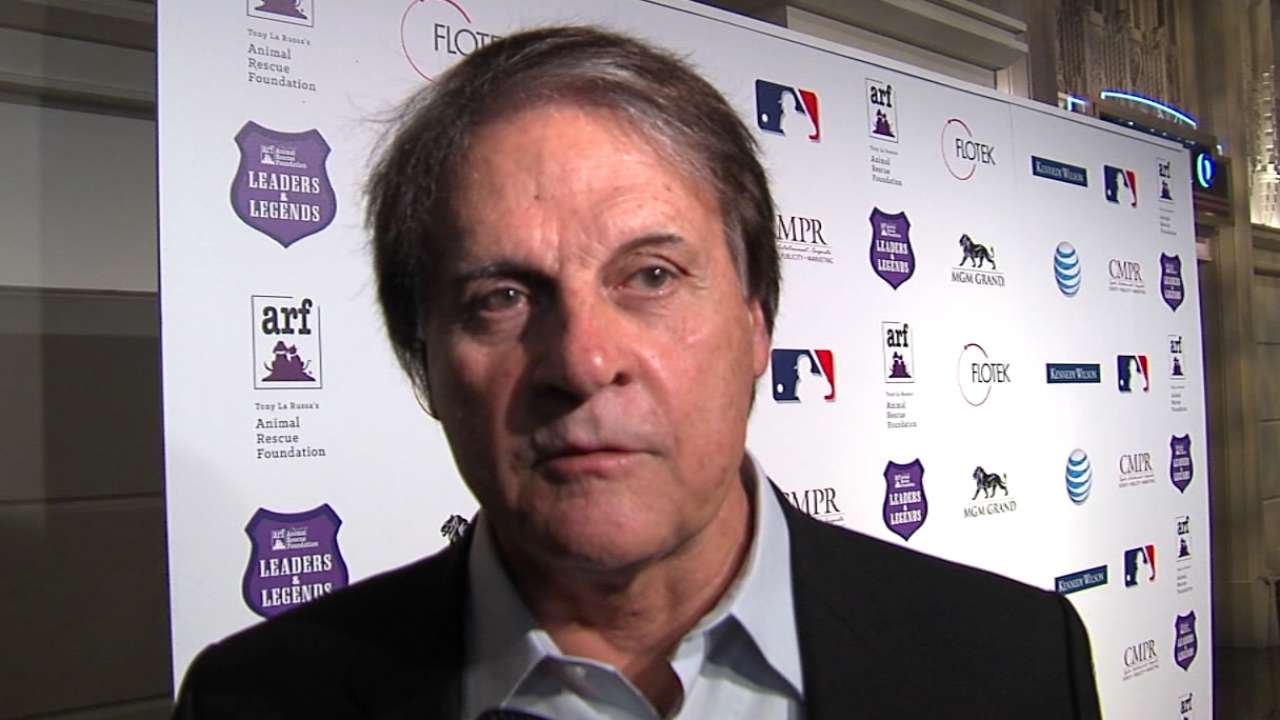 SCOTTSDALE, Ariz. -- Maybe Tony La Russa wouldn't have cared so much if the Oakland A's had lost the darn game.
But they didn't, the chilly night of May 7, 1990, when that cat made herself at home on the Oakland-Alameda County Coliseum field, scampering out of the bullpen into center field, making a beeline for the first-base line, strolling over the on-deck circle and around home plate toward the third-base dugout.
When play resumed, the A's beat the Yankees (not, however, Catfish Hunter, which would make the story better, but the right-hander was long retired by then).
La Russa did what all managers on their way to the Hall of Fame do after winning a game: He put the cat, which he had placed in the safety of the A's clubhouse, in his car and tooled around town searching for a shelter where she would be secure.
What he found out would change his life, the off-the-field portion anyway, forever: Evie -- she by now had a name, named by La Russa for the wife of then-A's owner Walter Haas Jr. -- would be a dead cat walking into any shelter in the Bay Area, since she likely would be euthanized.
"My life hasn't been the same since," La Russa said at last month's Third Annual Leaders & Legends Gala in Las Vegas to benefit the Animal Rescue Foundation (ARF), which he established soon after that experience. The event was held, naturally, at the MGM Grand, whose mascot, Leo, is just a big cat.
Rescue comes naturally to La Russa. Usually it's of people in baseball uniforms.
In 1979, he took over a Chicago White Sox team that had lost 90 games the previous season and had them in the playoffs four years later.
In 1986, he took over an Oakland team that had lost 85 games the previous season and had them in the World Series two years later.
In 1996, he took over a St. Louis team that had finished 19 games below .500 the season before and had them in the postseason in his first crack.
Now, in a different capacity, La Russa has taken over the Arizona Diamondbacks, who had the Major Leagues' worst record in 2014. As a chief baseball officer, how will he find the time to continue to look after the cats and dogs at ARF's sprawling complex?
"There are 24 hours in a day," La Russa said with a smile.
"He truly cares about these animals," said Mark McGwire, who was at the Leaders & Legends benefit and was on the A's bench when Evie meandered into La Russa's conscience. "That was evident the night that cat came on the field, and it has been ever since. Spend any time with Tony, and the subject never fails to turn to his foundation."
The compound that arose out of that 1990 incident now covers nearly 38,000 square feet in Walnut Creek, near Tony and Elaine La Russa's home. Its mission is simple: Rescue, treat and place animals that otherwise would be put to death.
ARF has focused its recent efforts on matching dogs with returning veterans coping with post-traumatic stress disorder, a gradual process because staffers want to get it right. Different breeds have different qualities, and care is taken to match dogs with veterans' needs.
"It's like child adoption," La Russa said. "You have to learn about the target family -- what they like, what are their habits -- to find out whether it is a suitable home."
Long before this latest initiative, ARF has been placing rescue pets with seniors and abused children.
The latest Leaders & Legends spotlight shone on dogs, because of their therapeutic effect on soldiers with physical and emotional wounds. Even the foundation's name evokes dogs, but maybe that is because La Russa could not come up with a proper acronym for MEOW.
La Russa has always been a cat person.
"We've always owned cats. I'd bring it up to the press every day [during managerial briefings], because any mention of their plight is very helpful," La Russa said. "Most men don't want to have cats because it's not macho or something. But they are so unique in how they show affection. I have cats that jump on me when I come home."
A few years ago, La Russa gave an interview to the Wall Street Journal that has become legendary, because he not only revealed that at that moment he had 17 cats at his home, but he proceeded to reel off, without pause, the names of all 17.
We mention that now in the context of research last year by SB Nation's Larry Granillo on the historic effect of stray cats wandering on a baseball field. Including Evie's adventure, the number of documented cases he came up with was ... 17.
Tom Singer is a reporter for MLB.com and writes an MLBlog Change for a Nickel. Follow him on Twitter @Tom_Singer. This story was not subject to the approval of Major League Baseball or its clubs.