MadBum earns place in history with epic performance
Unexpected postseason run immortalizes young Giants left-hander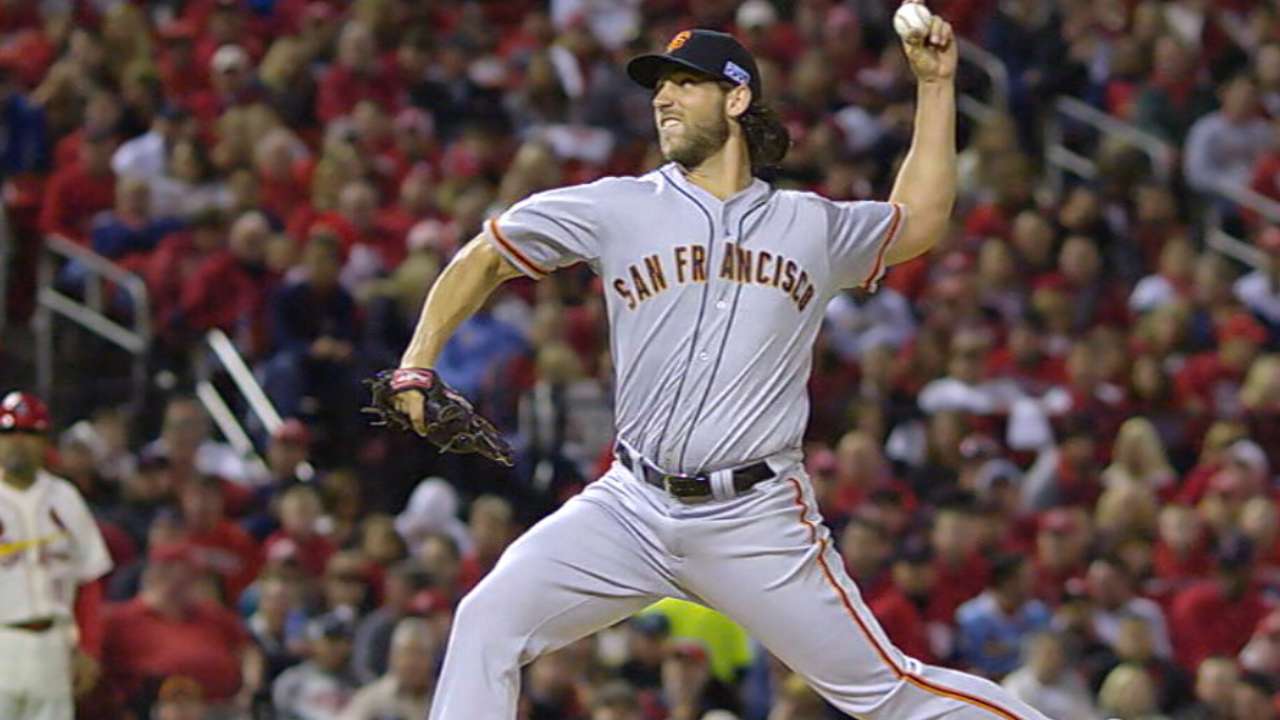 SAN FRANCISCO -- One of the most dynamic performances in recent baseball history was rooted in an understatement.
In the hours before Game 7 of the World Series on Oct. 29, Giants manager Bruce Bochy held a brief interview session with Giants beat reporters and affirmed that Madison Bumgarner, who threw 117 pitches three nights earlier in his 5-0, Game 5 triumph over the Kansas City Royals, might be able to appear in the Fall Classic finale. This was the usual day for Bumgarner's between-starts throwing session -- meaning that, by Bochy's estimate, the left-hander could throw as many as three innings.
A couple of hours later, right-hander Jake Peavy and Bumgarner stood alongside each other while shagging flies during batting practice.
As Peavy related, "He was asking me how I thought this game was going to play out. And he said, 'If [Giants starter Tim Hudson] can get the ball to me, I can get it to [relievers Sergio] Romo and [Santiago] Casilla.'" And I said to him, 'Madison, when you get the ball, you're not going to let it go, period. You're the best guy we've got.'"
Bumgarner didn't, and he was. He exceeded Bochy's expectations and legitimized Peavy's belief with five scoreless innings of relief. It sealed the Giants' 3-2 series-clinching victory, gave them their third World Series title in five years and guaranteed Bumgarner's place in baseball history.
A farmer during the offseason, Bumgarner accumulated a bushel of postseason records, including innings in one year (52 2/3) and consecutive scoreless road innings (32 2/3). He also climbed atop a haystack full of elite company by becoming the seventh player to be named Most Valuable Player of the League Championship Series and World Series, and the ninth to throw multiple shutouts in the same postseason. He also won Sports Illustrated's Sportsman of the Year award, distinguishing himself as an athlete for the ages.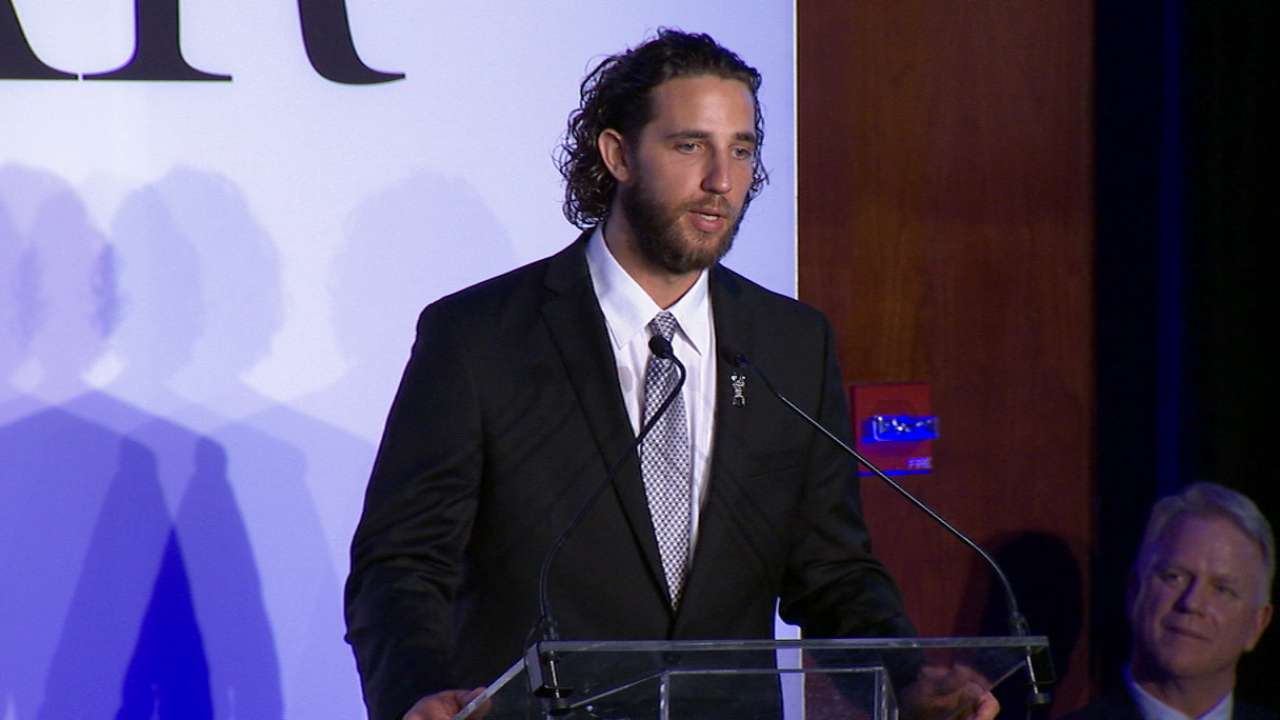 Those facts and figures hastened Bumgarner's ascent from ballplayer to near-legend.
"We might not ever see anything like that again," Romo said.
However, for anybody who witnessed Game 7, it was the sheer power and will of that effort that truly exalted Bumgarner.
"It was, like, superhuman," reliever Jeremy Affeldt said.
It was required viewing. Affeldt said that he, Matt Cain and George Kontos retreated to the visitors' clubhouse at Kauffman Stadium to watch the game telecast when the Giants batted. When Bumgarner reclaimed the mound, the cadre of pitchers returned to the dugout to watch him make history.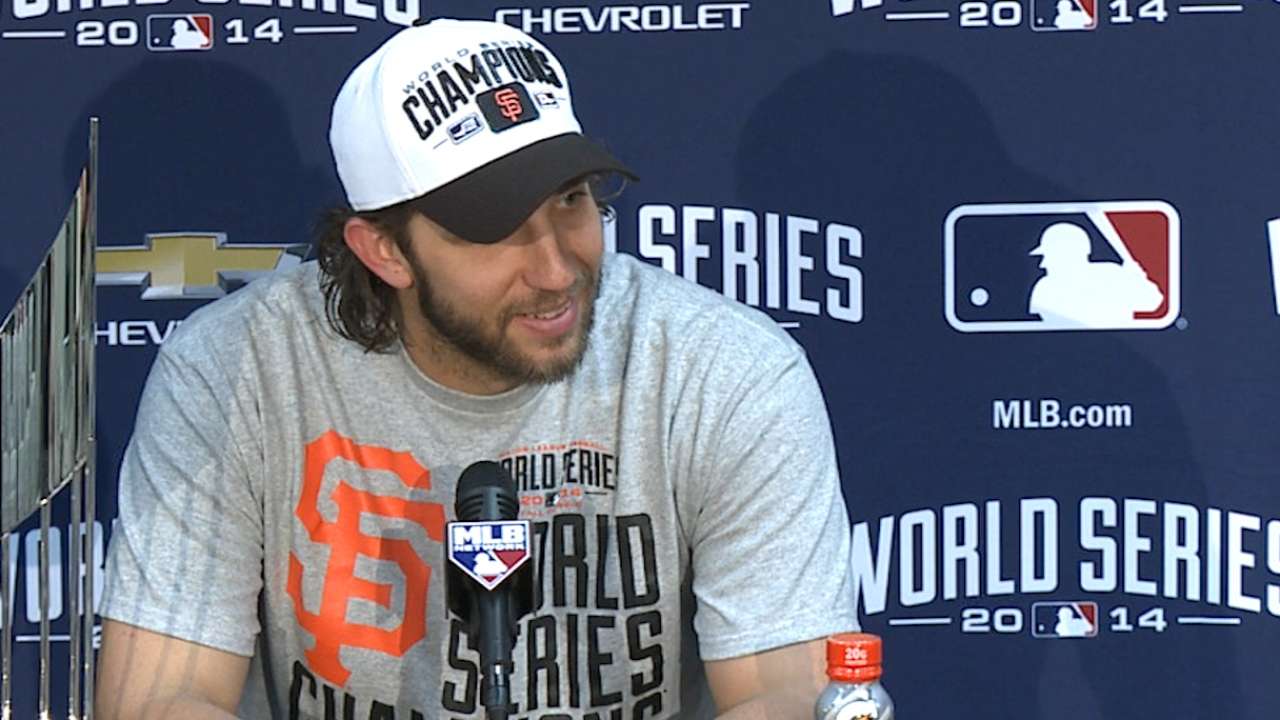 "I'm not really superstitious, but I was actually more nervous after I got done pitching," said Affeldt, who blanked Kansas City for 2 1/3 innings to serve as the bridge from Hudson to Bumgarner.
The Royals never seriously threatened Bumgarner, who retired 14 consecutive batters after allowing a hit to the first batter he faced, Omar Infante. Maybe his velocity had slightly diminished, but overall, this was the same Bumgarner who allowed the Royals one run and three hits in seven innings in Game 1 and shut them out on four hits in Game 5.
"You looked over at the Royals' bench," Affeldt said, "and it was like, 'Do we have to face this guy again?'"
The Giants were awed but not surprised. Bumgarner delivered superbly in their first win-or-go-home October encounter, which happened to be San Francisco's initial game of the postseason -- their 8-0 triumph at Pittsburgh in the National League Wild Card Game. He pitched a four-hitter, allowing nothing but singles while walking one and striking out 10.
"You saw Pittsburgh, right?" Affeldt said. "He gets calmer the more stressful the situation."
Affeldt happened to sit one row in front of Bumgarner during the Giants' triumphant flight from Kansas City to San Francisco.
"I remember looking back and saying, 'That was amazing, man,'" Affeldt said. "He just laughed and said, 'Thanks.'"
Bumgarner didn't need to say much else. With a 67-49 regular-season record at age 25, garnished by a 7-3 mark with a 2.14 ERA in the postseason, he realizes what he's capable of achieving.
"He knows who he is," Affeldt said. "He knows what kind of pitcher he is. He knows what kind of stuff he has. He has a lot of confidence when he's out there. He's always had that, but it just seems like now, it's 'Give me the ball whenever I need it. I can do it. I can get the job done.'"
Chris Haft is a reporter for MLB.com. Read his blog, Haft-Baked Ideas, and follow him on Twitter at @sfgiantsbeat. This story was not subject to the approval of Major League Baseball or its clubs.