Library of Congress offers window into baseball's evolution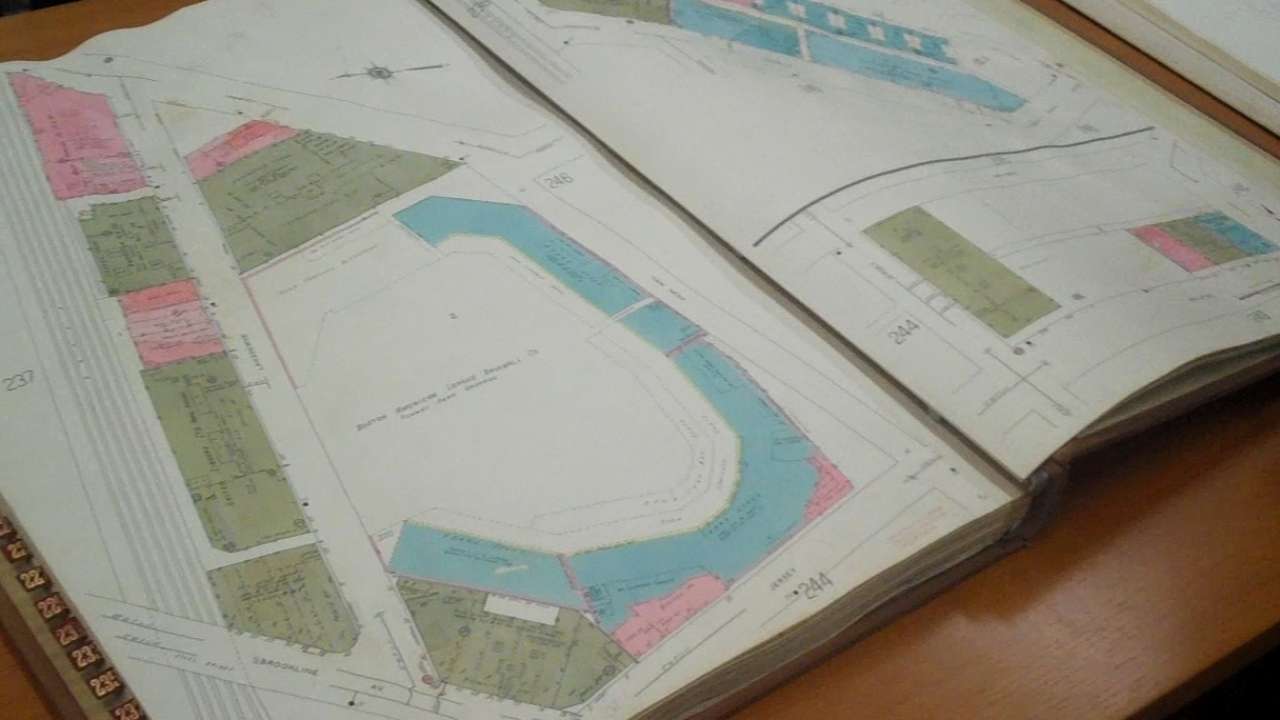 WASHINGTON -- The nation's greatest storehouse of knowledge has developed a healthy baseball habit. The Library of Congress has traced the history and maturation of America for more than 200 years, and baseball has weaved its way into the national consciousness in surprising ways.
First, there are the intimate touches -- the century-old photographs of the first baseball teams and the Civil War-era paintings of teams playing the game. And then there are the letters, buried deep in the personal papers of great historic figures that tell of the game's tangential connections to history.
The Library of Congress -- burned down in The War of 1812 and later replenished from Thomas Jefferson's personal library -- houses the papers of more than 20 American Presidents, and baseball executive Branch Rickey donated more than 80 boxes worth of memories just waiting to be documented.
The amazing part, though, is the staggering array of information available to the public on baseball and every other subject. The Library of Congress is the largest library in the world and has more than 120 million items on the shelves, and its holdings are organized into several different massive departments.
The Main Reading Room, the hub of the Library of Congress, provides access to any book in the general collection to visitors, and a librarian is able to assist guests with research requests. A simple search for baseball books could bring you back in time to the beginning of the sport's recorded history.
And that's the one of the most interesting parts of the Library of Congress. It doesn't have a copy of every book ever published, but it does have access to many works that are filed for publication or trademark. Many of its holdings have fallen out of print long ago, only to be immortalized on its shelves.
Baseball's growth -- and its entrenchment in American cities -- can best be traced in the library's Geography & Map Reading Room, the largest facility of its kind in the world. More than 5.5 million maps are held here, measuring more than a city block worth of storage space.
And in that veritable sea of maps and atlases, documents from virtually every city and every era in American history, there's a treasure trove of maps with baseball stadiums. Michael Buscher, supervisor of the reference team and reading room, said you could spend a lifetime studying all the images.
"We collect just about everything cartographic we can get our hands on," said Buscher. "We get all kinds of people in here looking for all kinds of things. … If you're looking for baseball, you can probably find something related to baseball on just about any city map."
Buscher has a couple maps ready for perusal, one that shows Washington's old Griffith Stadium and another that displays the area surrounding Boston landmark Fenway Park. Some of the maps are color-coded, displaying which structures are made of brick and which ones are made of wood.
That last class of maps, the Sanborn Maps, were created to show fire risks in more than 12,000 American cities and towns, and the Library of Congress has access to many of them. The maps were re-done every 10 years to reflect the growth of American cities which means the history of almost every Major League and Minor League stadium is documented in some form or another.
The staggering sense of history is continued in the Manuscripts department, which holds the Presidential papers of all four faces of Mount Rushmore: George Washington, Abraham Lincoln, Thomas Jefferson and Teddy Roosevelt. Rickey's papers are also housed among those of Supreme Court Justices and four-star generals, and they include letters from his playing days and detailed scouting reports.
"Surely one of the greatest hitters in baseball today," read a Rickey scouting report of Hank Aaron, who would later go on to become the game's all-time home run king. "Can hit with power. Good wrists. But in spite of his hitting record and admitted power ability, one cannot help but think that Aaron is frequently a guess hitter. Will take three strikes down the middle and in fact frequently acts frozen on pitches."
Rickey, most famous for breaking baseball's color barrier as an executive with the Brooklyn Dodgers when he signed Jackie Robinson, wrote several letters to Robinson, the pioneer of sports and civil rights. Those warm letters -- and the replies they elicited -- are included in his papers and available for historians to read.
But that's just the most direct example of baseball's place in the manuscripts department. There are letters in President Taft's papers from American League President Ban Johnson, and the letters of General John J. Pershing also reveal a surprising connection to the National Pastime.
But it's a smaller name -- that of John Rhea Smith -- that provides one of the most interesting artifacts. Smith, a student at the College of New Jersey in 1786, made a reference in his diary to a game of "baste ball," which is believed to be the earliest non-published reference to the sport. Why is that significant? It's more than 30 years before Abner Doubleday, the purported inventor of baseball, was born.
The trip toward baseball's origins continues in the Prints and Photographs department, where more than 14 million images are housed. Here, there are lithographs and photographs from before the turn of the 20th century, some of which include images of famous stadiums in panoramic form.
The game's first big-ticket events sometimes included seats in the well-worn dirt, and others had fans ringing the outfield like guests on a modern-day golf green. Phil Michel, digital conversion coordinator at the Library of Congress, said that some of the materials have had amazingly good shelf life.
"They're in remarkably good condition," Michel said. "It's like historic books. Old paper is better than modern paper because it was all natural materials and not the chemically produced process we use now. Throw a newspaper in the driveway half the day and it's yellowed out. ... But these hold up very well over time, and the storage is what you'd expect. It's dark, low humidity, low variance of temperature."
Another famous image -- Union Prisoners At Salisbury, North Carolina -- is famous for appearing to show soldiers engaging in a game of baseball during the Civil War. Stitching one era to another, there's also a photograph that shows American soldiers playing baseball in France during the World War I years.
Many of the images, which range from the earliest baseball cards to pictures of American life around the field, were gathered together in a book from the Library of Congress entitled Baseball Americana. That book, painstakingly arranged, shows the game as it evolves from pastime to profession.
"The main challenge was selection," said Michel. "The part that took us the longest was winnowing down. We didn't start with, 'How are we going to fill 300 pages?' I wish we'd kept all the things we didn't put in the book. And we didn't just want it to be about treasured items at the Library of Congress."
"It was an embarassment of riches," added Susan Reyburn, a writer and editor in the library's publishing department. "Everybody who worked on this was a baseball fan. Baseball is a gateway to assimilation for a lot of immigrant communities, and we talk about how we had Irish umpires. We had people immigrating to America, and the parents didn't know anything about this game their kids were playing."
The newest facility at the Library of Congress -- the National Audio-Visual Conservation Center -- contains 90 miles of shelving and is responsible for the future preservation of the priceless information. The Library is currently in the process of digitizing all of its holdings in audio and visual, a staggering task indeed.
The conservation center has three preservation laboratories -- one for film, one for video and one for audio -- and a busy staff of workers that run out of time a lot more frequently than they run out of work. The building was originally designed as a treasury before being converted to a storehouse of information, and Mike Mashon, the head of the library's moving image section, said that's a point he often makes.
"We just replaced one treasure with another," said Mashon. "You would be surprised at the amount of nitrate film that is still out there. It never ceases to astonish me, but certainly we collect video tape and film from individuals as well. We will never ever lack for something to do around here."
The National Audio-Visual Conservation Center and the Library of Congress recently made headlines when they unearthed a previously unreleased film clip of the 1924 World Series. That clip, recently acquired, showed virtually unblemished footage of the Washington Senators winning their last championship.
There are undoubtedly countless instances of historic artifacts that have not been tracked down yet in the Library of Congress archives, some due to the overwhelming amount of information on hand and some due to their involvement in other segments of history. Who knows which biographer has turned the page on a baseball artifact when looking for some forgotten piece of Presidential history?
The future, of course, is secure in the never-ending process of converting yesterday's film techniques to digital memory. Piece by piece and clip by clip, all of these artifacts are being documented and saved for future generations, and every day pushes more information to the top of the mountain.
Then, at the end of the day, the amazing part is how much of it is available to the public. How in the world, you might imagine, does the Library of Congress manage to keep everything in order?
"Did somebody tell you nothing gets lost? I'll toe the party line on that," joked Mashon. "It truly is a challenge. We have a pretty sizable backlog of material here that hasn't been processed yet, and we have to make sure that we keep track of it.
"We have procedures where items have bar codes, and we have an inventory system that tracks where things are in the building. We loan out 35 millimeter prints to theaters around the world and we have good tracking. The biggest challenge for us is really in all the unprocessed material. We have to have good inventory that lets me know where to find a pallet."
Spencer Fordin is a reporter for MLB.com. This story was not subject to the approval of Major League Baseball or its clubs.