MLB.com Columnist
Phil Rogers
All I want: Holiday wishes for the league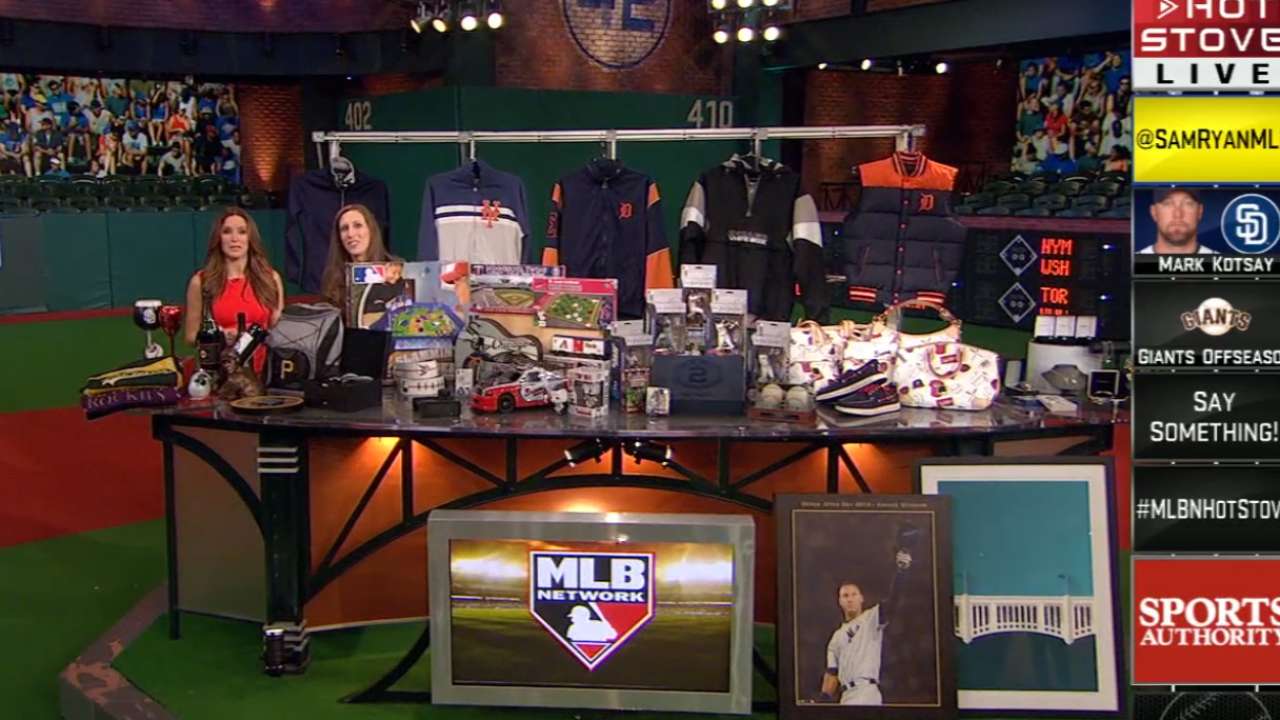 As David Byrne famously sang, "I can't seem to face up to the facts."
It's too late for last-minute shopping. The best you can do at this point is to extend New Year's wishes.
Here goes.
To the World Series champion Giants: An end to their odd-numbered year blight. In the last decade, they've averaged 85 wins in even-numbered years and 79 in odd-numbered years.
To Max Scherzer: Patience. Something could change in the next week, but it looks like January will be the month that two of the top three free-agent arms, Scherzer and James Shields, learn where they'll be for the next four to eight years.
To Commissioner Bud Selig: A stiff upper lip. The man who brought baseball out of its dark ages will transition to Commissioner Emeritus on Jan. 25, with his power formally transferring to Rob Manfred. Even though he's not really going anywhere, the next few weeks will bring waves of tributes and emotional farewells for the man who has more strong relationships around the game than anyone else.
To the Yankees: An incident-free Spring Training and 30 starts for Masahiro Tanaka and CC Sabathia.
To Clayton Kershaw and Mike Trout: An October worthy of the regular season. The best pitcher and offensive player in the game haven't mastered the postseason. But that's OK. Time is on their side.
To Mike Rizzo and the Nationals: A 1-2 transaction punch -- sign Scherzer and then trade Jordan Zimmermann to the Red Sox for a package of prospects including at least two from this group of five controllable players: outfielder Mookie Betts, left-hander Henry Owens, catcher Blake Swihart, third baseman Garin Cecchini or utility man Brock Holt. Scherzer makes sense, because Zimmermann and Doug Fister can be free agents after 2015, and Stephen Strasburg after '16. This would be a high price for the Red Sox to pay, but they need a No. 1 starter if they're going to become a serious contender.
To Troy Tulowitzki: A quick resolution to what could be a long year awaiting a possible trade. If the Rockies don't plan on trading him to the Mets or somewhere else, they should give him some peace of mind as he's become The Trade Rumor That Won't Go Away.
To White Sox GM Rick Hahn: A way to sign Jeff Samardzija to a contract extension, which would give the team control for the starter mix of Chris Sale, Samardzija, Jose Quintana and Carlos Rodon together through 2019.
To the Royals: A lasting appreciation for 11 October wins, which should overshadow the lingering question of whether Mike Jirschele should have waved Alex Gordon home, as well as the question of why Gordon didn't run harder out of the box.
To Prince Fielder: Health and renewed production. This also goes for Shin-Soo Choo, Yu Darvish and Elvis Andrus.
To Cubs owner Tom Ricketts: A mild winter as the Cubs add a large replay board and rebuild the left-field and right-field bleachers at Wrigley Field in time for the April 5 opener against the Cardinals. It won't be the end of the world if the work extends into the regular season, but fans are excited about Jon Lester, Joe Maddon, Kris Bryant and the product on the field. It deserves to be the story.
To Brad Ausmus: The old Justin Verlander.
To Mike Matheny: A 30-homer season from someone. They didn't have one in 2014, when they were last in the NL in homers, or in '13, when they were 13th in homers.
To new Astros manager A.J. Hinch: 150 games with George Springer in the lineup, including about 20 when the starting pitcher is Mark Appel.
To the A's: The latest in a long line of last laughs for Billy Beane.
To Nelson Cruz: An understanding that some balls that are crushed will be caught on the warning track at Safeco Field. See: Robinson Cano's drop from 27 home runs in 2013 to 14 in his first season in Seattle.
To Theo Epstein: A strong evaluation by Rays scouts of catcher Welington Castillo. In Castillo -- who was made expendable by the additions of Miguel Montero and David Ross -- and future DH Dan Vogelbach, the Cubs have the start of a deal for Ben Zobrist, who fills the need for a right-handed hitter.
To Bryce Harper: An age-22 season in which he plays 140-plus games for the first time in the career that started when he was 19.
To the Indians and Mets: Continued success for their two studs -- Corey Kluber and Jacob deGrom -- from the pitching factory that is Stetson University.
To Arismendy Alcantara: That in his first full season he will be more like the young Jimmy Rollins and less like the Rollins starter kit he featured as a Cubs rookie.
To Clint Hurdle and the Pirates: A Cy Young season for Gerrit Cole.
To Reds owner Bob Castellini: Joey Votto and Brandon Phillips in the NL clubhouse when the All-Star Game comes to Great American Ball Park.
To all: With a tip of the cap to Bob Dylan: "May you build a ladder to the stars. And climb on every rung. May you stay, forever young."
Phil Rogers is a columnist for MLB.com. This story was not subject to the approval of Major League Baseball or its clubs.