Preller transforming Padres into a force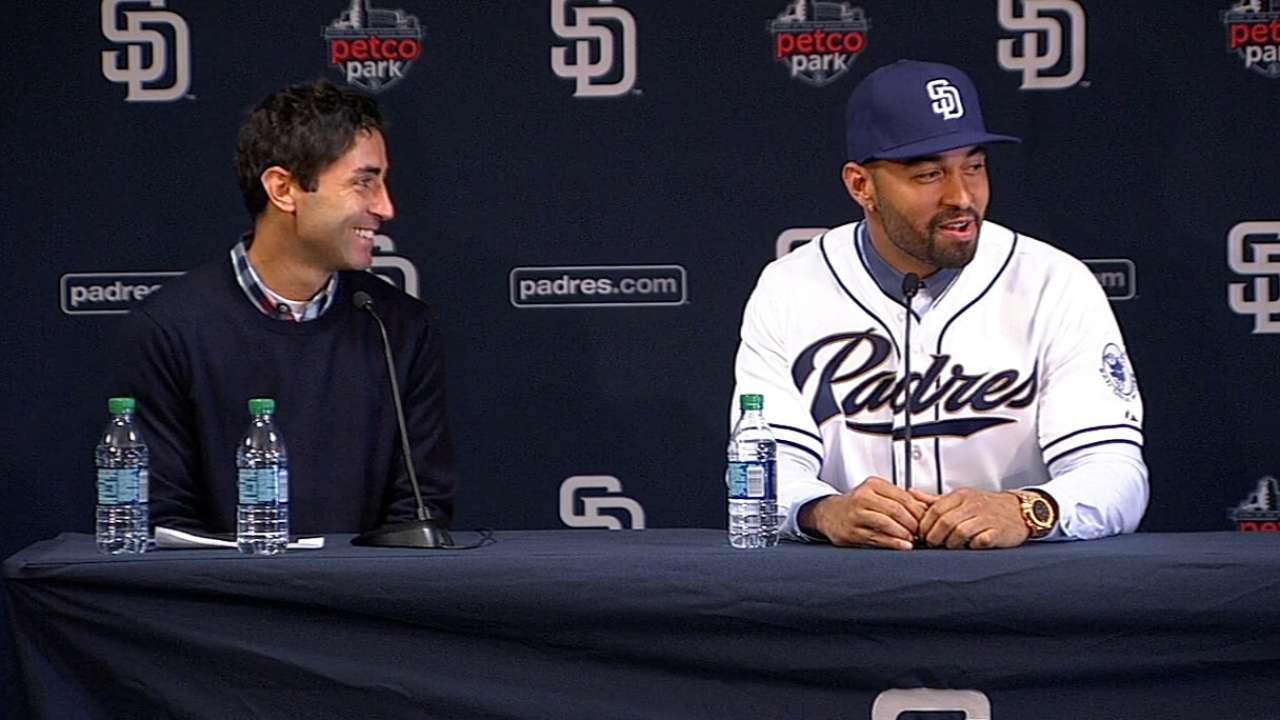 Bill Center, longtime sportswriter for U-T San Diego, is an employee of the Padres.
A.J. Preller cut a swath last week.
If you weren't aware of the intentions of the Padres' general manager before, you have to be now. In a historic week that numbered five major trades, the newcomer energized the Padres' offense, as well as the fan base.
This wasn't a transition. It wasn't a transformation. What Preller did was revolutionary in this corner of the world.
It wasn't retooling. It was an overhaul.
Preller is the embodiment of Santa Claus to Padres fans who have longed for a bat to call their own. As good as the pitching has been, the Friars' faithful has yearned for an offense that would draw them to Petco Park.
They clamored for one bat. Now, they have added four proven bats and possibly a fifth. By doing so, Preller not only added offense -- he excited the club's fan base.
Actually, he fired up the city.
Outfielder Matt Kemp answered the prayers of fans seeking one bat to anchor the offense. But Preller was just getting warmed up. Next came Wil Myers. Then came Justin Upton, followed by Derek Norris. For good measure, Preller traded a catcher he acquired a day earlier in the three-team deal that brought Myers from Tampa Bay for third baseman Will Middlebrooks.
Four -- and possibly five -- parts to reconstruct what had been the worst offense in the National League into a potentially formidable force.
San Diego, which deployed 10 players -- including Chris Nelson -- in the critically important cleanup slot last season, now has Kemp and Upton to choose from. The one not hitting fourth will bat in the third or fifth spot. No more counting on miracles from the likes of Nelson, Jake Goebbert or Rymer Liriano.
The Padres now have proven bats for the Nos. 3-7 slots in their batting order. The holdovers who were asked to carry an unbearable load in 2014 will be hitting in more manageable spots in '15.
In fact, the dialogue among Padres fans this past week went quickly from, "Who will hit third or fourth?" to "Where will all the new pieces fit?"
Myers has been mentioned as the probable center fielder and possible leadoff hitter. First baseman Yonder Alonso could hit second.
Following Kemp and Upton -- and ahead of possibly Norris -- second baseman Jedd Gyorko might be a good fit in the five-hole. Third baseman Yangervis Solarte and Alexi Amarista or Clint Barmes at short would round out the lineup.
But making the trades is just part of the story when it comes to Preller.
He completely overhauled the Padres' offense without losing one of his top three starting pitchers -- (Andrew Cashner, Tyson Ross or Ian Kennedy) -- a key member of the bullpen or any of the club's top three prospects: catcher Austin Hedges, right-handed starter Matt Wisler and outfielder Hunter Renfroe.
He did surrender 10 top prospects in the deals: pitchers Jesse Hahn, Max Fried, Joe Ross, Burch Smith and R.J. Alvarez; infielders Trea Turner, Jace Peterson, Jake Bauers and Dustin Peterson; and outfielder Mallex Smith. But prospects are prospects. Kemp, Upton, Myers and Norris are proven contributors.
Not even "Trader Jack" McKeon moved with such audacity. But Preller was operating with a master plan.
He gave up catchers Yasmani Grandal and Rene Rivera for Kemp and Myers, respectively, knowing that he had a deal in the works for an American League All-Star backstop in Norris.
Preller also completed the three deals while clearing at least one major hurdle. The Rays coveted closer prospect Alvarez as part of the deal for Myers. But Preller got Tampa Bay to accept Smith as part of that deal. That was important, because Alvarez was part of the package Oakland wanted for Norris.
So, where are we now?
A year ago, Seth Smith, Will Venable, Cameron Maybin, Carlos Quentin and Chris Denorfia were the Padres' outfielders. All but Denorfia are still with the team. But none of those remaining apparently have a starting job at the moment.
Last season, the Padres' 3-4-5 hitters combined to bat .225 with 51 homers and 205 RBIs, with an on-base percentage of .307. Upton and Kemp had 54 homers and 191 RBIs between them, with a .343 on-base percentage. And while Myers battled through a wrist injury in 2014, he was the AL Rookie of the Year in '13.
Now is a great time to be a Padres fan.