Lone Star: Pence giving back to Houston kids
Popular outfielder draws crowds, support with All-Star Camp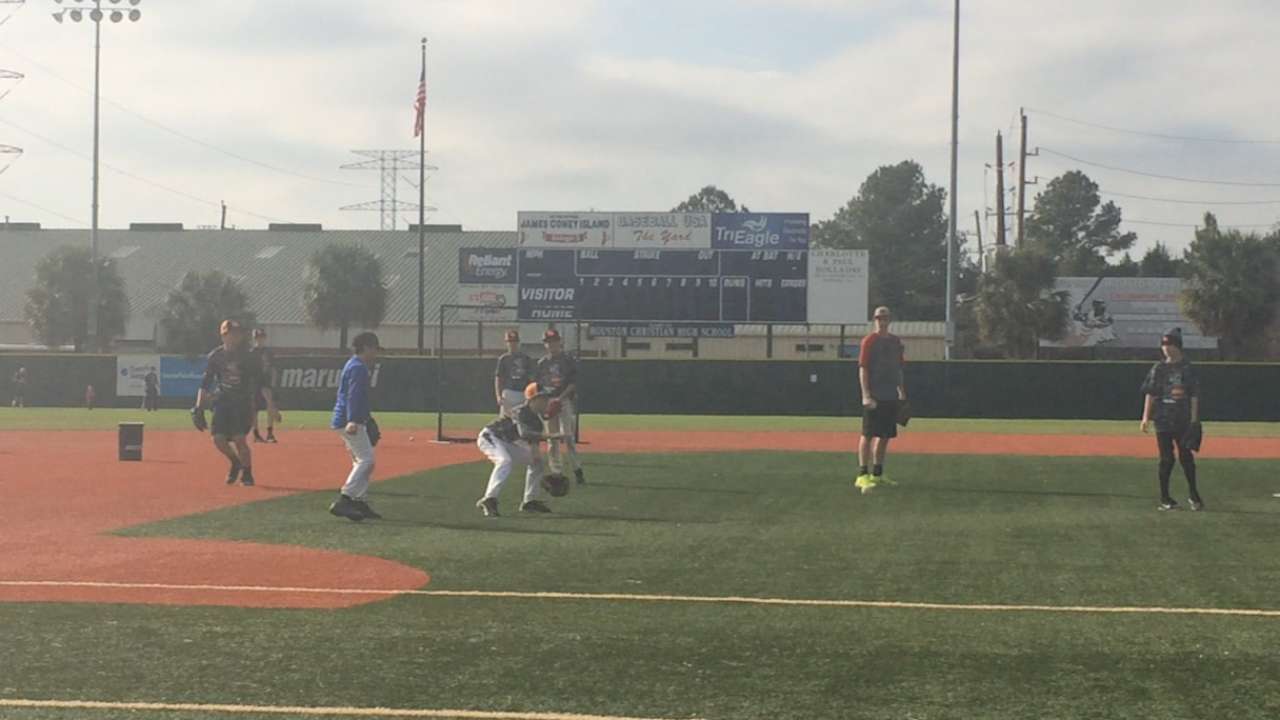 HOUSTON -- If there is somewhere in this country where Hunter Pence can blend in with the crowd, largely unnoticed, it's probably the place that he still considers home base, even as numerous professional and personal obligations pull him in a dozen different directions.
But let's not kid ourselves. Even in Houston, where it all began, Pence can only blend in so much. He stands out, no matter where he is, for a couple of reasons. One, obviously, he's a Major League star who has won two World Series titles in the past three years with the San Francisco Giants.
And two, well ... it's his hair. Have you seen it lately? It's big. Really big. And bushy.
So while picking Pence out of a crowd has always been relatively easy, now, it's even more of a cinch. In fact, if we were to make this into one of those infamous Hunter Pence signs, it would go something like this: "Hunter Pence sprinkles Chia Pet seeds on his head before he goes to sleep."
Still, in these parts, Pence looks and feels at home. A Texas native and the Astros' first pick in the Draft a decade ago, Pence is usually in Houston this time of year, helping out at the Hunter Pence All-Star Camp for kids, run by, not coincidentally, the Hunter Pence Baseball Academy.
The academy started when Pence was still playing for the Astros, and although he's moved on professionally, this part of his past isn't going anywhere.
"I move around a lot," Pence said. "But home is Houston."
The camp, a two-day event geared toward kids ages 6 to 15, involved instruction by a slew of former Minor League ballplayers, including the two who got the academy up and running years ago: Pence's brother, Howie, and his best friend from childhood, Sean Danielson.
"I think we were the guys handing out flyers at the mall and people were like, 'Leave me alone,'" Pence chuckled. "Now, we've just met so many people and made so many lasting relationships. It's one of the coolest things we've ever done."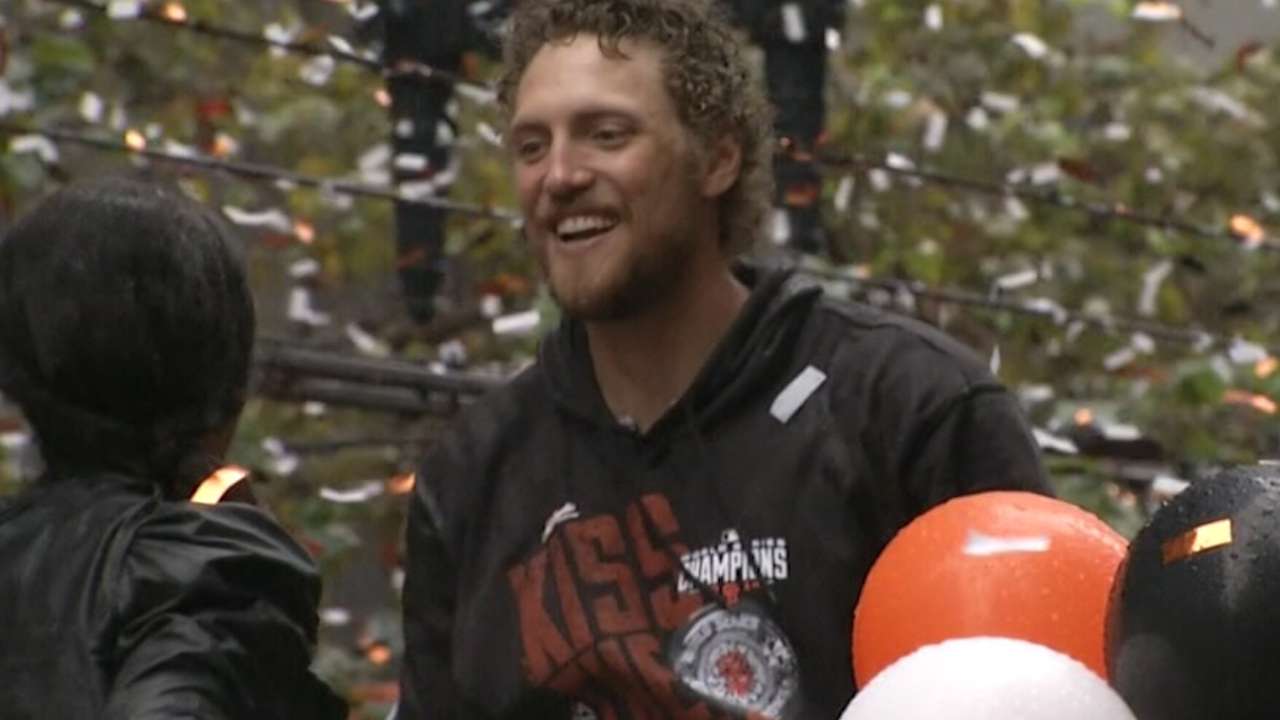 Normally, 75 spaces are reserved for each day of the camp, but, this being another World Series-winning year for Pence and the Giants, interest was higher. An extra 10 spots per day were added to accommodate the demand, which included four kids from the Bay Area traveling to Houston to participate.
Mid-day, after lunch, the instructors, and Pence, engaged in a home run derby on the main field. The kids gathered in the bleachers behind the netting, with a few sharing their genius in the form of Hunter Pence signs.
Pence, the emcee of the event in addition to the star derby attraction, dutifully read them to the crowd.
"Hunter still has a Blockbuster card," he said. "Hunter still believes in Santa."
And Hunter still is having fun on a baseball field, even in December. His life has changed quite a bit since his days with the Astros, when he was a rising star, a fan favorite and one of the few players whose abilities actually drew people to the ballpark. He's still a star, but now he plays for a perennial contender that has made winning the World Series an every-other-year habit. His October contributions have catapulted him into the national spotlight, adding demands to a schedule that might be a little less hectic if he played for a lesser team.
It's a trade-off Pence is more than willing to make, and, seeing he's locked in to a long-term contract with the Giants, it's going to be a while until he can fade into society, unnoticed.
Especially if his team keeps winning World Series titles. Winning one is hard enough. But two in three years?
"It's pretty special," Pence said. "It's like a dream. It's tough to really understand -- once you win it, you immediately have to start working on getting ready for the next one. We only have a small window where we can play this game. The clock is ticking on everyone. When I'm done playing, I'll be able to look back on it, but sometimes I take a breath and I try to just absorb, or just slow down and be grateful as much as I can."
Here's what separates Pence from a lot of other ballplayers, especially those from years past -- he's not afraid to admit he's having a good ol' time playing baseball.
Sure, the stoic, grumpy, it's-only-fun-when-you-win old school player is still around, but as time passes, it seems surliness as a badge of honor for Major Leaguers is slowly giving way to the Mike Trout /Jose Altuve style of play, where it's OK to both play baseball and crack a smile from time to time.
Pence takes the game seriously, but he isn't afraid to show his personality. Maybe that's why he gets so much attention from both fanbases -- the one rooting for him in San Francisco, and the more hostile fans waiting for him on the road.
But even the hostility is humorous. The phenomenon of Hunter Pence signs that defined a large chunk of Pence's season was both a ballpark and viral sensation. No one enjoyed it more than Pence, who cites three signs as among his many favorites. Two were from fans -- "Hunter Pence says 'I love you' on the first date," and "Hunter Pence makes Happy Meals cry," and one that arrived in the form of a tweet, from pitcher Brandon McCarthy, who, while watching the playoffs, threw out this gem: "usually the kid at little league tryouts who swings like Pence is the one wearing jeans."
usually the kid at little league try outs who swings like Pence is the one wearing jeans

- Brandon McCarthy (@BMcCarthy32) October 30, 2014
"I wish I would have seen that at the time," Pence said. "I would have responded, like, 'What's wrong with that? I was ready for the movies afterward.'"
While he lauds the "creativity" of fans and players alike, Pence envisions baseball continuing to roll with the times and embracing the not-so-serious side of the game.
"At the end of the day, we compete as hard as we can, but it's entertainment," he said. "Anything that can lighten the mood and make it fun ... we like having fun. As baseball progresses, I think we're accepting it a little more, the show that's put on during the game. It's about not taking it personally, and enjoying the competition."
Sounds like an easy enough formula, even if, according to heckling fans, "Hunter Pence can't parallel park," "prefers baths," "hates bacon" and "eats soup with a fork."
But with two World Series rings, who has the last laugh?
Alyson Footer is a national correspondent for MLB.com. Follow her on Twitter @alysonfooter. This story was not subject to the approval of Major League Baseball or its clubs.