Anticipation comes with Cubs' new look
Team eager to compete in 2015 after offseason brought aboard Maddon, Lester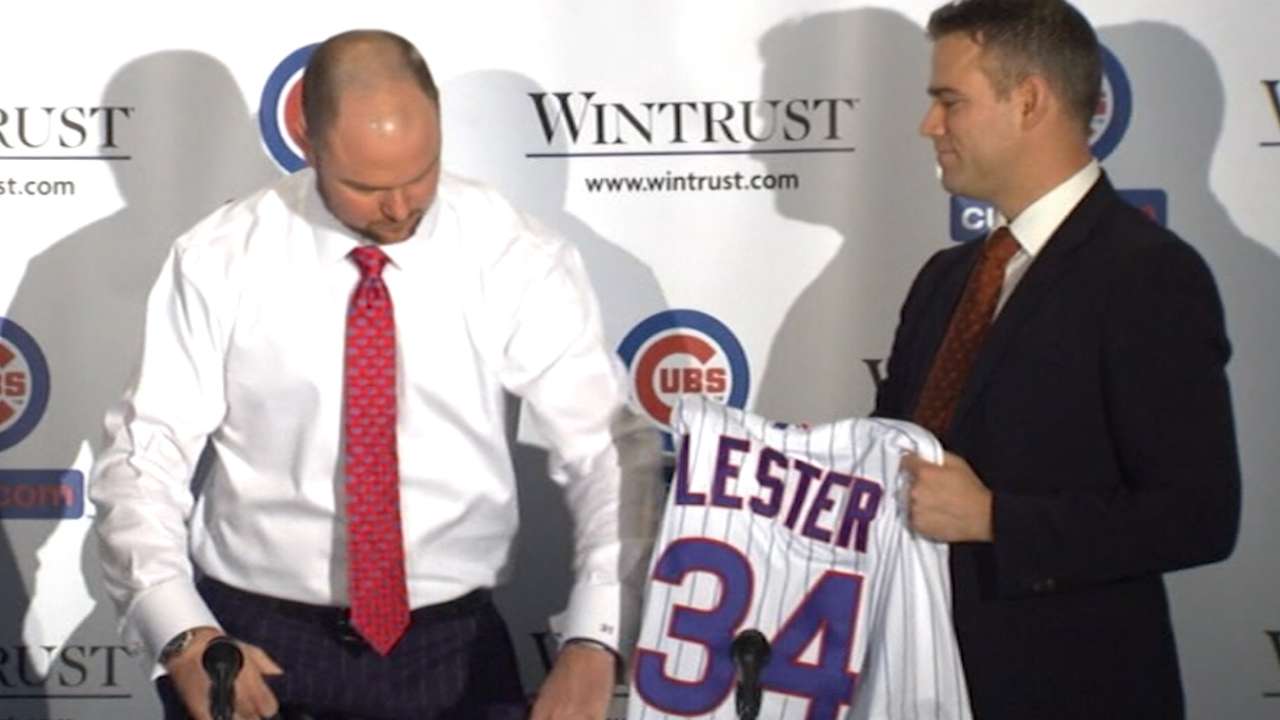 CHICAGO -- Several of the Cubs players didn't want the 2014 season to end. They felt the young talent, such as Jorge Soler and Javier Baez, was just getting warmed up. Anthony Rizzo couldn't wait for 2015 to start.
"[Our goal is] to be the National League Central champs," Rizzo said after the last game of the 2014 season. "[We want] to win the division, and obviously, get to the playoffs and we want to go deep. It takes a lot of work and we have a very tough division and teams aren't going anywhere in it, it's only getting better. That's our expectation, that's the message we want to send."
And that was before Joe Maddon and Jon Lester donned Cubbie blue caps.
The mood has shifted at Wrigley Field, and it's not because of all the construction work underway at the 100-year-old ballpark. Pitcher
Jake Arrieta
said he was giddy when he heard Lester had signed. He's not alone.
Here are 10 questions for the Cubs heading into the 2015 season:
10. Will Wrigley Field be ready?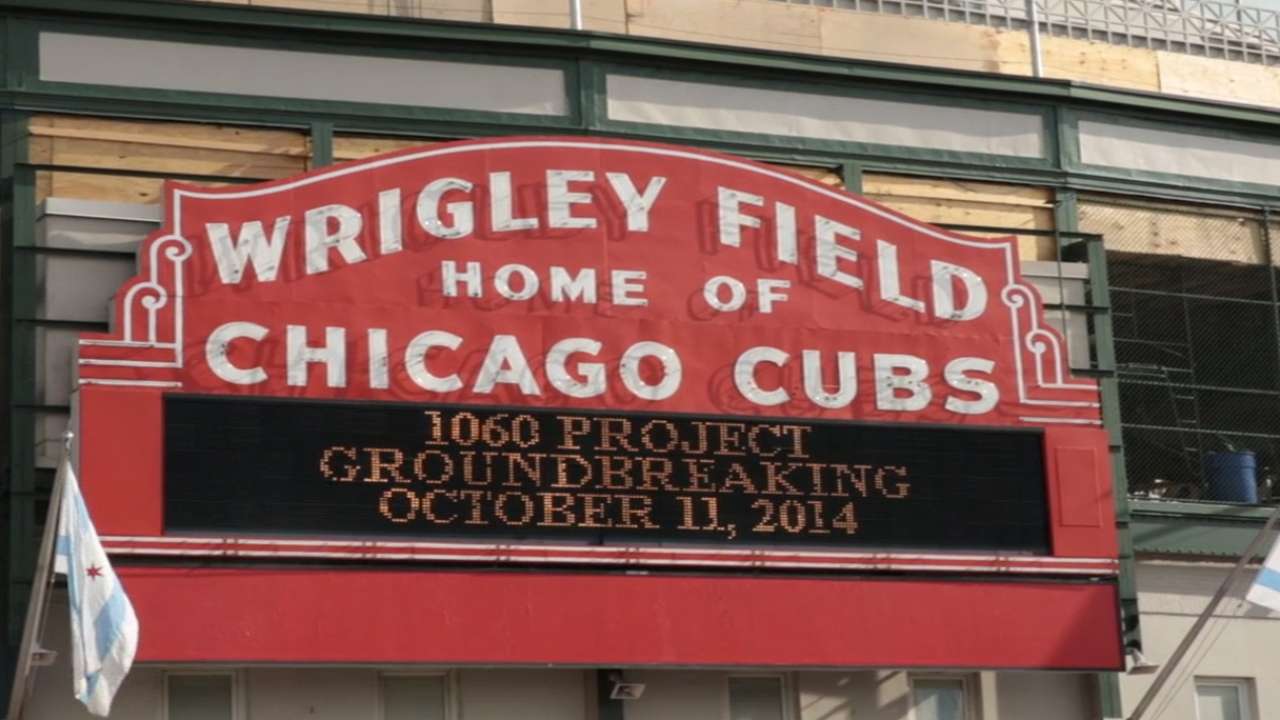 Construction began in October on the four-year, $575 million renovation of Wrigley Field, and the first phase included tearing out the left and right-field bleachers to install new seats and a base for two video scoreboards plus four see-through script signs. Crews also began work on the new home clubhouse, but that won't be ready until Opening Day 2016. Will the bleachers be ready Opening Day? Bad weather in November and delays with the City of Chicago crews stalled some of the offseason work. The Cubs say they have contingency plans for bleacher season-ticket holders. Opening Night is April 5 against the Cardinals, and the clock is ticking.
9. Can Baez make productive outs?
Baez got to work early on the 2015 season by playing some winter ball in Puerto Rico. New hitting coach John Mallee was there to see if he could get the 22-year-old to reduce the strikeouts and be more productive. In his first 52 big league games, Baez was 36-for-213 and struck out 95 times. All Baez needs is more at-bats and more experience, Mallee said.
"People have to be patient," Mallee said. "They have to understand there is a big learning curve."
8. Who will mentor the kids?
The addition of former Cardinals closer Jason Motte will definitely help the bullpen, giving the relievers an experienced voice. The Cubs are still looking for veteran position players who can be an extension of Maddon and his coaching staff. Maddon made a special request to Cubs president of baseball operations Theo Epstein for some "clubhouse dudes." Rizzo and Starlin Castro may be the cornerstones of the team, but they're only 25 and 24, respectively.
7. Can Hector Rondon do the job?
This was the first season in which the Cubs weren't shopping for a closer, but they did add one, signing Motte, 32, who led the NL in saves with 42 in 2012. Motte missed all of '13 following Tommy John surgery on his right elbow and was limited to 29 games last season. Rondon, 26, showed a big improvement from the first half to the second half, holding teams to a .163 batting average post All-Star break. Maddon has said he'll mix and match.
6. What happens to Edwin Jackson?
It's been difficult to watch Jackson in his two years with the Cubs. He led the NL in losses in 2013 with 18, and last season went 6-15 with a 6.33 ERA. Rookie Kyle Hendricks had more quality starts (eight) in 13 outings than Jackson did (seven) in 27. The Cubs considered using Jackson in the bullpen, but Epstein says the right-hander will be stretched out as a starter. Opponents compiled a .357 BABIP against Jackson last season, a career high. And he has two years, $22 million remaining on his contract. Said Jackson: "I know I have my work cut out for me, but I still believe my best years are ahead of me, and it's up to me to go out and prove it."
5. Which Jason Hammel shows up?
When Hammel came to Chicago last season, he clicked with Cubs pitching coach Chris Bosio. The right-hander went 8-5 with a 2.98 ERA in 17 starts, which is part of the reason the A's were interested in him. But after Hammel was dealt to Oakland, he went 2-6 with a 5.13 ERA in 13 games. Now, he's back with the Cubs and Bosio, signing a two-year, $18 million contract. Said Hammel: "I knew this was the place for me and I wanted to come back, and I knew that I was going to get a real good opportunity."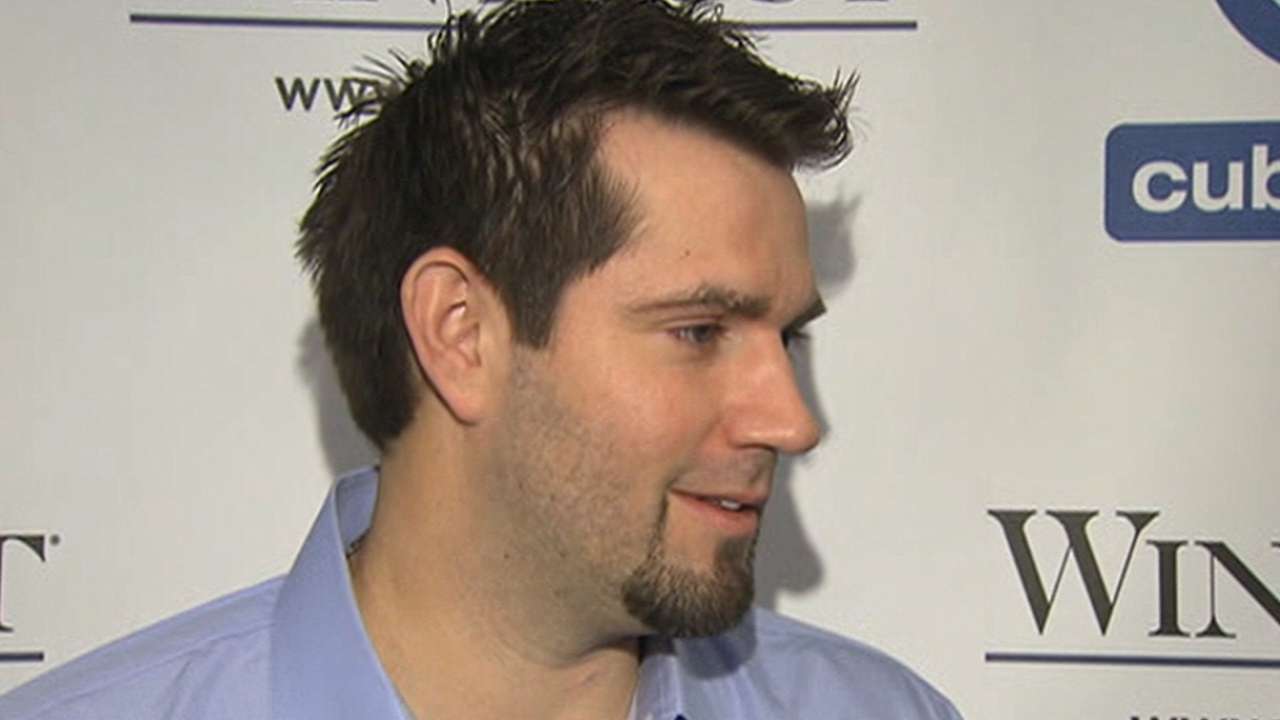 4. Can Castro keep his job?
The Cubs have some talented shortstops in the organization in Baez and Addison Russell. Castro, who has a seven-year, $60 million contract, is the starter now. He bounced back from a tough 2013 and batted .292 last season with 14 home runs. He might have hit more if his season didn't end early because of an ankle sprain suffered Sept. 2. The time off gave him time to watch the Cubs. "We see a lot of good things here," Castro said. "Those kids, those young guys, we have good communication. We'll show next year that we can fight, we can fight with whatever. We can play baseball to win. I think we're pretty close."
3. Can Lester thrive in the NL?
Lester has only pitched once at Wrigley Field. He says he's not worried about the wind or day games, just keeping the ball down and doing his job. In his career, the lefty has made 29 starts vs. NL teams, and has a 15-7 record and 3.06 ERA (including a 2-3 record and 4.47 ERA in seven games against NL Central teams). Lester said he signed with the Cubs because he was looking forward to the challenge of helping the team win a World Series. The Cubs believe he can help, giving him a six-year, $155 million contract. Lester may be even more giddy when he gets his first hit. Lester enters the season 0-for-36 at the plate in his career, but he does have one RBI.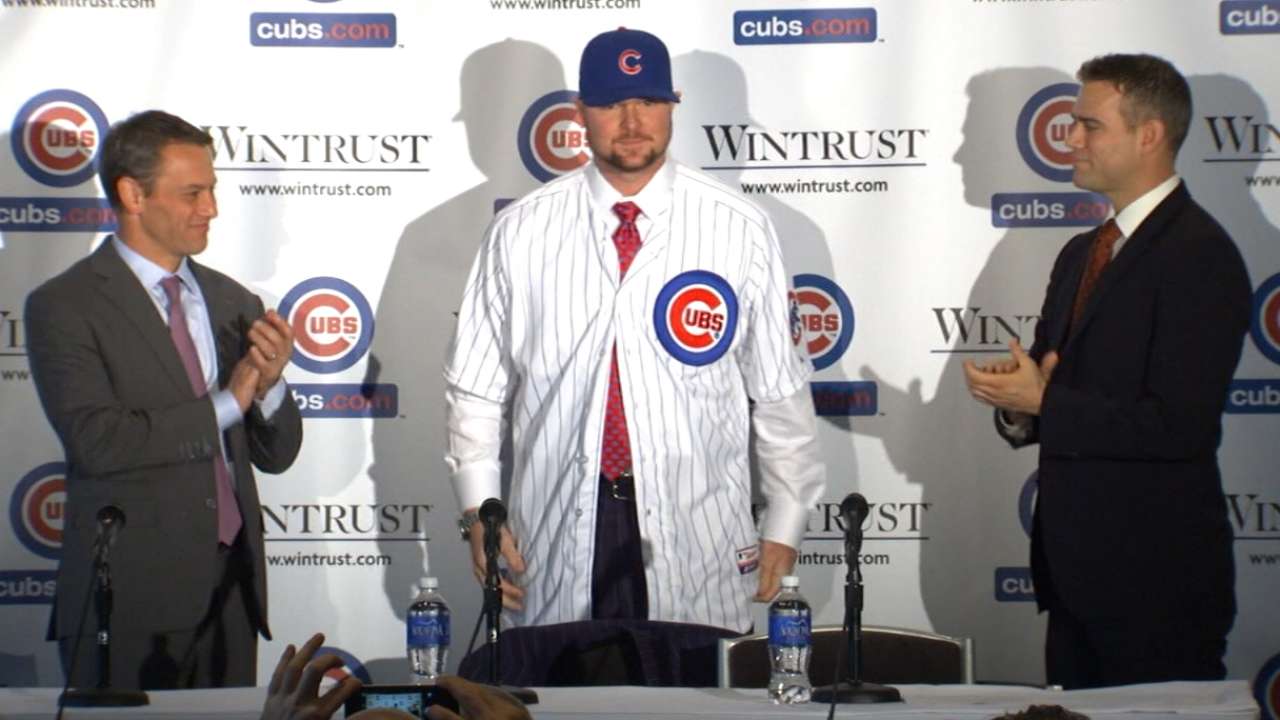 2. When will Kris Bryant arrive?
The Cubs made sure Baez and Soler made their Major League debuts on the road last year. Does that mean Cubs fans won't see Bryant at Wrigley Field on Opening Night? One thing is certain: Bryant will be in the big leagues at some point in 2015, it's only a question of when. The Minor League Player of the Year, Bryant batted .325 combined at Double-A Tennessee and Triple-A Iowa, belting 43 home runs, 34 doubles, and driving in 110 runs. He built a batting cage at his Las Vegas home this offseason. He's ready. "I don't want to just play in the big leagues -- I want to excel and be the best I can be," Bryant said in December. "I'm looking forward to this season more than any season in the past." So are Cubs fans.
1. What will Maddon do?
You've heard about the salsa band and the penguins and the costumes on road trips. Will Maddon's colorful personality and even more outrageous ideas work in a big market like Chicago? Said Maddon: "When it comes down to actual implementation of what your philosophies are, it shouldn't be any different, regardless of where you're working." He isn't sure what it will be like to play so many day games but will be aided by having former Cub and long-time bench coach Davey Martinez at his side. It should be fun.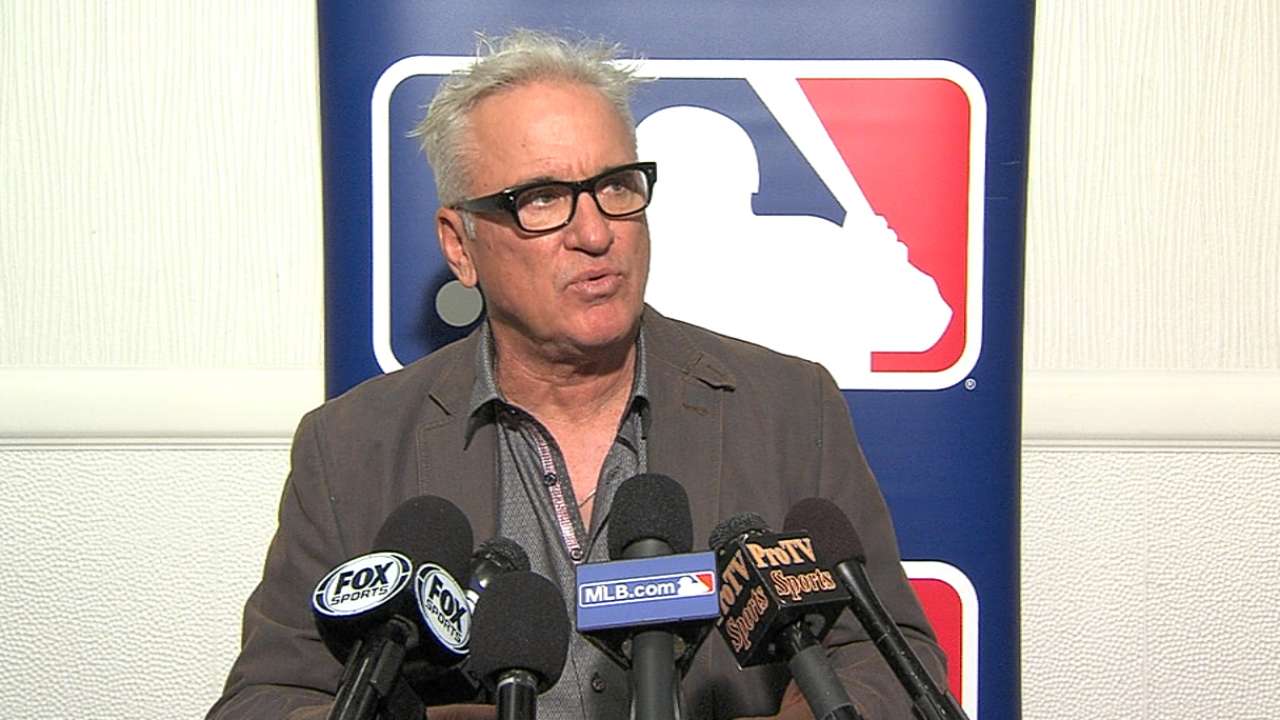 Carrie Muskat is a reporter for MLB.com. She writes a blog, Muskat Ramblings, and you can follow her on Twitter @CarrieMuskat. This story was not subject to the approval of Major League Baseball or its clubs.