By any metric, Trout's 2014 was a year for the ages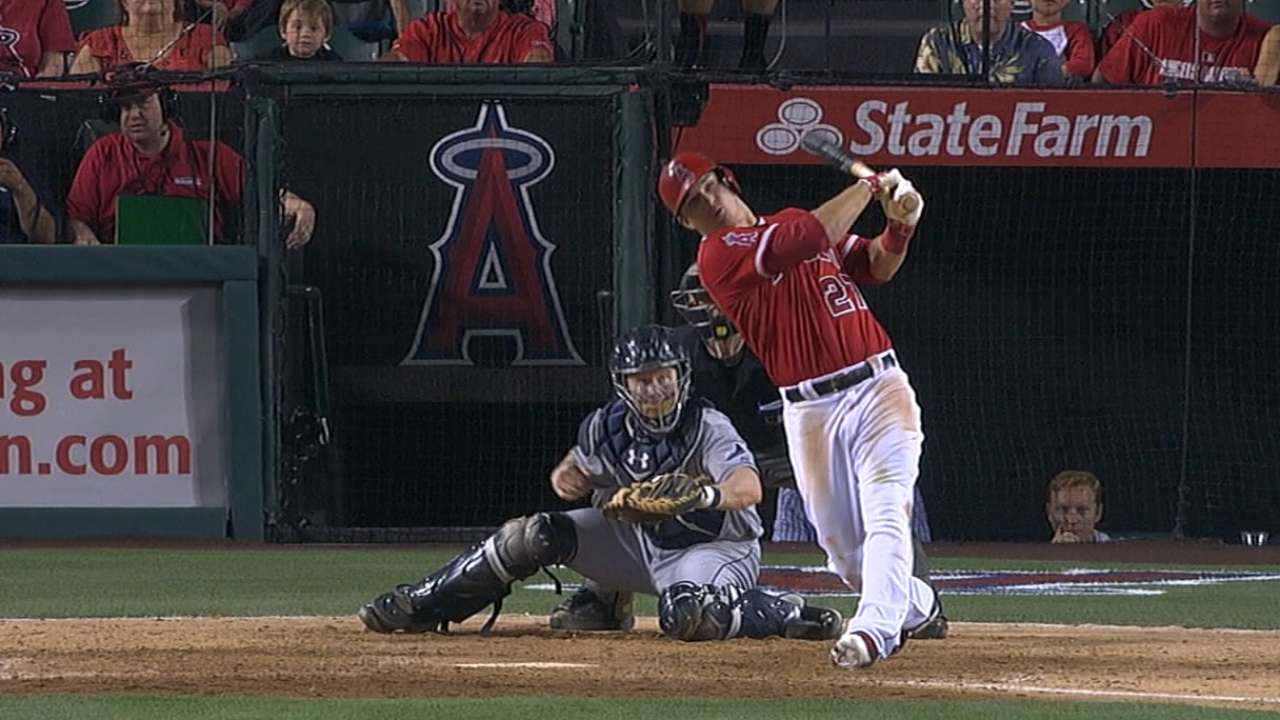 ANAHEIM -- Remember all that time we spent debating how to pick the American League's Most Valuable Player, from the merits of Wins Above Replacement to the importance of residing on a winning team to the overall significance of traditional statistics?
Yeah, 2014 wasn't really about that.
Instead, it was the year Mike Trout finally got his due.
"Finally" may seem like a bizarre term for a guy who's 23 years old and just completed his third full season in the Major Leagues. But "finally" is appropriate when you consider his back-to-back second-place finishes to Miguel Cabrera from 2012-13, and the polarizing opinions that came with them. After those debates, it only seemed appropriate for Trout's first MVP to be a unanimous one.
The Angels' superstar center fielder led the Majors in WAR for a third straight season, posted a .287/.377/.561 slash line, hit a career-high 36 home runs, drove in an AL-leading 111 runs, scored an AL-leading 115 runs, and in the end, received all 30 first-place votes from the Baseball Writers' Association of America.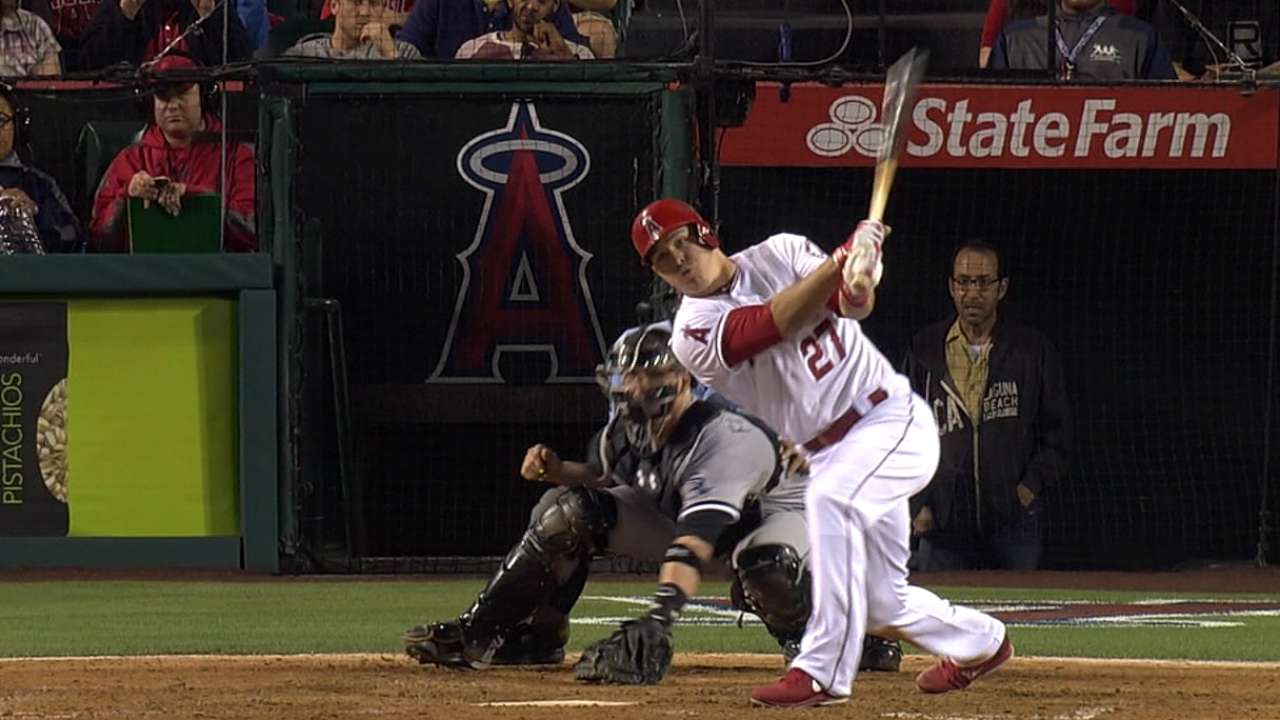 "He's loaded with talent, loves to play and walks the walk," the Angels' first MVP, Don Baylor, said of Trout. "He's held up under the pressure and done it with great humility. He definitely got my vote. It may be his first MVP, but it won't be his last."
And it wasn't even his only one of 2014.
Trout's AL MVP Award came four months after he was named MVP of the All-Star Game, as he joined Cal Ripken Jr. (1991), Roger Clemens ('86), Steve Garvey ('74), Willie McCovey ('69) and Maury Wills ('62) as the only players to win MVPs for the regular season and Midsummer Classic in the same year.
Trout hit a double and a triple, drove in two runs, scored another and left Target Field in July with yet another trophy and a shiny, new Corvette. So in Derek Jeter's final All-Star Game, it was the man many expect to succeed him as the new face of baseball who stole the show.
You really can't make this stuff up.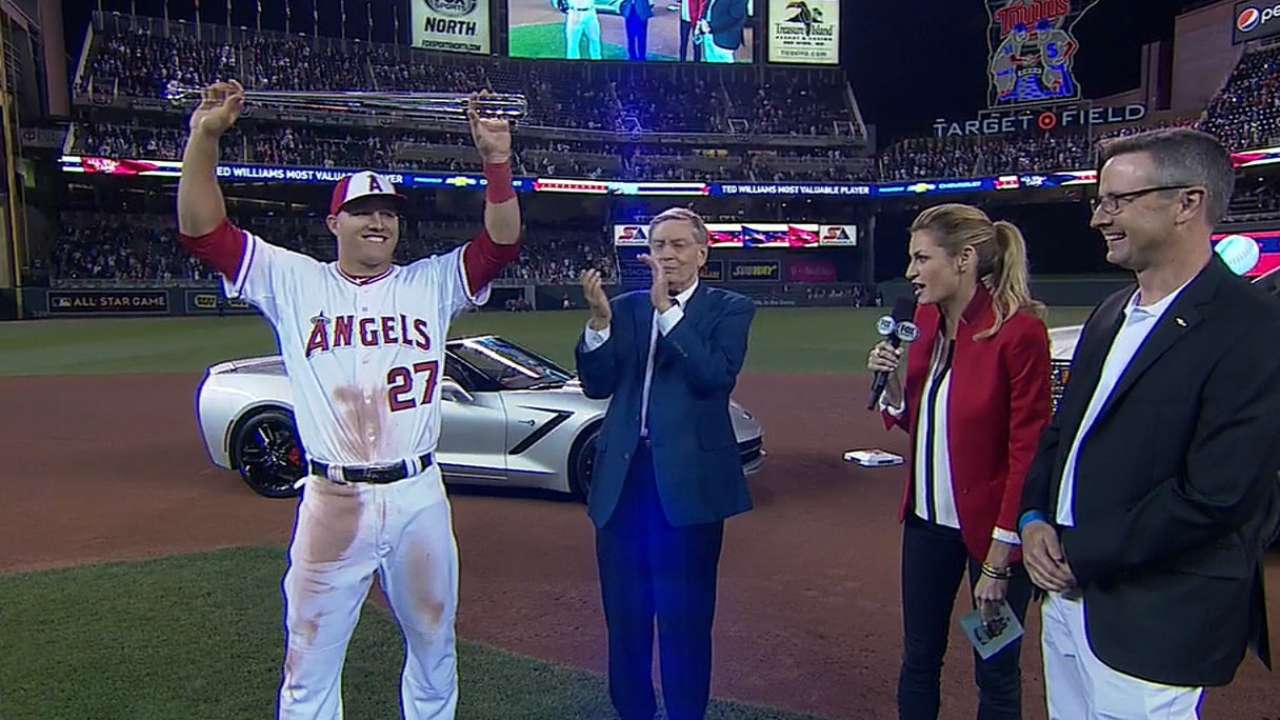 "Mike Trout is special," Bud Selig, closing his final season as Major League Baseball's Commissioner, said while visiting Angel Stadium in August. "He's been great on the field and is just as great off the field. So, if he is the coming icon of this next generation, I'd be very, very happy."
It's hard to cement a legacy at an age when most players are still carving through the Minor Leagues, but 2014 further secured Trout's standing as the game's best all-around player -- and perhaps some day the greatest ever.
Trout was the youngest unanimous MVP in Major League history. He became the first player in history with at least 300 runs, 75 homers and 75 steals in his first 400 games. And he joined Hall of Famers Mickey Mantle (1960-62), Yogi Berra (1953-56) and Hal Newhouser (1944-46) as the only AL players to finish in the top two in MVP ballots for three straight years -- though none of the others did it in their first three.
And you know what's really crazy?
Trout's MVP season may have been his worst one yet.
Alden Gonzalez is a reporter for MLB.com. Read his blog, Gonzo and "The Show", and follow him on Twitter @Alden_Gonzalez. This story was not subject to the approval of Major League Baseball or its clubs.