Healthy, productive Votto crucial for Reds in 2015
In tough NL Central, team needs to be at its best all season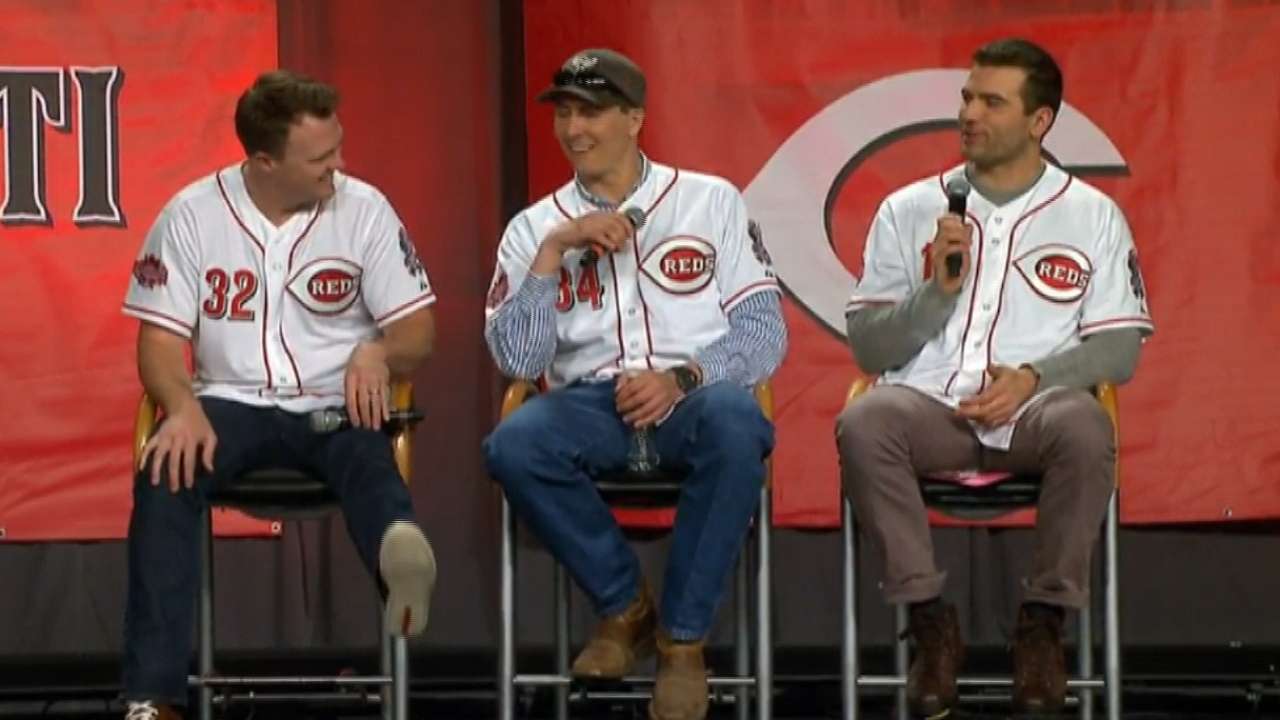 CINCINNATI -- There is no doubt that the National League Central will be one of the toughest divisions in the Majors in 2015, with all five teams having a case to say they can at least be in the hunt. That means the Reds will have to be at their best all season to have a chance at truly contending.
"The National League Central was the weak link of the National League or Major League Baseball just as far as the expectations coming out of the division. And now it's a strength," Reds manager Bryan Price said earlier in December. "There's a great feeling about being in that, because it's so competitive. Everyone is getting better. I don't see a team there that's taking a step backwards as far as improving their club and being optimistic about having even a better year in 2015."
The Cubs added a new manager in Joe Maddon and signed an ace in pitcher Jon Lester. The Cardinals traded for Jason Heyward, while the Pirates re-signed Francisco Liriano and brought back A.J. Burnett for the rotation after he spent a year with the Phillies.
Cincinnati made some changes already in trading away starting pitchers Mat Latos and Alfredo Simon and reserve outfielder Chris Heisey. The club also added outfielder Marlon Byrd in a trade with the Phillies, after spending the bulk of its offseason pursuing a left fielder and trying to upgrade the offense.
General manager Walt Jocketty still has some re-tooling to do, as the Reds would also like to make upgrades to the bullpen and bench before the winter is complete.
"By the time we get into Spring Training we're hoping to be in that same position where we're talking about our chances," Price said. "And in the end, as I said last year, you have to play 162 games and decide who the best team is. You always want to go into the Spring Training feeling like you have a great chance to do some damage."
Coming off the 76-86 record the Reds had in 2014, there is no shortage of questions for the team heading into '15. Here are 10 of the biggest questions the Reds will need to have answered:
1. Is Joey Votto 100 percent healthy?
Votto isn't the only hitter the Reds need to come back strong from a down year, but he's clearly the most important. A distal strain of his left quadriceps limited him to 62 games in 2014 and none after July 5. Even if Votto doesn't return to the levels of his 2010 NL MVP season, when he hit 37 home runs with 113 RBIs, they need him to get on base and resume his place as one of baseball's best hitters.
2. Can the offense produce enough?
In part because of injuries to Votto and Brandon Phillips and down seasons for others, the Reds' offensive output plummeted in 2014. Besides being 29th out of 30 clubs in batting average and on-base percentage, they could never get the big hit when it was needed. That was evidenced in their Major League-leading 38 losses in one-run games. It showed that while pitching kept them in many games, the lineup didn't do its part to help win them.
3. Will this be Johnny Cueto's final season with the Reds?
Pitching in his option year and earning $10 million, Cueto can be a free agent after this season. Even if he wants to stay in Cincinnati, it might be hard for the Reds to give him the blockbuster nine-figure contract it will likely require to keep him. That makes 2015 a critical season for contending. A slow start for the club could make it easier for the Reds to trade Cueto during the season.
4. Can Jay Bruce put last season behind him?
Bruce is coming off the worst season of his Major League career after he batted .217/.281/.373 with 18 home runs and 66 RBIs. Because the club needed him in the lineup badly, he came back too soon after he missed two weeks with a torn meniscus in his left knee that required arthroscopic surgery. What followed was a lack of power and bad choices at the plate, including an 0-for-5, five-strikeout game in the second half of the season. Bruce hit at least 30 homers each year from 2011-13, and the Reds will need him to do it again. His track record says that is quite possible.
5. What can Billy Hamilton do in his second season?
Hamilton certainly had dazzling and exciting moments during his first full season in the Majors. He hit better than expected in the first half, stole 56 bases overall and played Gold Glove-caliber defense in center field. But he led the Majors in being caught stealing 23 times and batted only .200 in the second half. His overall on-base percentage of .292 needs to improve for him to be an effective leadoff hitter.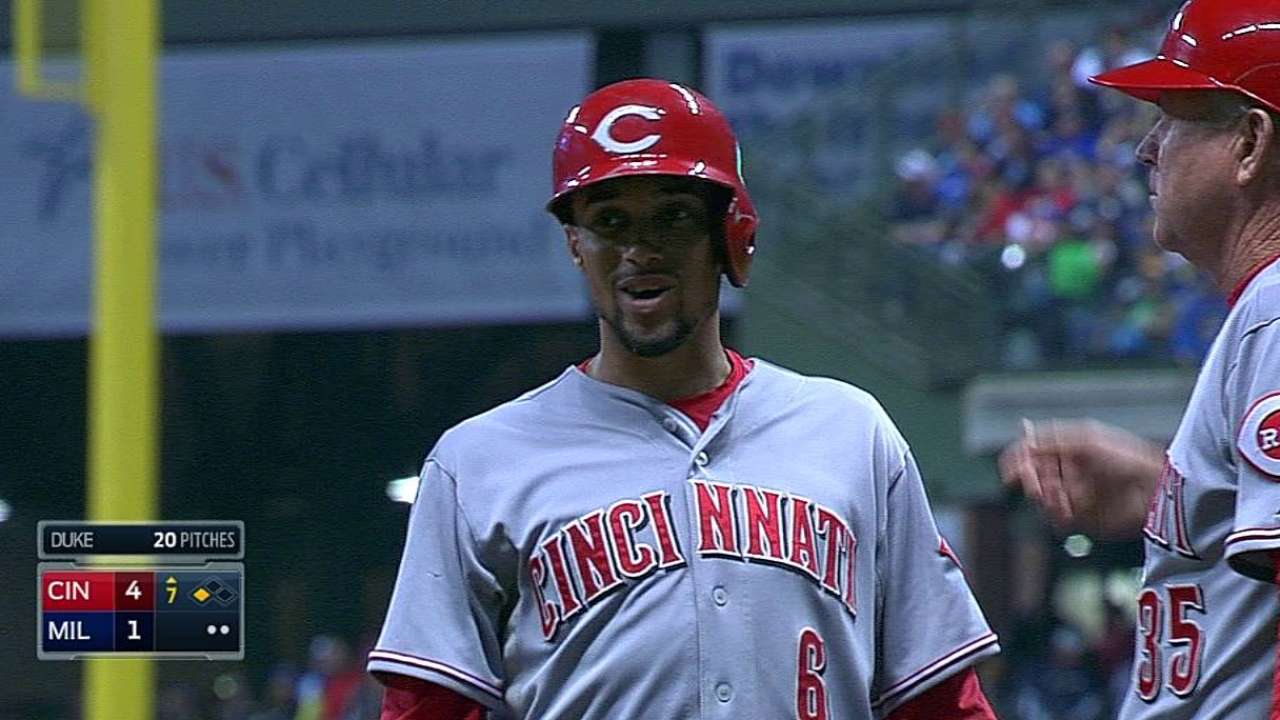 6. Can Todd Frazier and Devin Mesoraco build on their strong 2014 seasons?
Both younger players did their best to fill the offensive void created without Votto, Bruce and Phillips. Both enjoyed All-Star seasons. Frazier hit 29 homers and produced consistently, while Mesoraco hit 25 homers with an .893 OPS despite two stints on the disabled list. Their continued growth will only benefit Cincinnati.
7. Will the bullpen return to form?
With the exception of closer Aroldis Chapman and setup man Jonathan Broxton, who was traded to the Brewers, the Reds' bullpen was often a liability last season. Sam LeCure, J.J. Hoover and Manny Parra took steps backward and the bullpen's ERA was ranked 14th out of 15 NL clubs. Their 1-17 record after the All-Star break was cringeworthy as well. Bounce-back years will be essential, and the contributions of new blood like Jumbo Diaz and Pedro Villarreal and anyone else signed during the remainder of the offseason is necessary. The team could also use a healthy return of Sean Marshall, who has missed most of the last two seasons with shoulder injuries.
8. What kind of production can a post-prime Phillips bring?
Phillips' offensive production has declined the past two seasons. He's clearly not as fast on the bases as he once was, either. Injuries have played a part with his overall numbers, but there are still some bright spots. He batted .272 with seven homers and 19 doubles before he had left thumb surgery to repair a torn ligament in mid-July. After five weeks out, he had only seven extra-base hits in 137 plate appearances the rest of the way. One thing that the Reds don't have to worry about is his defense, which was terrific as usual last season.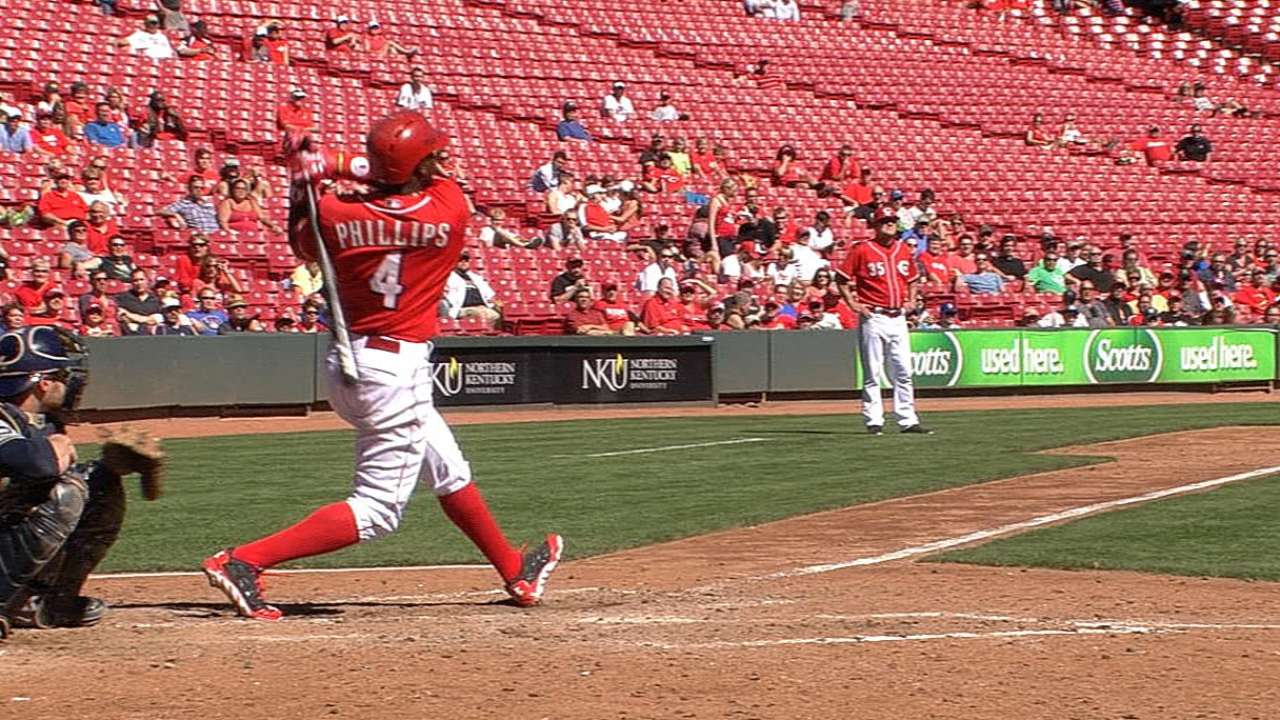 9. Will Homer Bailey be healthy and ready to return?
Bailey is a question mark for Opening Day after he had a torn flexor mass tendon repaired in September. But he was optimistic and felt ahead of schedule in December with his rehab. With Latos gone, Bailey is now the Reds' No. 2 starter and will be needed to deliver 200 innings and consistency from the mound.
10. What will the back of the rotation look like?
With Latos and Simon gone, another golden opportunity is in front of Tony Cingrani to show he can be a starter in the Majors. Cingrani struggled with his command early on last season and then was knocked out by shoulder issues. Whether or not Cuban free-agent signing Raisel Iglesias is ready to take his place in the rotation is a question inside of this question. Iglesias was impressive in the Arizona Fall League but hasn't pitched much since defecting from Cuba. Anthony DeSclafani, who came from the Marlins in the Latos trade, will be competing for a spot. There could be another chance for lefty David Holmberg after a bad debut last year, as he had a nice end to his season.
Mark Sheldon is a reporter for MLB.com. Read his blog, Mark My Word, and follow him on Twitter @m_sheldon. This story was not subject to the approval of Major League Baseball or its clubs.