With rotation as strength, Tribe should contend in '15
Indians have AL Cy Young Award winner Kluber, slugger Moss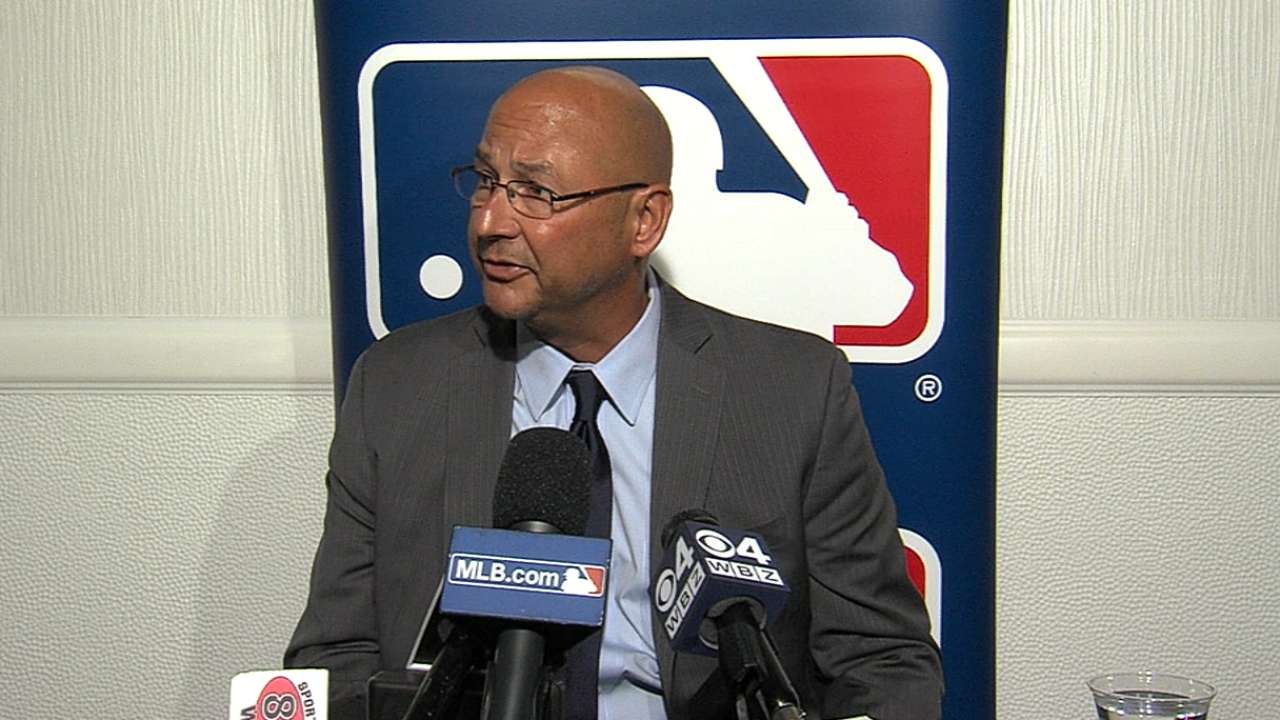 CLEVELAND -- At the end of each season, Indians manager Terry Francona needs time to decompress from the daily grind of the baseball marathon. Following this past season, in which Cleveland flirted with October baseball, Francona said he did not need as much recovery.
Francona found himself fueled by his team's energy and immediately wanted to plan for 2015.
"Every year, you kind of collapse when the year is over," Francona said. "It's funny, because this year I didn't collapse as much as normal, which maybe is a good thing. I think what it meant was, as much as stuff that didn't go right, it was a fun group to be around. We kept plugging. We kept plugging. We just weren't good enough, but it wasn't for lack of trying.
"When you have that many young guys, there is some enthusiasm there and things like that. I think I felt like we left it on the field for the most part. ... So you kind of go home and you're tired, but I felt like we did our best. Now, it's, 'How are we going to get better?'"
The Indians traded for slugger Brandon Moss earlier this offseason, adding an impact bat to an offense that has a solid foundation in Michael Brantley, Yan Gomes and Carlos Santana. Cleveland also has a young pitching staff with American League Cy Young Award winner Corey Kluber leading the rotation and closer Cody Allen anchoring the bullpen.
The Indians' offseason to-do list is not complete, but here are 10 questions currently facing the team as the calendar flips to 2015:
1. How will the Indians clean up their defense?
Cleveland's fielding blunders last season played a big role in keeping the club out of the postseason. The Indians feel they have already taken steps for improving the situation by moving Santana to first base and having Jose Ramirez at shortstop. What the Indians need now is to see improvement next season from second baseman Jason Kipnis and third baseman Lonnie Chisenhall. The club will also alter its Spring Training workouts to introduce more unpredictability to defensive drills.
2. Will Nick Swisher rebound from another subpar season?
Swisher's status will remain a big unknown until the Indians can monitor him closely throughout Spring Training. He is coming off a poor season at the plate, but much of that can be attributed to leg issues that led to surgery on both knees in August. Swisher's track record says that he should be a comeback candidate, but Cleveland still needs to sort out whether that will be as a full-time designated hitter or a part-timer in right field or at first base.
3. How will the addition of Moss change Cleveland's defensive alignment?
Cleveland likes the fact that Moss (coming off hip surgery) can offer insurance for both corner outfield spots, first base and DH. Like Swisher, Moss' health will be monitored closely by the Tribe this spring. If he is 100 percent by Opening Day, Moss projects to garner most of his at-bats in right field or at designated hitter. It is possible that he and Swisher rotate through those two positions, while also offering backup plans behind Santana at first.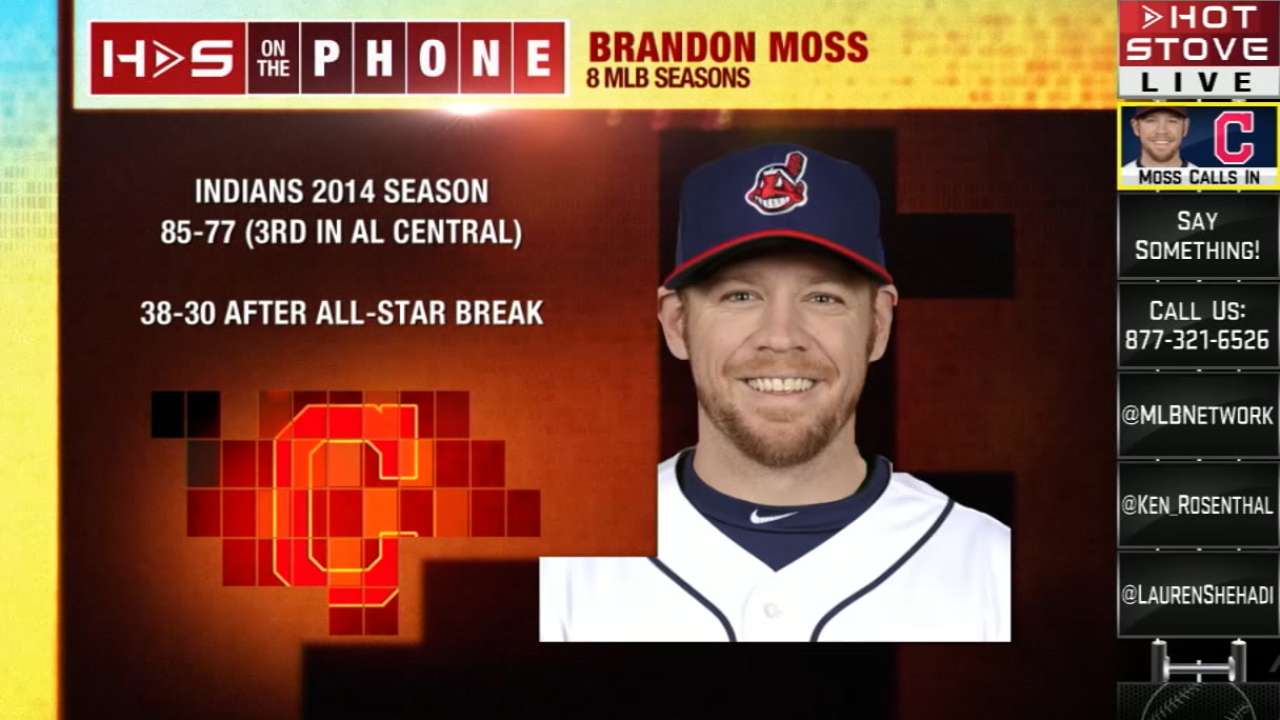 4. Can Moss give the Indians another legitimate power threat in the lineup?
Moss is coming off an injury-marred season with the A's, but he still ended with 25 home runs for Oakland. Over the past three years combined, Moss ranked ninth in baseball with a rate of one home run every 15.93 at-bats, and he did so while playing mostly in O.co Coliseum, which is not kind to power hitters. If he is healthy, switching to Progressive Field in Cleveland has the potential to boost Moss' slugging percentage, making him a threat to hit 30-plus homers for the Tribe.
5. Will Kipnis return to being the kind of offensive player he was in 2013?
Kipnis suffered an oblique injury in April last season that took a toll on his entire year, leading to a dramatic offensive drop-off across the board. This offseason, Cleveland has worked with Kipnis on altering his training program to hopefully lead to more agility and quickness. The goal is to help Kipnis not only improve defensively, but put him in position to return to the offensive level he was at for the Indians two seasons ago, when he was an AL All-Star.
6. Can Carlos Carrasco build on the success he had in the final two months of '14?
When the Indians gave Carrasco another chance at starting late last season, it was because the right-hander had slightly altered his pitching style and found a comfort level with his daily routine. Carrasco continued to use the aggressive approach of a reliever and it led to success as a starter (1.30 ERA in his last 10 outings). Carrasco's confidence grew and helped him enter the offseason in a great spot. Cleveland believes he has the makings of a strong No. 2 starter next year.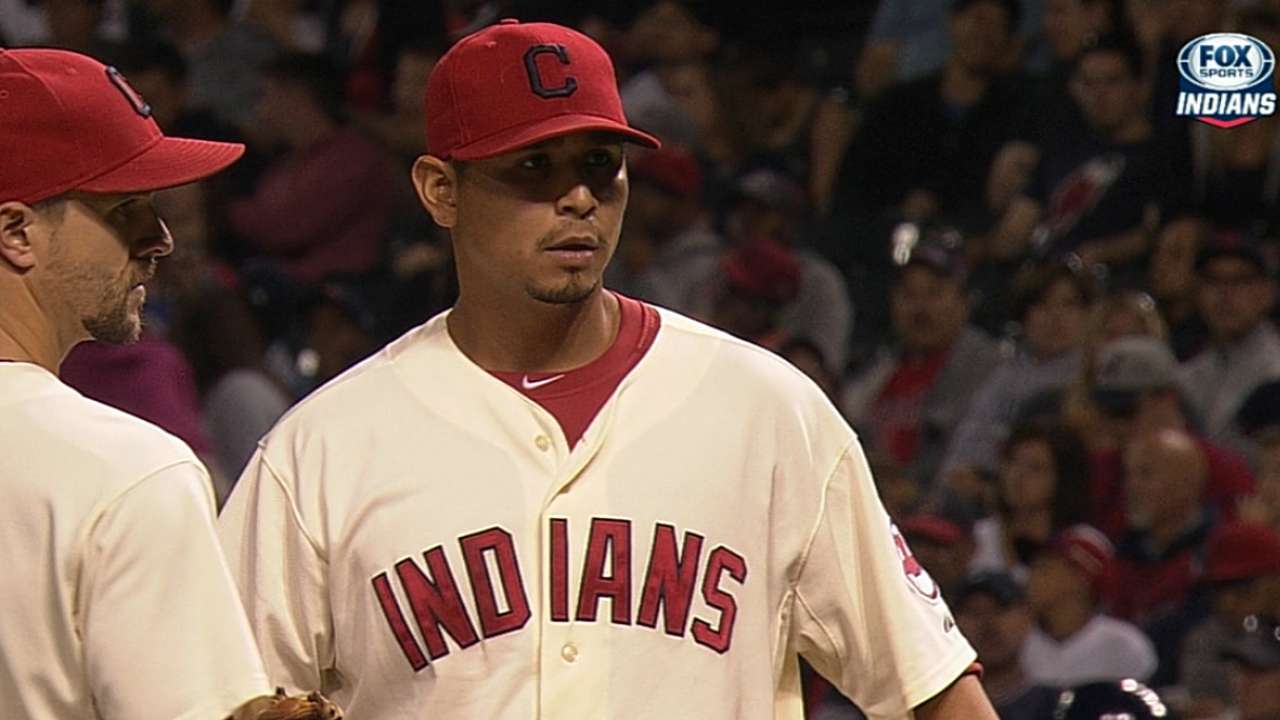 7. Will Trevor Bauer and Danny Salazar find consistency next season?
Indians pitching coach Mickey Callaway made two trips in November. He flew to Seattle to visit Bauer and then went to the Dominican Republic to meet with Salazar. Bauer is knee-deep in analysis and workouts aimed at improving his velocity and command. Callaway said the focus with Salazar is getting him into midseason form during Spring Training. Both pitchers now have a solid Major League innings sample to lean on as they try to reach their potential in 2015.
8. Can Kluber actually get better in 2015?
It would be hard for any pitcher to repeat the kind of season that Kluber turned in for the Indians in 2014. That said, the right-hander has the kind of drive that will have him looking to improve on his Cy Young season. Kluber wants to find more consistency with his changeup, for example. Kluber's confidence is at an all-time high and he features the kind of pitch arsenal that should hold up, even if there is a slight natural regression in velocity.
9. Will the Indians sign Kluber to a contract extension?
Given Kluber's age (29 in April) and the fact that he is under contractual control for four more seasons, there is not a huge sense of urgency to sign the right-hander to a long-term deal right now. There could be some motivation to try to keep Kluber's arbitration cost down, but the pitcher is not eligible for arbitration until next winter. The Indians are surely exploring the concept of an extension, but it is not something that necessarily needs to be completed prior to the 2015 season.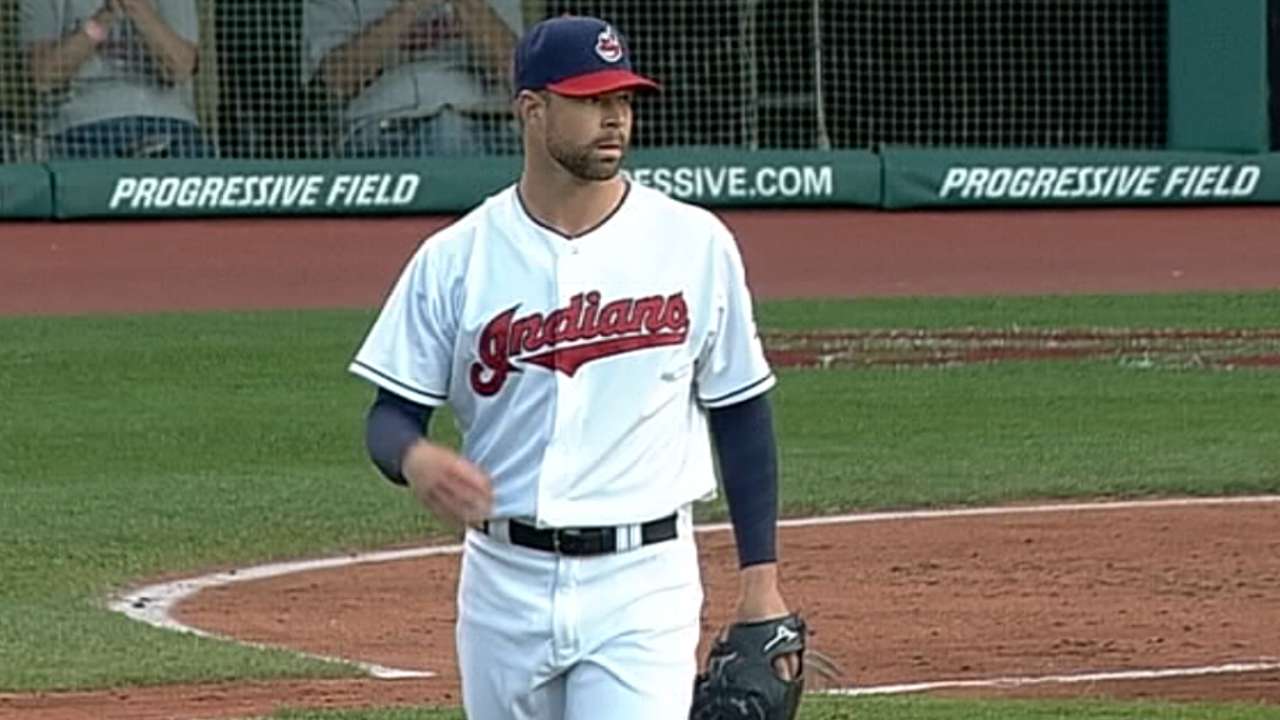 10. Will the Indians make the playoffs next season?
The Indians headed into the winter in a unique position: The club could return in 2015 with virtually its entire Major League roster intact. Cleveland has one of the youngest and most-talented rotations in baseball, a solid bullpen and an offense filled with reliable core players and comeback candidates. The AL Central projects to be one of the toughest divisions in baseball, but there is no reason that the Indians (barring the unforeseen) can't contend for a spot on the October stage.
Jordan Bastian is a reporter for MLB.com. Read his blog, Major League Bastian, and follow him on Twitter @MLBastian. This story was not subject to the approval of Major League Baseball or its clubs.