Veteran stars, promising youth hope to lead Sox to October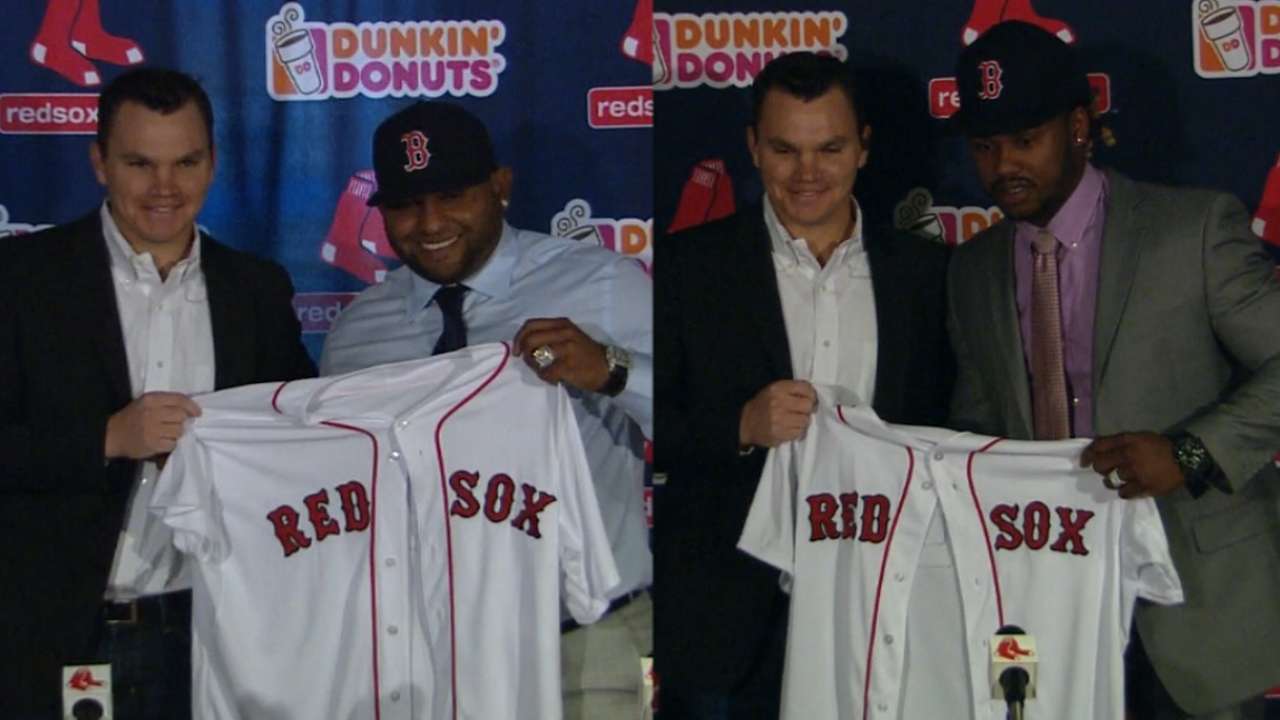 A highly-active participant in the Hot Stove season, the Red Sox think they've put the pieces in place for a stirring revival in 2015.
Armed with two new big bats (Hanley Ramirez and Pablo Sandoval) and a trio of new starting pitchers (Rick Porcello, Wade Miley and Justin Masterson), Boston is hoping for a second worst-to-first turnaround in three years.
The talent is in place for manager John Farrell's team to reach that goal. The new players join a solid core that includes David Ortiz, Dustin Pedroia, Koji Uehara and emerging youngsters like Xander Bogaerts and Mookie Betts.
Coming off a futile year offensively, the Sox have added a new hitting coach in Chili Davis who has a reputation for success.
The pitching staff could prove to be stingy, particularly backed by a defense with many proven performers.
But as always, there are questions going into a new season. Here are nine that stand out.
Which Clay Buchholz will the Red Sox get?
The Red Sox don't appear to have an ace. But that could change quickly if Buchholz pitches like he did in 2010, or in the first couple of months of '13.
Buchholz has always had the stuff to be a dominant pitcher, but health and confidence woes have often deterred him.
Perhaps this is the year he can put it all together. Buchholz pitching at his peak performance represents Boston's best chance at playing in October.
Can Koji hold up?
The Red Sox have taken another leap of faith in Uehara, signing the righty for another two years.
Though it's hard to argue with Uehara's track record in the Major Leagues, he will turn 40 before Opening Day. If the Red Sox have to, they could always entrust the closer's role to Edward Mujica or Junichi Tazawa. But Plan A -- and Boston's best chance to win -- has Uehara showcasing his nasty splitter and pinpoint control in the ninth inning.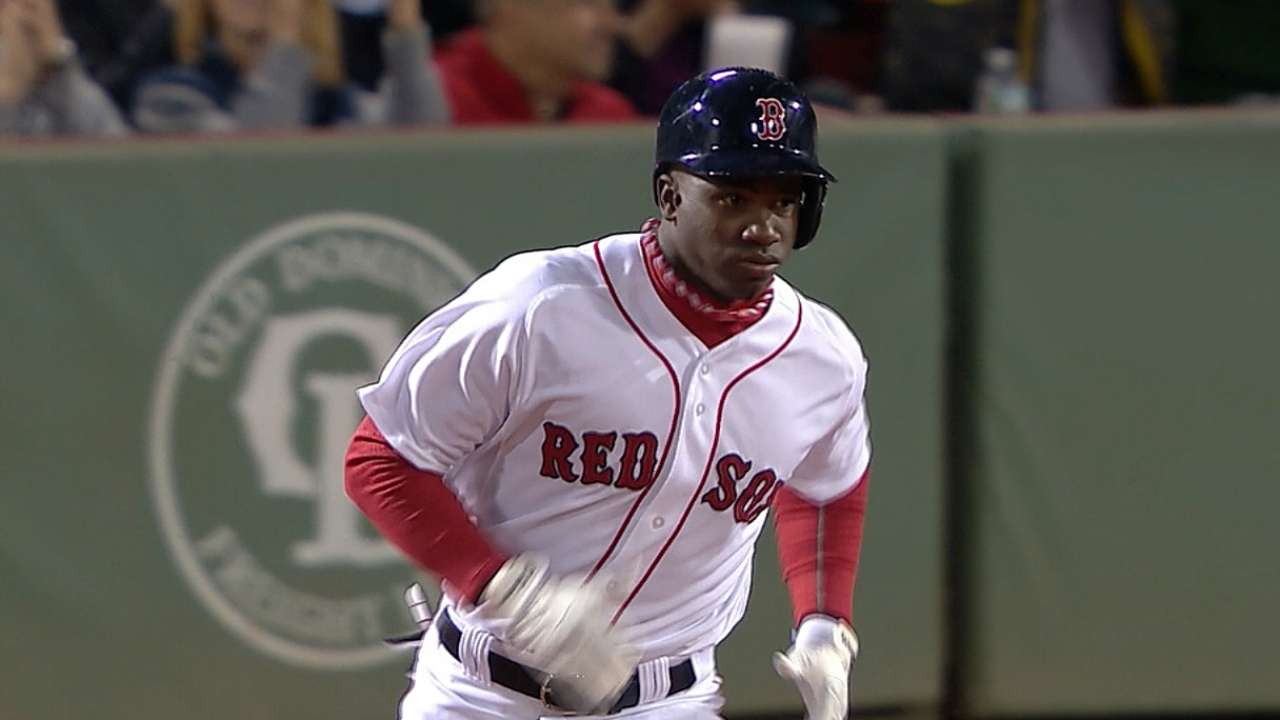 How will the outfield logjam resolve itself?
Trading Yoenis Cespedes to the Tigers for Porcello brought a little more clarity to the outfield situation, but there are still questions. We know this: Ramirez will start in left field. That leaves Betts, Rusney Castillo and Shane Victorino battling it out for the other two spots. Daniel Nava and Jackie Bradley Jr. hope they can still fit in somewhere, and it wouldn't be surprising to see Allen Craig get traded.
Betts has Minor League options, but the Red Sox would prefer to have him at the top of their batting order. It remains to be seen how they can accomplish that if Victorino is healthy again following back surgery. And the Sox didn't sign Castillo for $72.5 million to keep him on the bench.
Can Pedroia regain his pop?
Any time Pedroia is in the lineup, it is a good thing for the Red Sox. He is the team's emotional leader and best defender. However, Pedroia's OPS, which was at .819 or above in his first five seasons, has declined the last three years, and tumbled all the way to .712 in '14.
The reason is obvious: Pedroia has been hampered by hand injuries. After another surgery, can he get back to the type of player capable of hitting 15 to 20 homers? When Pedroia has power, he's an MVP candidate.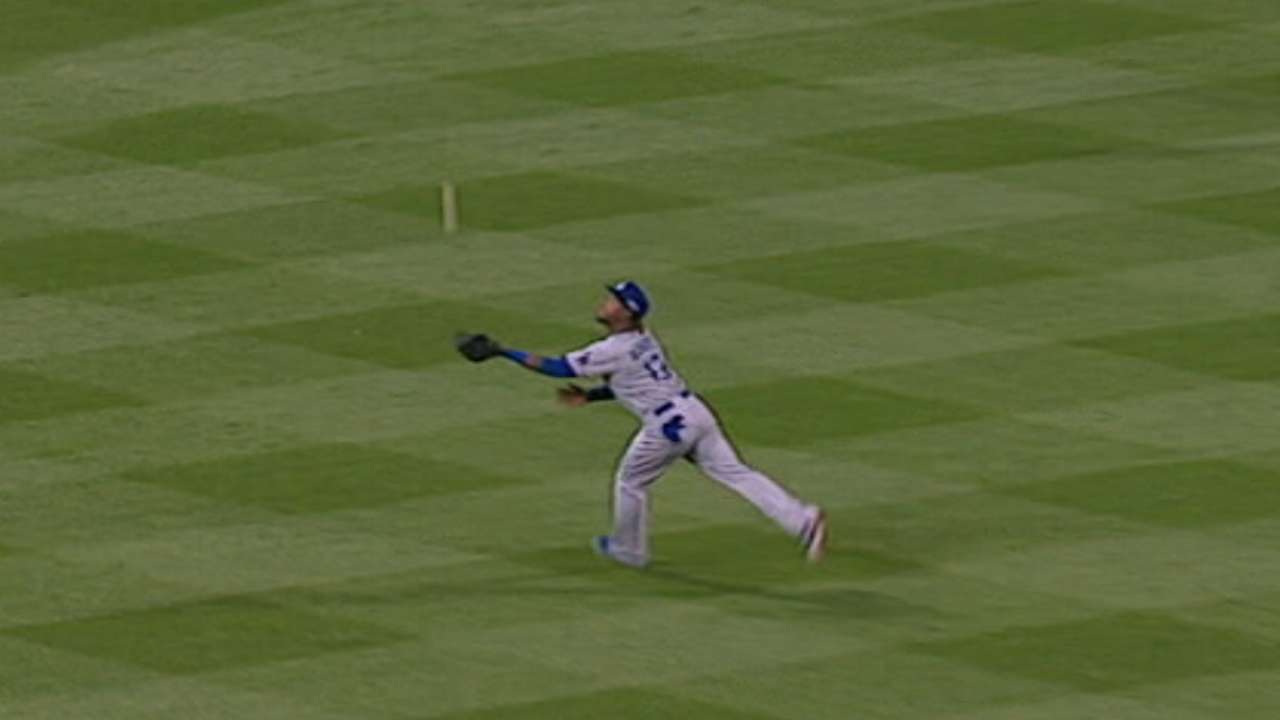 Will Hanley make the adjustment in left?
An infielder for his entire career, Ramirez increased his value on the market by telling the Red Sox he would switch to left field. Ramirez will report to Spring Training early and get all the extra work he wants in the outfield. The dimensions at JetBlue Park in Fort Myers are the same as Fenway Park, including a replica Green Monster to help with the transition.
Given Ramirez's athleticism, it stands to reason he will make a seamless transition. But the jury is out until he actually does it.
Will this be a breakout year for Bogaerts?
Considering how at ease Bogaerts looked in the 2013 postseason, it wasn't a stretch to think he would be a Rookie of the Year candidate in '14. For whatever reason, Bogaerts lacked consistency on both sides of the ball.
When Stephen Drew was re-signed to play shortstop in late May, Bogaerts, who moved to third base, seemed to lose some confidence. He started to get into a groove late in the season, giving the Red Sox hope that 2015 will be a big one. Bogaerts has all the talent to be successful in the Major Leagues. Offensively, it's just a matter of how quick he makes the adjustments necessary to succeed at the highest level. On defense, it's probably nothing more than getting more reps.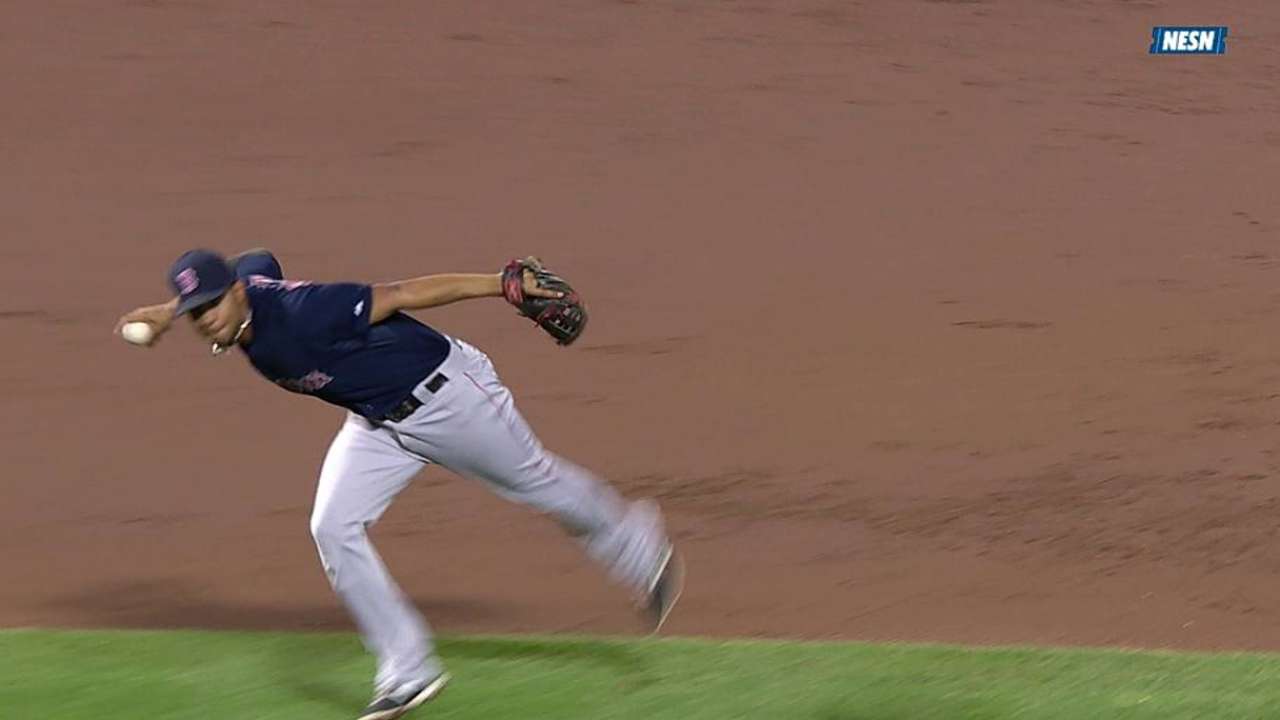 What type of bat does Vazquez have?
It seems pretty clear that Christian Vazquez can be an elite defender. His arm and release point are enough to stop an opponents' running game in its tracks. And the early returns on Vazquez's ability to work with his pitchers are nothing but positive.
But can he hit? A strong offensive catcher is a major plus for any team, given how few of them there are. Vazquez does have the strength to hit for power. It remains unclear how much he will hit.
Which young pitcher will make biggest impact?
There should be one spot open in the bullpen for one of the prospects to grab during Spring Training. Matt Barnes, Anthony Ranaudo, Brandon Workman and knuckleballer Steven Wright are probably the top candidates at this point. Those pitchers were all groomed as starters, so they could get opportunities to step into the rotation if one of the veterans is injured or ineffective.
Will Napoli's third year be his best in Boston?
First baseman Mike Napoli played through a barrage of injuries last season, limiting his power. But after a strong offseason, perhaps Napoli could have the type of year he had with Texas back in 2011, when he smashed 30 homers and had a 1.046 OPS.
Napoli has carried Boston's offense for stretches during his time with the club, but it's very possible his best work with the Red Sox will be in the coming year.
Ian Browne is a reporter for MLB.com. Read his blog, Brownie Points, and follow him on Twitter @IanMBrowne. This story was not subject to the approval of Major League Baseball or its clubs.