New-look D-backs aim to be sneaky winners
Eager to compete in 2015, Arizona overhauled personnel, but questions remain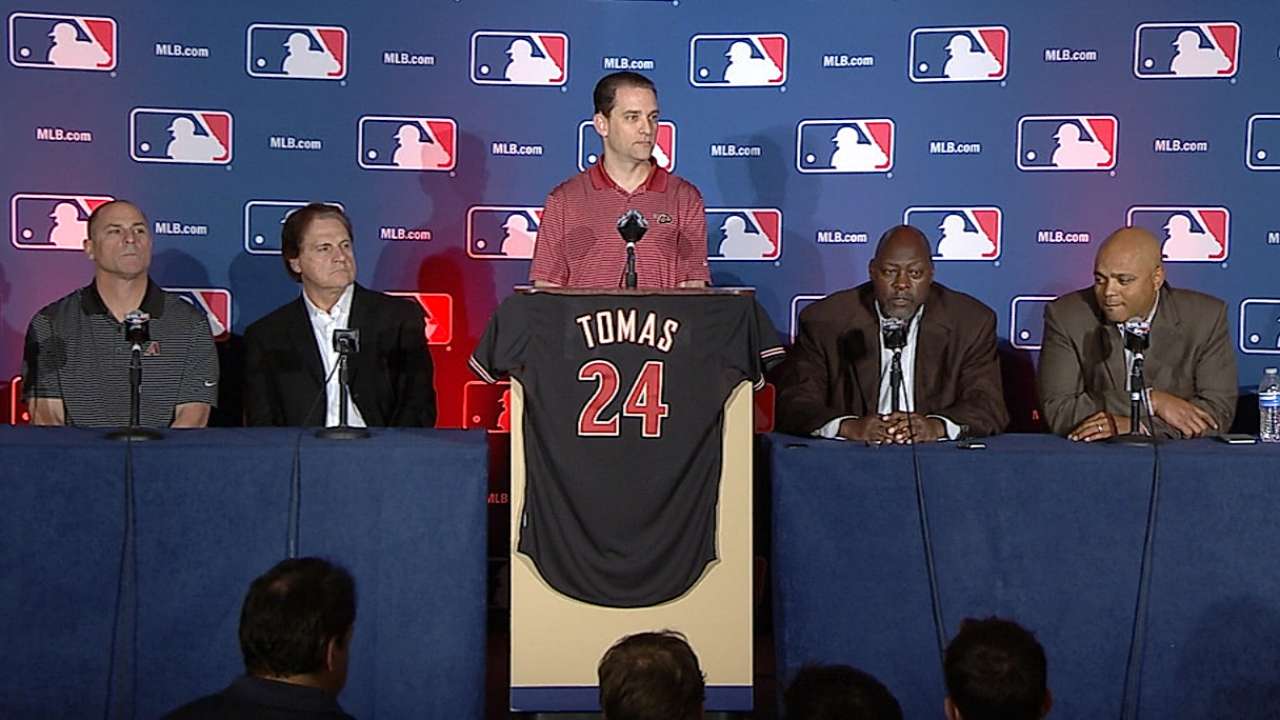 PHOENIX -- After a season in which they finished with the worst record in baseball, the D-backs made sweeping personnel changes both on and off the field.
When Spring Training opens in 2015, the D-backs will have a new general manager in Dave Stewart and a new manager in Chip Hale.
Gone from last spring are veterans such as Brandon McCarthy, Martin Prado, Gerardo Parra, Wade Miley and the longest-tenured D-backs, Miguel Montero. In their places are promising young pitchers as well as Cuban free-agent slugger Yasmany Tomas.
"I think that we've done a pretty good job overall in what we've tried to accomplish," Stewart said in December. "But you guys know the end result will be once we see what happens once we start play. We've set ourselves up for the future as well; 2015 is coming, but in the future -- 2016 and 2017 -- moving forward, we've got control of the guys that we've drafted and we've got control of the guys that we've traded for."
10. How will Hale do in his first year as Major League manager?
There is no question that Hale has paid his dues for this opportunity. After his big league playing career, he was a successful manager in the Arizona farm system before joining the big league staff as a coach. A's manager Bob Melvin raved about Hale's preparation and attention to detail, and the D-backs will need him to get everything possible out of his players if the team hopes to be competitive in 2015.
9. Will the bullpen live up to expectations?
While other areas of the club needed to be addressed during the offseason, the D-backs' front office was confident that the bullpen did not need any additions. Rookie Evan Marshall made a huge step forward in 2014 and the D-backs will need Matt Stites to do likewise in 2015. The team has several hard throwers on the cusp of the Majors, like Enrique Burgos and Jake Barrett, so the depth appears to be there. A bounce-back year by closer Addison Reed would be a huge plus.
8. Will players who were injured last year return fully healthy?
The D-backs were decimated by injuries in 2014, with 15 players totaling 1,417 days on the disabled list. David Hernandez, Patrick Corbin and Bronson Arroyo could bolster the pitching staff upon returning from their respective Tommy John surgeries, which could happen for all three sometime during the '15 season. First baseman Paul Goldschmidt, who missed the final two months of the year with a fractured left hand, is completely healed, but shortstop Chris Owings will not be ready for the start of Spring Training as he continues to rehab his left shoulder.
7. Who is at second, short and third?
The D-backs plan to initially try Tomas at third base, which would leave them trying to figure out what to do in the middle of the infield. The team might be best served playing Owings at short and Aaron Hill at second. Hill struggled last season, but with two years and $24 million remaining on his contract, the D-backs should give him a chance to show that he still has something left in the tank. If he doesn't, they could play Owings at second and either Cliff Pennington or Nick Ahmed at short.
6. How will outfield playing time be divided up?
If Tomas can't cut it at third, the team would play him in left field, but that would increase the logjam of outfielders. As it stands right now, the D-backs plan on moving slugger Mark Trumbo from left field to right field, and A.J. Pollock is the everyday center fielder. If Tomas is able to play third, then the D-backs could have Ender Inciarte and David Peralta split time in left.
5. Will quality come out of depth?
The starting rotation was a trouble spot for the D-backs last year and Stewart made adding depth to it a priority this winter. After acquiring veteran Jeremy Hellickson from the Rays, Stewart picked up a pair of young starters in Rubby De La Rosa and Allen Webster. The pair will be penciled into the rotation, but could be challenged by fellow young pitchers like Chase Anderson, Robbie Ray, Vidal Nuno, Archie Bradley and Andrew Chafin. The team also will give veterans Daniel Hudson, Randall Delgado and Trevor Cahill a chance to earn spots during Spring Training.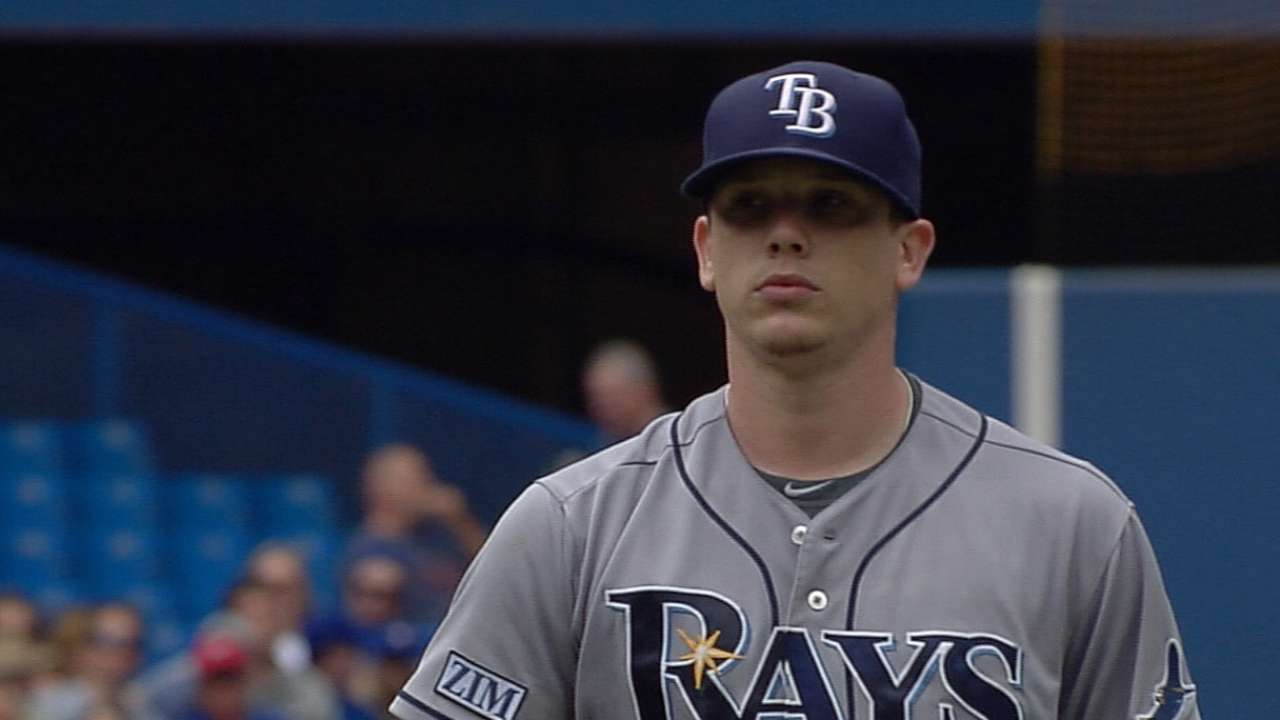 4. Will Bradley take a big step forward?
Seemingly on the fast track to the big leagues after being drafted out of high school in 2011, Bradley hit a bump in the road in '14. After being ranked as the top pitching prospect in baseball prior to the season by MLB.com, Bradley lost out in the battle for the No. 5 spot in the rotation. Then he had an uneven season in the Minors and spent time on the disabled list. The team is now doing its best to downplay expectations for Bradley in '15, all but saying he is going to open the year in the Minor Leagues. A fresh start to the season could be just what Bradley needs to get back on track toward fulfilling his promise.
3. Who will be behind the plate?
Trading Montero left Tuffy Gosewisch as the only catcher on the roster. The team selected catcher Oscar Hernandez from the Rays in the Rule 5 Draft, but he played in the Midwest League last year and while the organization seems to be extremely high on him, it's still an awfully big jump to go from there to the big leagues. As the calendar flips to 2015, Stewart is actively looking to acquire another backstop.
2. How good is Tomas going to be?
The recent history of hitters being signed out of Cuba bodes well for Tomas, as Yasiel Puig, Jose Abreu and Yoenis Cespedes have all performed well. Whether Tomas can stick at third base remains an open questions and the team will evaluate during Spring Training whether he needs some additional seasoning at Triple-A. Despite a $68.5 million investment in him, the D-backs plan on being patient.
1. Can the D-backs compete in 2015?
La Russa said early in the offseason that he would be "absolutely brokenhearted" if the D-backs didn't have a winning record in 2015. For the D-backs to get over the .500 mark, though, they will need to stay healthy and have several of their young starting pitchers step up and perform. Remember, when the D-backs last won the National League West in '11, few -- if any -- predicted them to do so. In this era of parity and two Wild Cards, a team going from worst to first is not all that uncommon.
Steve Gilbert is a reporter for MLB.com. Read his blog, Inside the D-backs, and follow him on Twitter @SteveGilbertMLB. This story was not subject to the approval of Major League Baseball or its clubs.