Despite departures, O's out to repeat as AL East champs
Davis, Wieters, Machado returning helps offset losses of Cruz, Markakis, Miller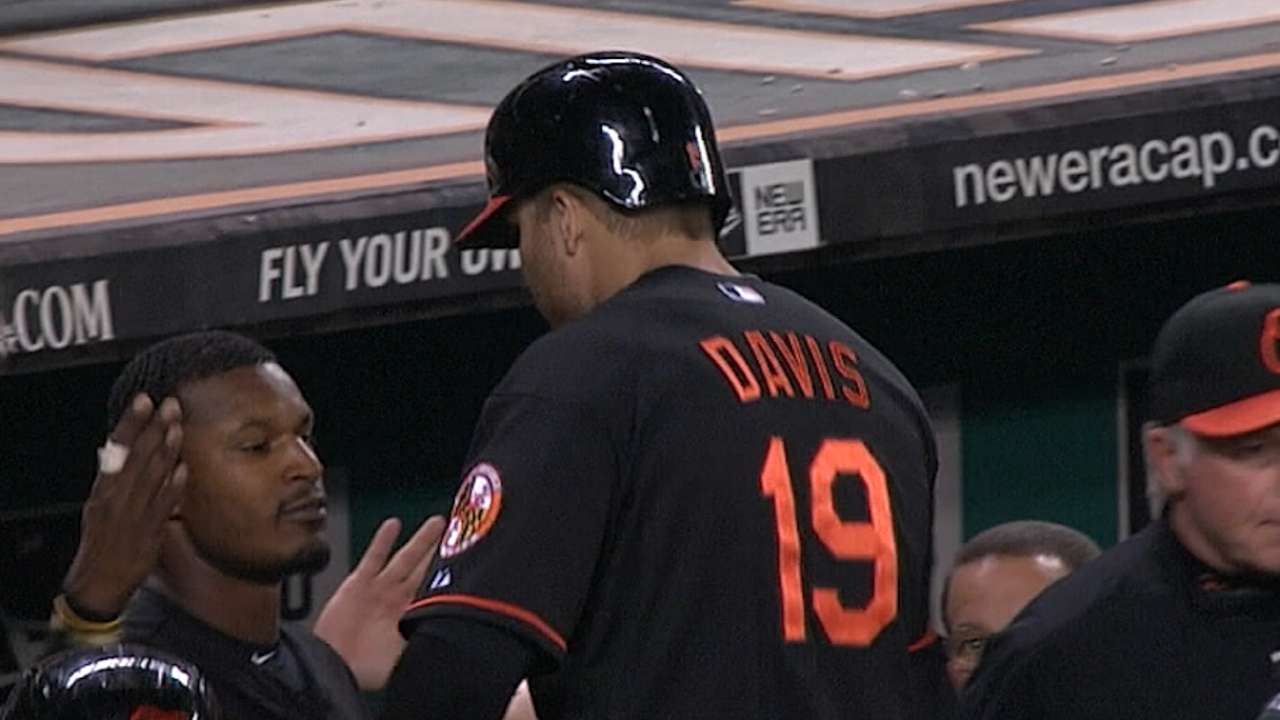 BALTIMORE -- Where do the Orioles go from here?
Baltimore had a terrific run to the American League Championship Series in 2014, a season no one saw coming, particularly after the losses of Matt Wieters and Manny Machado to season-ending injuries and Chris Davis to a late-season suspension.
That trio will return in 2015 and with that, the assumption is the club will already be better off than a year ago. Still, making up for Nelson Cruz, who had a career year, and replacing longtime Oriole Nick Markakis and lights-out lefty Andrew Miller will be tough tasks. All the while, the rest of the AL East has gotten better and is gunning for the reigning division champions.
With change, of course, comes uncertainty. Some of the organization's most pressing questions at this time last year still apply, though many have taken on different shapes or increased urgency. With that in mind, here are the 10 most important issues facing the Orioles heading into 2015:
10. Who will man right field?
Gone is Markakis, a mainstay in the corner of Camden Yards. And if the season started today, Steve Pearce would likely be in right. The Orioles are looking at additions, though it will be a tough task to replace the grit and reliability of the Gold Glover Markakis, who never wanted to come out of the game. The O's will also be tasked with replacing his spot atop the lineup.
9. How will Davis bounce back?
Davis, whose 25-game suspension will end after Opening Day, has a lot to prove in 2015, his last year of arbitration. A historic '13 was followed by a disappointing season, and the O's are counting on Davis returning to form to help cover for losing Cruz's power in the lineup.
8. Can the Orioles build another strong bullpen?
A staple of their past two playoff clubs has been the shutdown nature of the relief corps, and Miller leaves a huge hole. Still, the Orioles return Darren O'Day and closer Zach Britton, along with the rest of the 'pen. As usual, executive vice president of baseball operations Dan Duquette will look for some low-cost options to help navigate through the middle innings.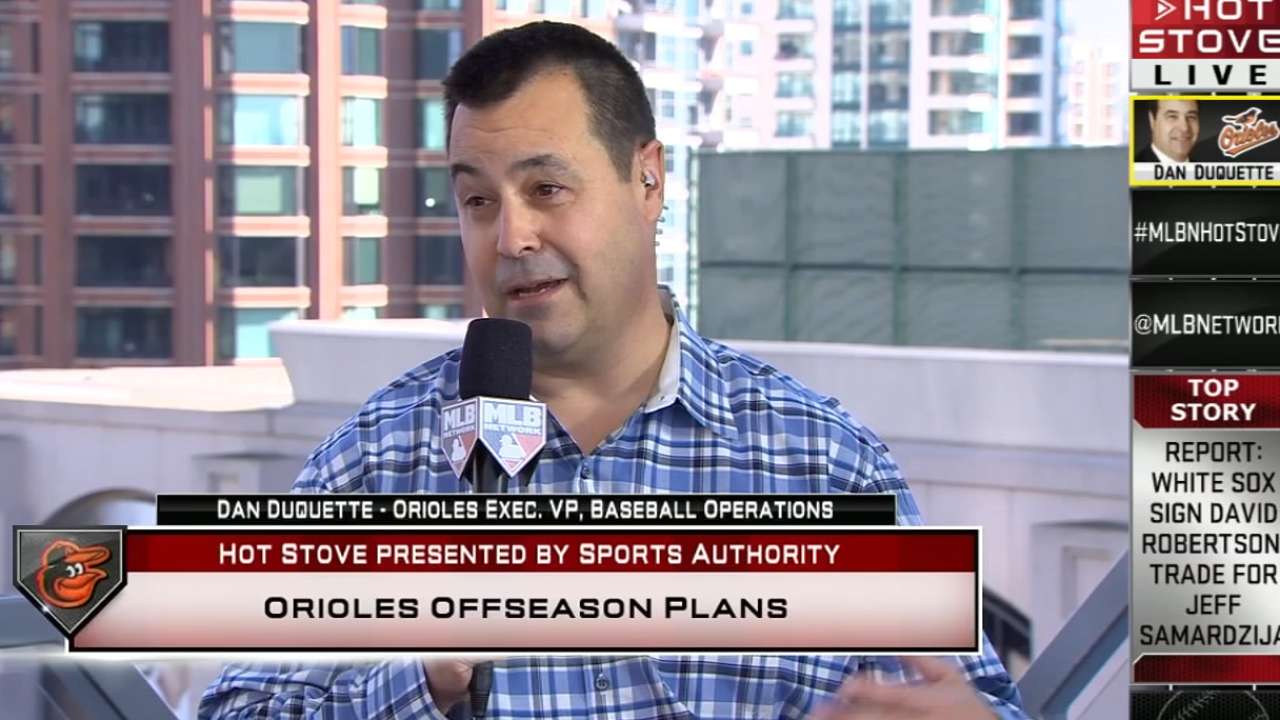 7. Will Wieters and Machado be ready?
Maybe. Manager Buck Showalter wouldn't commit either way when asked at the Winter Meetings if the two All-Stars would be ready come Opening Day. The Orioles won't rush either player in their rehab, so the biggest question perhaps isn't if they will be ready to start the season, but when will they return to form.
6. How quickly will Dylan Bundy progress?
Recovery from Tommy John surgery kept Bundy out of the mix last season, but he should have no restraints this spring. A top prospect who is projected, along with Kevin Gausman, to be a future front-line starter, the power righty is an interesting name to keep an eye on in early 2015.
5. When will Dariel Alvarez get a shot?
Duquette has said several times this winter that Alvarez needs a little more seasoning, though if the team doesn't add anyone significant, that could bode for a quicker arrival for the outfielder. Alvarez has a fantastic arm and is good defensively, two things that definitely help his case.
4. Where will the Cruz and Markakis money go?
When the club didn't sign either outfielder, Duquette said those funds would go elsewhere. But for who? The Orioles are expected to be able to increase the payroll, which has been a sore spot amongst fans who see the daily spending that goes on across the division. How will Duquette and Co. best allocate those funds?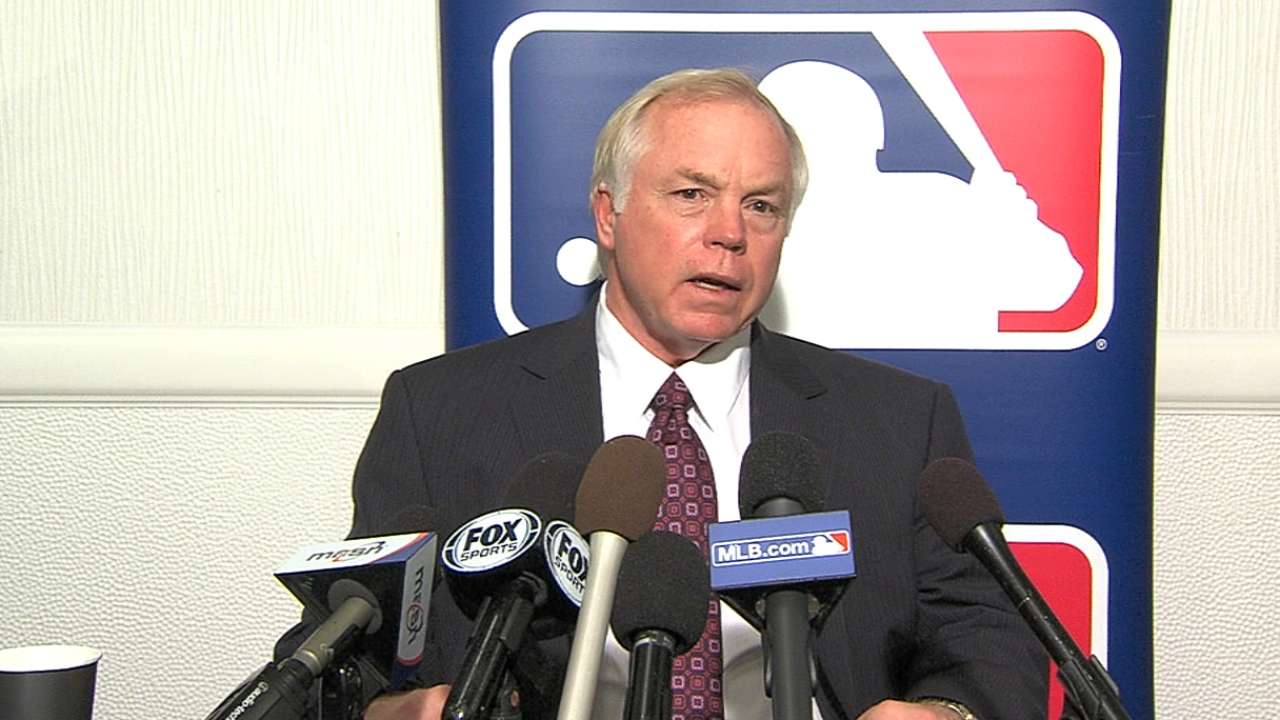 3. How do you fix Ubaldo Jimenez?
Sure, it would be nice to get an ace, but it's not Baltimore's plan this offseason. However, if the club can fix Jimenez, who had a dismal 2014, it would strengthen the top of the rotation. Jimenez has shown flashes of brilliance, but hasn't put it together since arriving in Baltimore. He's got a shot to make up for that in 2015.
2. Will the rotation continue to improve?
It's not just Jimenez who could help launch the Orioles to the top of the division. The club feels as if its starters, who are all returning, could take another step forward. Pitching coach Dave Wallace and bullpen coach Dom Chiti did an excellent job in their first year with a rotation that wasn't expected to do much.
1. Can the Orioles defend their AL East title?
The question of all questions, of course, is can Baltimore continue its success? The Orioles' depth will once again be tested over a 162-game grind and they will need players to step up just like they had in 2014. There are expectations now in Baltimore and the O's found out firsthand in 2013 what it feels like to fall short of them.
Brittany Ghiroli is a reporter for MLB.com. Read her blog, Britt's Bird Watch, and follow her on Facebook and Twitter @britt_ghiroli. This story was not subject to the approval of Major League Baseball or its clubs.