MLB.com Columnist
Bill Ladson
Nationals built for return to playoffs in 2015
Strong rotation will be club's cornerstone, but health is key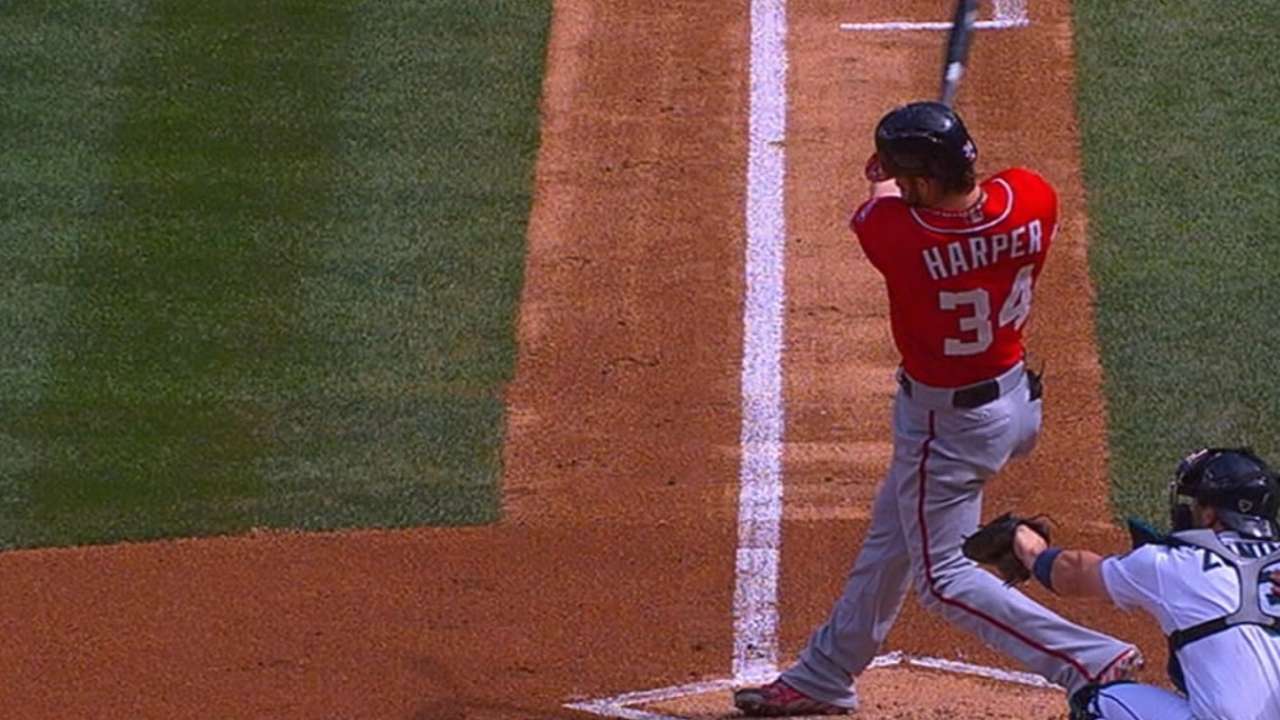 WASHINGTON -- On paper, the Nationals look unbeatable. They have an outstanding rotation led by Jordan Zimmermann and Stephen Strasburg. With the exception of second base, the starting lineup is expected to give opposing pitchers problems.
But the 2015 season is still a ways off, and the Nationals still have some questions. With that in mind, here are the seven most important issues facing the Nationals heading into '15:
1. Are the Nationals good enough to win their third National League East title in four years?
Yes. The Nationals' rotation is still intact and their starting eight is above average. But it's going to be harder than last year. The team's biggest competition will be the Marlins. Besides signing Giancarlo Stanton long term, Miami acquired Martin Prado, Dee Gordon and Michael Morse, and that means the Marlins' offense is significantly better than last year. Don't forget that right-hander Jose Fernandez is expected back sometime during the season after missing a year because of Tommy John surgery.
2. The Nationals have five major free agents -- Zimmermann, Doug Fister, Ian Desmond, Tyler Clippard and Denard Span -- after the 2015 season. Will they be able to sign them all to extensions?
No. Clippard wants to become a closer in the future, and it looks like that is not going to happen with the Nationals. There is still talk of Clippard being traded before the season starts. The Nationals are listening to trade offers for Zimmermann and Desmond. Zimmermann, who is clearly the team's best pitcher, said he wants to be paid fairly, while Desmond turned down a contract that was worth over $100 million. Fister didn't talk much about his contract situation at NatsFest. He kept saying how much he enjoyed wearing a Nationals uniform and loves playing at Nationals Park. Span's tenure will depend on outfielder Michael Taylor. If he can cut down on his strikeouts and have a solid year with Triple-A Syracuse, Taylor will be the Nationals' center fielder in 2016, and Span will be on his way out.
3. Who will be the everyday second baseman for the Nationals?
It's anyone's guess at this point. It seems hard to believe that Danny Espinosa will occupy the role because he strikes out too much. And while there is talk about having him hit right-handed exclusively, both Espinosa and the team have been tight-lipped about the plans for him in the batter's box. Asdrubal Cabrera -- the everyday second baseman in 2014 -- is set to join the Rays. That deal might make Tampa Bay infielder/outfielder Ben Zobrist a target for the Nationals, but Washington's problems at second base may not be solved until close to Opening Day.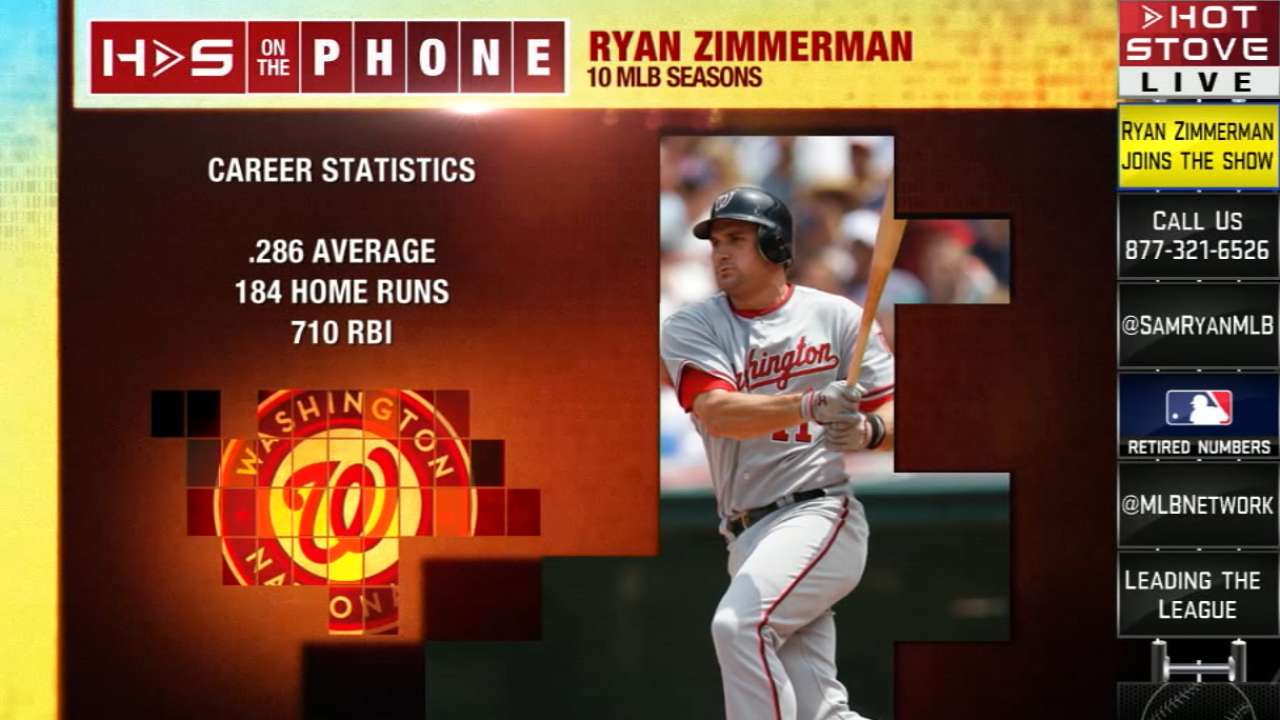 4. How will Ryan Zimmerman do at first base?
Zimmerman has only played a few innings at first base and will be replacing Adam LaRoche, who played Gold Glove-caliber defense at the position. Given how Zimmerman made the transition from third base to left field last year, one can't help but think that he will be successful at first. Zimmerman is a guy who takes pride in his defense and should be above average at his new position.
5. Which player will have a career year for the Nationals?
Bryce Harper missed a lot of time last year because of a thumb injury, but thrived in the postseason by hitting .294 with three home runs against the Giants. As long as he's healthy in 2015, Harper will be one of Washington's most productive hitters. By watching Harper in the postseason, it's clear he wants to guide the Nationals to a World Series title this coming season.
6. What is the key to success for the Nationals?
They have to stay healthy. Last year, they lost major players such as Harper, Zimmerman and Wilson Ramos to major injuries, but they still managed to win the division by a wide margin. It helped that manager Matt Williams didn't rely on the three-run homer. Williams was willing to advance runners by playing small ball.
7. What area do the Nationals need to improve on?
The Nationals haven't had a productive bench since 2012, when their pinch-hitters hit .288 with four home runs and 26 RBIs. Last year, those numbers slipped to a .144 batting average, five home runs and 18 RBIs. The signing of veteran infielder Ian Stewart to a Minor League deal could help address those shortcomings. Kevin Frandsen was clearly Washington's best player off the bench this past season, hitting .259 with a home run and 17 RBIs. After Frandsen, the bench wasn't productive. According to Frandsen, there is one way to help the bench get better in 2015 without a transaction.
"You give [the regulars] a little more rest," he said. "A couple of times last year, [the bench] went a few weeks went without a start, and it's tough. But at the same time, that's what I signed here for. I signed here to be a utility guy, to get that pinch-hit, to get that one start. That's part of the job."
Bill Ladson is a reporter for MLB.com and writes an MLBlog, All Nats All the Time. He also can be found on Twitter @WashingNats. This story was not subject to the approval of Major League Baseball or its clubs.