New-look Padres set sights on winning now
Dramatic overhaul finally gives Black an offense to work with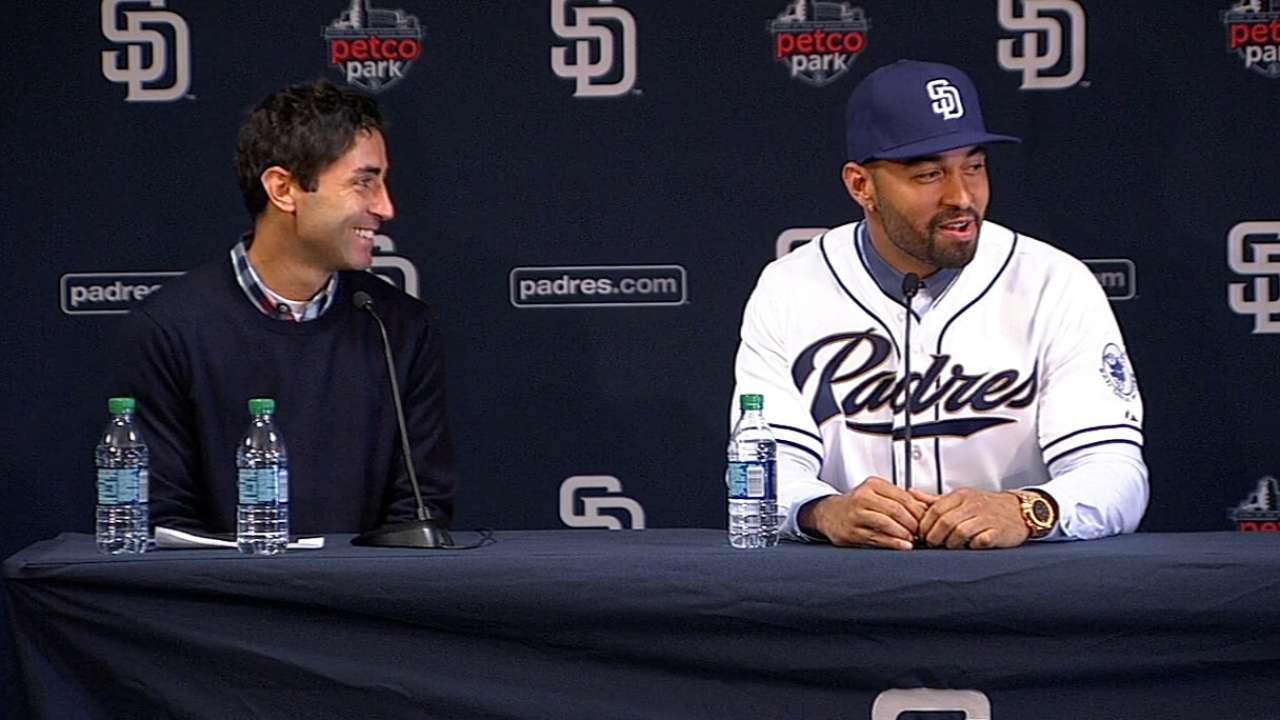 SAN DIEGO -- Chances are as you're reading this, Padres' first-year general manager A.J. Preller is holed-up in a conference room with other members of the front office, looking for ways to improve the team, looking for ways to revamp a roster that already looks little like the one that ended the 2014 season.
He's already been plenty busy, landing some notable players in a flurry of offseason deals.
Yes, these are certainly different times for the Padres, who have, apparently, grown tired of watching others run off with the division and make the postseason. The Padres haven't been to the postseason since 2006.
Is that about to change?
That remains to be seen, but Preller's moves this offseason reflect a win-now approach, though with the caveat of landing several offensive upgrades under team control -- outfielders Matt Kemp, Wil Myers, catcher Derek Norris and third baseman Will Middlebrooks.
The team also added former Braves slugger Justin Upton, who will be a free agent following the season.
While the Padres are certainly optimistic they will finish better than they did in 2014, they, like the other 29 teams in Major League Baseball, enter a new year with their share of questions. Here they are (in no particular order):
1. Will these guys finally score some runs? The additions of Kemp, Upton and Myers alone, with some semblance of bounceback years from a handful of others, should improve the offense.
Kemp is a legitimate middle-of-the-order bat and Myers' pedigree in the Minor Leagues and his ability to drive the ball to all fields will be fun to watch for Padres fans. Upton has right-handed pull power. Norris kills lefties. But it will take a collective effort to lift the offense.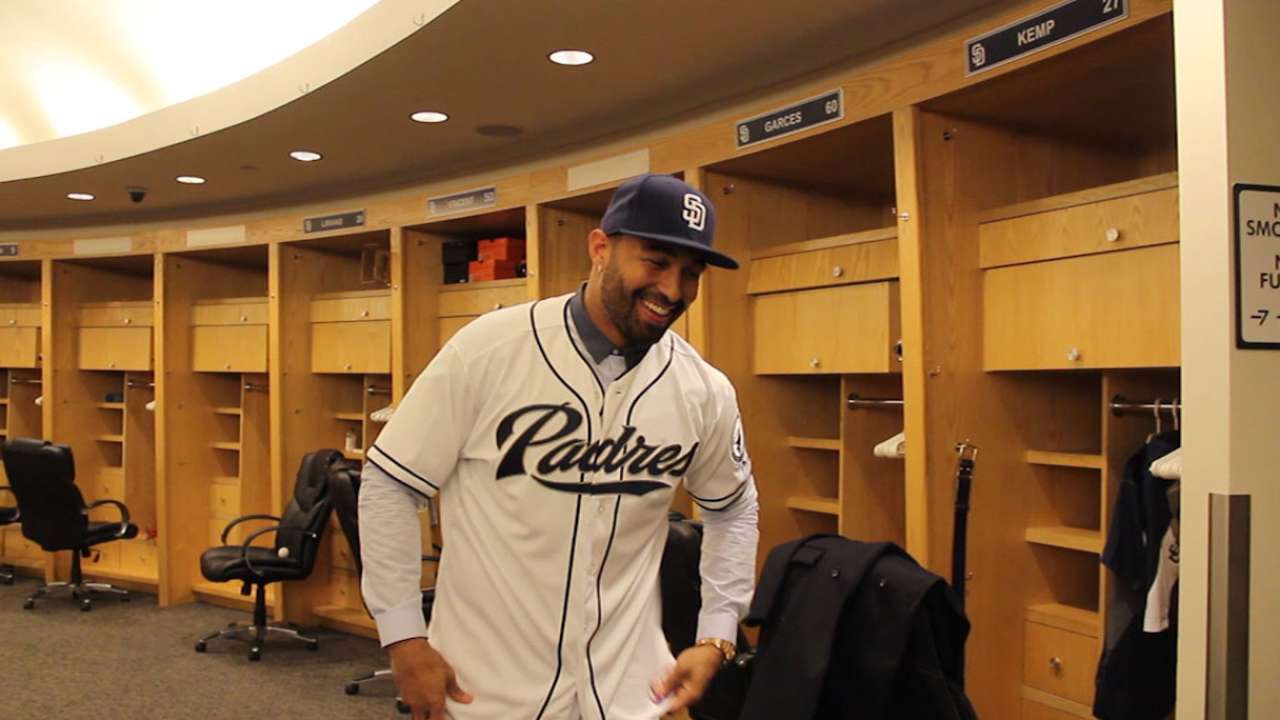 2. OK, but will these guys ever make the playoffs again? Preller seems to think so. His mentality is win-now, even if the roster he inherited was nowhere near ready for that. It's a lot closer to it today. His moves thus far this winter have reflected an attitude that he feels the team can compete in the NL West right now.
The new-look Dodgers certainly won't look like the team that won 94 games a year ago -- for better or worse. The Giants won 88 games and caught fire in the playoffs and, well, we're all aware of how that ended. Could the Padres make a serious push toward the postseason? That largely depends on what Preller does before Opening Day -- and then how this new-look team performs.
3. What kind of influence will new hitting coach Mark Kotsay have? Kotsay became the eighth hitting coach the Padres have had since Petco Park opened in 2004, though the ballpark certainly can't be blamed (nor is it as cavernous as when it opened).
Only two years removed from playing, Kotsay offers an immediate connection to hitters. Don't discount that. He'll also hit the ground running, offering more in the way of on-field work and drills early during Spring Training, fundamental and live-arm drills. How much will it matter? Ask again in September.
This much is certain, though, he's got a lot of nice new players to work with.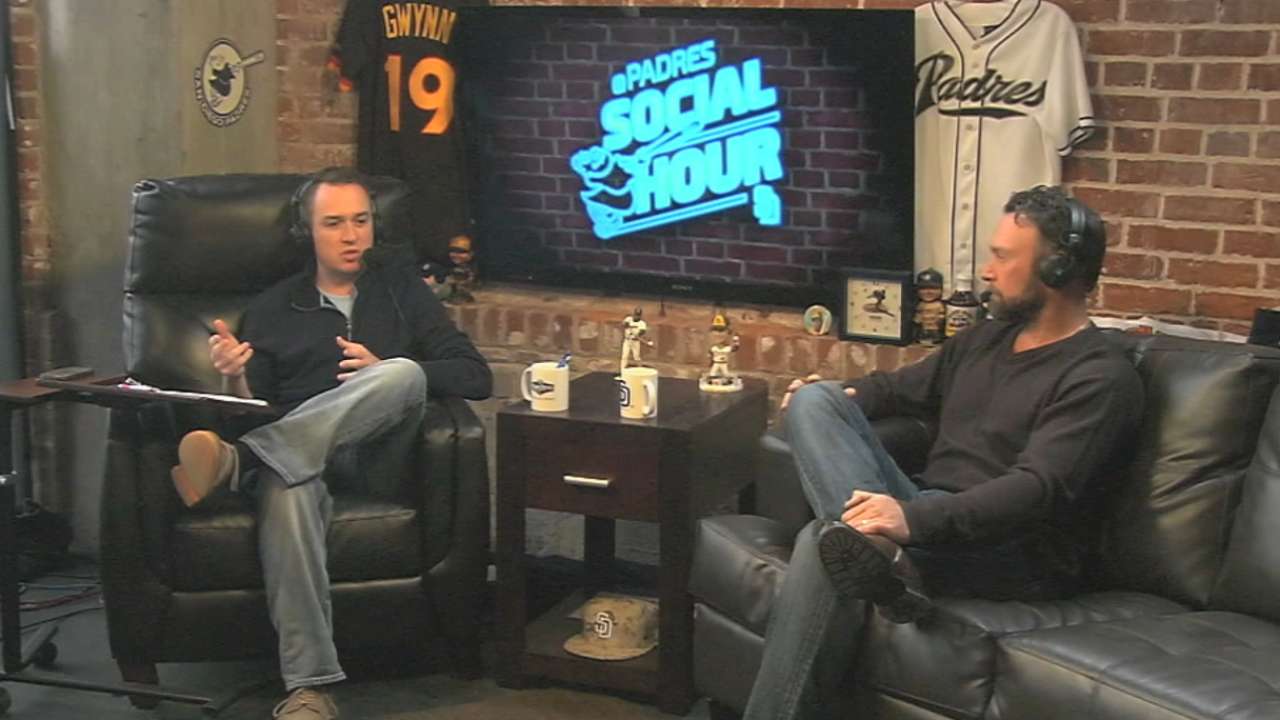 4. What took the club so long to give Bud Black some offense? Good question. Let's face it: This has long been a franchise built around run prevention -- pitch it, pick it and score enough runs to make it all work. But the truth is, the Padres haven't been able to score enough to make it all work.
Black hasn't had many impact position players come through the system during his first eight seasons as manager, with Chase Headley probably rating closest. Free agent additions, when they have occurred, haven't fared well, either -- Tadahito Iguchi, anyone?
The additions of Kemp, Upton and Myers give the Padres three formidable bats to build around, with possibly a few more offensive upgrades on the way, as ownership has signed off on giving Preller both financial flexibility and its blessing in terms of moving prospects for win-now pieces.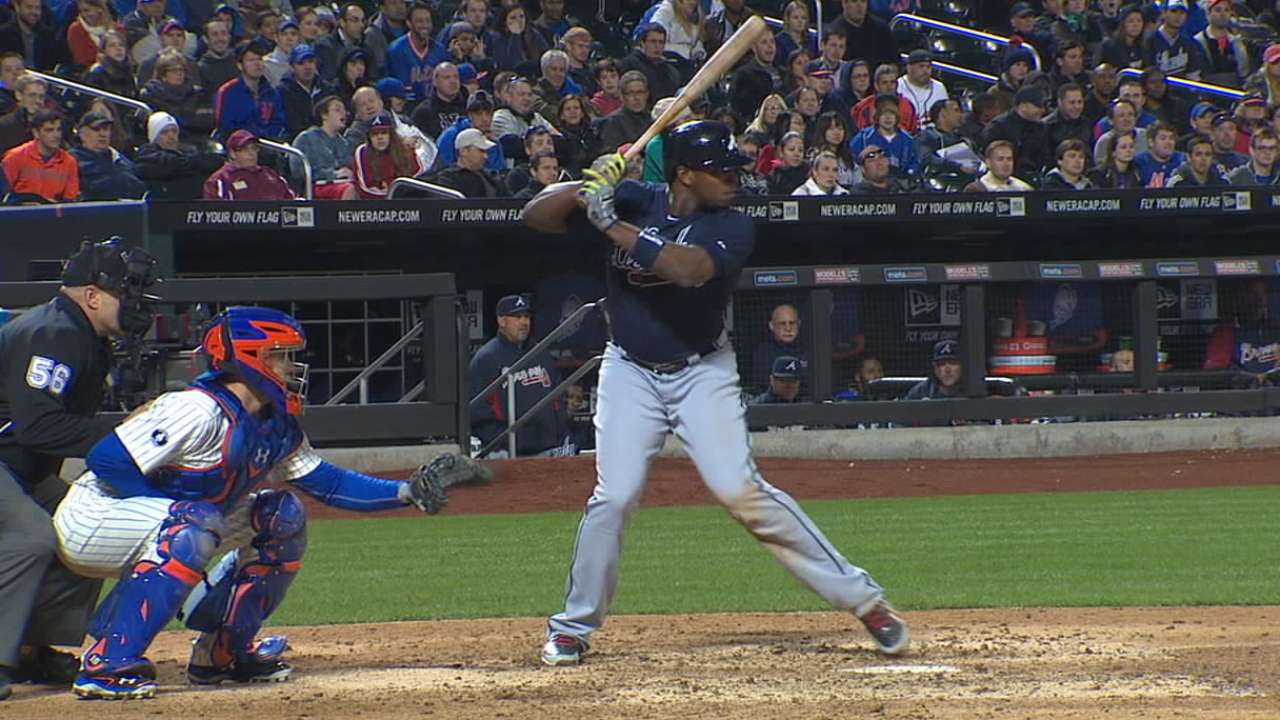 5. What's next for Tyson Ross and Andrew Cashner? Ross took a big step forward in 2014, not only making his first NL All-Star team but establishing himself as one of the top starters in the league. His slider continues to be a weapon but look for his sinker usage to increase as that's a pitch that can lead to outs earlier in counts. The sky really is the limit with him.
For Cashner, the key is going through a full season healthy. He landed on the disabled list twice a year ago but was dominant when he was on the mound, as evidenced by two shutouts. He's reliant on his fastball and slider, both good pitches for him. Another good sign: His walk rate continues to drop. His challenge is to make 30-plus starts for the first time in his career.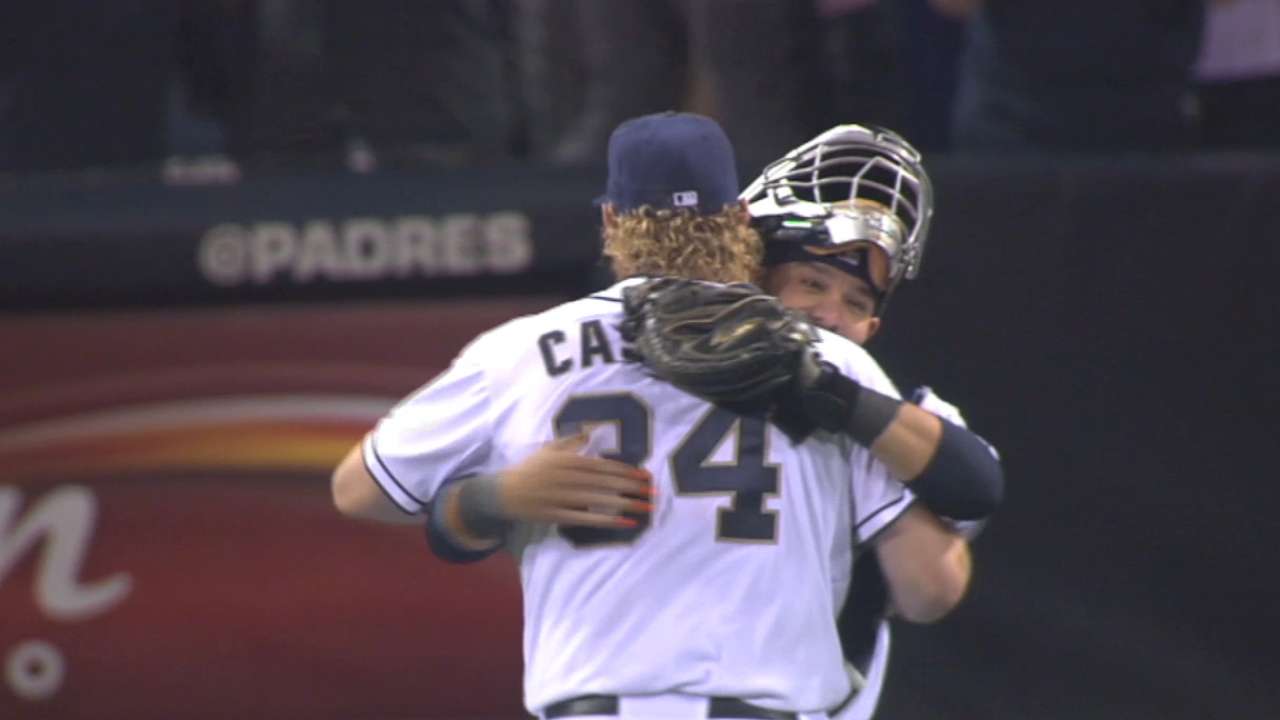 6. Who pegs as the best 'bounceback' candidate on the team? Second baseman Jedd Gyorko's sophomore season in the big leagues fell short of what he or the team expected. He signed a five-year contract extension in April and then scuffled offensively, while playing with plantar fasciitis in his left foot. The injury eventually cost him nearly two months on the disabled list.
Even while Gyorko was on the disabled list, Black and the coaching staff maintained they had no long-term concerns about his ability to produce at the big league level. After he returned in July, Gyorko hit .260/.347/.398 the rest of the way with five home runs and 12 doubles in 196 at-bats.
7. We know Benoit will close, but how will the rest of the bullpen look? Long a strength of the team, the Padres' bullpen figures once again to be formidable in 2015, especially with the recent additions of Shawn Kelley and Brandon Maurer in trades with the Yankees and Mariners.
Joaquin Benoit will return on the final year of his deal to close games with Kelley likely setting him up. Maurer, who has also started, figures to pitch late in games as well, along with Kevin Quackenbush, Nick Vincent and Dale Thayer. Lefty Alex Torres needs to cut down on his 5.50 walks-per-nine inning rate.
8. Who hits leadoff? The Padres, as we know by now, had all sorts of offensive issues a year ago so worrying about who hits at the top of the order might not be the most pressing concern. That said, a repeat of a .292 on-base percentage out of the leadoff spot won't likely inspire much hope -- or lead to many victories.
Before their mid-December flurry of additions, Black mentioned Will Venable as well as Yangervis Solarte as candidates. But if those two are not in the everyday lineup, who hits first? Here's a wild thought: How about catcher Norris, who had a .361 on-base percentage a year ago. Or, it's quite possibly, Preller could still add a leadoff hitter.
9. What about the back end of the rotation? The Padres have some options heading into 2015 -- which is important, as this franchise knows, because injuries can waylay even the best-laid plans and you can find yourself turning to Jeff Suppan in April.
After Cashner, Ross and Kennedy, the addition of Brandon Morrow gives the Padres experience and also a potential bounceback candidate. The team certainly liked what it saw from Odrisamer Despaigne a year ago and he will be given a chance to win a spot in the rotation. Lefty Robbie Erlin and rookie Matt Wisler could make a push for rotation jobs as well. Josh Johnson and Cory Luebke, each returning from Tommy John surgery, could join the mix at some point.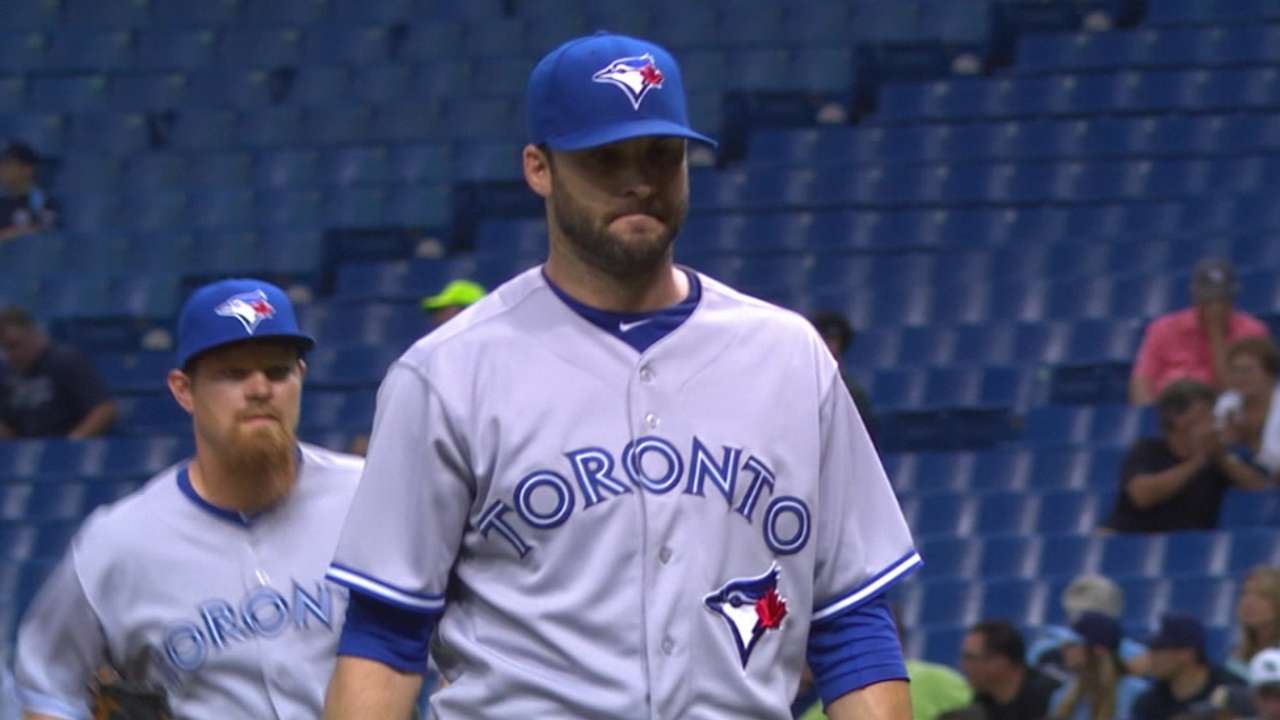 10. How will the catching situation look? Boy, will this position look dramatically different than a year ago when the team opened the season with Nick Hundley, Yasmani Grandal and Rene Rivera. All three of them are now gone following trades.
Norris will get the bulk of the catching duties with Tim Federowicz, obtained from the Dodgers, likely serving as the backup.
Corey Brock is a reporter for MLB.com. Keep track of @FollowThePadres on Twitter. This story was not subject to the approval of Major League Baseball or its clubs.