With series of tweaks, Halos look to surpass '14 success
Angels also hoping for Hamilton resurgence, continued excellence from Trout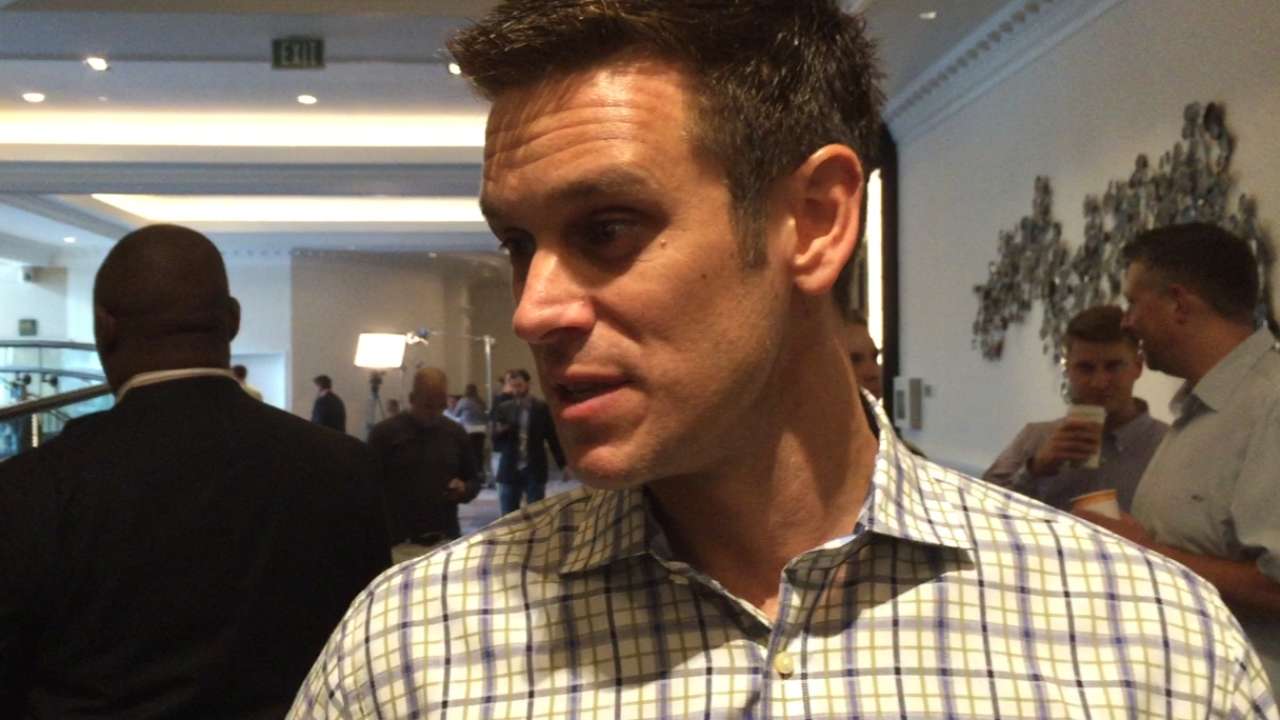 ANAHEIM -- It's fair to say Jerry Dipoto isn't a firm believer in the status quo.
Moments after a 98-win season ended with an American League Division Series sweep at the hands of the Royals, the Angels' general manager talked about how his club is merely "tweaks and turns from being a very good team again."
Then Dipoto traded away the Angels' homegrown second baseman (Howie Kendrick), reliever (Kevin Jepsen) and catcher (Hank Conger), acquired two young starting pitchers (Andrew Heaney and Nick Tropeano), picked up two left-handed bats (Matt Joyce and Marc Krauss), added a veteran lefty reliever (Cesar Ramos), gained three middle infielders (Roberto Baldoquin, Josh Rutledge and Taylor Featherston) and got a couple of backup catchers (Drew Butera and Carlos Perez).
The result was more payroll flexibility and a team Dipoto believes has more sustainability, but also a fresh batch of questions heading into the new year.
Below are the 10 most pressing issues for the 2015 Angels.
10. How do they fill the Jepsen void?
Jepsen, dealt to the Rays for outfielder Joyce on Dec. 16, was the Angels' third-most-important reliever in 2014. No big deal? Twenty-five of the 30 teams had at least three relievers appear in 60 or more games last season, which points to the importance of bullpen depth in this era. The good news is the Angels have a lot of that (at least perceivably so). The 23-year-old Mike Morin figures to get the first crack at the seventh inning, but the likes of Fernando Salas, Vinnie Pestano, Cory Rasmus and Ramos are fallbacks.
9. What's the future at third base, catcher and closer?
Payroll flexibility is important for the Angels, and it isn't just about this winter. Next offseason, their closer (Huston Street), third baseman (David Freese) and catcher (Chris Iannetta) are all slated for free agency, while five of their players (Albert Pujols, Josh Hamilton, Mike Trout, Jered Weaver and C.J. Wilson) will make up 55.9 percent of the luxury-tax threshold. The Angels are expected to negotiate a contract extension with Street in Spring Training, but are also expected to let Freese and Iannetta play through their walk years, which could lead the Halos to free agency to fill two traditionally thin positions.
8. What will Pujols provide?
Pujols may not have been as dominant as he was in his St. Louis days, but his 2014 season -- a .272/.324/.466 slash line, 28 homers, 105 RBIs, Gold Glove-caliber defense at first base and no trips to the disabled list -- is one the Angels will gladly take again. Pujols, meanwhile, believes he can be better, because this is the offseason he can finally re-strengthen the right knee on which he had arthroscopic surgery in November 2012. He turns 35 on Jan. 16, with $189 million owed to him over the next seven years. How many of those will be above-average ones?
7. How much will they miss Kendrick?
The Angels don't expect to replicate Kendrick's production with one player, but they're hopeful they can do it by committee. If Hamilton can get right and Freese can stretch his last four months (.768 OPS) over a full season, they'll be in good shape. They also expect to get more production out of the designated-hitter role, with the left-handed-hitting Joyce getting most of the at-bats and the right-handed-hitting C.J. Cron potentially seeing time against lefties. And if Mike Scioscia can find a suitable No. 2 hitter, Trout may move into the prominent No. 3 spot.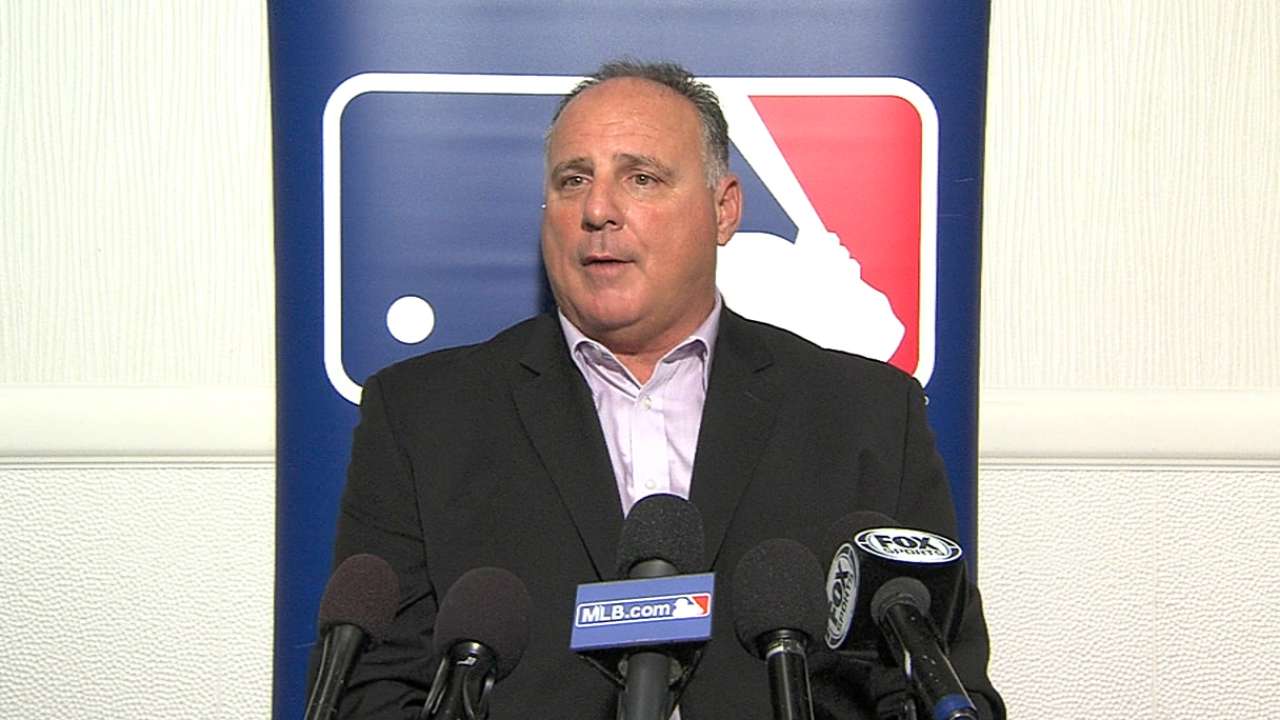 6. Can Garrett Richards be the same guy post-knee surgery?
It's certainly preferable to a shoulder or an elbow injury, but there aren't many pitchers who have rehabbed a torn patellar tendon on their landing leg, so Richards' return from left knee surgery will certainly be one to monitor. The 26-year-old right-hander -- coming off posting a 2.61 ERA, a 1.04 WHIP and a 3.22 strikeout-to-walk ratio in 26 starts -- began throwing in early December, will start running right after the new year and expects to be a full participant in Spring Training. But the Angels will bring him along slowly.
5. How good will the rotation be?
A lot of that will hinge on the aforementioned question, but it will also depend on what Weaver can do in his age-32 season, how Wilson bounces back from his worst season as a starting pitcher, how Matt Shoemaker builds on a rookie season nobody saw coming and what the two newcomers, Heaney and Tropeano, can provide. The Angels' rotation is not flashy, but it's much deeper than it's been the last couple years, with at least seven starters -- Hector Santiago included -- ready to contribute in the Majors.
4. How does Trout follow up an MVP Award?
Trout led the Majors in Wins Above Replacement for the third straight year, belted a career high 36 home runs, drove in an AL-leading 111 runs, posted a .287/.377/.561 slash line and won the AL's Most Valuable Player Award unanimously. There's no reason to believe Trout won't be elite again in 2015, officially his age-23 season and the first of his six-year, $144.5 million extension. But will he cut down his strikeouts after punching out an AL-leading 184 times last season? And will he steal more bases after that total dropped to 16 in 2014?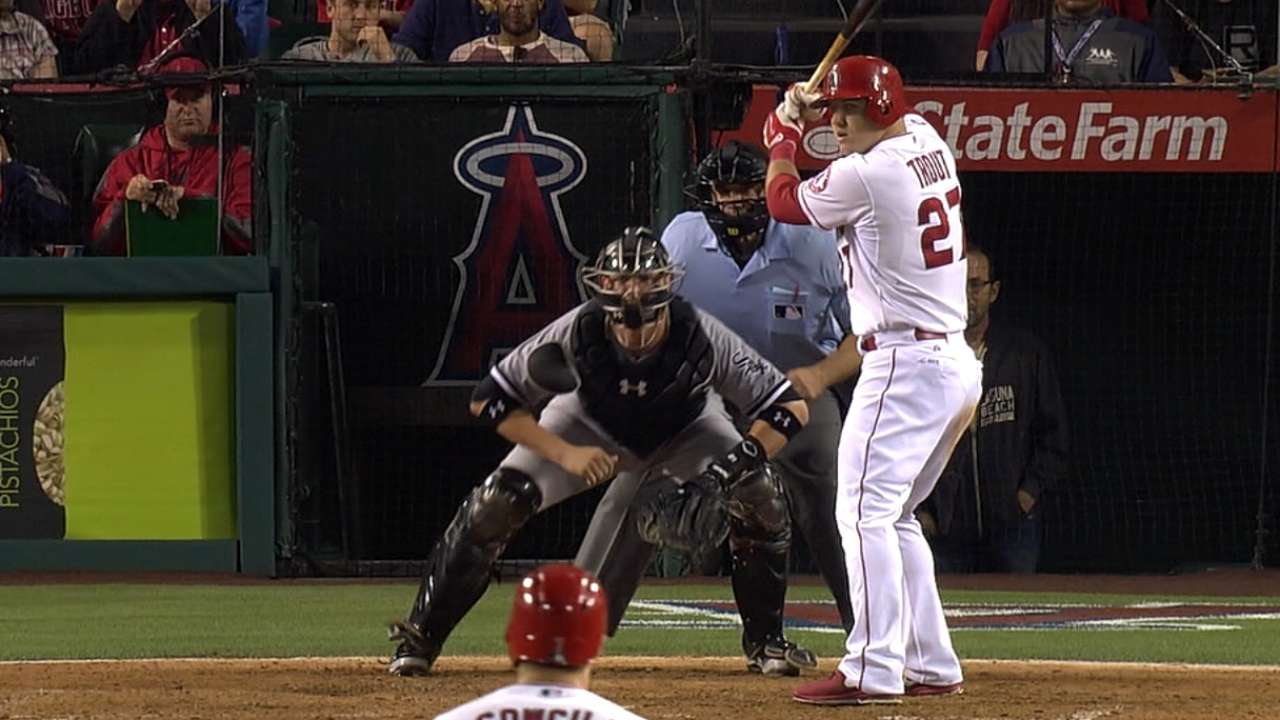 3. What becomes of Hamilton?
You can call 2015 a make-or-break year for Hamilton without being overly dramatic. He's posted an underwhelming .255/.316/.426 slash line in his first two years with the Angels, striking out 266 times in 240 games. He couldn't produce in 2013, couldn't stay healthy in 2014, and now Hamilton heads into his age-34 season and the third of a five-year, $125 million contract. The Angels need to start seeing some results. If not, they may decide it's simply best to cut ties.
2. Will the Angels find a more permanent home?
Frustrated over a lack of progress with a deal that was basically agreed upon a year earlier, the Angels ended lease negotiations with the city of Anaheim in late September. The team was still open to negotiating with Anaheim officials when it walked away from the deal, but continued to talk with other cities about building a new ballpark, most notably Tustin. The Angels, who feel their 48-year-old ballpark needs a major refurbishing in order to remain sustainable, can opt out of their stadium lease between 2016 and '19. If they don't, their current lease extends through 2029. This coming year will be an important one with regards to finding a long-term solution.
1. Can they take it a step further?
As in, more than three postseason games. Look, sometimes a postseason series doesn't say much besides the fact that anything can happen in a three-game sample size. That's the optimist's view of the Angels getting swept out of the ALDS, putting a bitter end to a first-place season. This offseason, Dipoto focused on extending the Angels' window of contention and creating more payroll flexibility. Did he do so at the expense of the 2015 club, or are the Angels primed for a second straight AL West title and, well, a longer October?
Alden Gonzalez is a reporter for MLB.com. Read his blog, Gonzo and "The Show", and follow him on Twitter @Alden_Gonzalez. This story was not subject to the approval of Major League Baseball or its clubs.