Reds still eyeing options for left field
Top target Aoki still available; Padres could trade from outfield glut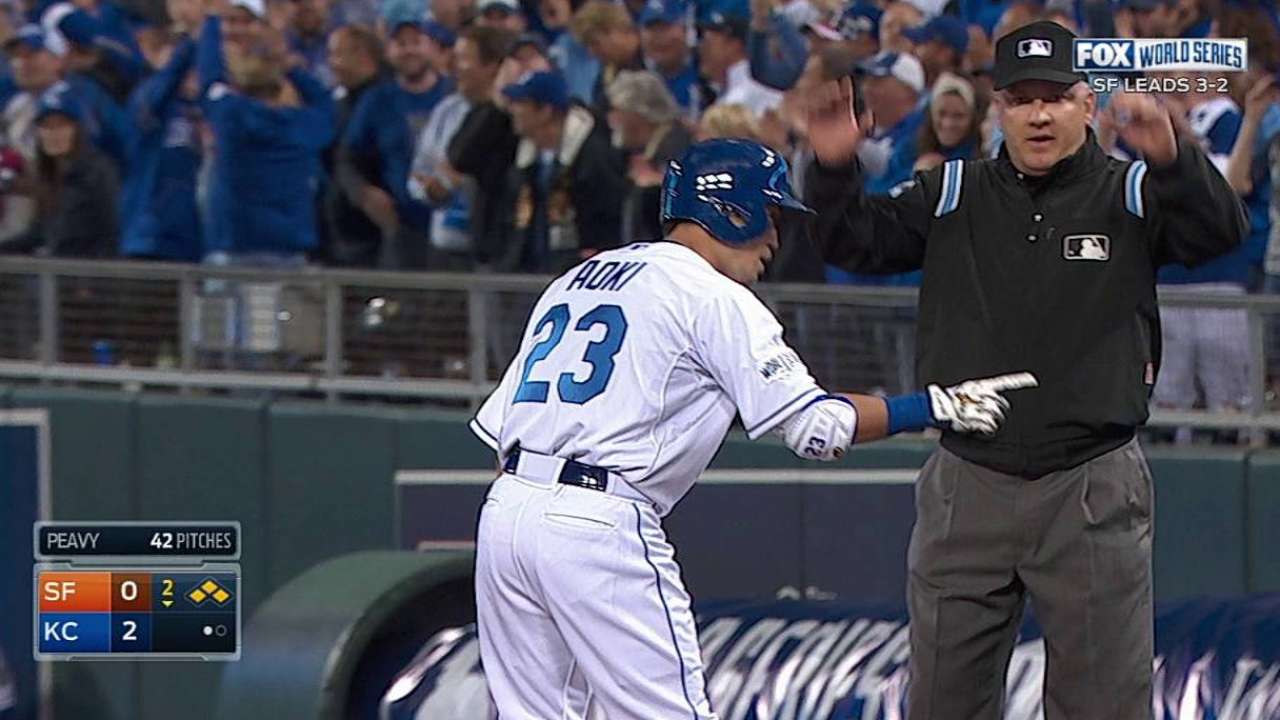 CINCINNATI -- One way or another come April 6, when the 2015 season opens vs. the Pirates, the Reds will have someone standing in left field when the first pitch is delivered at Great American Ball Park.
Who that player shall be, and whether or not he will be a lineup difference maker, remains a very fluid situation.
Outfielders the Reds targeted, and others they haven't, have come off the board since the Winter Meetings wrapped Dec. 11. Michael Morse signed a two-year, $16 million contract with the Marlins. Alex Rios signed a one-year, $11 million deal with the Royals, and Melky Cabrera got three years and $42 million from the White Sox.
Via trades, Matt Kemp, Justin Upton and Wil Myers were all acquired by the Padres amid a flurry of moves that revamped their outfield.
On Dec. 11, just before leaving the Meetings, the Reds traded away starting pitchers Mat Latos and Alfredo Simon to free up payroll space to add a left fielder and reliever. It's been quiet since.
Still available is one player the Reds have been eyeing since the market opened for business -- Nori Aoki. Others include Colby Rasmus, Ichiro Suzuki, Chris Denorfia and Delmon Young.
The Padres could be interesting trade partners, seeing that they now have a glut of outfielders. Seth Smith brings the on-base percentage Cincinnati craves after he batted .266/.367/.440 with 12 home runs and 48 RBIs in 136 games last season. He had a 3.9 wins above replacement number. Lifetime for three clubs, the 32-year-old is a .265 hitter with a .347 OBP.
In July, Smith signed a two-year extension worth $13 million, with a club option for 2017. He will make $6 million in '15 and $6.75 million in '16. The club holds a $7 million option for '17, with a $250,000 buyout.
Cameron Maybin, who will be 28 in April, has been oft-injured for San Diego. Maybin played only 95 games last season after being limited to 14 games in 2013. He batted .235/.290/.331 with one homer and 15 RBIs in '14.
Under the five-year, $25 million contract Maybin signed in 2012, he is due $7 million in 2015 and $8 million in '16. There's a $9 million club option for 2017 that includes a $1 million buyout.
Both players would be affordable for the Reds, especially after moving the two pitchers and outfielder Chris Heisey off the payroll this month. Without a move, the Reds currently have Skip Schumaker, Donald Lutz, Jason Bourgeois and Kristopher Negron that can play left field. Brennan Boesch will also be in camp after he signed a Minor League contract in November.
During the Winter Meetings, manager Bryan Price said he was not getting antsy over not knowing whom his left fielder would be.
"I'm not, only because we need to be ready by Opening Day of 2015. So I can be patient," Price said Dec. 8. "I'm comfortable with letting it kind of move along at the pace it's going."
Mark Sheldon is a reporter for MLB.com. Read his blog, Mark My Word, and follow him on Twitter @m_sheldon. This story was not subject to the approval of Major League Baseball or its clubs.