Tigers may look in-house for bullpen answer
Getting more out of Krol could shore up relief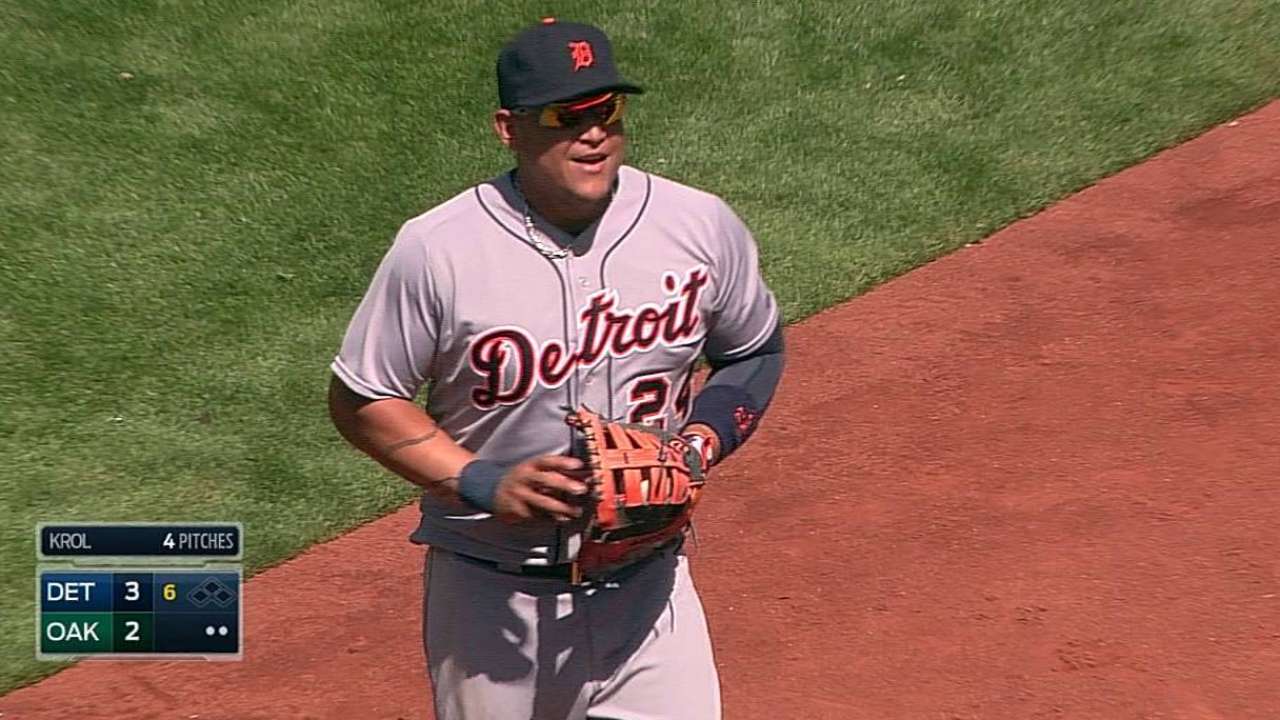 DETROIT -- The close of the holiday season usually changes the outlook on the free-agent pitching market. Yet with the calendar about to turn, the Tigers' best answer to their biggest remaining need in 2015 might well be their answer to lefty relief in 2014.
In other words, even if the Tigers add an arm or two, their best chance to shore up their bullpen might be to find a way to get more out of Ian Krol.
He not only opened the season in Detroit's bullpen, he was its most frequently used part for the first two months of the season. A few months later, he wasn't even a September callup, left at Triple-A Toledo.
He still has a gifted arm -- one that spent two weeks on the disabled list at midseason for fatigue, but did not have a major injury. The challenge for Detroit is taking advantage of the talent over a full season.
"We like him a lot," team president/general manager Dave Dombrowski said. "We think he has the chance to be a good Major League pitcher."
As of now, he's the only player left in the Tigers system from the Doug Fister trade with Washington last offseason.
Krol's 2014 season split into two parts. For his first 31 outings, the 23-year-old allowed five runs on 22 hits over 22 innings, walking six and striking out 16. He stranded 13 of 21 inherited baserunners, and he racked up 10 holds in 11 chances.
Those 31 outings, however, took place over Detroit's first 60 games. He ranks among the AL leaders in games pitched without having pitched a full season in the Majors.
That seemingly set up what followed. Krol gave up seven runs on eight hits over three innings in his next four outings, then went on the DL. He returned and gave up 10 runs, six earned, on 12 hits over 7 2/3 innings.
Meanwhile, Krol's fastball went from 93.8 mph in April and 94 mph in May to just over 92 mph the rest of the year, according to brooksbaseball.net.
"He never really bounced back the way we hoped, to what we had seen earlier in the season," manager Brad Ausmus said. "I like him. This kid's got a good arm, an explosive arm, when he's right, when he's healthy and when he's attacking hitters.
"And when we didn't call him up in September, I spoke to him, and [pitching coach] Jeff Jones spoke to him: 'We need you do some things a little bit different. We need to see more out of you.'"
Managing the workload will be one key for Krol. Preparation and conditioning will be another.
"I know he's worked hard this winter," Dombrowski said. "We emphasized how important it was for him to work hard, and he has done that."
Those are things a young reliever learns along the way. Krol is learning them now. Even after Detroit's callups last summer, he's the second-youngest pitcher on their 40-man roster. The only one younger is Kyle Ryan, part of his competition next spring.
"He's not a given to be on the team," Ausmus said of Krol. "But if he can turn that corner … I still think this guy can be a really good left-handed reliever."
Jason Beck is a reporter for MLB.com. Read Beck's Blog and follow him on Twitter @beckjason. This story was not subject to the approval of Major League Baseball or its clubs.