MLB.com Columnist
Jonathan Mayo
Inbox: Which recently-traded prospect was the biggest steal?
Jonathan Mayo responds to fans' questions about baseball's top future stars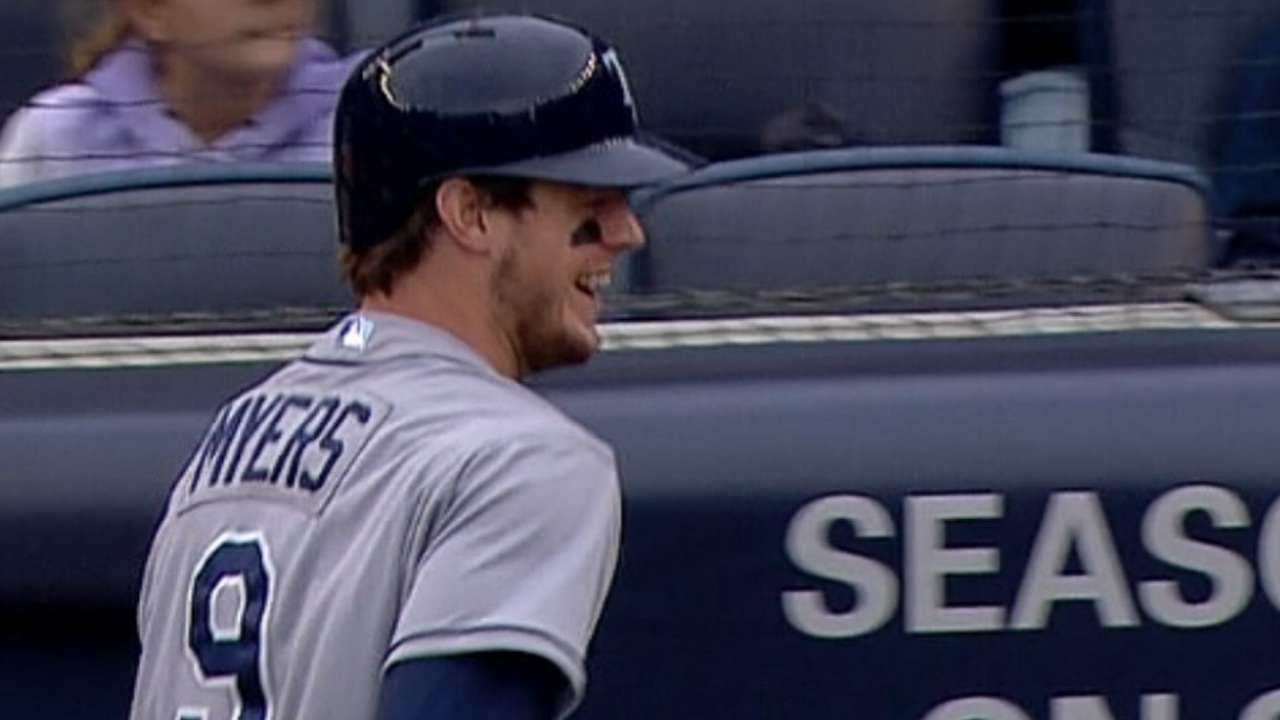 The offseason trading frenzy has been exciting, if a bit dizzying. There might be more yet to come, but for the time being, I figured it made sense to make this week's Inbox all trade-related. Goodness knows, we have enough to talk about.
In five years, which one or two of the recently-traded prospects will we be saying "Wow, what a steal?"
- Terry A., Minneapolis, Minn.
Ahh, the old crystal ball question. That, after all, is what these trades are all about. You can't really evaluate who "won" a trade right after it's announced. Five years from now? Perhaps that picture will be clearer.
The easy answer would be to take the prospects who were the most highly-ranked prospects at the time of the trade. That would mean Andrew Heaney, Max Fried and, eventually, Trea Turner. Of course, you have to look at the return to determine a "steal." The Braves, after all, did give up Justin Upton to get Fried (and others), so even if Fried is an outstanding starter, I'm not sure that qualifies as highway robbery.
The Angels received Heaney in return for Howie Kendrick. I'm a fan of both, actually, though I'm a believer that Heaney is going to end up as a very good starter, maybe even a No. 2 type, so he's in the conversation here.
Click here to submit an Inbox question
That leaves Turner from the Top 100 players dealt lately. And it's a good place to stop. In that three-team, 11-player deal that netted the Padres Wil Myers, the Nationals will get Joe Ross, a solid pitching prospect, and Turner, the eventual player to be named, once he's allowed to be traded in June. Washington had to part with Steven Souza and a lower-level Minor Leaguer in Travis Ott to get that pair. Souza's a solid player, and the Rays feel he'll be an every day contributor in the outfield, but that's the one part of any deal thus far that smells like a steal, with Ross having a chance to be a big league workhorse and Turner looking like a leadoff-type catalyst with plus speed, one who can stick at shortstop.
What is the upside of the two pitchers, Anthony DeSclafani and Jonathon Crawford, the Reds received via trade?
- Glenn M., Edgewood, Ky.
The Reds got DeSclafani in the Mat Latos trade with the Marlins, while Crawford arrived from the Tigers in the Alfredo Simon deal. Both have similar upsides as members of a Major League rotation, though they come at it somewhat differently.
DeSclafani, now at No. 5 on the Reds' Top 20, has a slightly better feel for pitching than Crawford, who is right behind him at No. 6. He has plenty of stuff, with a solid fastball-slider combination. His changeup lags behind a bit, but it's a usable third weapon, and all of his stuff plays up because of his outstanding control.
Crawford, on the other hand, has more fastball than DeSclafini and a similar breaking ball. His changeup is clearly his third best pitch as well. But his command is not as good as DeSclafini's. When I say their upsides are similar, I mean to say that both have about the same chance of sticking in a rotation. Crawford might have the higher ceiling. If everything clicks for him, he could pitch at the front of a rotation. But there's also the chance it doesn't click and he becomes a high-octane late-inning reliever. DeSclafini's floor is higher, meaning he has a better chance of sticking as a starter, but even if everything comes together, he doesn't quite profile as a frontline guy.
What prospect package would the Cubs likely have to give up to get Evan Longoria?
- Mike V.,Lewiston, Me.
Why would the Cubs want Evan Longoria when Kris Bryant is coming?
- Port Colborne, Ont.
With all of the trades that have already taken place, it's hard to believe there are still rumors out there. The one about Longoria being shopped by the Rays is still just that, a rumor, and there isn't even enough smoke to figure there's a fire somewhere.
That said, it's fun to play the conjecture game, and people were interested in the potential Longoria to the Cubs deal, what with the Joe Maddon tie and all. I'm going to take the second question first.
The short answer is that if you're trying to win now, any time you think you can make your big league roster better, you look at it. Yes, Bryant appears ready for a shot. Longoria, though, is only 29 and, as superstars go, is relatively inexpensive ($11 million in 2015). If they were to pull the trigger on such a deal, Bryant could be moved to a corner outfield spot, a position he played well during his last year of college. Are the Cubs better with Bryant at third and Chris Coghlan in left? Or does Longoria at third and Bryant in left sound like an upgrade?
Getting Longoria in this fictional trade wouldn't be easy. It would likely take a hefty sum of prospects and, knowing the Rays, they would want at least some of them to be big league ready, or close to it. Let's assume Bryant is off the table, that could mean anyone from Javier Baez to Addison Russell (highly unlikely in my book). Billy McKinney, whom the Cubs got from the A's in the Jeff Samardzija deal, could be of interest to teams. Many think Dan Vogelbach needs to be in the American League, so a package could include him. The Cubs do have a glut of hitting prospects that would allow them to make a tempting offer. That said, I wouldn't hold my breath waiting for it to happen.
The Astros are standing pat on Carlos Correa, right? For the love of Nolan!
- Larry F, Studio City, Calif.
And finally, there are rumors that aren't really rumors. Correa, whose rehab from his broken leg is now complete, hasn't been mentioned in trade rumors. That's for good reason. Currently our No. 2 prospect, I don't want to say he's untouchable - I've been around this game too long to ever say that -- but he's as close to that as a prospect can be. The Astros have worked to rebuild a moribund farm system and it is now bursting with talent. The idea of such a philosophy is to first get impact players to the big leagues. Having depth does help bring in big leaguers when a team is ready to compete, but the Astros are still working toward that. At least for right now, Houston fans should be excited about seeing Correa at Minute Maid Park in about a year.
Jonathan Mayo is a reporter for MLBPipeline.com and writes a blog, B3. Follow @JonathanMayoB3 on Twitter. This story was not subject to the approval of Major League Baseball or its clubs.