MLB.com Columnist
Bernie Pleskoff
Scouting profile: Sean Nolin
Tall lefty is No. 9 on A's Top 20 Prospects list, recently pitched in Fall League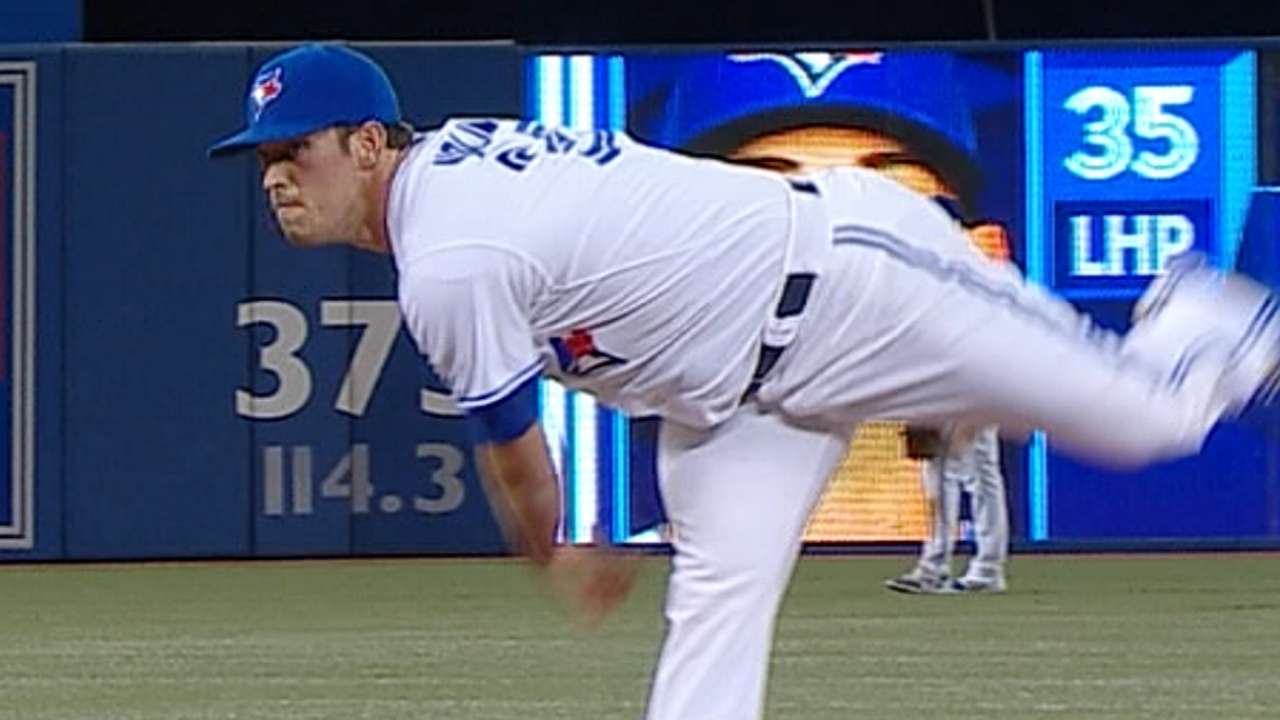 One benefit to pitching or playing in the Arizona Fall League is that scouts and front office personnel from every Major League club are in attendance regularly to evaluate performances. In essence, a player or pitcher may be performing for his own team while getting game-performance exposure in front of every club in baseball.
Starter Sean Nolin recently pitched in the Arizona Fall League. He compiled a 2-1 record with a 4.03 ERA and 1.16 WHIP in seven starts covering 22 1/3 innings pitched. Of most significance in my opinion were his 24 strikeouts against only six walks. The tall, solid lefty showed command, control, mound presence and a deep, consistent repertoire. I saw several of his starts and he rarely disappointed. He didn't flash any one particular "out pitch" but he was able to throw strikes. He wasn't dominating, but he was good. He was reliable. He was consistent, and scouts took note.
Recently, the Oakland Athletics obtained Nolin from the Toronto Blue Jays as part of a package of prospects, including right-handed pitcher Kendall Graveman, young shortstop Franklin Barreto and veteran third baseman Brett Lawrie. In exchange, Toronto received third baseman Josh Donaldson. Nolin is now No. 9 on the Athletics Top 20 Prospects list.
Nolin went to high school in Seaford, N.Y. He was selected by the Milwaukee Brewers in the 2008 First-Year Player Draft but chose instead to attend San Jacinto College North in Houston. He has always been a pitcher, and a good one at that. In 2009, the Seattle Mariners selected Nolin in the Draft, but he again declined to sign. Finally, in 2010 he did sign a professional contract with the Blue Jays after being chosen in the sixth round of the Draft.
Nolin moved efficiently and quickly through the Blue Jays' farm system. He went from the team's Gulf Coast Rookie club to its Class A Short Season Auburn team in his first year. He threw 21 1/3 innings in seven starts, compiling a record of 0-2. His combined ERA was 5.48 and his WHIP was 1.68.
Fortunes turned for Nolin the next season at Class A Lansing. He made 21 starts in 25 appearances and threw to a 3.49 ERA. Progress was evident. He cut his walk rate dramatically to 2.6 per nine innings. He has made consistent and steady progress ever since.
In May 2013, in only his third professional season, Nolin made his Major League debut with the parent Blue Jays. At age 23, he made a replacement start and faced the Baltimore Orioles in Toronto. He faced only 11 batters and left having yielded six earned runs and seven hits in 1 1/3 innings of work. He returned to Double-A New Hampshire, pitched well and was promoted to Triple-A Buffalo to end the season.
This past year Nolin got his second taste of big league pitching. He threw one inning of relief during September roster expansion. The rest of the season he pitched over several classifications throwing 97 innings in 20 starts. He finished the year with an ERA of 3.43 and a 1.21 WHIP.
Nolin is an imposing figure on the mound at 6-foot-4, 230 pounds. He is mature in his approach to sequencing pitches and managing his repertoire. His best offering is his low-90s fastball that he consistently throws for strikes. Getting ahead in counts allows him to mix in his slider, his changeup and his curveball. When I saw him pitch in the AFL, he used a very good fastball/slider combination to set up his other two pitches. His changeup is a high-quality, advanced pitch.
Nolin repeats his delivery very well. I saw little to no change in his arm action between his various pitches. There aren't many times when he has to work out of prolonged trouble. He is able to make the right pitch at the right time to end a rally. He's around the plate most of the time, but strikeouts are not his ultimate goal. Pitching to contact as he does, Nolin is dependent upon good fundamental defense to make plays behind him.
Bernie Pleskoff has served as a professional scout for the Houston Astros and Seattle Mariners. Follow @BerniePleskoff on Twitter. This story was not subject to the approval of Major League Baseball or its clubs.