MLB.com Columnist
Tracy Ringolsby
Bridich taking measured approach to offseason
Rox willing to listen on Tulo, CarGo, but not intent on shakeup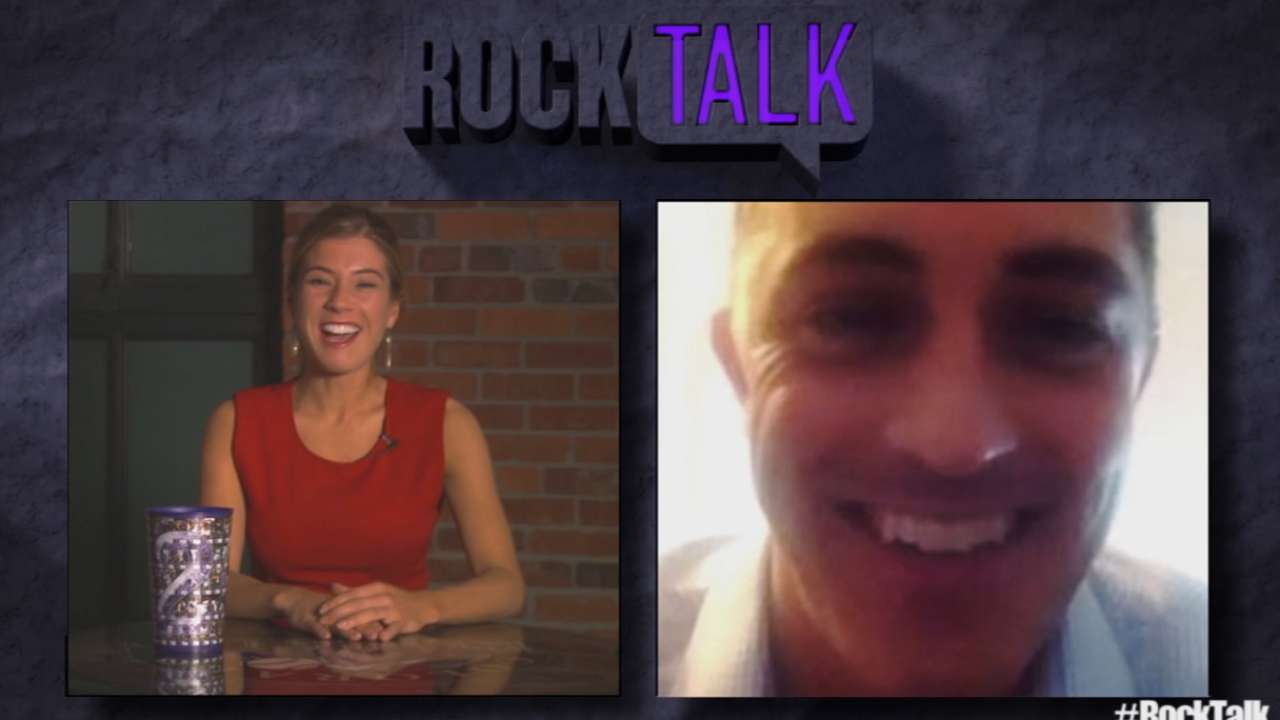 There's temptation for Rockies first-year general manager Jeff Bridich.
He sees the two-time defending NL West champion Dodgers revamping their lineup, improving their defense up the middle and bringing in veteran depth for the rotation.
His old friend, A.J. Preller, the new GM of the Padres, has dealt away 12 players -- many of them high-level prospects -- and has added the impact bats of Wil Myers, Justin Upton and Matt Kemp in hopes of providing a spark for an offense that scored the second-fewest runs of any NL team in a 162-game season in last 40 years.
Even the D-backs have opened eyes with their signing of Cuban slugger Yasmany Tomas, who agreed to the richest contract (six years, $68.5 million) in franchise history.
The Giants haven't done much, but then again, nobody questions what they do, not after seeing them win three of the last five World Series.
And the Rockies? Well, they signed free-agent utility infielder Daniel Descalso and added a couple Minor League arms. They also lost free-agent right fielder Michael Cuddyer to the Mets, reliever Matt Belisle to the Cardinals and left-hander Brett Anderson to the Dodgers.
There's a temptation to shake things up just for the sake of shaking things up.
"When you look at all the activity, it is intriguing and interesting to see," said Bridich.
But there's a reality that any move needs to serve a purpose, not be a knee-jerk reaction.
"I am constantly reminding myself and other people are reminding me that when we had health last year, we had a good team," Bridich said. "It is not our intention from the get-go to give the roster a radical facelift. We are going to stick to our plan."
That doesn't mean the Rockies are unwilling to deal. For the first time, they are showing a willingness to discuss interest other teams may have in Carlos Gonzalez and Troy Tulowitzki, instead of flatly rejecting any overture. And teams like the Mets and A's have kicked the tires.
Those clubs, however, want a bargain. They are looking to buy low on All-Star players who are coming off multiple injury-shortened seasons, but the Rockies aren't looking to simply trim payroll. If the Rockies were to give up one of their core players, they would want value in return.
Colorado is willing to take the chance that last season, when it led the Major Leagues with 26 uses of the disabled list, was an anomaly.
And it wasn't that players were sidelined. It was the players who were sidelined. Every member of the Opening Day lineup, except second baseman DJ LeMahieu and center fielder Charlie Blackmon, spent time on the disabled list.
Projected rotation members Jhoulys Chacin and Tyler Chatwood not only opened the season on the disabled list, but they both made a second trip. By late June, the DL had also been occupied by starting pitchers Anderson, who fractured his left index finger swinging the bat, and Jordan Lyles, who broke his left hand tagging a runner at home plate.
The injuries turned a team that on May 20 was two games out of first place in the NL West into a team that produced the second-worst record in franchise history, losing 16 of 19 games starting May 21 and 76 of their final 116 games of the season.
The season did provide some opportunities and two players, in particular, played themselves into key roles for 2015: left fielder Corey Dickerson and left-handed starter Tyler Matzek, the former first-round Draft pick who last year showed he's not intimidated by Coors Field.
Bridich, however, does know the rotation needs help. There has been talk that the Rockies have checked out veteran free agents Kyle Kendrick, Roberto Hernandez and Kevin Correia.
Nothing, however, is more important for the Rockies' success than the health of Tulowitzki and Gonzalez. They are star-quality players -- when they play.
Tulowitzki, 30, has been an All-Star in four of the last five seasons. He's won two Gold Glove Awards and two Silver Slugger Awards. Injuries limited him to 91 games last season when he tore his left hip flexor and a combined 264 games the last three.
Gonzalez, 29, is a two-time All-Star who won a batting title in 2010 and has earned three Gold Glove Awards. He was shelved twice last year. An inflamed left finger and tendinitis in his left knee limited him to 70 games. He has played only 180 games the last two years.
Both underwent surgery.
Both are beginning rehab programs.
Neither has started baseball activities.
Both, however, are expected to be ready Opening Day.
And the Rockies see Tulowitzki and Gonzalez as the cornerstones of any success they might enjoy.
That's why Bridich has resisted the temptation of tearing the team apart. He listens to proposals from other teams, waiting for one he feels is fair, but finding that most of his peers are looking to take advantage of frustrations that grow out of a 96-loss season. Bridich so far hasn't had any problem saying "no."
He sees potential in the offseason. And he's hoping to see results during the season.
Tracy Ringolsby is a columnist for MLB.com. This story was not subject to the approval of Major League Baseball or its clubs.