Kershaw etched among all-time greats with historic '14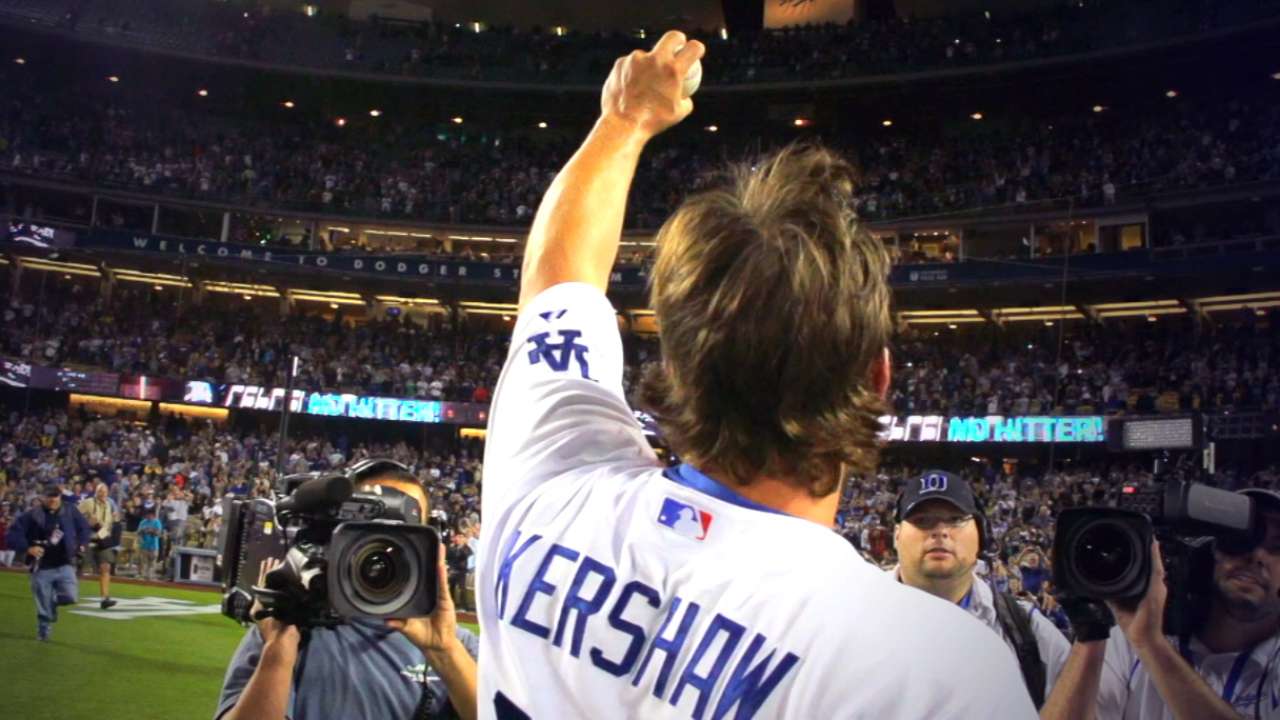 On a June night at Dodger Stadium, the dominance Clayton Kershaw brought to every start in his historic 2014 season reached a crescendo with the big left-hander recording his first no-hitter in a remarkable performance against the Rockies. He had 15 strikeouts and no walks, the most Ks without a free pass ever seen in a no-no. It's just one of the unprecedented feats in Kershaw's transcendent regular season, a campaign that stands out as one of Major League Baseball's biggest stories of 2014.
Winning both the National League Cy Young and Most Valuable Player Awards wasn't unprecedented, but it was yet another way Kershaw seemed to channel a Dodgers left-hander who wound up in the Hall of Fame: Sandy Koufax. Like Koufax in 1963, Kershaw was such a presence on the mound that he broke through for the Cy Young-MVP double, just the 11th player in MLB history to do so and the biggest reason Kershaw's 27 starts were such a significant part of the 2014 baseball landscape.
On other levels, Kershaw managed to eclipse what Koufax -- or any other pitcher, for that matter -- had done. With a 1.77 ERA, Kershaw not only posted the lowest figure in the Majors since 2000 and in the NL since 1995, but he notched his fourth consecutive Major League ERA title, becoming the first pitcher ever to do that. Kershaw had the longest winning streak of the season with an 11-gamer that included his no-no, and he ran off a string of 41 consecutive scoreless innings, matching the fifth-longest such streak in history. He'd wind up leading the Majors with a 0.86 WHIP and six complete games, finishing right up near the top in every other category despite missing a month.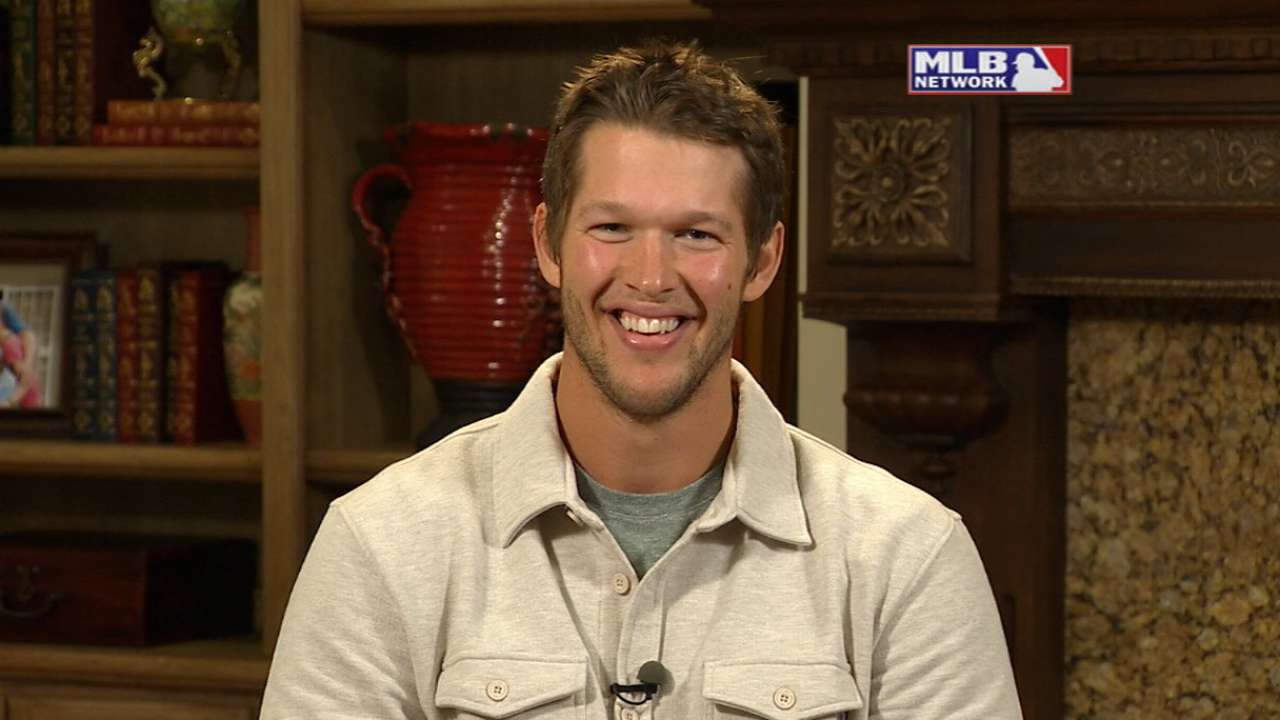 This rare gem of a season was wrapped up in one neat package on the night of June 18. Kershaw took a perfect game into the seventh inning, but a throwing error by Hanley Ramirez ended that bid. Kershaw was not going to be denied, fanning the Rockies' Corey Dickerson to cap off the historic night. Despite all the strikeouts it took him just 107 pitches to get through the no-hitter.
His teammates mobbed him and drenched him, the affable 26-year-old bellowed with delight before an adoring Dodger Stadium crowd, and the celebration lasted into the clubhouse with a postseason-style party. It was truly one of those nights when a player gets lifted into a higher plane in the game's lore.
"I haven't thought about the ramifications of this thing, but I don't take for granted the history of this," Kershaw said at the time.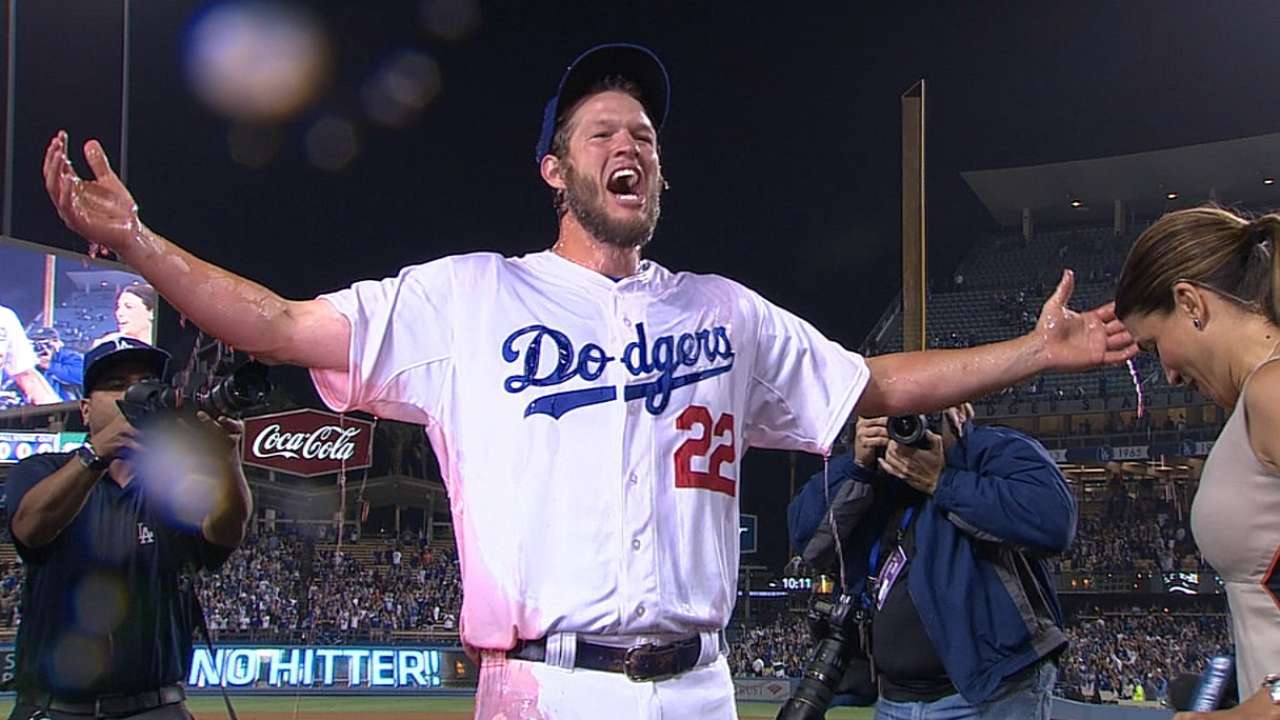 Kershaw's march through history in 2014 kept going from there. After missing five weeks early in the season with a muscle strain in his left shoulder, Kershaw hit the ground running in May and kept on trucking through September to lead the Dodgers to the NL West title. He earned NL Pitcher of the Month honors in June and July, and by the end of a 21-3 season had lowered his career ERA to 2.48, the lowest mark on record since 1920 for pitchers with a minimum of 1,000 innings and 100 starts.
Kershaw couldn't duplicate that dominance in the postseason, as the Dodgers lost to the Cardinals in the NL Division Series, while the left-hander struggled in his two starts. But what the big Texan in Dodger blue did during the regular season wound up being the kind of stuff that goes beyond the mound and placed him in select company as a double-winner of the two most prized individual awards in the sport.
It was a season that hit a high point in June, continued to soar through the summer and put Kershaw on a deserved pedestal once awards were handed out in November. Before his double in the Baseball Writers' Association of America awards, he also won an unprecedented three Players Choice awards as voted by his peers, including the game's overall Major League Player of the Year. Of course, the cherry on top of that run of hardware was represented by the three letters every player wants to see next to his name: MVP.
"Awards aren't why we play the game, but I don't take it lightly," Kershaw said. "When fans chant that [MVP] stuff, it's an amazing feeling. I remember a few times pitching, and fans at Dodger Stadium would chant M-V-P -- that's unbelievable. It really is chilling. I don't know if I'll ever get used to that."
John Schlegel is a national reporter for MLB.com. You can follow him on Twitter @JohnSchlegelMLB. This story was not subject to the approval of Major League Baseball or its clubs.